This post may include affiliate links, which means I may make a commission on purchases made through these links at no additional cost to you.
Friends tease me about adding Greek yogurt to everything. They have good reason to! I do try to swap Greek yogurt for oil, mayo, sour cream, and several other ingredients. Sometimes it works really well (try Greek yogurt on nachos or tacos sometime!), but sometimes it doesn't work well (I totally failed at making a Greek yogurt cheesecake the other month).
This pasta salad is my latest recipe makeover. With Greek yogurt instead of mayonnaise and lots of Southwestern-inspired flavor, it's a far cry from the usual. You can serve it as a side, but I'm not ashamed to admit I've eaten it as an entree, too! I hope you love this chipotle Greek yogurt pasta salad as much as I do!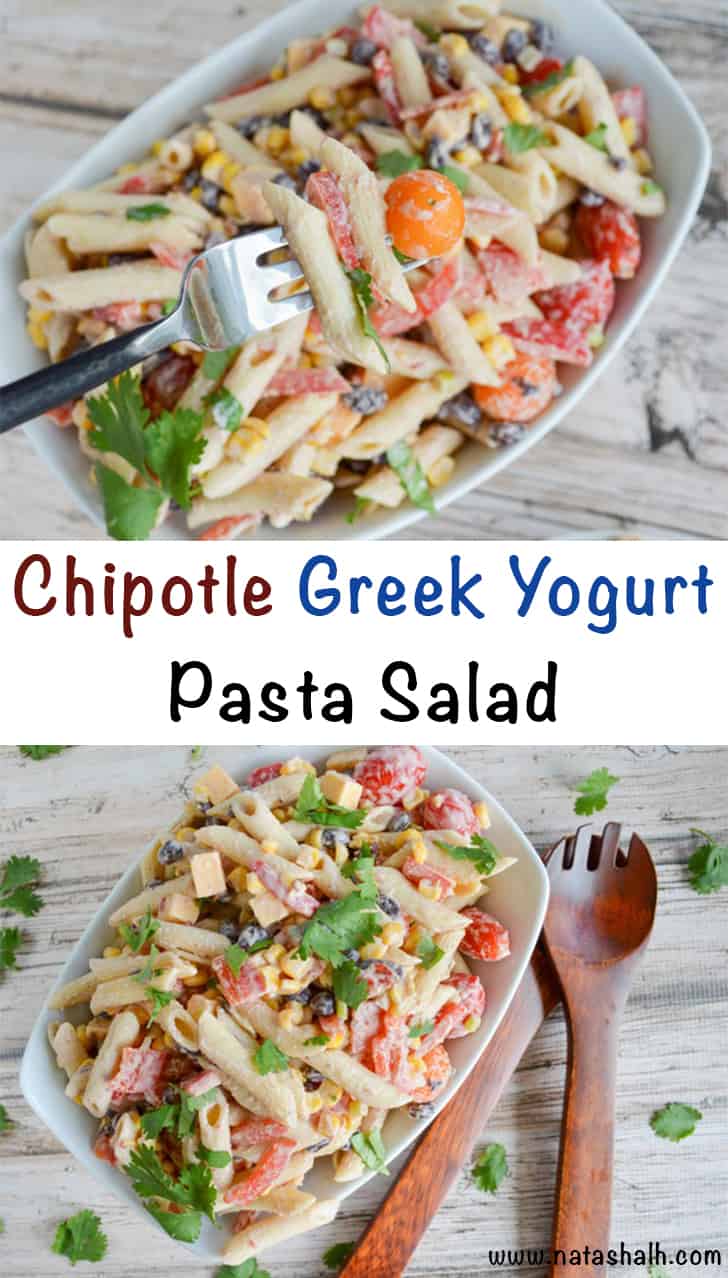 This pasta salad is also a good make ahead option. It tastes better after the flavors meld for several hours, so you can make it in the morning and serve it that afternoon, or even make it the evening before you need it.
I can't wait until I can make this again with my own "garden fresh" tomatoes and parsley. We have a tiny tomato plant growing in a Petomato right now, as well as parsley sprouting in an Aerogarden. Never heard of a Petomato? I hadn't, either, until less than a month ago. It's a cool little device invented by a Japanese man so that apartment dwellers can grow produce in an upcycled water bottle. I have a post on unboxing the Petomato that gives all the details!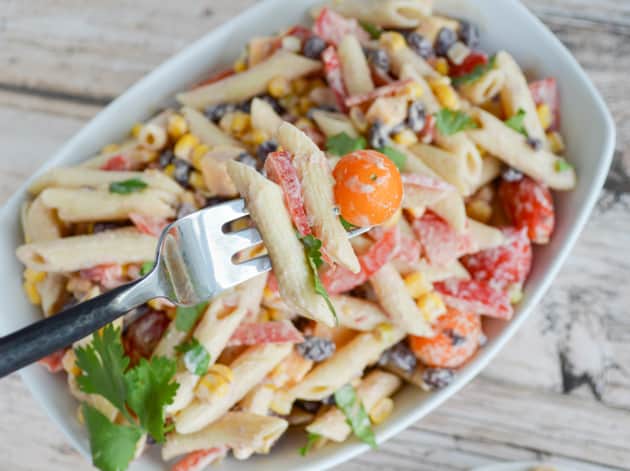 I initially made this recipe with just half a chipotle pepper, but it seemed a little mild and I tossed in the other half. I'm not a big fan of very spicy food, but dairy products soothe your mouth after you eat something hot.
Because this dish has both Greek yogurt and cheese, I think it can handle a bit of heat without becoming overwhelming! If you really like spicy food, go ahead and add in two or three chipotle peppers and enjoy.
Speaking of adding things, feel free to use up to a cup of Greek yogurt if you prefer a more moist pasta salad. I like it better with just 1/2 a cup of yogurt, but I also prefer dryer pasta salads.
Chipotle Cheddar Southwestern Pasta Salad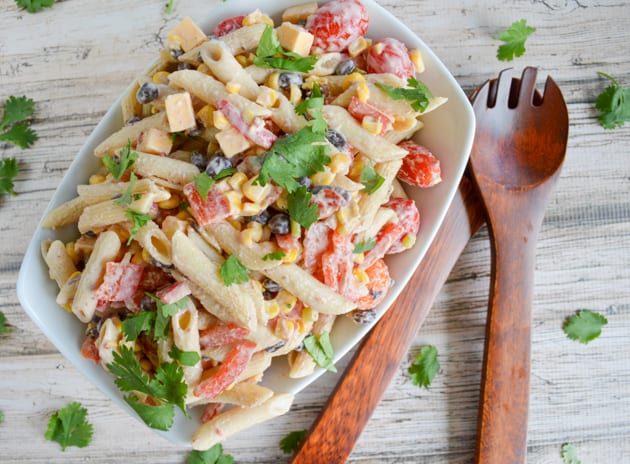 Prep Time 20 minutes

Cook Time 10 minutes

Total Time 30 minutes
Ingredients
8 oz (dry) pasta of your choice (half a normal 1 lb box)
1/2 cup plain Greek yogurt
2 teaspoons lime juice
1/4 teaspoon garlic powder
1/4 teaspoon cumin
1/8 teaspoon salt
1 cup cherry tomatoes
1 cup black beans (cooked)
1 cup corn kernels (also cooked!)
1 cup of cheddar cheese chunks (1/4" pieces work well)
1 chipotle pepper in adobo sauce (or to taste)
1/2 a red, yellow, or orange bell pepper
2 green onions
Parsley, to garnish (optional)
Instructions
Prepare your pasta according to the package directions, but stop cooking it just short of 'al dente.' When the pasta is ready, toss it in a colander and run tap water over it until the noodles are cooled. Allow the pasta to drain fully.
Combine the Greek yogurt, lime juice, garlic powder, cumin, and salt in a large bowl and mix to combine.
Mince the chipotle pepper, slice or chop the bell pepper, and finely slice the green onion. The size of the pepper and onion slices is up to your personal preference, but I like to keep the pepper pieces under 1/2" x 1/4" and the green onion slices smaller. Add the peppers, onion, and tomatoes to the yogurt mixture and stir to coat.
Rinse and drain a cup of black beans and drain a cup of corn kernels.
Add the black beans, corn, cheese, and drained noodles to to yogurt/other vegetables and stir carefully to combine.
Cover tightly and refrigerate for at least two hours before serving. This allows the flavors to meld. It's even better when left overnight!
Garnish with parsley, if desired, before serving.

It may seem odd that I say to cook the pasta just short of al dente, even though the noodles aren't cooked a second time. This is because they will continue to absorb some moisture in the fridge and will soften a bit more. Noodles are funny like that – did you know you can cook noodles in non-boiling water if you just increase the amount of time you cook them? I don't know if it's something they still do, but years ago Pizza Hut used to just sort of soak their noodles in warm water instead of ever bringing them to a boil. Do they even have pasta dishes anymore? It's been so many years since I've eaten there I have no idea.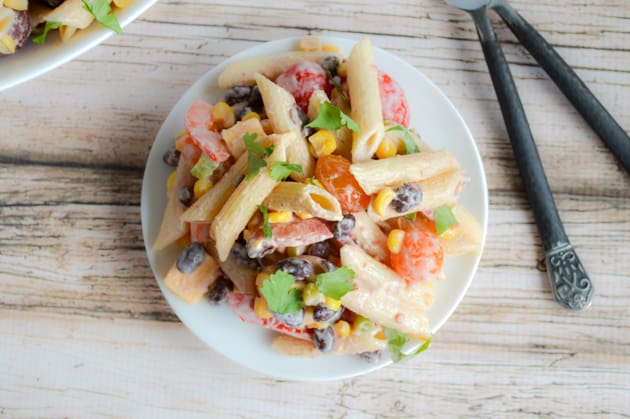 Who cares if a fast food restaurant still serves pasta when you can easily make your own delicious pasta salad full of black beans, tomatoes, cheese, corn, peppers, and Greek yogurt!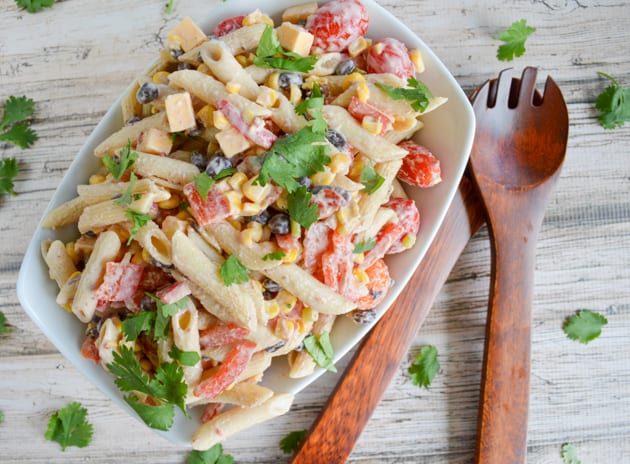 What's your favorite "unusual" pasta salad ingredient?