This post may include affiliate links, which means I may make a commission on purchases made through these links at no additional cost to you.
I've been doodling and coloring a lot this year and really enjoying the handful of Copic markers I acquired a little bit ago. They're a lot of fun use and produce beautiful results, especially once you understand how they work. I do not, however, like just coloring with them to fill an entire background, and prefer to create a more textured appearance to frame the drawing's focal point. Luckily, it's pretty easy to create funky, textured backgrounds using Copic markers and gel hand sanitizer. I know that sounds crazy, but it's true – check it out!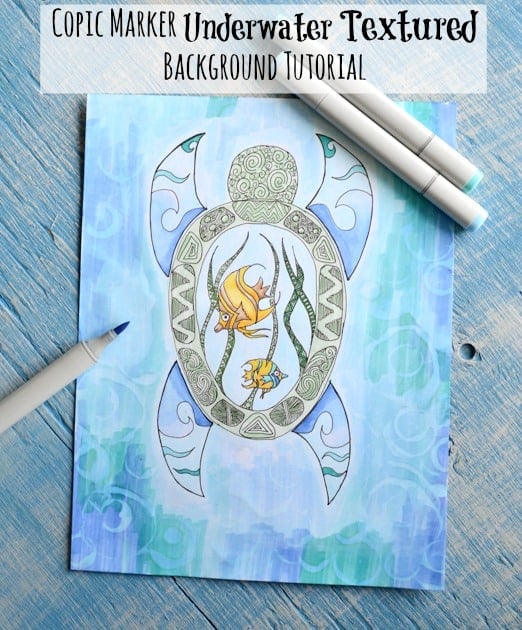 I guess it doesn't have to be strictly 'underwater' – you could make this look like clouds or just bubbles – but I happen to think it goes quite well with aquatic pictures. The technique works best with a cardboard tube, such an an empty toilet paper or paper towel tube. It may work with markers other than Copics – I honestly don't know. I have a small set of Le Plum markers, which are pigmented brush-tip markers, but this technique doesn't really work with them. I'd guess you could use this method with other blending-friendly markers, like Prismacolor markers or Spectrum Noir markers. If you have either of those types of markers and give this a try, could you please let me know how it works out?
Materials for the underwater textured background
Paper – I recommend high-quality marker, mixed media, or watercolor paper. Printer paper will just fall apart!
Gel hand santizier
A cardboard tube
Your markers
A shallow plate
A couple paper towels
Textured Copic marker background tutorial
1. Pump some hand sanitizer on to your plate.
2. Protect your work surface with a couple paper towers and then position your paper on top of them. This technique can cause some bleeding on the back and if you don't use paper towels, you may end up with permanently rainbow countertops!
3. Color a few square inches of space with your preferred marker. I've found this technique works best on fresher ink, so I advise working in chunks instead of trying to color the entire background at once. You can go ahead and use your blender, if you want, but it works just as well after creating your designs and using a blender at this point doesn't seem to improve the hand sanitizer effect.
4. Dip the tube's end in the hand sanitizer.
5. Use the sanitizer-coated tube like a stamp to create rings on your colored area.
6. Watch in amazement as the hand sanitizer pushes the color away from the coated area.
7. Repeat steps 3-6 as many times as you'd like.
8. Wait for the hand santizier to dry and then draw away!
How easy is that? Because all marker colors react differently to the hand sanitizer, I recommend trying a sample sheet before having at your carefully crafted work of art. Even colors in the same family behave differently from one another, so it's always worth experimenting with any new markers. Here are a few swatches to give you an idea of how differently pigments can react:
You obviously don't have to use just the cardboard tube as-is. You can create cool shapes by folding the tube, or just use the closed end of another marker to make solid dots. Stamps, unfortunately, don't really work – this technique is not good at communicating detail. It is, however, totally perfect for rings, dots, and even lines.
What's your favorite way to fill in the background on drawings or paintings?