This post may include affiliate links, which means I may make a commission on purchases made through these links at no additional cost to you.
Earlier this month I convinced my husband that we didn't need to buy peppermint bark or chocolate popcorn because I could make it. I hadn't actually made either before, but I figured I could do it! A few days ago, I realized I'd better live up to my end of the bargain and started looking for ideas. I have to admit I was pretty bummed out when I first searched for mint chocolate popcorn recipes online. So many of them involve melting peppermint patties or grinding up mints! I'm already putting chocolate on the popcorn – I didn't want to add lots of other candy ingredients, too. That's when I remembered that I have bottle of DoTerra peppermint oil and decided to see how well it mixes with melted chocolate. It turns out the oil works very will with melted chocolate – yay!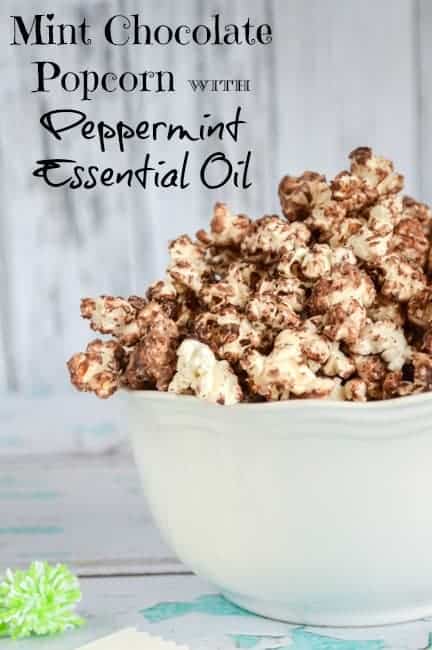 All you need to do is carefully melt your chocolate and then add in the essential oil. Stir the mixture a couple times to combine and you're ready to go! If you don't have food-grade essential oils like DoTerra available, you can also look for mint flavoring at the grocery store. There is usually some available near the vanilla, and sometimes there are also flavoring oils in the baking section. Some culinary flavoring oils are just weird chemical blends, though, so I really do recommend seeking out high-quality, food grade essential oils if at all possible.
No matter how you get your flavoring oil, I think it's way better to add a few drops of it instead of grinding up a whole box of candy canes!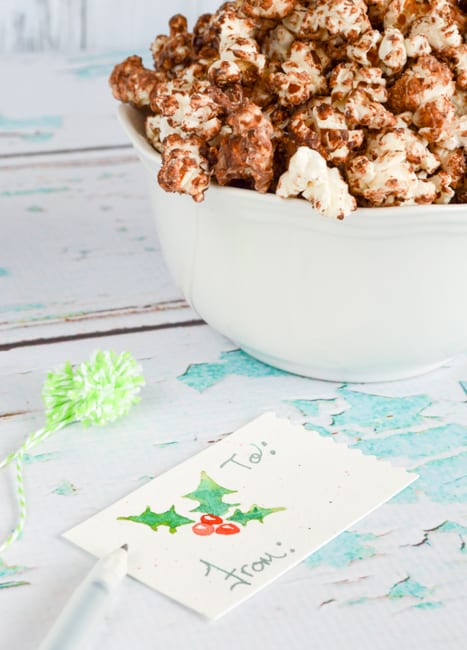 Even though I photographed my popcorn with a Christmas-y gift tag, it would make a great quick, edible gift for Valentine's or St. Patricks, too. Or, really, any time, because who doesn't like mint chocolate? It is definitely one of the best flavor combinations ever created.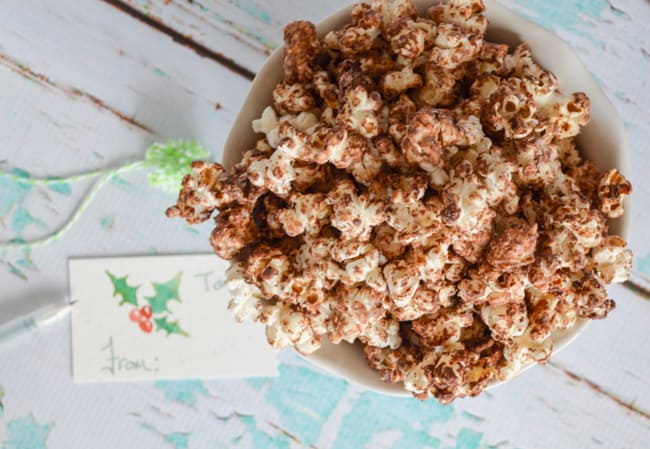 I highly recommend using totally plain popcorn that you make in an I put 3/4 cup of kernels in my popcorn popping bowl and ended up with a whole lot of popcorn, but I always like to add a few more kernels in case some don't pop (or in case I'd like to snack on some plain popcorn while waiting for the chocolate to melt!).
Now that we've discussed the peppermint oil and popcorn, it's time to move on to the chocolate! I used a bar of Baker's semi-sweet chocolate. It melts really easily in the microwave and is my favorite level of sweet-but-not-too-sweet. You can use your favorite melting chocolate, you'll just need 6-8 ounces of it! If you're chocolate isn't a totally pourable liquid, that's totally fine. Just spoon it over the popcorn and stir it all around to coat the pieces.
Yield: 6 cups
Mint Chocolate Popcorn with DoTerra Essential Oils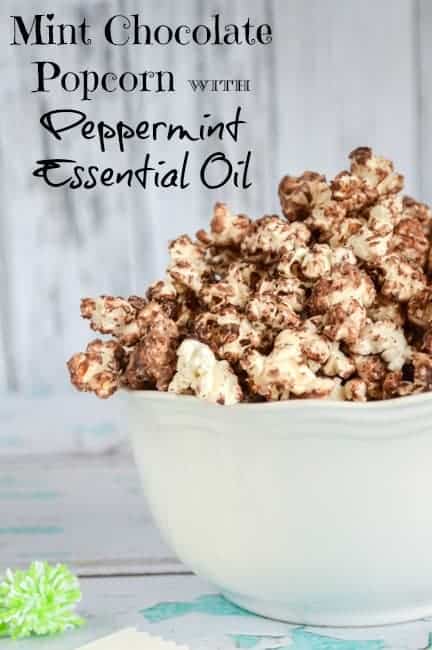 Ingredients
1/2 - 3/4 cup of popcorn kernels
6-8 ounces of semi-sweet or bittersweet chocolate (or your favorite!)
5-7 drops of peppermint essential oil
Instructions
Pop your popcorn either in your microwave, in a hot air popper, or on the stove.
Transfer the popped corn to a rimmed baking sheet and spread it out.
Once the popcorn is ready, start melting you chocolate. Place it in a microwave safe bowl and microwave for 30 seconds, stir, microwave for another 30 seconds, and then continue microwaving in 10 second intervals until you're happy with its level of melty-ness.
Stir in 5-7 drops of peppermint essential oil, or to taste.
Pour or spoon the chocolate over the popcorn and stir/toss it to coat.
Enjoy! But be ready for messy hands if the chocolate is still melty.
All the chocolate to cool completely as possible (this usually takes several hours!) before transferring it to an airtight container for storage.

Even though this recipe makes about six cups of mint chocolate popcorn, be prepared for it disappear pretty quickly!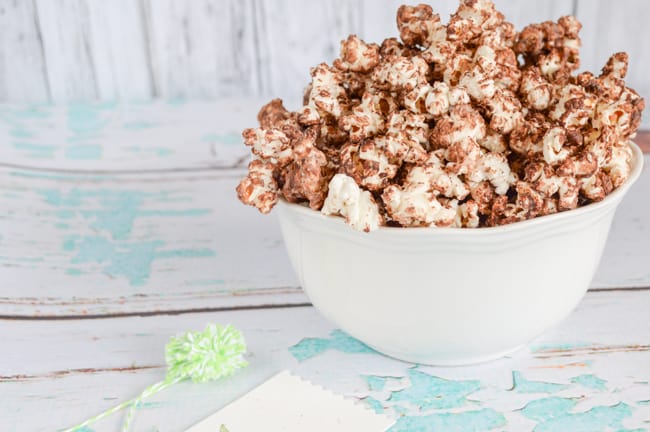 Making this flavored popcorn was so much fun that I think I'll be experimenting more in the future. What's your favorite flavor of popcorn to make or enjoy?