Thank you so much for grabbing your low-prep printable to keep your kiddo busy learning and having fun! If you don't see your download in your inbox within about 15 minutes, please check your bulk/other folder, then send me an email at natasha(at)natashalh(dot)com and I'll be happy to help.
While you wait, I have a special offer for you: the opportunity to get Single Digit Addition Math Facts as a downloadable PDF for just $3! This is 50% off the Amazon hard copy price for the very same book.
Studies show that your child's kindergarten math abilities are more predictive of future academic success than their reading skills or social skills. Give your child the practice they need with this addition workbook for kids 5-7!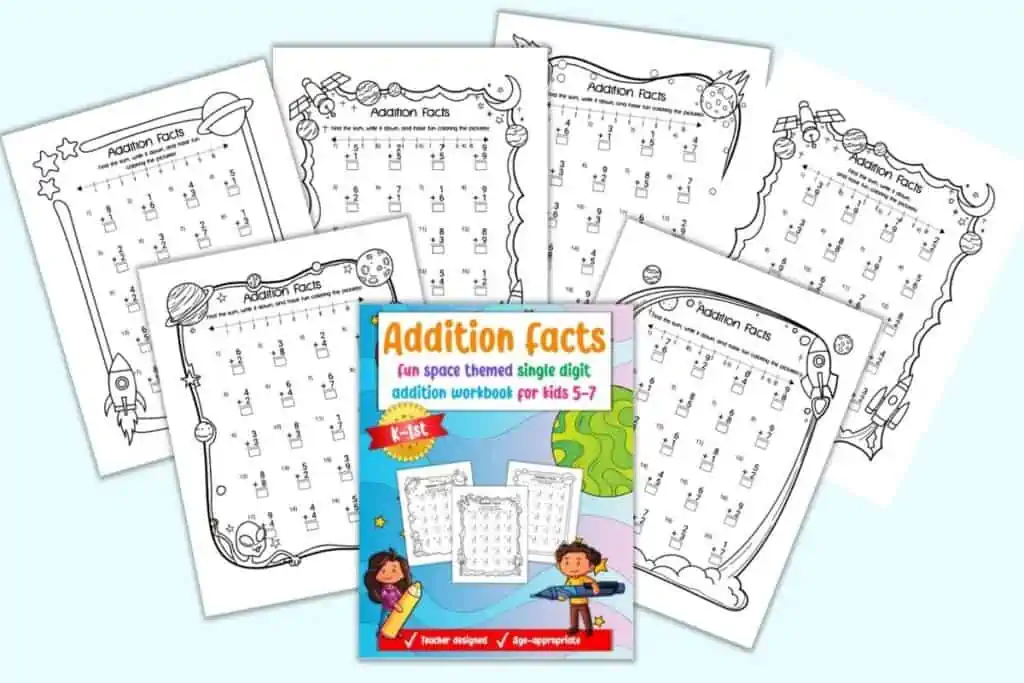 Addition math facts are simple math problems with numbers 1-9. Children usually start working with them at around age 5 in kindergarten or pre-k and are typically expected to master them in first grade. My daughter, who is still a few months shy of her 5th birthday, is already asking questions about addition and enjoying simple addition problems like these.
These space themed worksheets make math time fun! After your child solves the single digit addition problems, they can color the engaging outer space and astronaut themed images.
Each page includes a 1-10 number line to help your little learner become confident and conformable with their sums.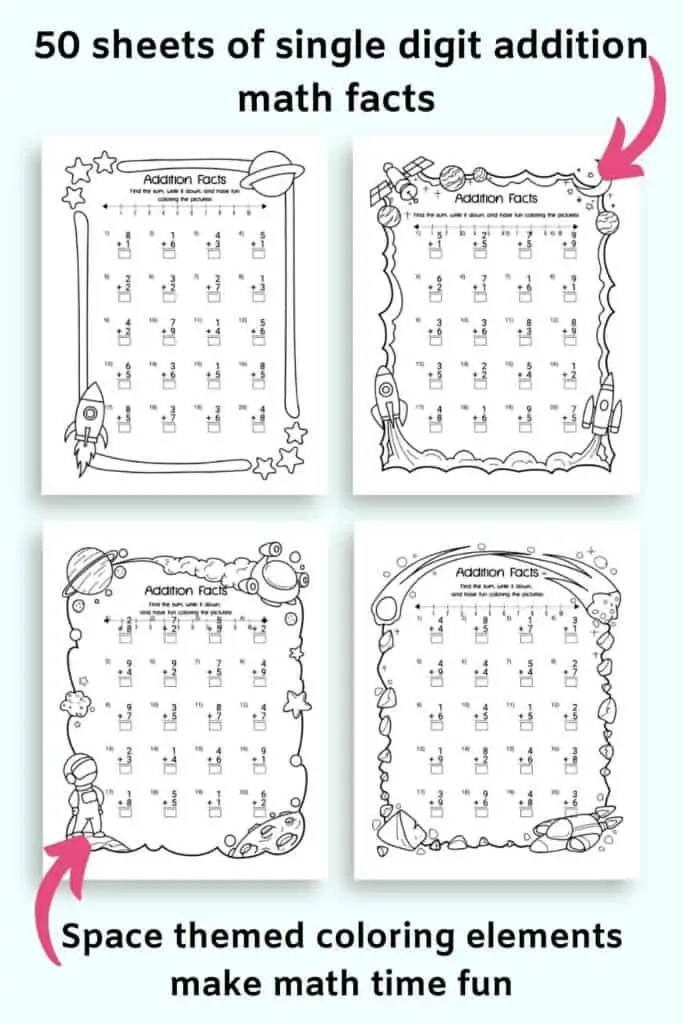 This is a digital item so no physical item will be mailed. These printables are licensed for personal use (including personal classroom use). 
Your child will be enjoying these printables minutes from now when you take this unique opportunity to grab this space themed addition facts workbook for the very low price of $3:
Questions smart people ask
Do I have to do a lot of prep work?
No! This learning pack is completely prep-free. Your little learner does all the work!
Will you mail something to me?
No. This is a digital product and no physical item will be mailed. This book is available in print on Amazon.
Are there refunds?
I'm so certain you and your child/students will love this bundle that you can request a refund within 14 days of purchase. In the unlikely event that you need a refund, please email me by responding to your receipt email and I'll help you as soon as possible.
Who are you and what do you know about teaching kids?
Hi! I'm Natasha. I'm a former classroom teacher with a Masters of the Arts in Teaching turned homeschool preschool mom.
Yes, this blog really is run by a real person – it's me and only me. I am happy to help if you have questions. Please email me at natasha(at)natashalh(dot)com
Hurry – get your copy of Single Digit Addition Math Facts before the timer runs out.