Meringue cookies are one of my favorite desserts to make and eat. The ingredients are simple and inexpensive, they keep well, and they're pretty darn healthy for a dessert! The gym had a Paleo potluck a couple weeks ago, and I immediately started thinking of ways to make meringues Paleo so I could bring them to the party. I did some experimentation and these maple pecan meringues were my favorite.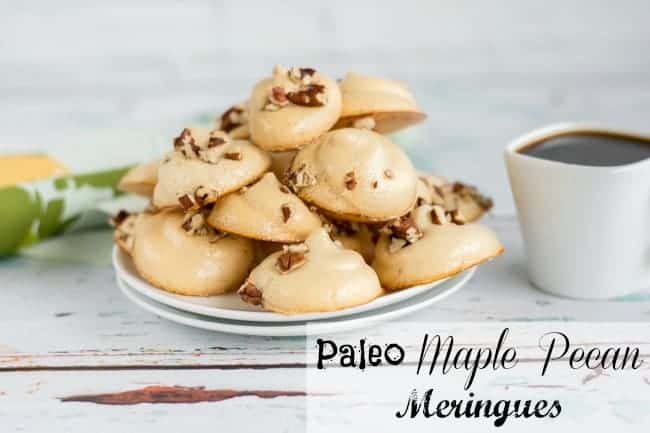 This post may include affiliate links, which means I may make a commission on purchases made through these links at no additional cost to you. 
Can you tell those meringues are a little "flat" looking? They're sort of soft around the edges instead of having distinct swirl lines. I used 1/3 of a cup of maple syrup in that batch. They tasted awesome, but the meringue wasn't as stiff as I like. However, that nice brown ring you see around the bottom is cartelized maple syrup, so it may be worth the aesthetic sacrifice for you!
If you scale the maple syrup down to 1/4 cup, your meringue cookies will be a bit more defined looking, and still quite delicious. Here's an example of a batch made with 1/4 cup of maple syrup.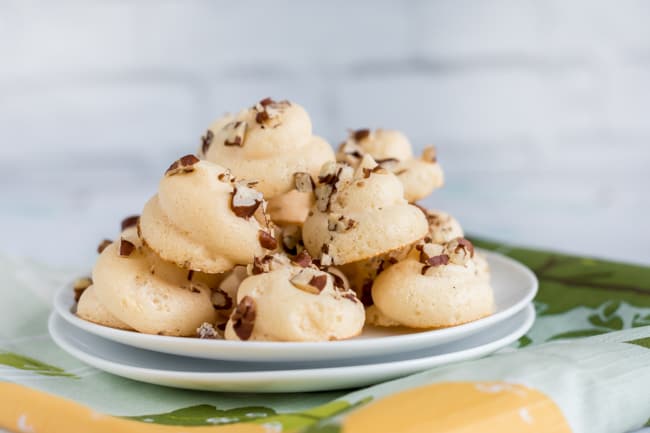 Then, if you really want to be healthier and have very stiff meringue, there's always the option to use 2 tablespoons of maple syrup. They weren't the taste-taster favorite, though.
No matter how much maple syrup you use, try to avoid making these on humid, rainy days. I know sometimes that's unavoidable, so if you have to make meringues on a wet day, allow them to cool for hours and hours in the oven, then transfer the fully cooled meringues from the oven immediately into an air tight container. It's tricky to get right – if you leave them in the oven too long, they will eventually get humid anyway. If you take them out too soon, they'll get soggy as they cool in the container. If you can wait until a dry day to bake these maple pecan meringues, you will be rewarded with airy, tasty treats that will last up to a couple weeks!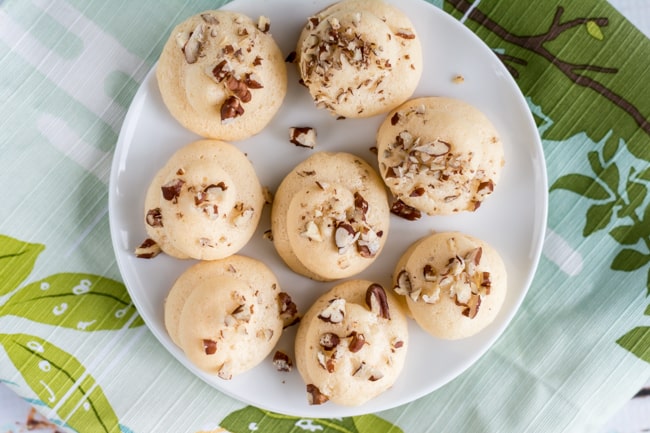 Because of the maple syrup, it is very important to bake these on a silicone baking mat, like a Silpat, or parchment paper. The batch I tried on an unprotected baking sheet stuck so badly they were all shattered when I tried to remove them. Which doesn't mean the fragments weren't tasty…
Paleo Maple Pecan Meringue "Cookies" Recipe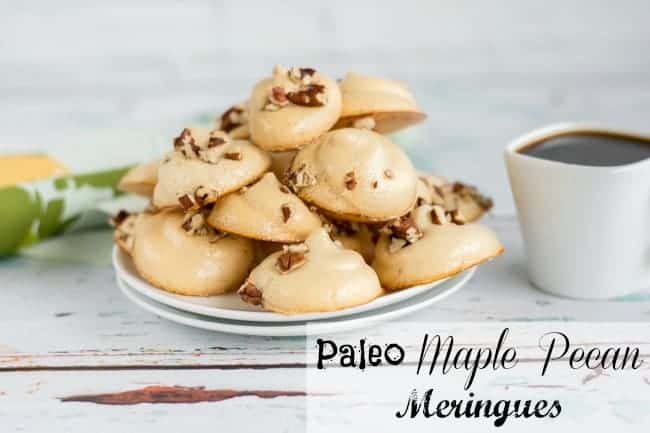 Ingredients
2 egg whites, at room temperature (just bring the whole egg to room temp, then crack and separate it when you're ready to begin)
1/8 teaspoon cream of tartar
1/4 teaspoon vanilla extract
2 - 3 tablespoons of maple syrup
1/4 cup of pecans, chopped
Instructions
Place your eggs on the counter and allow them to come to room temperature. They should sit out for at least one hour, possibly longer (if your room temperature is on the cool side).
Preheat your oven to 200 degrees Fahrenheit.
Prepare a baking tray with a silicone baking mat or parchment paper.
Use an electric mixer (I used my stand mixer with the whisk attachment), beat the egg whites on medium-low until they become slightly opaque and frothy. This should take 20-60 seconds.
Add the cream of tartar and increase the mixer's speed to medium high. Beat the egg whites until they become white and thick. They'll actually look and act sort of like shaving cream! This usually takes 90-120 seconds.
Slowly pour in the maple syrup. Once it is fully incorporated, reduce the mixer speed to low.
Add the vanilla and beat until just combined.
Transfer the meringue to a piping bag fitted with a ¾"-1" tip or a ziplock bag (as discussed below).
Pipe the meringues onto a baking sheet, trying to make the cookies each about the size of an unshelled walnut and spacing them an inch apart.
Sprinkle the chopped pecans over the unbaked meringues.
Bake without opening the door for 90 minutes, turn off the oven, and allow the cookies to cool without opening the door. Keep the cookies in the oven for as long as possible - several hours to overnight!
Store the cooled cookies in an airtight container. They keep very well and, if allowed to fully cool in the oven, should keep for at least two weeks.

You can just spoon the meringue on to your baking sheet, but the meringue cookies are so much prettier when you pipe them. I use a piping bag and a large round tip, but you can use a zip top bag with the corner cut off in a pinch. The easiest way to get the meringue into your piping bag is by using the plastic wrap trick. Cut yourself a large piece of Press'n Seal and lay it flat on the counter. Use a spatula to transfer about half the meringue to the plastic wrap.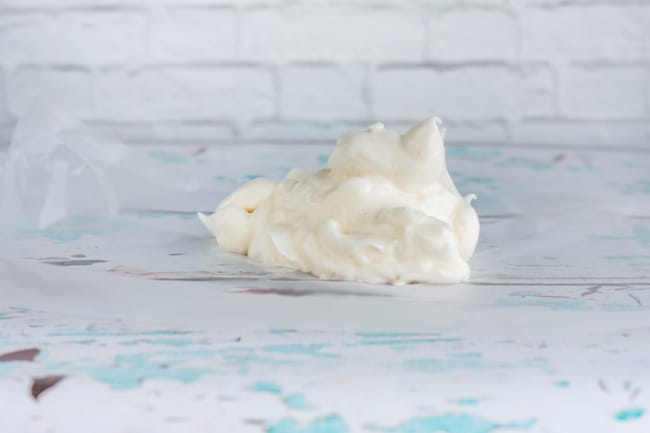 Then just roll up your meringue to make a sort of Christmas cracker-like pod with the plastic wrap twisted shut on both ends. Drop this pod into your piping bag, pull an end through, snip it with scissors, add the piping tip, and pipe away! Sweet Sugar Belle has a fantasticairy lavender meringues recipe.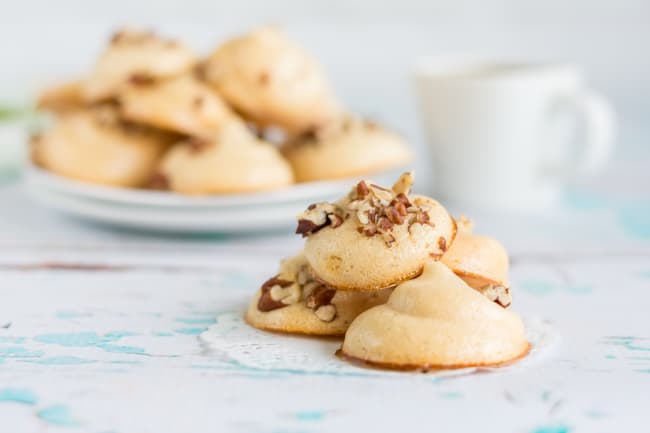 Mmm, look at that delicious maple syrup. Did you know that for the best maple flavor you should choose "Grade B?" Grade B maple syrup has a richer, more maple-y flavor and the "B" refers to its color, not quality.
Are you ready for some good news? These meringues only have about 15 calories each! What other treat is that easy to fit into your macros? If you're really dedicated to logging your food, I recommend you do the math based on exactly how much maple syrup you use, but these have about 15 calories, less than 1 gram of fat, about 2 grams of carbs, and half a gram of protein per meringue.
What's your favorite "healthy" dessert when you just have to have a treat?