This post may include affiliate links, which means I may make a commission on purchases made through these links at no additional cost to you.
Around the world and throughout history, people have seen November 1 as a day when the boundaries between worlds are thinned. It is a day for remembrance, warding off wandering spirits, and recognizing death as the great leveler. That's why I'm sharing a few thoughts thoughts about, and photos of, some of my ancestors today.
I frequently think about my ancestors and admire them from afar. I never knew one grandmother, though I did have a great-grandmother and several great aunts, plus my step-grandmother was a very sweet lady. I guess that makes me pretty lucky – my dad never met any of his grandparents. Sometimes I wish I could talk to my long-gone ancestors to learn more about them as people. The women in my family, in particular, seem like a strong and determined group of people. At least, the ones I've met have all been pretty determined! I remember going to visit one of my great aunts and my parents warning me this could be the last time I saw her. She gave me a stuffed polar bear and said goodbye to us at the door with "See you next time." Maybe my mom remembers her age more accurately than I do, but she must have been in her 90s. Now that's some determination to keep on keeping on!
I've always felt like my paternal great-grandmothers must have been really strong ladies and women worth knowing. My grandmother's mom married young and then was widowed only about three years later. She never remarried and worked hard to not only support herself and her daughter, but also to continue her education. A tall woman, she placed rivets in airplane wings at a Bell Bomber factory during WWII, put in long hours at night school to earn her high school diploma, and was working on a law degree when she was diagnosed with eventually fatal breast cancer. My other paternal great-grandmother must have also valued education greatly – tucked away on a farm in West Virginia, she purportedly loved to read Shakespeare and named both her surviving children after characters in Russian novels. Although I don't know as many specific stories about my mom's ancestors, much of her family immigrated to the US in the late 1800s and early 1900s and I can't imagine anyone making that kind of transition without a fair measure of strength and determination! I've heard her mother called "an absolute angel" and know my step-grandmother had a patient streak a mile wide. She once read a Dr. Seuss book to me approximately one zillion times, back to back, because I kept asking her to read it again. (She also gave insulin shots to her cat, which seems both kind and brave. Very brave!)
Now that I've talked a lot about my female ancestors, how about pictures of some of the males? These are all pictures from my dad's side of the family, phone snapshots I took earlier this year of family photos. This is the family that farm house I'm always talking about was built by/for. No wonder they wanted to move out of the log cabin! The boy on the left is my great-grandfather.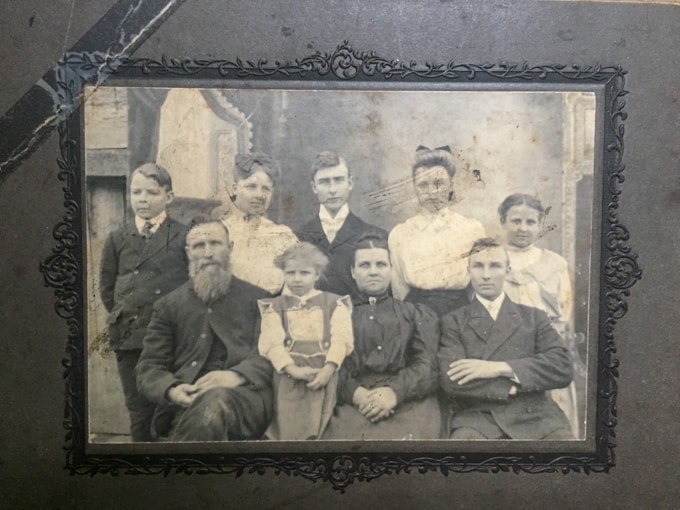 My sister and I really enjoyed looking through old pictures and seeing a bit of everyone's personality showing through. The eldest brother always looks very self-assured, and the girl who you can't see clearly in this photo because of scratches reminds me of my sister. (We both felt bad for her after another photo a few years later in which she looks very harassed with three young children of her own, including a set of twins. Her hair was perfect in that photo, too, though.)
These are "the parents" in the above photo, later in life. I used to think my great-great-grandmother looked a bit scary in the photo above, but now I think she was just frustrated after corralling that whole family into a portrait! I feel like she had to drag her husband out of the field after plastering boys' hair down and scolding the youngest girl into her frilly dress. Doesn't the little girl look so full of personality?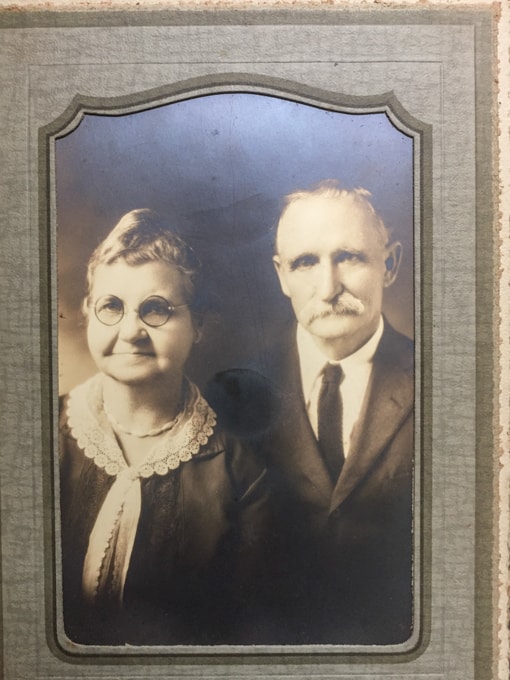 Based on the date given on the photo's back, my sister and I figured this one was taken shortly before our great-grandfather went off to WWI. Isn't that tie neat looking? I wonder what colors it was.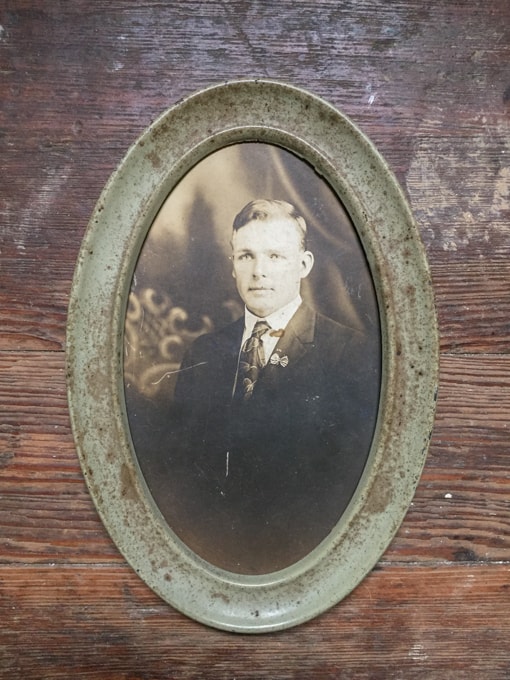 I took lots of pictures of photos of my grandfather, but ultimately I decided to share these because they're so cute and timeless: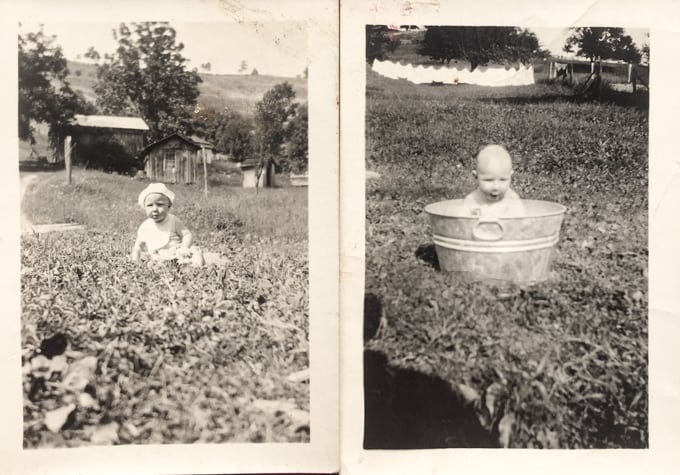 I'm pretty sure that hat and wash tub still rank high on the list of baby photo props! Plus, it's also really interesting to think about the earlier years of people you only knew as older adults. That's sort of an awkward sentence, but I think you know what I mean! I also love seeing how people are people, no matter when they lived or what they wore. The family photos my sister and I looked through had multiple pictures of a family dog, our great-great grandmother hand feeding a rejected lamb, and even this sweetheart, "Old Ted," the last family farm animal: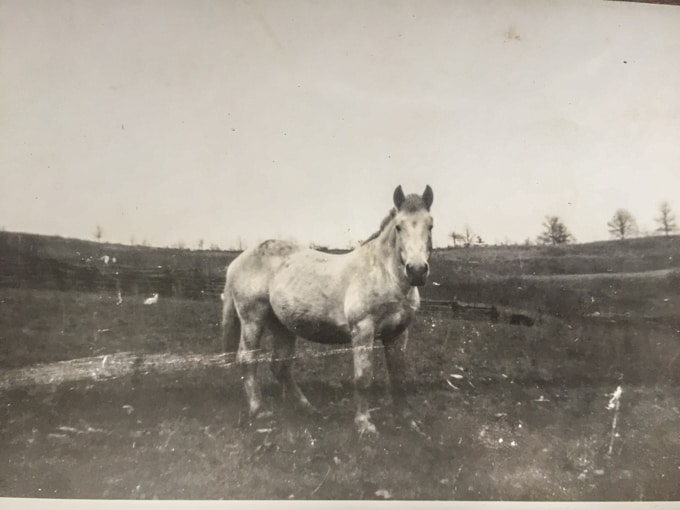 I find it so interesting that there are multiple family photos with/of animals at a time when pictures were a lot more expensive/difficult to take than they are today. It makes me think they must have really loved their critters, especially a brown and white happy mutt that shows up several times.
Do you enjoy looking at old photos and wondering about the people in them? Do you think about what the lives of those who came before you were like or imagine them as children?