This post may include affiliate links, which means I may make a commission on purchases made through these links at no additional cost to you.
Oh, fabric scraps. Why is it so difficult to get rid of scraps? As I've shared before, I have a serious fabric scrap problem! I know I'm not the only one who holds onto scraps, so I put together this round up of stash-busing fabric scrap craft ideas. These projects use small amounts of fabric that will make you feel totally vindicated for keeping all those scraps. 😉
Unique fabric craft scrap ideas
As usual for my roundups, I tried to focus on projects I haven't seen frequently featured in other fabric scrap craft idea posts. That's why you won't find things like fabric rosettes in this roundup. I really hope you enjoy this selection of unique fabric scrap ideas!
This fabric map of the US hoop art from Flamingo Toes is a fun, no sew way to use fabric scraps!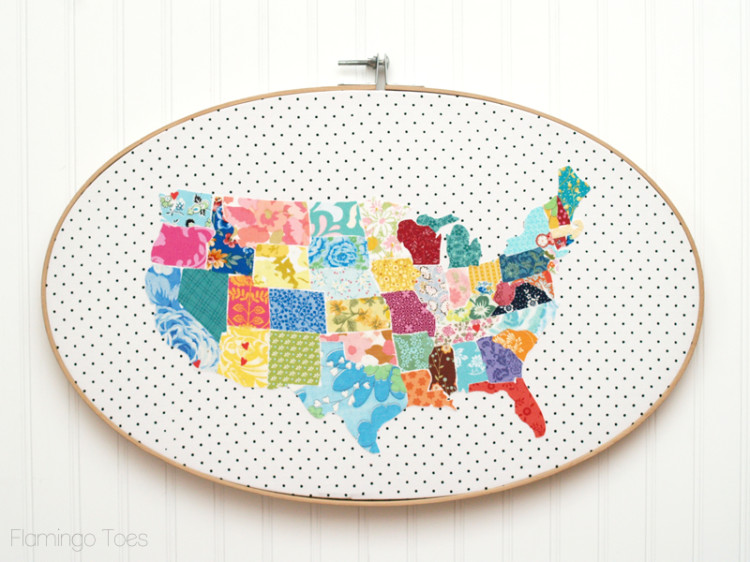 You also don't need to break out the needle or thread for this stash-busting bracelet that's so perfect for crafters!
If you have lots of fabric scraps to use up, this bracelet with rolled fabric beads is a great choice! It's a kid-friendly project that may stir up some nostalgia and memories of making paper beads at summer camp.
These fabric scrap keychains from Craftiness is not Optional are so adorable! They're so fun and easy so customize, and basically everyone can always use another keychain.
These 5 minute hair bows from Duni's Studio would be super cute for other uses, too! I'm picturing smaller ones as holiday earrings and larger versions as a nice, reusable way to dress up a package.
This fabric scrap garland from Craftaholics Anonymous is such a sweet way to spruce up your space and bust your fabric stash! Wouldn't it be precious in a nursery or child's room?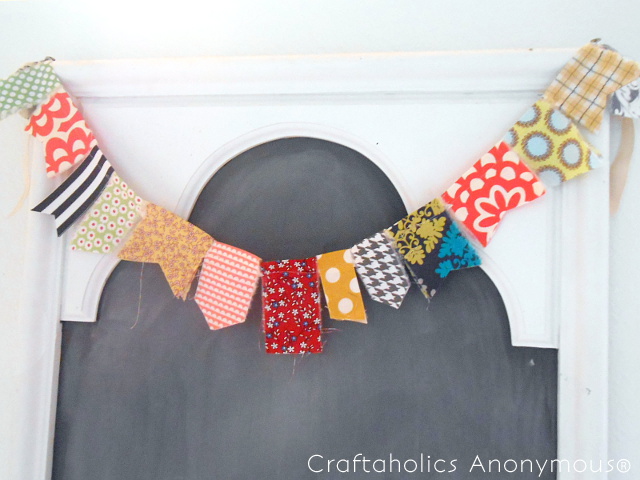 This fabric and elastic watch strap from Pretty by Hand is so sweet and a great way to save an orphaned watch face.
This autumn acorn banner from BugabooCity would be perfect for both scraps and upcycling old clothes.
These fabric fortune cookies from Brassy Apple are another fun, creative way to use up some scraps!
It's frequently possible to use fabric scraps instead of continuous larger pieces. This grocery bag holder from Phat Quarters Blog is a perfect example of how you could piece instead of buying even more fabric.
This monogramed zippered pouch on Make it & Love It is another great example how to use up smaller pieces of fabric for a project.
Don't have big enough scraps for a pouch? How about these adorable ruffle mini wallets from Free Spirit Fabric?
These cute strawberry pincushions from Down Grapevine Lane are a fantastic way to use even very small scraps.
With the holiday season approaching, why not make some of these drawstring gift bags from Skip to my Lou? They're perfect for using up scraps and can be used over and over again!
The ultimate hardcore fabric collector's scrap has to be the selvedge edge. If you cringe at tossing even this little piece, then Sew Delicious's tutorial on how to sew a selvedge edge panel is for you!
The "make every scrap count" pincushion from C&T Publishing is another great way to use those selvedges.
These "Little Miss Mason Jars" on Stumbles and Stitches are basically the cutest thing ever! What a neat way to use your fabric scraps and organize your craft supplies.
Then, of course, if you have lots and lots of fabric scraps, there's always the scrap-consuming rag rug like this one on Craftaholics Anonymous.
I recently turned a whole lot of unused fabric into a coil rug and discussed the in this post with tips and tricks for making a coil rug.
How do you put your fabric scraps to work?
Please note that all images in this post are the property of their respective owners!
More Related Posts
[catlist search="tutorial" numberposts=4 orderby=rand excludeposts=this]
SaveSave
SaveSaveSaveSave
SaveSave
SaveSaveSaveSaveSaveSaveSaveSave
SaveSaveSaveSave
Natasha is a former classroom teacher turned WAHM. She also is a registered yoga teacher & holds a certificate in natural skincare formulation from the School of Natural Skincare. She shares her passion for education, positive parenting, free printables, and recipes for DIY bath & home products. Learn more about Natasha and where she's been featured.