These free printable Cinco de Mayo do a dot pages are a fun, no-prep activity for toddlers and preschoolers. Your little learner will be having no-prep fun in just a few minutes with these free printables! You can even turn these dab it printables into a completely mess-free activity by using round stickers instead of makers. No prep and no mess? That's a win-win!
These Cinco de Mayo pages are a great way to introduce other cultures to your child or celebrate holidays from their own culture. Because we are a bilingual household (my husband is a Cuban immigrant), I create Spanish language preschool printables for our daughter to use. If you want to expose your child to the Spanish language, be sure to check out this page of free preschool Spanish printables.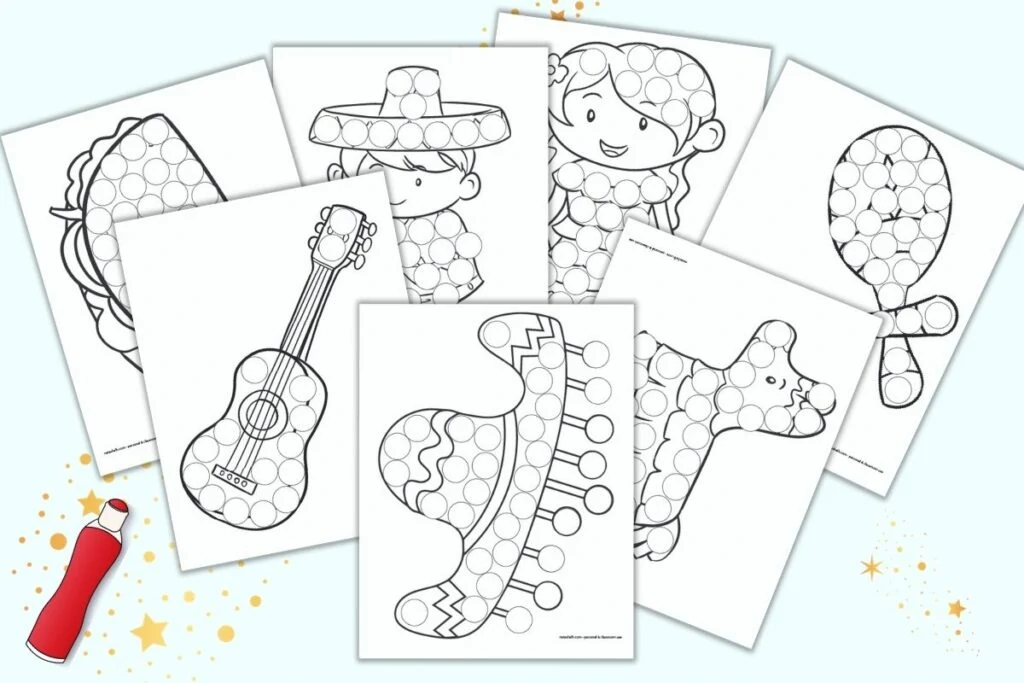 This post may include affiliate links which means I may earn a commission on qualifying purchases at no additional cost to you.
Teaching Cinco de Mayo to preschoolers
These dot coloring pages can be used as part of a homeschool preschool unit about Cinco de Mayo, word holidays, or global cultures.
People frequently refer to Cinco de Mayo as "Mexican Independence Day." This isn't exactly correct. The day actually marks when the Mexican Army defeated the French Army in the Battle of Pueblo in 1862 (source). The holiday has evolved over the years and is very popular in the United States as a general celebration of Mexican culture.
My daughter loves to read, so I decided to investigate books about Cinco de Mayo for young children to help her learn about the holiday and Mexican traditions. She loves learning about things that are similar to and things that are different from what our Cuban family does and says. (For example, Cuban piñatas are pull-string, not struck with a stick.)
We ultimately decided on the National Geographic Celebrate Cinco de Mayo book. It is an excellent look at the holiday for little learners. The text is geared towards slightly older children, but it features real photographs, not illustrations. As the book's description says, "Mexico is the birthplace of America's largest immigrant community; a knowledge of Mexican culture is increasingly relevant to students across the United States."
Sale
I may also get El Cinco de Mayo in the Spanish edition. It also has real photos and is from a generally well-regarded educational series.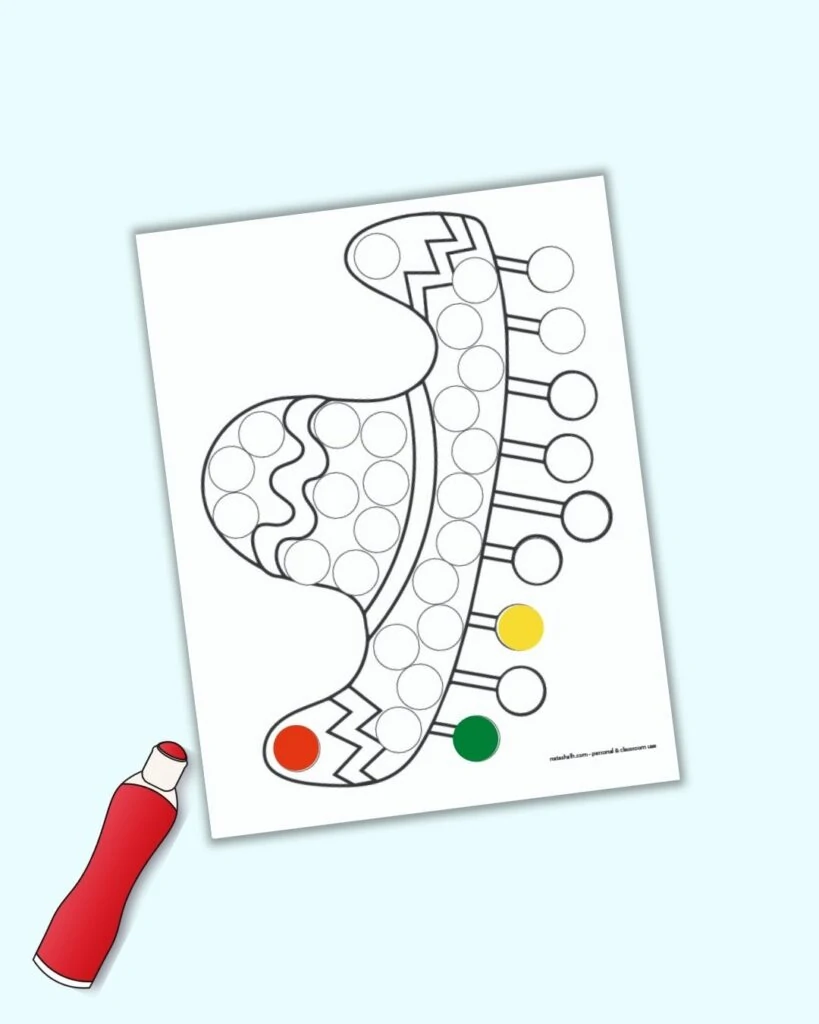 How to use dot marker printables
Dot marker coloring pages are beneficial for your child and an easy activity for any time you need something low-prep to keep your little one occupied.
I create lots of do a dot coloring pages because my daughter loves them. If your little one likes do a dot markers, too, be sure to check out the ever-expanding collection of free printable dot marker coloring pages here on The Artisan Life.
The circles on these pages were based on my daughter's Classic Do a Dot Markers. The circles are perfectly sized for this brand of markers, but they also work fine with other dauber or bingo style markers.
For an easy, no-mess activity, use these dot printables with round label stickers. Stickers also provide excellent fine motor practice opportunities. Peeling the stickers off the page is a challenging for children, and placing them requires careful fine motor movement. This activity is perfect for car rides, doctor's office waiting rooms, and any time you want a no-mess activity.
Make sure to get 5/8″ or 3/4″ round stickers. 1″ round stickers are too big for the circles on the printables. We use these stickers. You can see them in use in the photo below featuring an Easter dab it printable: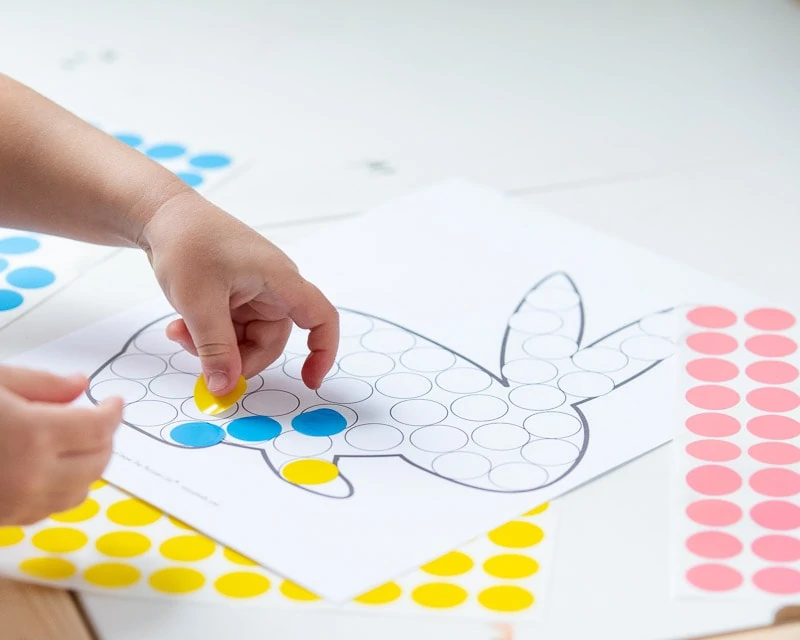 For more fine motor practice, your child can cover the circles with pompoms, big buttons, or another manipulative. They can place the manipulative with tongs for even more finger strengthening fine motor fun.
Free Cinco de Mayo dab it pages download
This set of Cinco de Mayo dab it coloring pages includes 10 images. Images include two sombreros, maracas, a guitar, a cactus, a taco, a piñata, and three children.
All 10 pages are located in one convenient PDF. Download information is below the preview images. Each image has its own page in the PDF, but the preview images are shown in groups so there are fewer images to load on this page.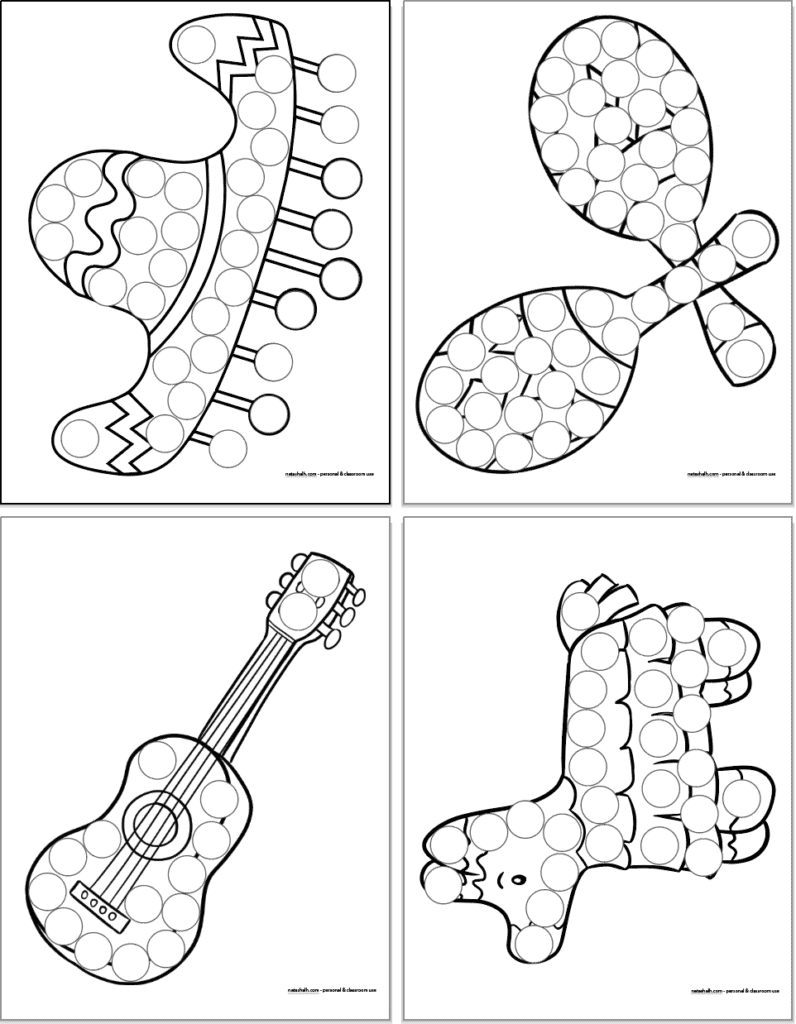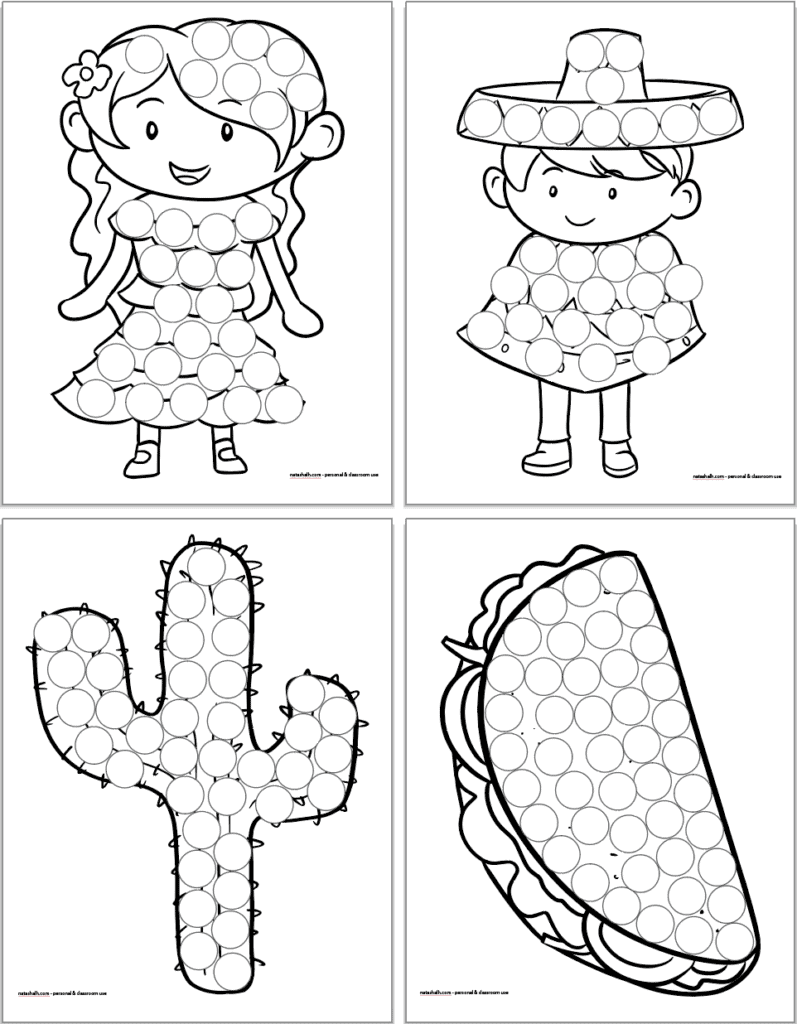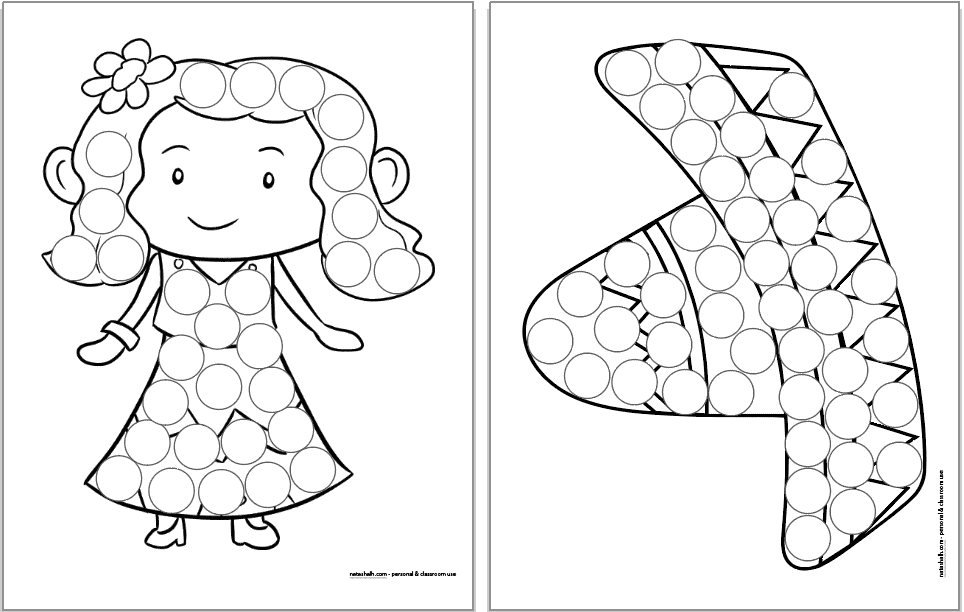 Like all free printables on The Artisan Life, these are licensed for personal and single classroom use. This includes use with scout groups, homeschool co-ops, your own therapy clients, etc.
You are not licensed to sell, or redistribute the files to other adults for use with their students/children. Instead, please refer them to this post so they can download their own copies.
If you agree to this license, click below:

I hope your little learner enjoys these dot coloring pages and learning about Cinco de Mayo! Be sure to check out these additional Spanish language preschool resources while you're here on The Artisan Life:
Spanish Preschool Printables