These Spanish alphabet language tracing worksheets are perfect for helping your preschooler or kindergartener learn Spanish vocabulary and alphabet sounds. Download pages for the entire alphabet, including ll and ñ, for free!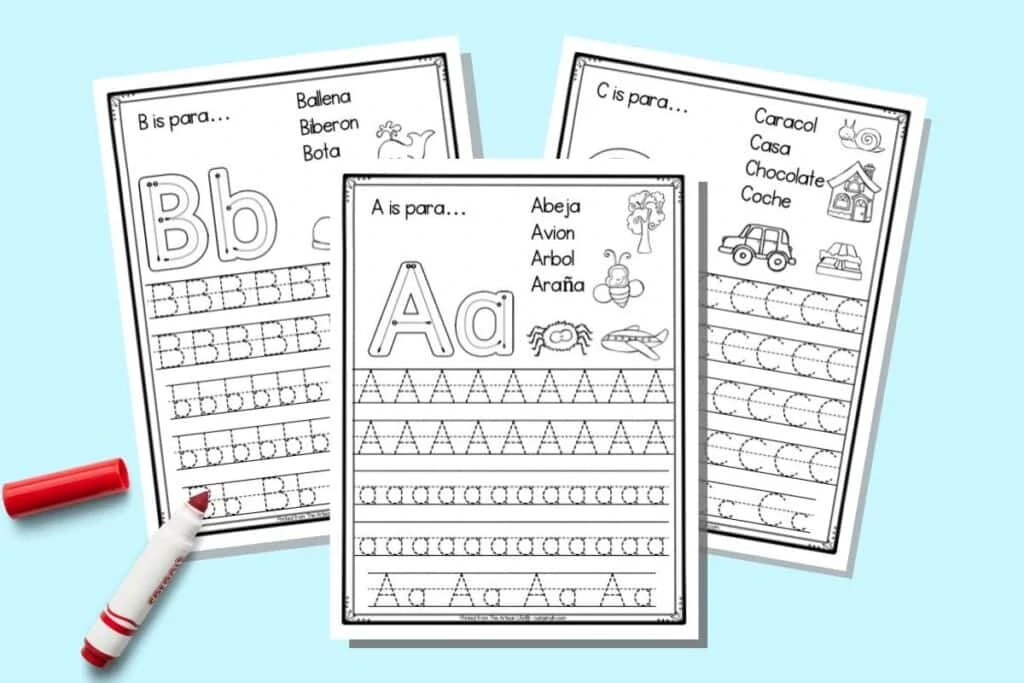 Finding high quality free preschool printables in Spanish can be challenging. I've had several reader requests for Spanish language printables and I thought the alphabet was a great place to start. You can also download free printable English language alphabet tracing pages and English alphabet coloring pages.
**Please note** The images show "is" instead of "es" because my native Spanish-speaking husband didn't notice the difference and I didn't catch the mistake until after the post was originally published. The PDF download has been corrected.
This post may include affiliate links which means I may earn a commission on qualifying purchases at no additional cost to you.
How to print and use Spanish alphabet tracing sheets
You can use these worksheets to introduce new letters and vocabulary or to reinforce writing and letter recognition skills after your child already knows the letter.
Spanish is a more phonetic language than English, which can make learning letters in Spanish surprisingly easy for young children. Many bilingual families teach letters in the more phonetic language first, regardless of which language is the community language. In English and Spanish, we teach our daughter the letter's phonetic sound first, not the letter name.
You can simply print and use these alphabet worksheets, or you can make them reusable by slipping the pages into secure page protectors in a three ring binder. Secure page protectors have a flap to hold the page in place so it doesn't accidentally slip out. Here is my daughter using her binder with page protectors to enjoy a count and graph activity: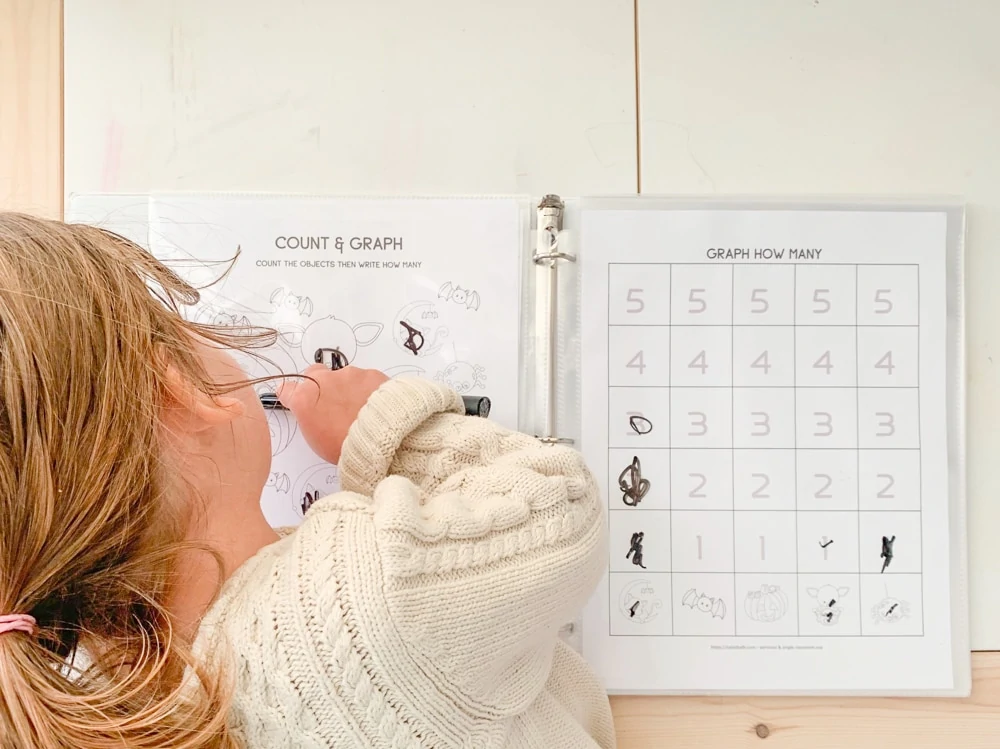 Sale
Avery 76000 Secure Top Sheet Protectors, Super Heavy Gauge, Letter, Diamond...
Keep contents secure in the protective sleeve with convenient top flap; perfect for holding nonstandard size papers and important items
Get a crisp, clear view of the contents of your documents with diamond clear page protectors featuring a polished finish for high clarity
Ensure your documents stay protected with long-lasting super heavyweight sheet protectors for all of your frequently referenced items
Of course, writing with a dry erase marker isn't the same as properly using a pencil. Markers are also easier to write with because they provide less friction than a crayon or pencil. When your child is ready for a greater challenge (and you're ready to print multiple copies of each page), have your child use a pencil directly on the printed sheet.
Free printable Spanish letter tracing worksheets
Spanish varies regionally. Frequently there are several different words used to describe the same item. I've tried to feature commonly-used words, but there may be some words that are different from what you normally use at home.
Letter pronunciation can vary a bit in Spanish, too. Spanish is a pluricentric language, which means there are many different forms of Spanish used around the world. Please use whatever pronunciation aligns with the Spanish spoken in your household, community, or curriculum.
Like all preschool and kindergarten printables here on The Artisan Life, these are licensed for personal and classroom use. You are welcome to print and use them as many times as you'd like with your own children, students, library program attendees, etc.
You are not licensed to redistribute the printouts or digital files to others for use with their children/classrooms. Please refer your friends and coworkers to this page so they can download their own copies.
This set of Spanish alphabet printables has 28 pages – one for each letter, including ll and ñ. Ll was officially dropped from the Spanish alphabet in 2010, but I still elected to include it since it's a common sound that young children can easily learn to say.
Each page has both uppercase and lowercase correct letter formation graphics and lines to trace. The black and white clip art saves you ink and gives your little learner something fun to color.
Download information is located lower on the page, below the preview images. I broke the preview into several sections so you can see each page more clearly. You can also watch the quick video clip below for a glimpse inside the printable pack:
As noted above, the download information is located below the set of preview images. Any fuzziness, lack of clarity, or off colors in the previews are the result of image compression so this page loads more quickly. The PDF is high resolution.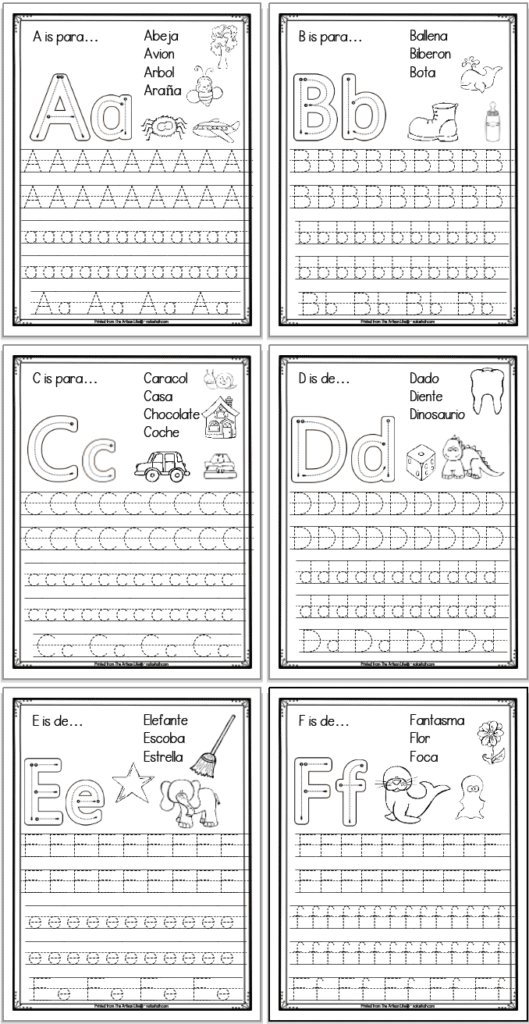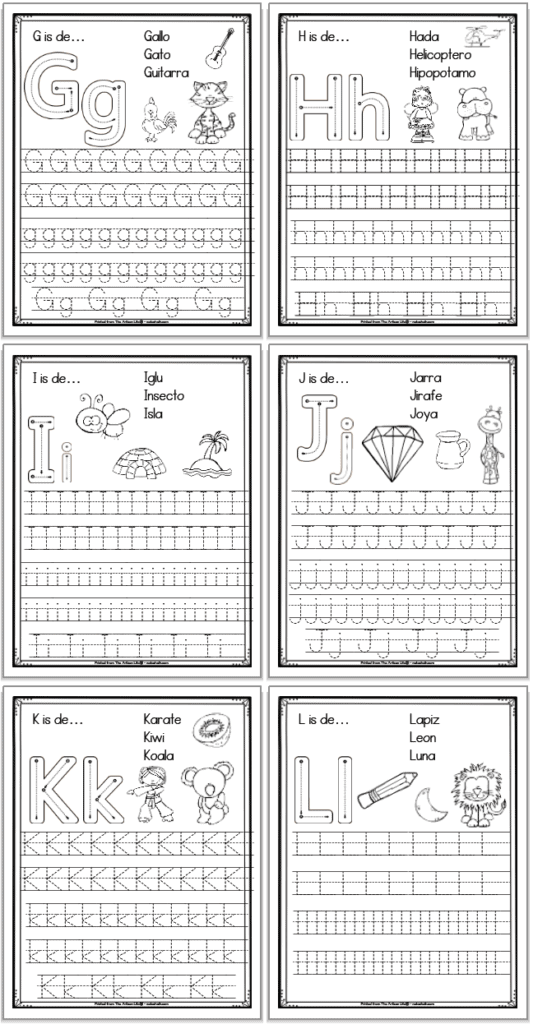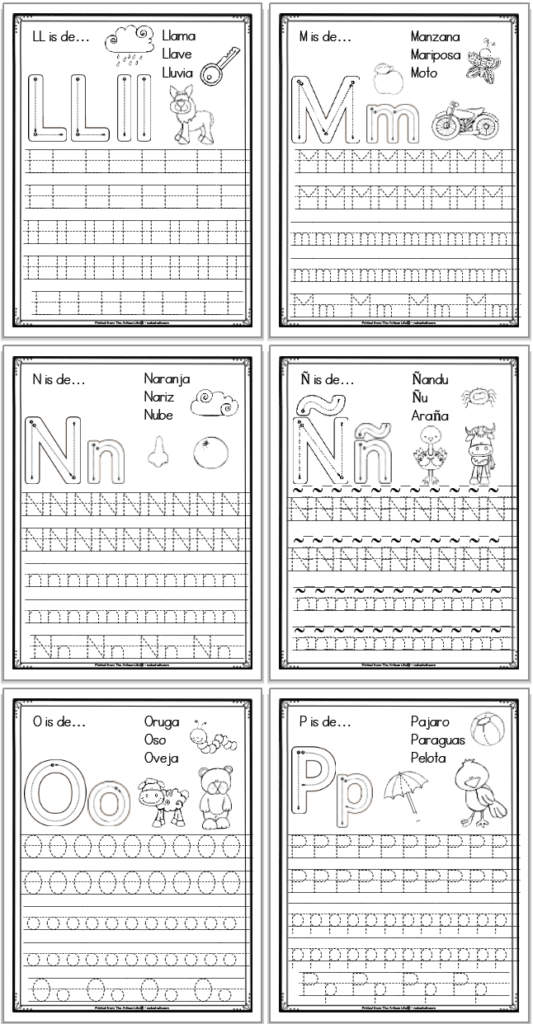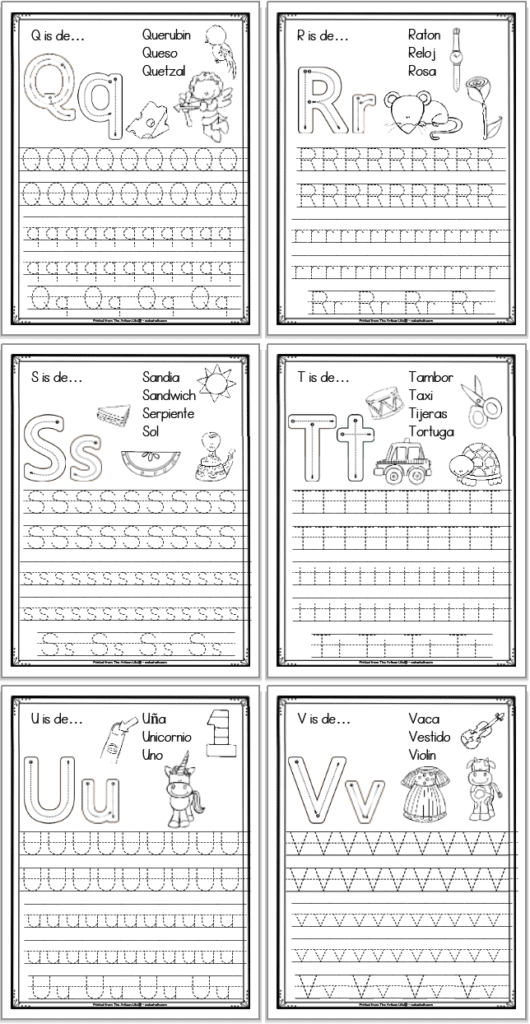 To receive your free PDF, simply let me know where to send it and your printables will fly across the internet and into your inbox.
Current members – please use the same email address you've previously subscribed with. No need to dig out your 12 year old AOL account!
I hope you enjoy this preschool Spanish learning resource. Be sure to check back again soon for more Spanish language resources for preschoolers and snag these additional free printables for preschoolers while you're here:
Preschool Alphabet Printables
These alphabet coloring pages are a fun, no-prep way to introdue the alphabet to your little learner.
Get your chid's body invovled with learning the alphabet with these free printable alphabet play dough mats.