Oh, the first day of school photo! As an elementary school student, I complained about having to take a first day of school photo. Now that I'm a parent I totally understand.
These cute free printable first day of school signs will help you see your littles off in style! Also totally awesome: there are matching last day of school signs so you can see just how much your children grew over the school year. These cute free printable first day of school signs are available from pre-k all the way up to 12th grade!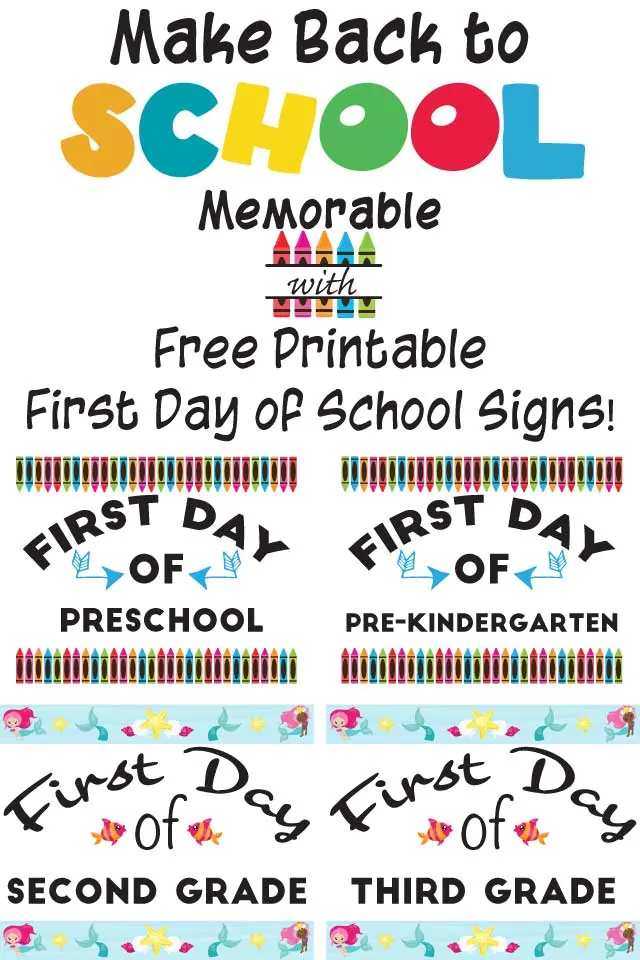 This post includes affiliate links, which means I make make a small commission on purchases made through links at no additional cost to you.
Tips for using back to school signs
For best results, print your signs on presentation paper. It's a sturdy, heavy weight paper with a special coating for crisp, vibrant prints!
For a less sturdy sign but bright prints and an affordable paper, use premium 32lb paper. This paper from HP contains optical brighteners to make it extra bright for your photos. To see a comparison of the 32lb paper and presentation paper in action, see this post with the best paper for planner printables.
HP Paper Printer | 8.5 x 11 Paper | Premium 32 lb | 1 Ream - 500 Sheets |...
Made in USA: HP Papers is sourced from renewable forest resources and has achieved production with 0% deforestation in North America.
Heavyweight premium printing: HP Premium32 is a heavyweight (32 pounds), brighter (100 bright) and whiter (163 whiteness) paper with a super-smooth...
Certified sustainable: HP Premium32 presentation paper is Forest Stewardship Council (FSC) certified and contributes toward satisfying credit MR1...
If you have multiple children, or want to use them for a classroom, you may want to laminate the signs. An at home laminator is very affordable, especially once you consider that most copy shops charge $1-2 per page to laminate.
Sale
Scotch TL901X Thermal Laminator, 1 Laminating Machine, Gray, Laminate...
LAMINATING MACHINE: One Scotch TL901X Thermal Laminator to help you protect frequently used documents up to 9 in. wide
PROFESSIONAL FINISH: Two heated rollers with two temperature settings create bubble- and wrinkle-free results that give your holiday paper items a...
FAST LAMINATING: Laminates one letter-size page per minute and has a release lever for quick pouch release to save you time during the busy holiday...
Instead of laminating, you can also frame the signs. Framed first day of school signs look great in photos! Make sure to remove the glass before taking a photo to prevent glare.
If your child is nervous about going back to school, taking photos with a fun sign can help them loosen up. Back to school is intimidating for students of all ages – young kids are worried because it's a new experience, but middle and high schoolers are often more nervous than they let on.
Younger children can also benefit from reading books about the first day of school before actually starting. Introduce a book a few days, or even weeks, before the start of school to help them explore their emotions and know that it's normal to be nervous.
Some quick housekeeping before we get to the signs: These back to school signs are free for personal use. Feel free to use them with your classroom or homeschool co-op, too! Just please do not redistribute the files. Simply refer people back to this post so they can download their own copy! Thanks so much.
Free printable mermaid first day of school signs
Although I realize not every parent or student will want to take first day of school photos all the way through 12th grade, I made these first day of school signs from pre-Kindergarten up to 12th grade. I know people taking first day of school photos for their high schoolers and I didn't want to leave them hanging!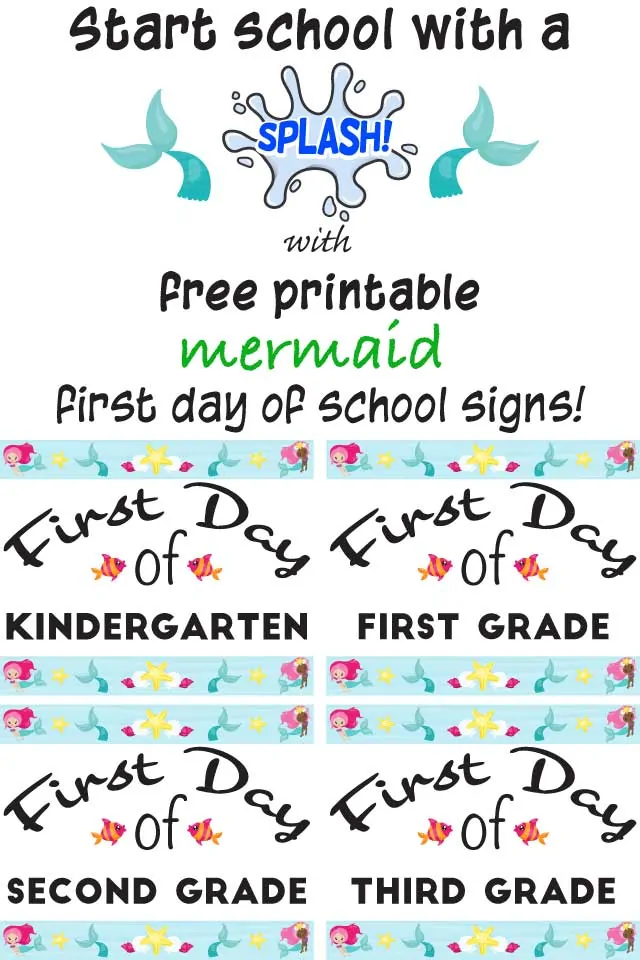 I didn't include all of the signs in the preview image above because the design is the same on each page except for the grade level. The year is not included so these signs are evergreen. You can use the same sign again for younger children or use the same set throughout your child's school career!
Please note that these are free for personal and classroom use. You are not licensed to redistribute the files or printouts to others for their use. Just send your friends to this post so they can download their own copies.
Complete the form below to me know where you send your mermaid themed first day of school signs and they will swim across the internet and into your inbox:
Crayon first day of school printables
The crayon back to school signs are also evergreen (without a year) and available from the first day of preschool up through 12th grade.
I realize that most high schoolers won't be keen on the crayon cartoons, but I was really into coloring in high school so you never know! (This was before the adult coloring trend, so I ended up using a lot of kid's coloring books.)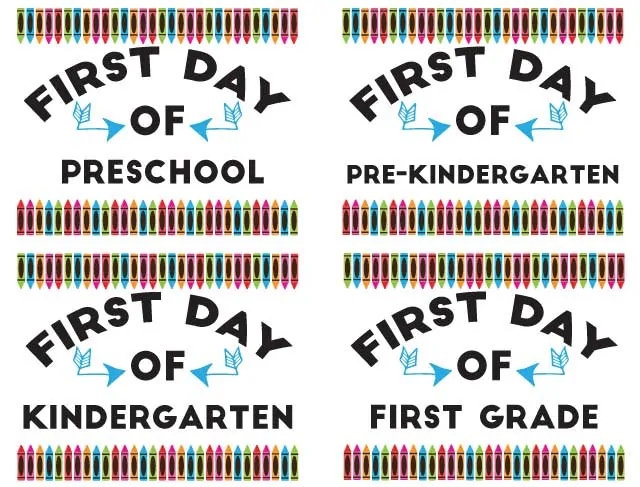 Let me know where to send your crayon themed first day of school signs by completing the form below:
I hope you enjoy taking back to school photos with your little one! If you have any requests for themes, please let me know. I'm happy to make more signs if I have the time and know what folks are looking for!
Free printables on The Artisan Life
Welcome to the home of free printables on The Artisan Life!