This kindness word search free printable is a great way to celebrate World Kindness Day, Random Acts of Kindness Day, or to promote kindness and good manners any day of the year. It's available in both color and black and white versions and the answer key is included. I hope you enjoy!
This post may include affiliate links which means I may earn a commission on qualifying purchases at no additional cost to you.
Teaching kindness to children
I think we can all agree that teaching kindness to children is important! A great way to do this is by modeling kindness and politeness every day. Reading books about kindness and compassion is another great way to teach your child about emotions, feelings, and how our actions can affect others.
Free printable kindness day word search
This free printable kindness word search is available in black and white and two color versions. The puzzle is the same for all three – only the ornamentations are different. One color version shows two girls holding hands and the other color version shows a boy helping to pick up the classroom. The answer key is included and words can be hidden forwards, backwards, and diagonally.
Here's what you're getting: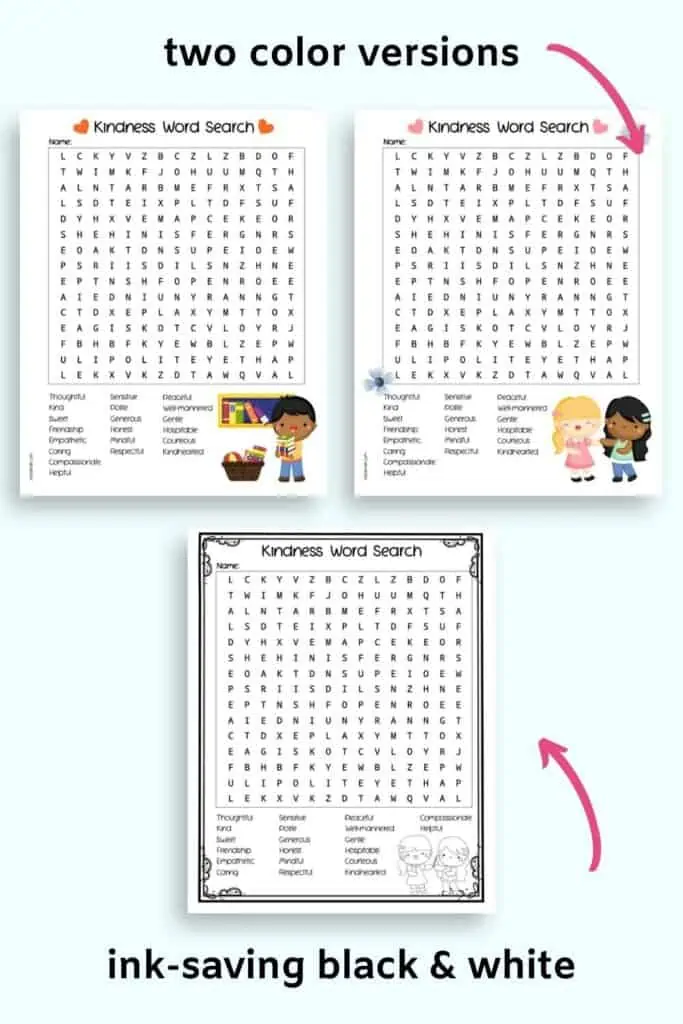 This kind words word search is licensed for personal and classroom use. This includes use with your own personal therapy clients, library activities you are organizing, etc.
I hope you enjoy these kindness word search printables! Be sure to check out this page additional printable word searches here on The Artisan Life.