This roasted pineapple with a honey cinnamon glaze is such an easy, healthy dessert recipe!
Pineapple is everywhere in Hawaii. On the mainland I'm used to seeing The Pineapple in grocery stores. There is usually one variety of pineapple, one type of mango, and your standard yellow Cavendish banana. In Hawaii, you have pineapple (and mango and banana) choices, which is pretty neat!
Pineapple is delicious, but there is only so much of it you can eat raw before your tongue starts to feel funny. It's absolutely impossible for me to walk past 59 cent a pound pineapple, though, so I decided to start cooking it.
Most recipes I've seen call for a grill, which I don't have, so I created a delicious oven roasted pineapple with a honey cinnamon glaze.
By marinading the pineapple for a few hours it gains an even richer flavor, and sprinkling it with a little extra butter and sugar prior to broiling leaves it with tasty caramelized ends. I hope you enjoy this roasted pineapple with honey cinnamon glaze recipe!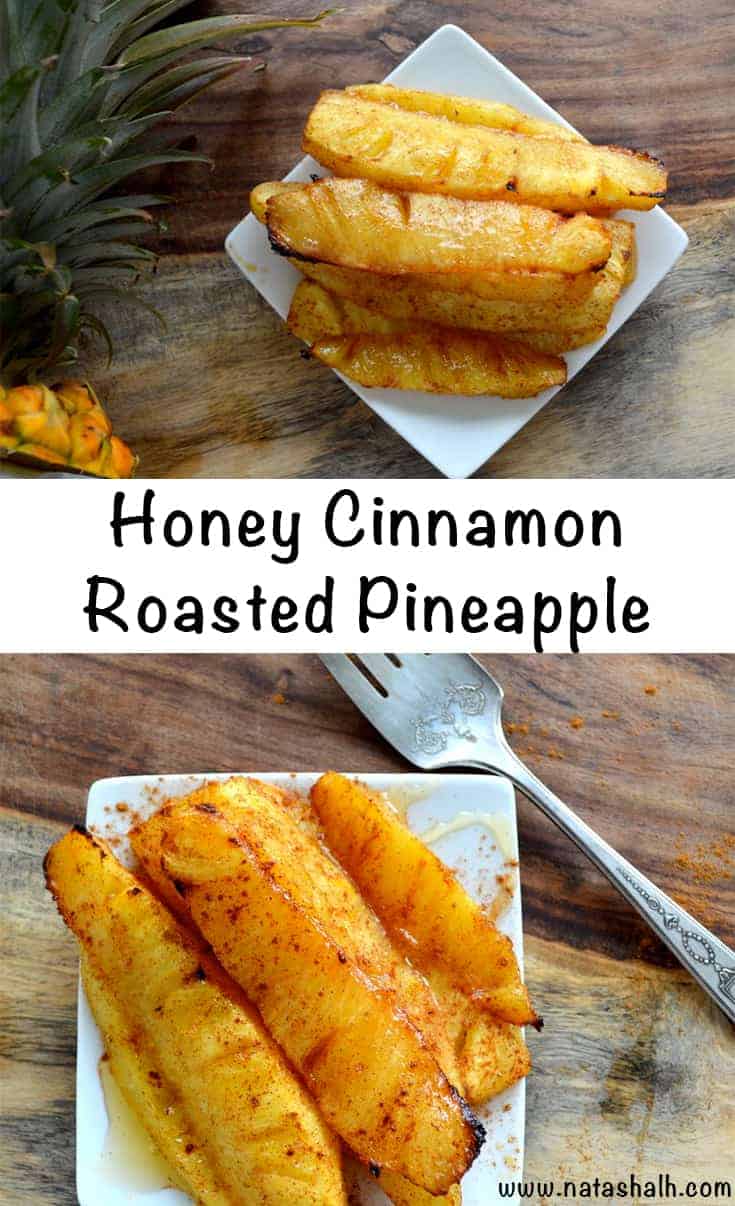 This post may include affiliate links, which means I may make a commission on purchases made through these links at no additional cost to you.
The recipe says it needs 40 minutes of prep time. It really only needs 10 minutes or less of active prep time, depending on how quickly you cut pineapple.
The rest of the time is simply spent waiting for the marinade to work its magic.
I really enjoy these pineapple spears cold, too, but my husband insists they're far better hot. If you do decide to store cooked spears in the fridge, I recommend allowing them to cool before putting them back in the refrigerator so they don't create a lot of condensation in the bag or container.
If you decide you're more of a straight out of the oven person, just cook as many spears as you'd like to eat fresh and leave the others sitting in the marinade a while longer. I don't know exactly how long they'll last – it probably depends a lot on your pineapple – but I've cooked spears that marinaded for nearly two days and had them turn out fine.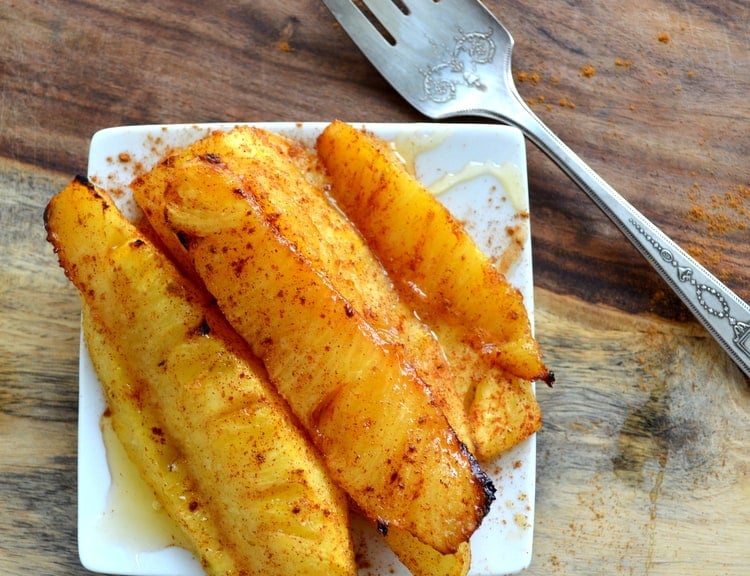 Roasted Pineapple with Honey Cinnamon Glaze - An Easy Dessert!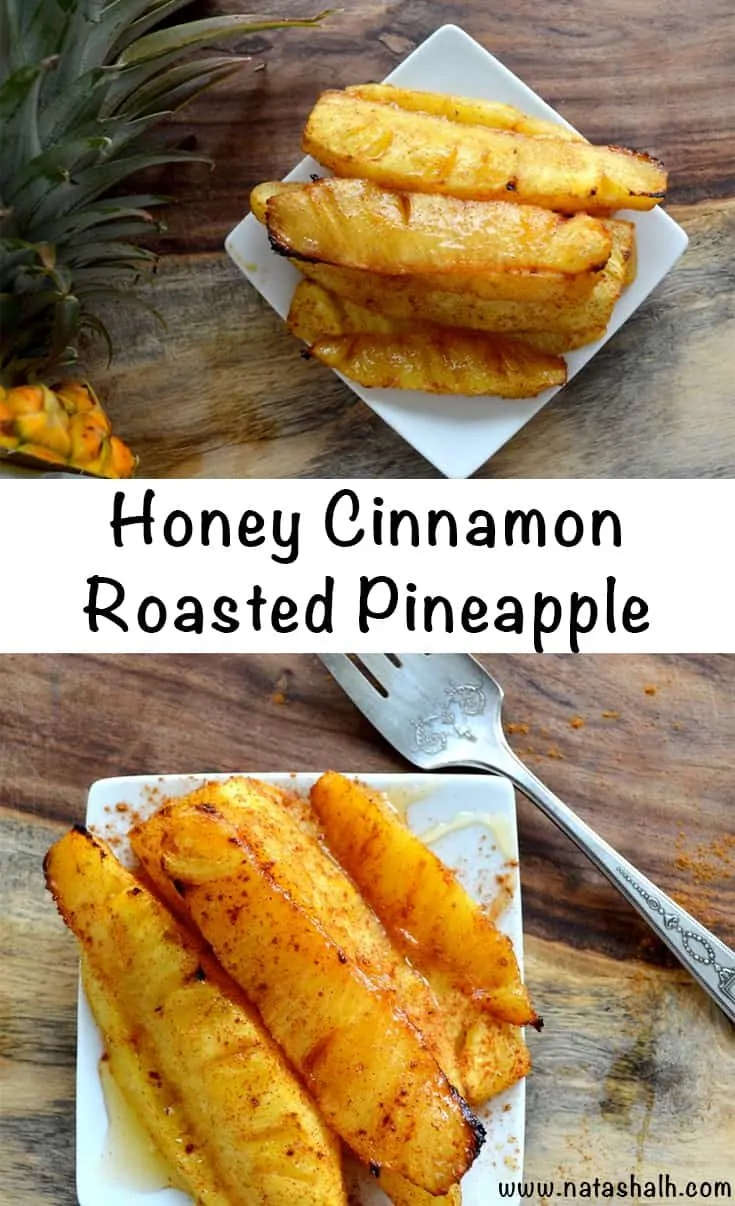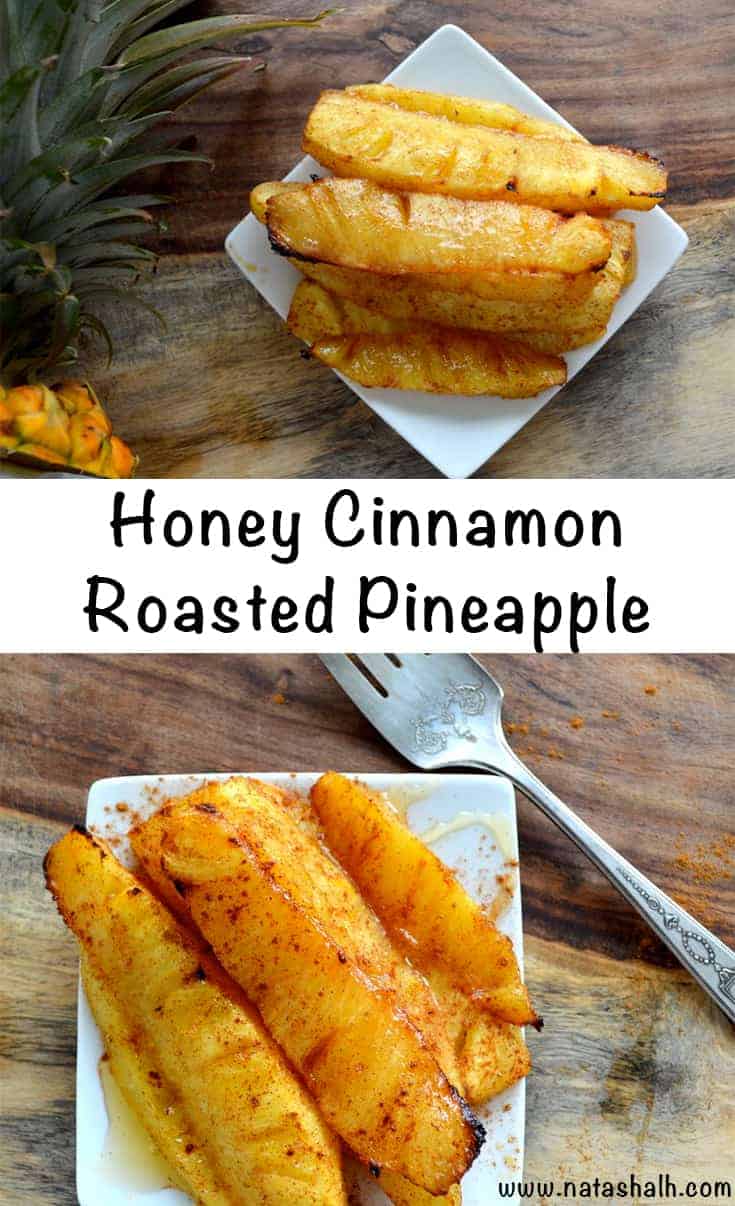 Ingredients
1 pineapple
1/4 cup of honey
1 tablespoon of lime juice
1 teaspoon of cinnamon
1 tablespoon of butter (optional)
1 tablespoon of sugar (optional)
Instructions
Cut your pineapple into spears. You can cut as little or as much of the pineapple as you'd like - 1/2 of the pineapple should be more than enough for 2 people, but the whole pineapple is a better choice for a family.
Combine the honey, lime juice, and cinnamon in a gallon zip-top bag or plastic container large enough to hold the pineapple spears.
Add the pineapple to the marinade, toss to coat the spears, and zip/cover the container.
Place the pineapple in the fridge and allow it to marinade for at least half an hour. You can leave the pineapple marinading over night, if need be.
After your pineapple has marinaded, adjust an oven rack to the top, or second from the top, position and pre-heat your oven broiler on high. Then, line a baking tray with aluminum foil to make your clean up easier.
If desired, melt a tablespoon of butter and stir in a tablespoon of sugar to make a glaze. This is not mandatory, but helps the pineapple brown and crisp up. It releases a lot of juice while marinading and comes out of the bag fairly moist, so it will not brown well without additional assistance.
Remove the pineapple spears from the marinade and place them in a single layer on the prepared baking sheet. Brush both sides (or all three, if your spears have a broad third side) with the butter/sugar mixture.
Broil the pineapple spears until the ends are turning brown and caramelized. This should take 8-10 minutes, depending on your oven. Keep an eye on them to make sure they don't burn!
Enjoy the pineapple while it's warm, and top with additional cinnamon and/or honey, if desired.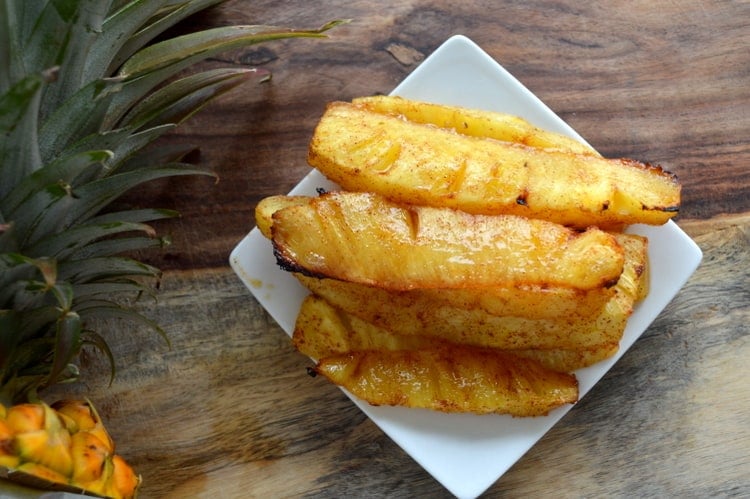 More healthy desert recipes
Super secret ingredient double chocolate brownie batter dip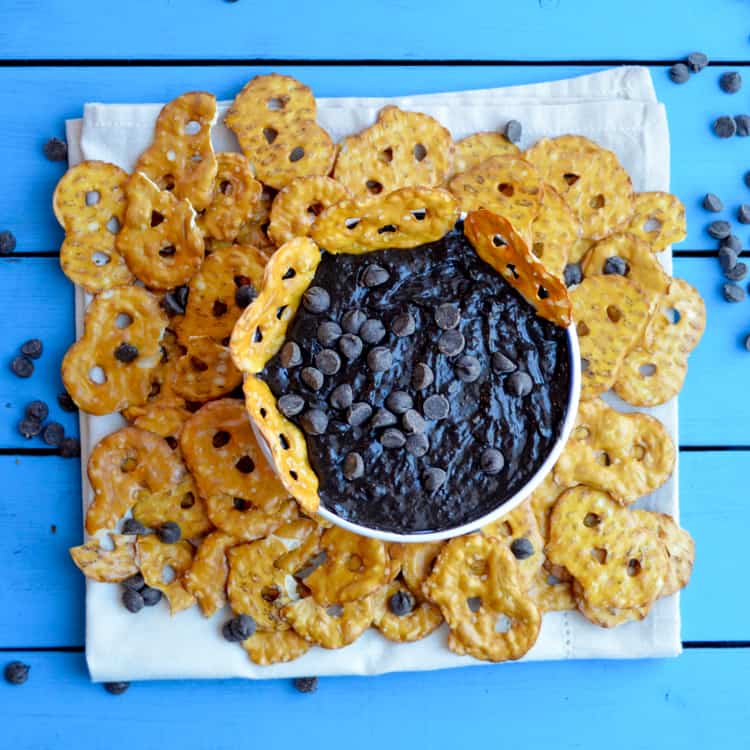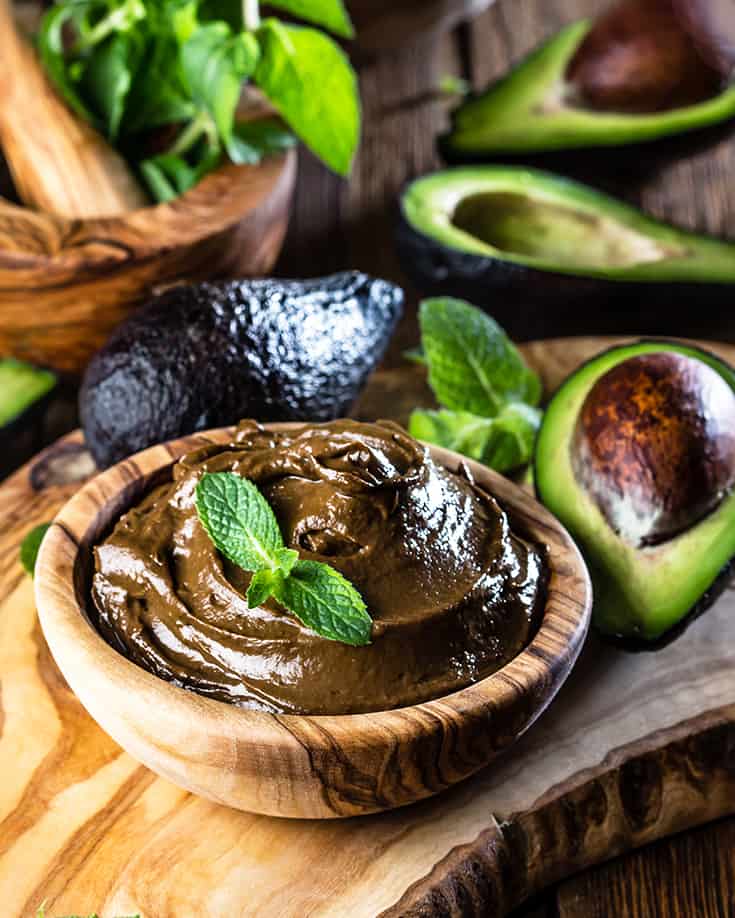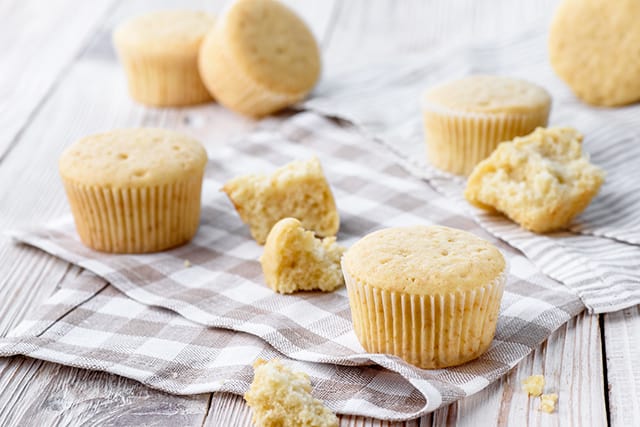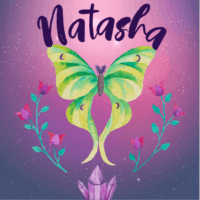 More Related Posts
[catlist search="recipe" numberposts=4 orderby=rand excludeposts=this]