This post may include affiliate links, which means I may make a commission on purchases made through these links at no additional cost to you.
Why do so many recipes make 18-24 cupcakes? Unless you're throwing a party, what do you do with all those cupcakes??? I guess you could freeze them, but two dozen cupcakes always seems like way too many, especially if you're only baking for one or two people.
I secretly love cake and icing, but I've found most commercially-produced baked goods are way too sweet for me. All I can taste is the tooth-aching sweetness!
The combined desire for only a couple of cupcakes and something less sweet led me to create these small batch chocolate chip cupcakes. They're made with Greek yogurt (hooray!), have far less sugar than "normal," and have a tasty cream cheese/Greek yogurt small batch frosting recipe to top them off!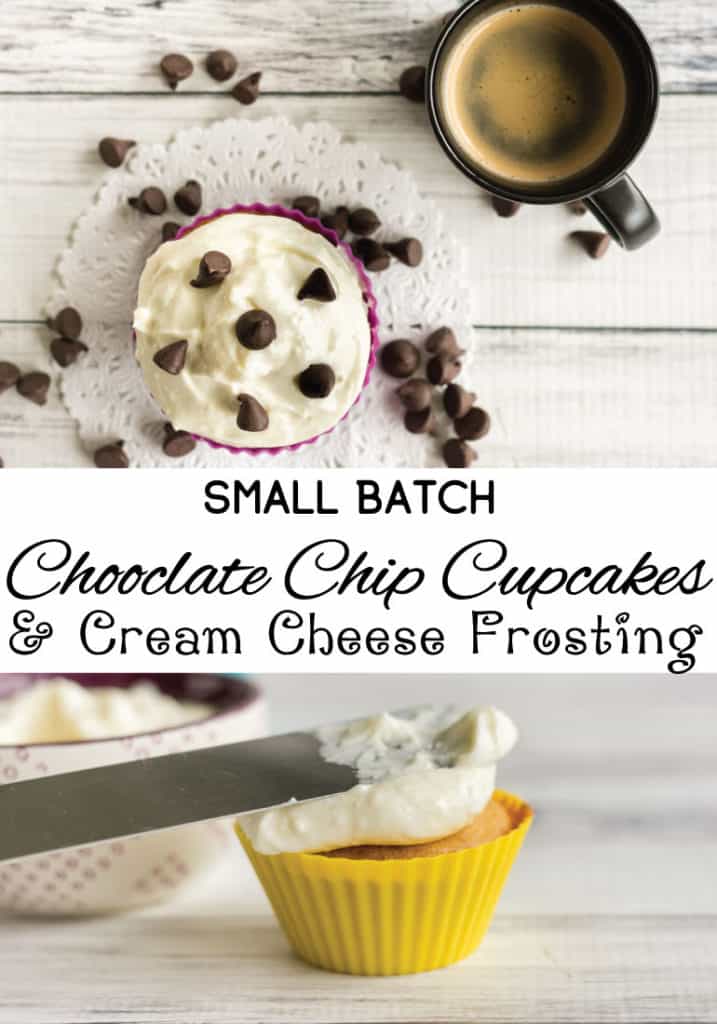 Because these have a less than usual for American baked goods amount of sugar, if you're accustomed to sugary items you might not find these cupcakes very sweet. You can use 1/4 cup of granulated sugar instead of the honey I used and/or sweeter chocolate chips, if you'd like. S
peaking of chocolate chips, I have a new favorite! Enjoy Life. This isn't a sponsored post or anything, but I'm excited and want to share them because they're soy and dairy free, high percentage cacao, and are sweetened with cane sugar. How cool is that? (Enjoy Life also makes other wonderful chocolate goods!)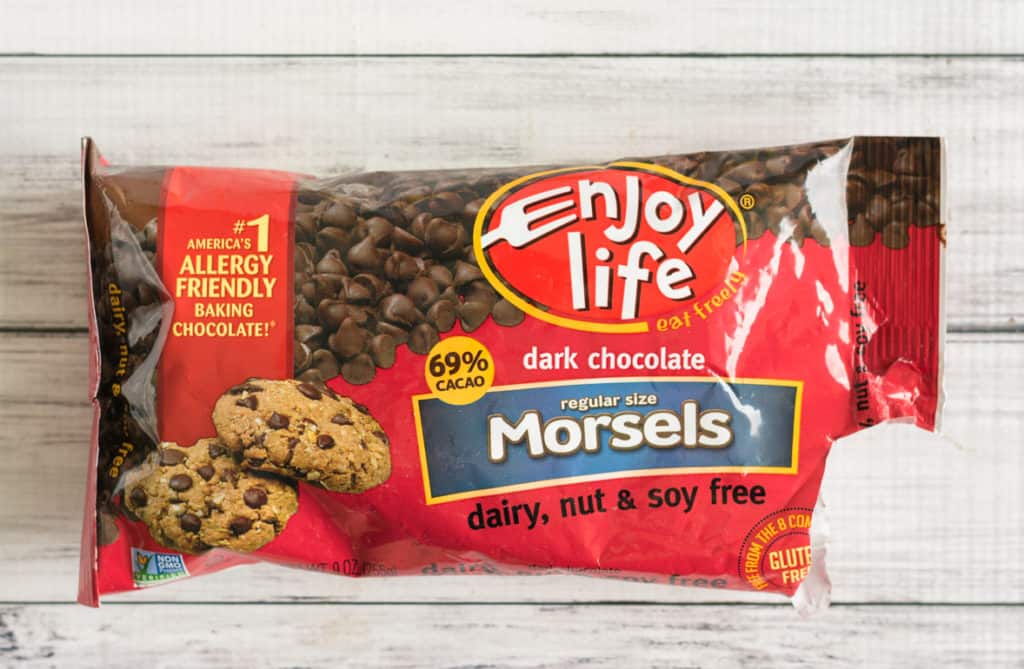 As you can see in the photos, I used silicone baking cups. We first purchased them for packing my husband's lunch and meal planning, but they really do bake well! I've been using mine for several years.
This recipe also lends itself to a cool little trick. If you have a bottle of honey or something you can pour/squeeze, measure the oil then use the same measuring spoon to measure out the honey. The residual oil will make the honey slip right out of the measuring spoon! It's pretty nifty.
Ready for the recipe?
Yield: 6
Small Batch Chocolate Chip Cupcakes - Greek Yogurt Cupcakes with Cream Cheese Frosting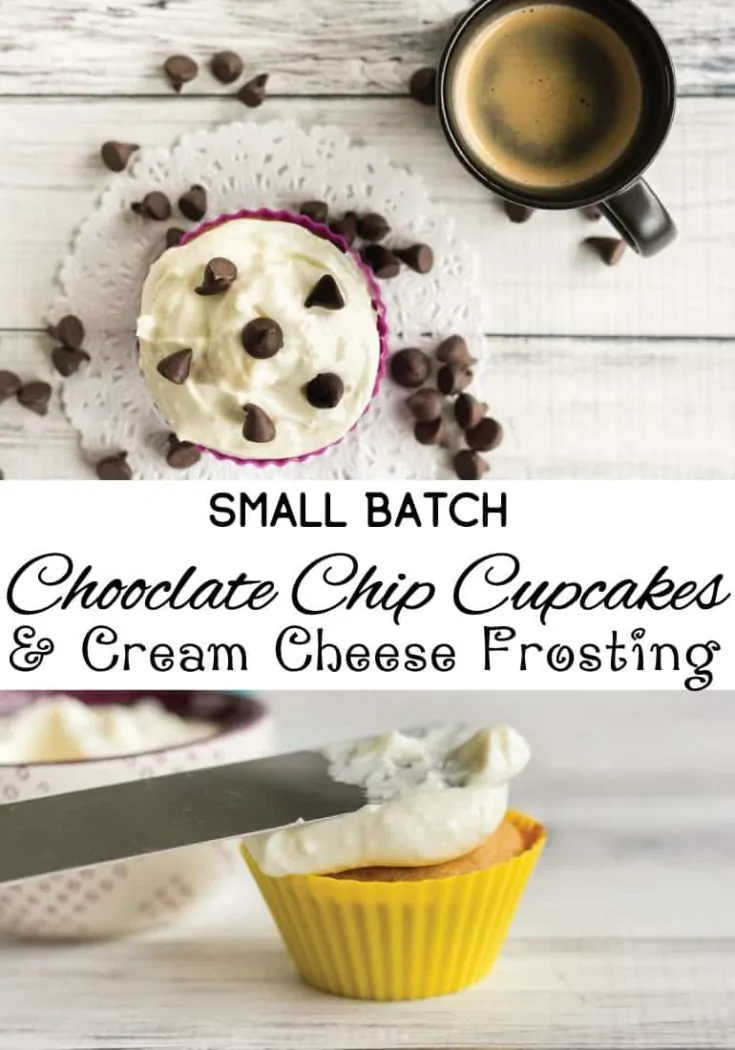 Prep Time 5 minutes

Cook Time 17 minutes

Total Time 22 minutes
Ingredients
For the cupcakes
1/2 cup flour
1/2 teaspoon baking soda
1 egg
2 tablespoons liquid coconut oil (or vegetable oil)
2 tablespoons honey
1 teaspoon vanilla extract
4 tablespoons plain Greek yogurt (I used Fage 0%)
3 tablespoons almond milk (I used unsweetened vanilla almond milk. You could use any dairy or non-dairy milk)
2 tablespoons chocolate chips
For the cream cheese and Greek yogurt frosting
4 tablespoon cream cheese, at room temperature (I use Nature Valley organic)
1/2 cup plain Greek yogurt
5 tablespoons powered sugar/confectioners' sugar
2 teaspoons milk or cream
Instructions
Preheat your oven to 350ºF and prepare six cupcake liners (paper or silicone) in a muffin pan.
Combine the flour and baking soda in a small bowl.
Crack the egg into a medium/small bowl and whisk vigorously to break up the yolk.
Add the coconut oil, honey, and vanilla extract and whisk to combine. If you're using a bottle you can squeeze (not a jar you have to dip out of), reuse the oil teaspoon for the honey and watch the honey just glide right out instead of sticking!
Whisk in the Greek yogurt and milk until fully incorporated, then slowly add the flour mixture and stir until fully mixed (but be careful not to over mix! This can make the batter tough. Once all the flour is mixed in, stop).
Stir in the chocolate chips.
Fill each of your cupcake liners a scant 3/4 of the way. This batter does rise in the oven! You should be able to fill six "normal" sized liners.
Bake until the tops are golden brown and a toothpick inserted in the middle comes out clean, about 15-17 minutes. You may need to bake a couple minutes more or less, depending on your oven, pan, and liners, so keep an eye on them.
Remove from the oven and allow to cool completely before frosting.
For the cream cheese and Greek yogurt frosting
Measure out the cream cheese and allow it to sit on the counter until it's room temperature.
Combine the cream cheese, greek yogurt, and milk in the bowl of a standing mixer or a regular mixing bowl and then mix on medium to combine.
Add in the milk, then add the powdered sugar one tablespoon at a time. Mix on medium-high until throughly combined/all lumps have been removed from the sugar. This usually takes 2-3 minutes. Feel free to add a little more milk if the frosting is too stiff.
Frost the cupcakes once they're fully cooled, add a few extra chocolate chips if you'd like, and enjoy!
Store un-eaten cupcakes in an air tight container in the fridge. They'll keep at least two more days - beyond that I can't vouch for because they haven't lasted that long around there. =)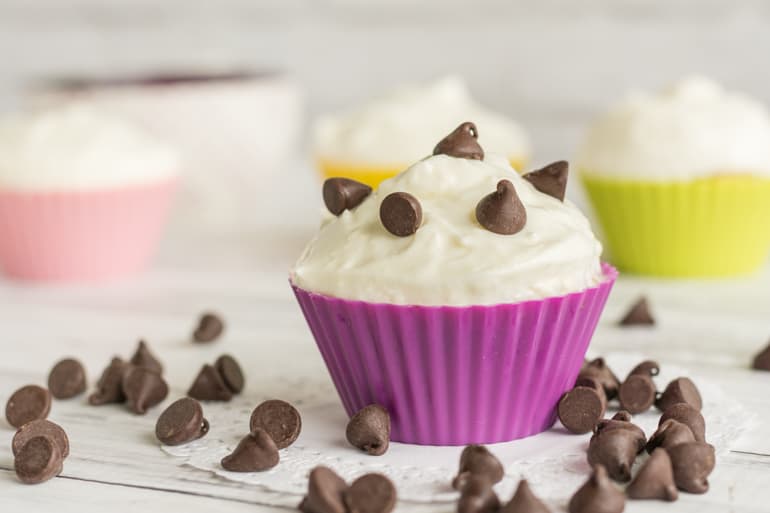 I was afraid the icing might separate if stored, but a couple of these cupcakes lasted a whole two days in the fridge without anything funny happening to the icing. Beyond that I really can't vouch for!
These small batch chocolate chip cupcakes really hit the spot. They're a sweet treat that isn't overpowering, either with the sweetness or their quantity! As singles and couples without kids know, cooking at baking for just one or two people can be pretty annoying, but these cupcakes are a breeze to make (and enjoy). I hope you try them soon!
Do you scale down desserts and comfort food favorites, or do you just make the whole batch and find a way to deal with the leftovers?