These free printable Chinese New Year themed count and write pages are a fun, no-prep way to help your child practice counting and writing their numbers. They're also easy to make reusable when you slide the sheets into heavy duty page protectors! Since the images are in budget-friendly black and white, they can also be colored. I hope you enjoy!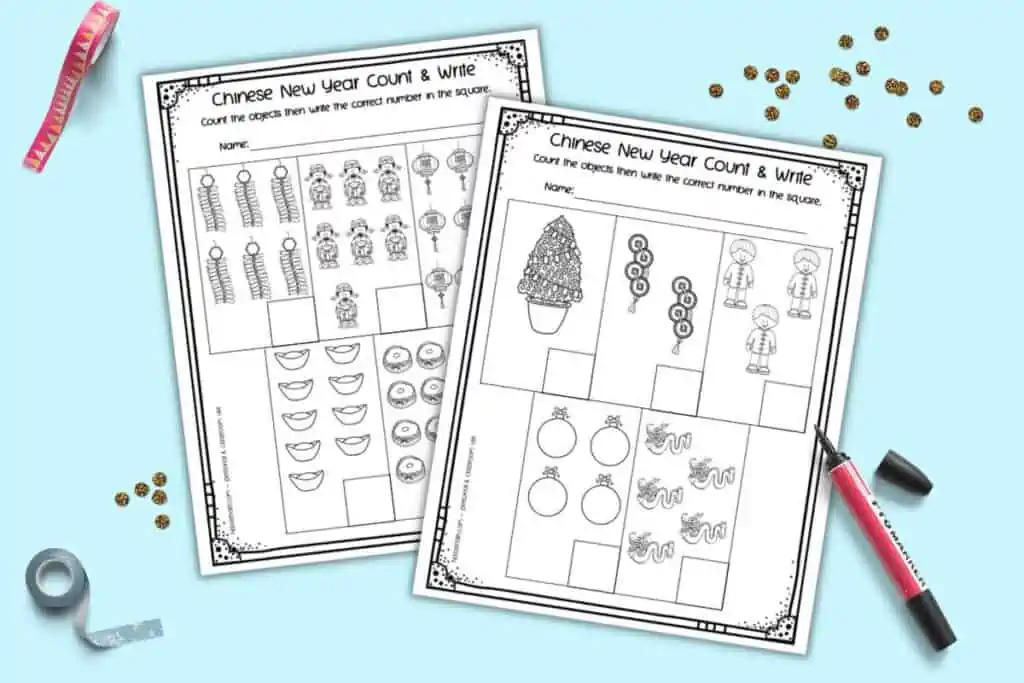 This post may include affiliate links which means I may earn a commission on qualifying purchases at no additional cost to you.
Chinese New Year theme for preschool
Children love learning about other kids and their holidays. Bright colors, dragons, and Zodiac animals make the Chinese New Year, celebrated on the Lunar New Year, a fun theme for children.
The Chinese New Year is the most famous Lunar New Year celebration, but other places and peoples celebrate the Lunar New Year, too. These count and write worksheets focus on Chinese imagery.
The Lunar New Year takes place in late January or early to mid February each year. It marks the beginning of spring in the traditional spring planting season. Calculating the exact date depends on when the new moon falls in relation to a date called "Spring Commences (立春). You can read a detailed explanation of how to calculate the Chinese New Year date here.
The book Lunar New Year is a beautiful look at the Chinese New Year for young children. It makes a fantastic addition to your Chinese New Year theme for preschool and pre-k.
How to use count and write cards
There are two sheets of count and write printables. The first page has 1-5 and the second page has 6-10. You can print and use one or both pages, depending on your child's needs.
You can print the pages and have your child use them with a pencil, marker, or pen. Because the images are in black and white, your child can color them for additional fun and fine motor practice. Developmentally, the best option for kids is to use a preschooler-sized pencil. It encourages a proper pencil grip and is the correct size for a child's hand.
Channie's Easy-to-Hold Presharpened Big Pencils for Preschoolers,...
Cute Pencil Set for Children - Pre-sharpened number 2 beginner pencils for writing and drawing; Easy to hold for small hands, perfect for...
Jumbo Barrel - Medium point and 2B graphite core creates thick, dark lines; Each pencil is 4.7'' long and 0.5'' in diameter and weighs 5 oz to help...
Complete School Set - Ready to use in kindergarten or preschool; Pencils include bulky erasers and come pre-sharpened for immediate use; Pack includes...
Count and write cards are sometimes called "count and wipe cards" because you can laminate them or place them in dry erase pockets to make them reusable. This is a great way to save time and paper, especially if you make the pages part of a classroom math center.
If you want to use page protectors, I recommend heavy duty "secure" page protectors with a flap to hold the paper inside. Regular, thin page protectors aren't great for repeated use. They tend to winkle when written on and erased. The heavy duty page protectors can stand up to more enthusiastic use. The flap is also very helpful because it keeps the page from sliding out and getting rumpled or written on.
Sale
Avery 76000 Secure Top Sheet Protectors, Super Heavy Gauge, Letter, Diamond...
Keep contents secure in the protective sleeve with convenient top flap; perfect for holding nonstandard size papers and important items
Get a crisp, clear view of the contents of your documents with diamond clear page protectors featuring a polished finish for high clarity
Ensure your documents stay protected with long-lasting super heavyweight sheet protectors for all of your frequently referenced items
I prefer Stabilo Woody 3-in-1 pencils over dry or wet erase markers. There's no ink and no stink! They also don't erase themselves as you continue to write or color, which means you can make reusable coloring pages. See this post with dinosaur coloring pages for a video demo.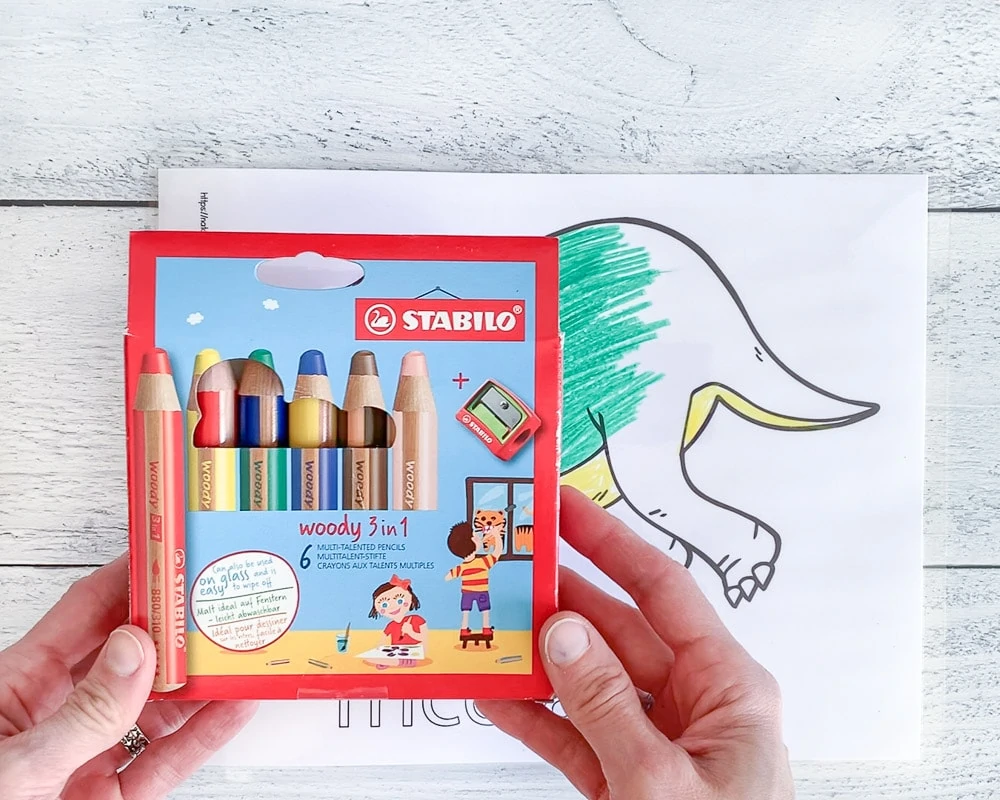 Sale
Lamination and dry erase pockets cost slightly more and the pages are harder to organize. They're also more durable, though, so those are good options for classroom use.
Sale
Scribbledo Dry Erase Pockets, 6 Pack Reusable Dry Erase Sleeves with Marker...
✨ DURABLE & LONG LASTING: Our dry erase clear pocket sleeves are made with durable and long-lasting pet plastic with industrial-grade stitching...
💊 METAL EYELET & MARKER HOLDER: Our dry erase plastic sleeves have metal grommet eyelets so you can hang them easily on any hook, and they also...
🎯 OVERSIZED POCKETS: Our dry erase pockets measure 10 x 14 inches, which makes them perfect for storing the most size of papers or student activity...
However you decide to prepare the sheets, the basic way of using them is the same. Your child counts the images, then writes how many in the square.
If your child isn't able to write numbers yet, they can make tally marks or dots instead of numerals. I'm sorry the numbers are so hard to read in the photo below. I asked my daughter to use a different pencil, but she was adamant about using teal.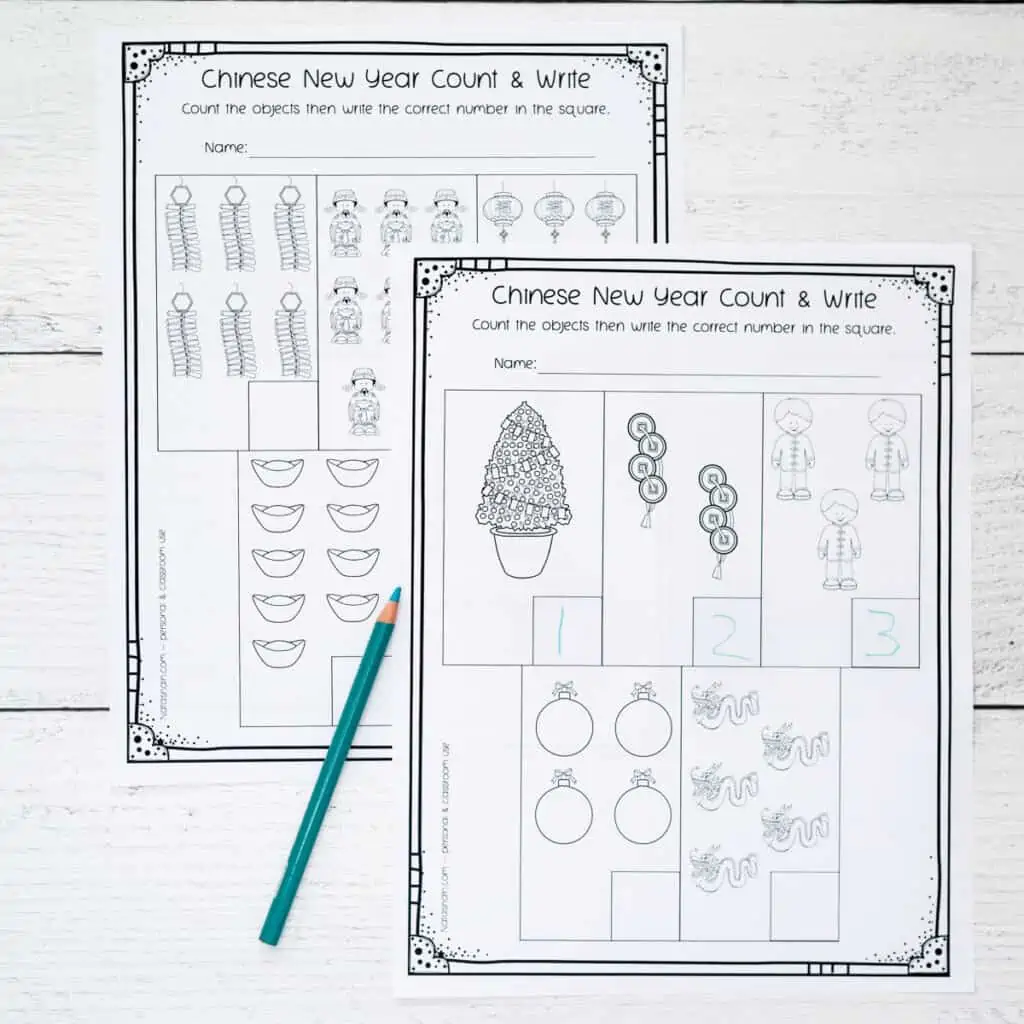 Free printable Chinese New Year themed count and write PDF
These printables are licensed for personal and single classroom use. You may not redistribute the printouts or digital files to other parents/teachers for use with their children or students. Please send them to this post so they can grab their own copies. Commercial use (selling the printouts or files) is prohibited.
I hope you enjoy using these count and write pages with your little learner!