These free printable dinosaur coloring pages with names are perfect for your dino-loving little one. There are nine popular dinos with two different poses for each one for plenty of coloring fun!
Nine of the pages feature the dinosaur's name in bubble letters to color in. The other of the pages have the dino's name in a dotted font with writing lines so your little learner can trace and practice their handwriting. Although the same nine dinosaurs are available in both versions, the poses are different so there are no exact repeats.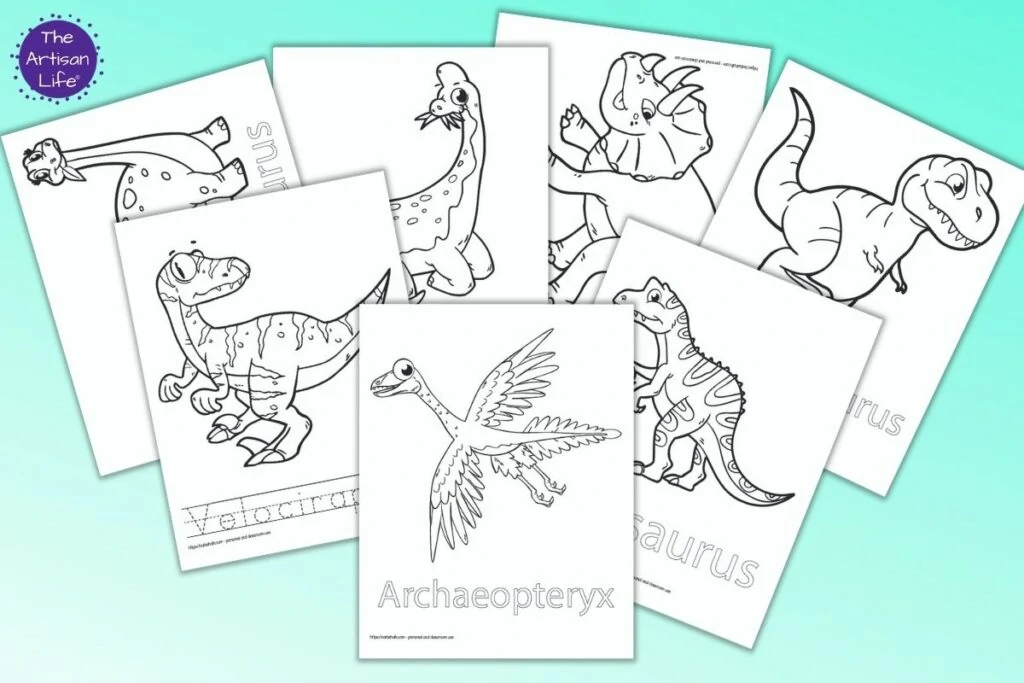 If you have a dinosaur-loving child, make sure to download this free printable dinosaur bingo game while you're here. The whole family can play along because it's a picture bingo game – no reading is required. For more dino coloring fun, grab these free dinosaur do a dot printables, too.
This post may include affiliate links which means I may earn a commission on qualifying purchases at no additional cost to you.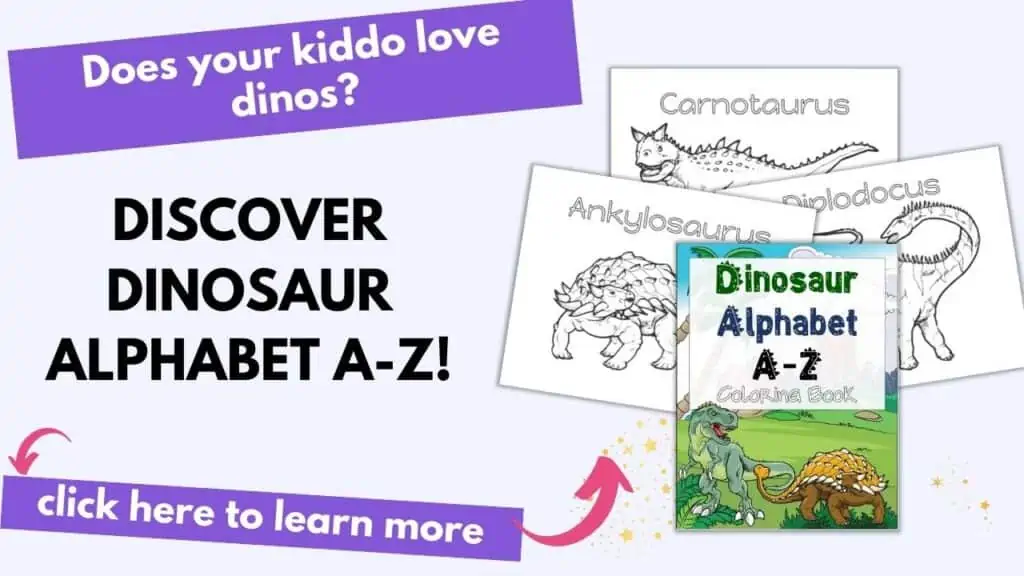 How to print and use dinosaur coloring pages
Printing and uses these coloring pages is pretty straightforward – print them off and hand them over to your eager dino lover!
I recommend printing the coloring pages on 32 lb bright white paper for the best coloring experience. Remember those yellow, rough coloring pages in coloring books as a child? They're not that fun to color on. This 32 lb paper is smooth and bright for vibrant colors and easy coloring.
It may sound strange, but you can laminate these pages for repeated use. We recently discovered Stabilo Woody 3 in 1 pencils. They're basically a large wax crayon in a wooden pencil format. You can use them instead of a dry erase marker, so they can be used to color laminated coloring pages. This means you can make reusable coloring pages. What a time saver! Just print and laminate them once.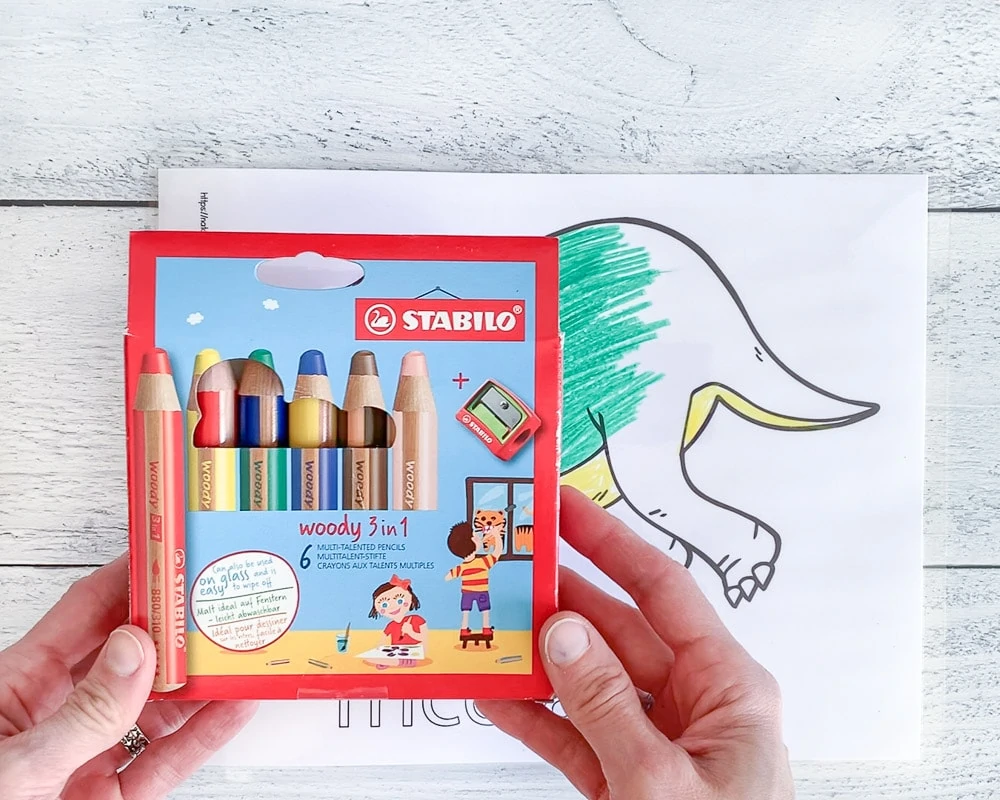 Stabilo Woody pencils are remarkably good at coloring on laminated pages with rich, vibrant colors. Reusable coloring pages are amazing – just wipe them down with a very lightly damp towel and the pencil comes right off. No more printing favorite pages a zillion times. Just print and laminate them once for virtually endless coloring fun.
I know it sounds too good to be true, so I made a quick video showing the Stabilo Woody pencils in action. I demonstrate how you can color back and forth over the same area (it would just erase itself with a dry erase marker) and how vibrant the colors are.
Cleaning the pencil off is easy with a very slightly damp towel. Move to a clean spot on the towel, as needed, and use firm strokes in one direction to clean up quickly and easily.
If you don't want to laminate, use dry erase pockets instead of page protectors. Page protectors, even heavy duty ones, can wrinkle with vigorous back and forth coloring.
Sale
Clipco Dry Erase Pocket Sleeves Assorted Colors (6-Pack)
VERSATILITY - This pack of 6 dry erase pocket sleeves or worksheet sleeves are perfect for protecting and reusing student worksheets. Measuring 14...
COLORS - In this pack you will receive 1 blue, 1 yellow, 1 orange, 1 green, 1 red and 1 pink sleeve
HIGH QUALITY - Made with high grade plastic and double sewn edges these worksheet sleeves are made to last. Features a convenient marker pen holder...
Included dinosaurs
As mentioned above, there are nine different dinosaurs with two separate pages each. Dinosaurs included are:
Allosaurus
Apatosaurus (formerly known as brontosaurus)
Brachiosaurus
Dilophosaurus
Stegosaurus
Triceratops
Tyrannosaurus Rex
Velociraptor
Archaeopteryx
For more dinosaur fun, make sure to check out these toddler-approved dinosaur toys and free printable dinosaur ten frames in Spanish and English.
Printable dinosaur coloring page download links
First, the boring but important bit. These coloring pages are licensed for personal use.
You are not licensed to redistribute the files or printouts to others for their own personal or classroom use. Please refer your friends and coworkers to this page so they can download their own copies. Thank you!
Because children frequently want exactly the dinosaur they want (and nothing else will suffice), I've broken these coloring pages into nine pairs. The pairs of pages with the same dinosaur are downloadable in the same PDF for free.
The individual dinosaur coloring page download links are located below each preview image. The link should open in a new tab and begin downloading automatically. You may need to authorize downloads from Dropbox if a dialogue box appears asking for permission.
If your dino-lover loves all dinosaurs equally, you can save time and grab all 18 pages in one convenient file for the very low price of $1.29. Please keep scrolling past this purchase widget if you want to download only specific pages.
Allosaurus coloring pages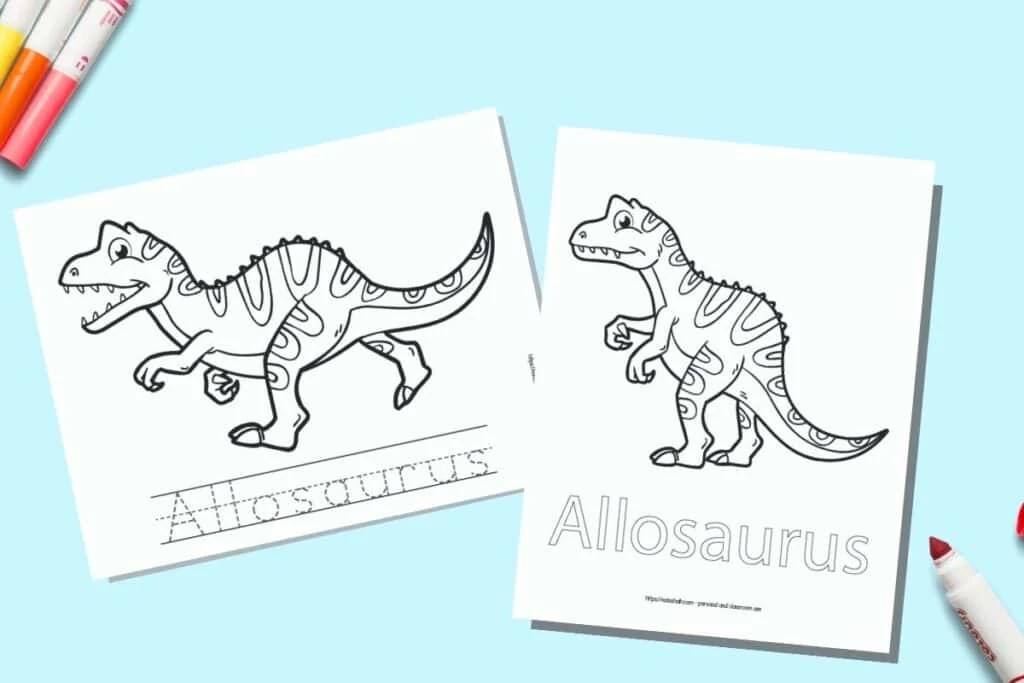 Apatosaurus coloring pages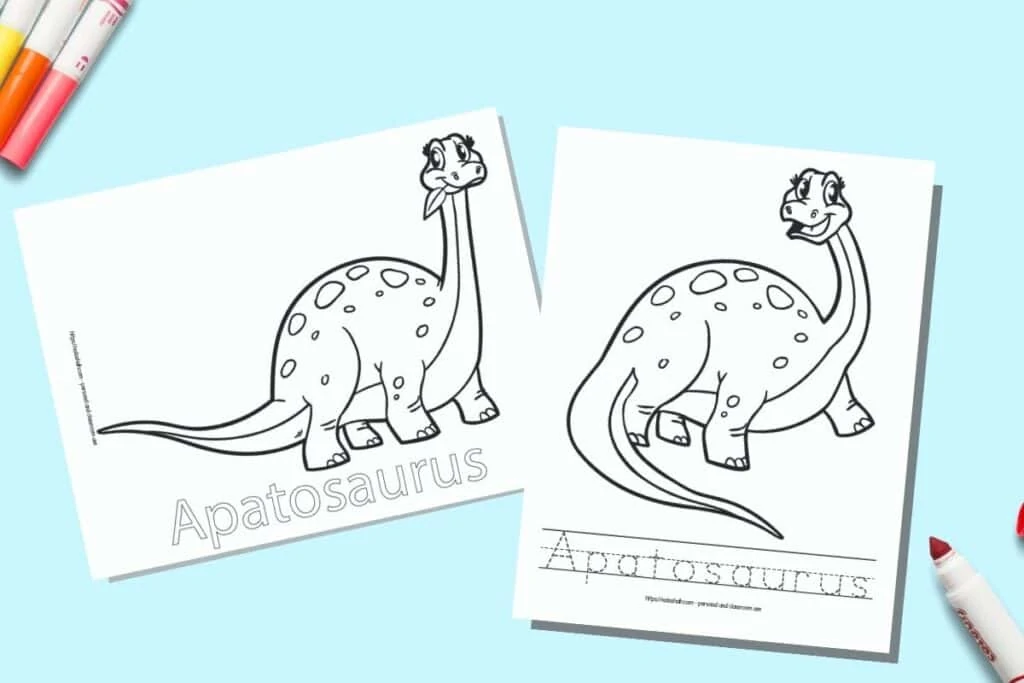 Download Apatosaurus coloring pages with name here
Brachiosaurus coloring pages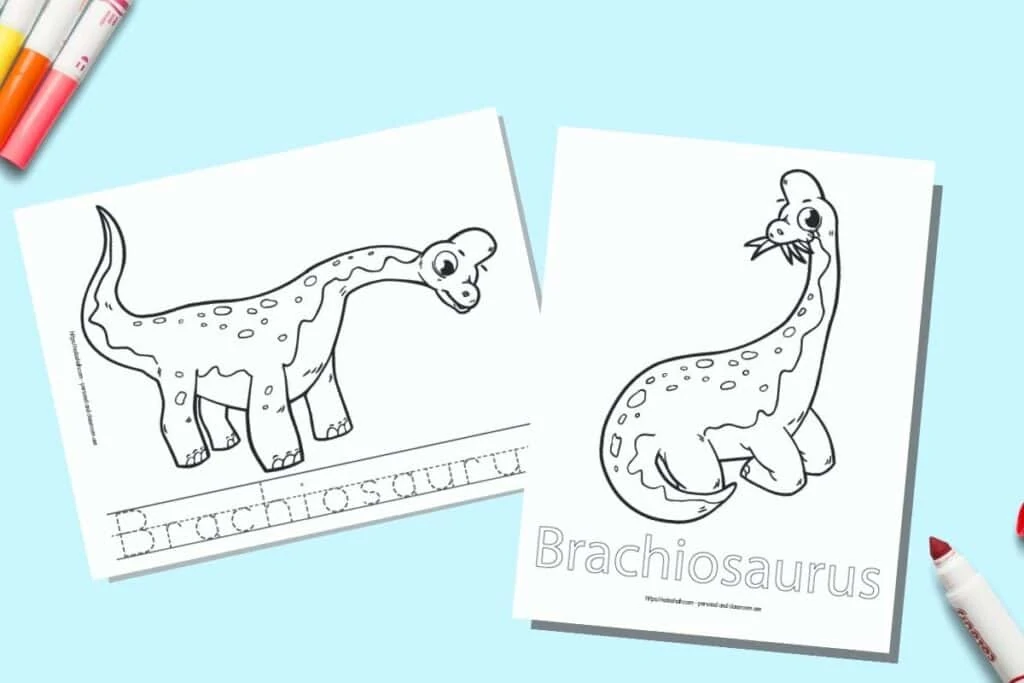 Download Brachiosaurus coloring pages with name here
Dilophosaurus coloring pages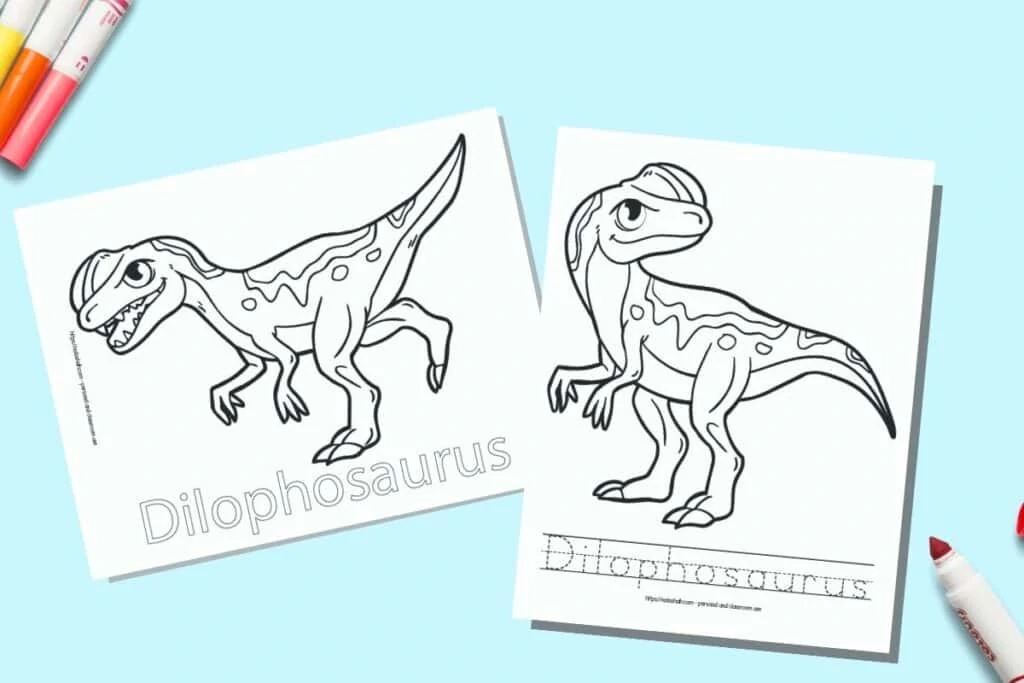 Download Dilophosaurus coloring pages with name here
Stegosaurus coloring pages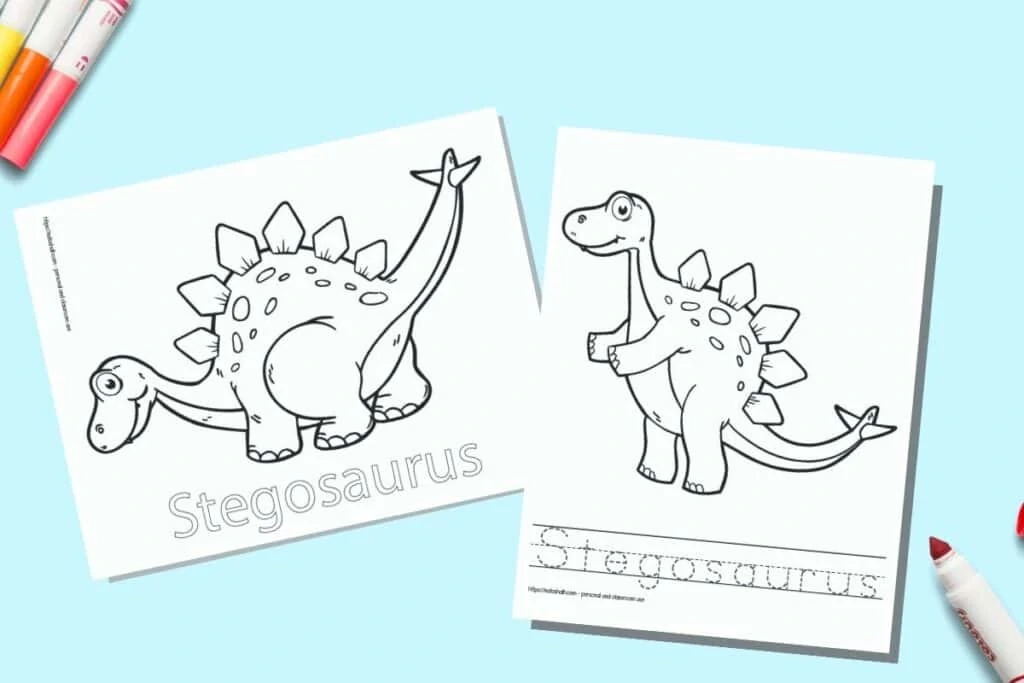 Download Stegosaurus coloring pages with name here
Triceratops coloring pages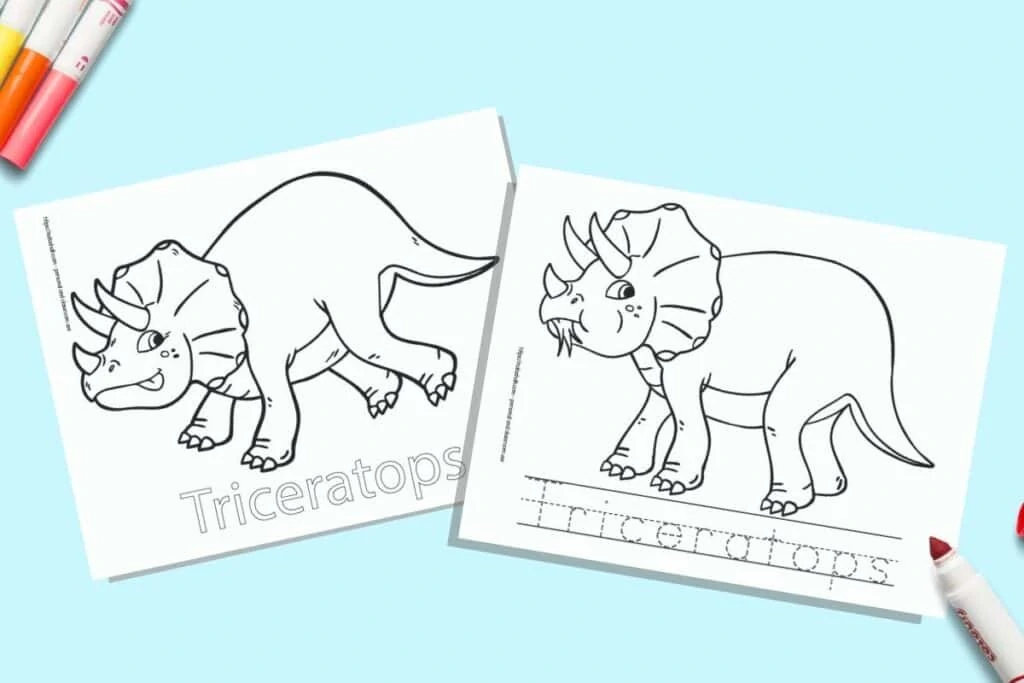 Download Triceratops coloring pages with name here
Tyrannosaurus Rex coloring pages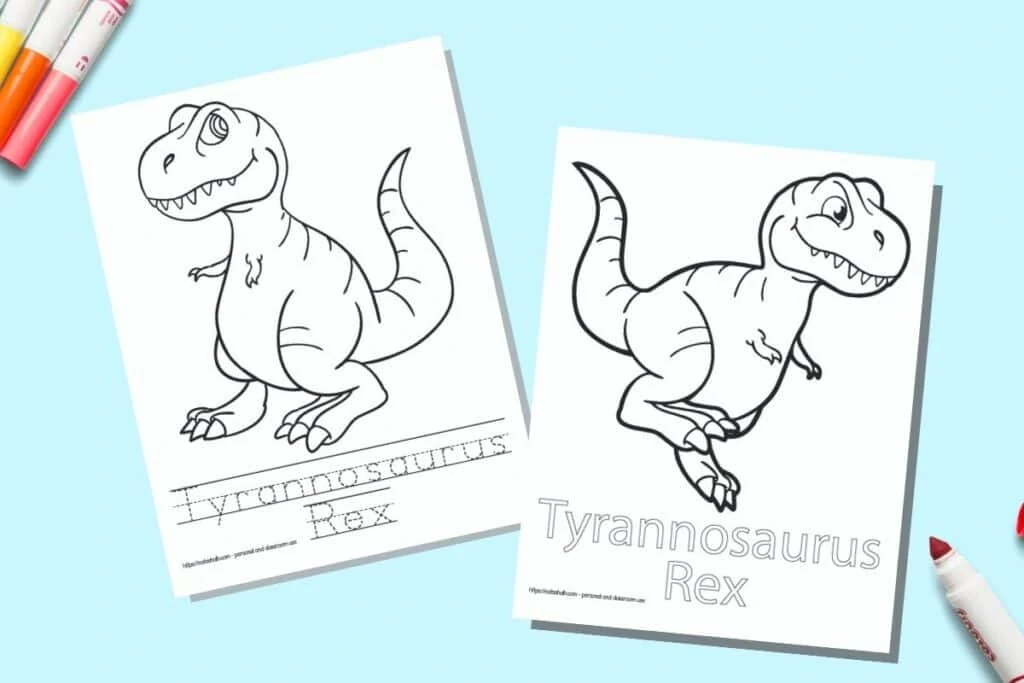 Download Tyrannosaurus Rex coloring pages with name here
Velociraptor coloring pages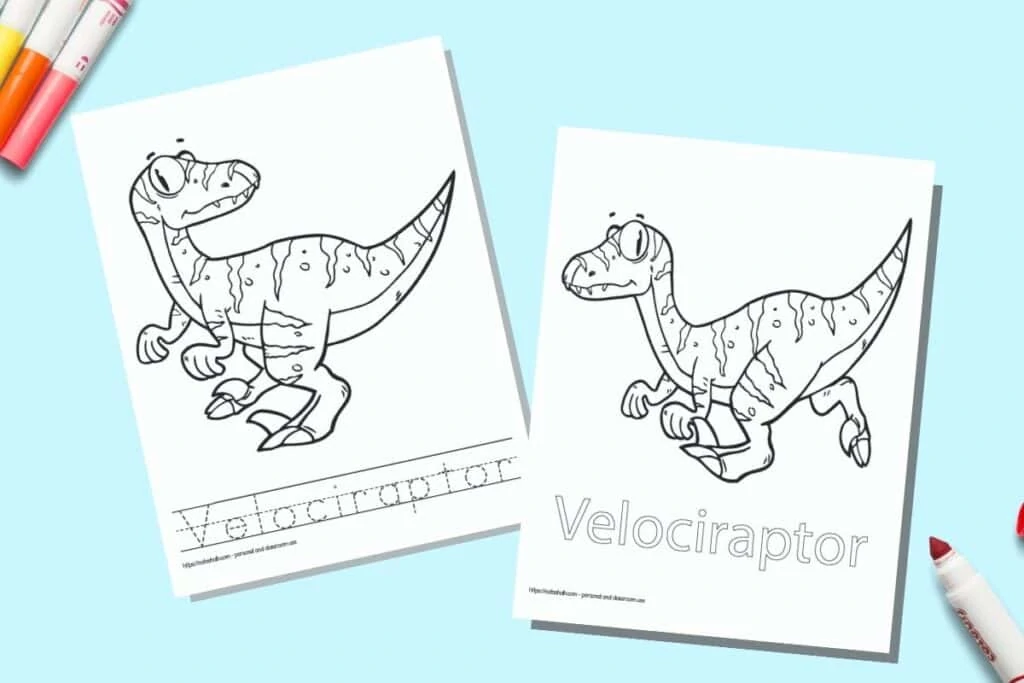 Download Velociraptor coloring pages with name here
Archaeopteryx coloring pages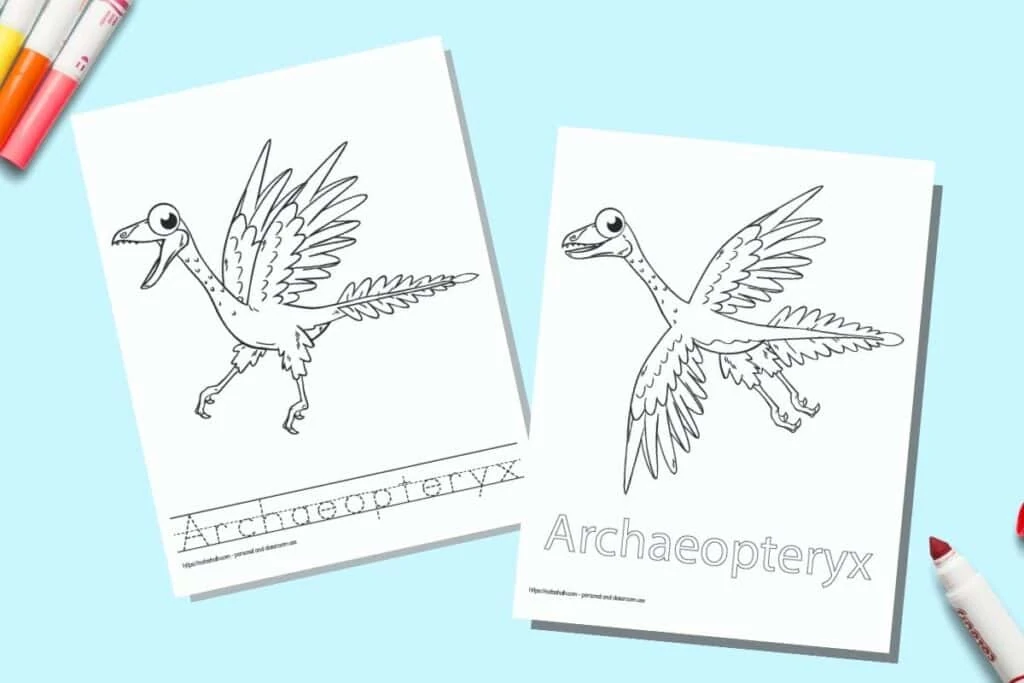 It's not too late – you can still grab the entire set for one low price below.
I hope your dino-lover enjoys these coloring pages as much as mine does! Make sure to check out these additional free dinosaur printables here on The Artisan Life:
Dinosaur Printables & Toys
Your dino-loving child will adore these dinosaur themed printable activities and toys.