These free printable Earth Day roll and cover games are a fun, no-prep preschool math activity. They're great as part of an Earth Day homeschool preschool lesson plan or for any time you want to discuss recycling or environmentalism.
This preschool math activity helps with your child's number recognition skills. Your little learner will get fine motor practice, too, while covering the numbers. You can even bring gross motor movements into this game when you use the included free printable differentiated instruction cube inserts!
There are four different recycling themed designs to keep your child interested and engaged. Images include a green recycling can, a lightbulb, the planet Earth on a heart, and a recycling symbol.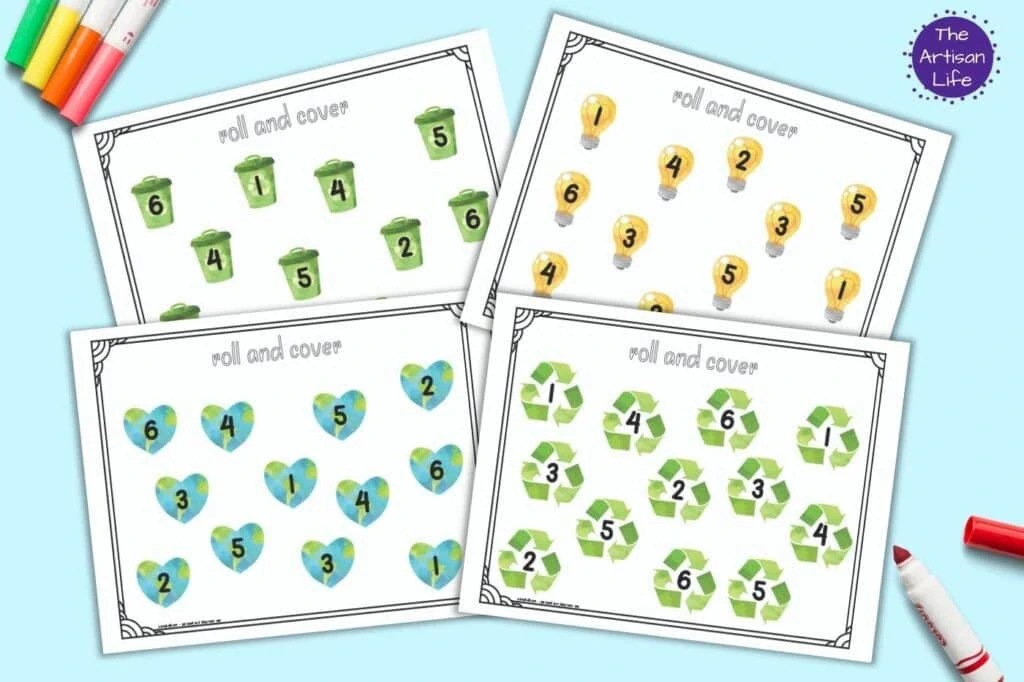 This post includes affiliate links, which means I may earn a commission on purchases made through links at no additional cost to you.
How and use roll and cover mats
If you're planning lessons on Earth Day or recycling, be sure to grab these free printable Earth Day do a dot pages, Earth Day coloring pages, and Earth Day alphabet matching cards.
This free preschool math activity for preschoolers is virtually prep-free. Your child will be having fun just minutes from now when you download and print these roll and cover mats.
This set of roll and cover mats includes a bonus free printable numeral die template and numeral gross motor cube inserts. This means the printable dice have numerals (1, 2, 3, etc.) instead of dots.
You don't need a differentiated instruction cube to play, but it adds movement to the game. Children learn better when they can move around, so using a gross motor cube can actually improve your child's learning experience.
Using a numeral die can help younger children play and use these as a number matching game. Children frequently can recognize a numeral before they can reliably count to a number.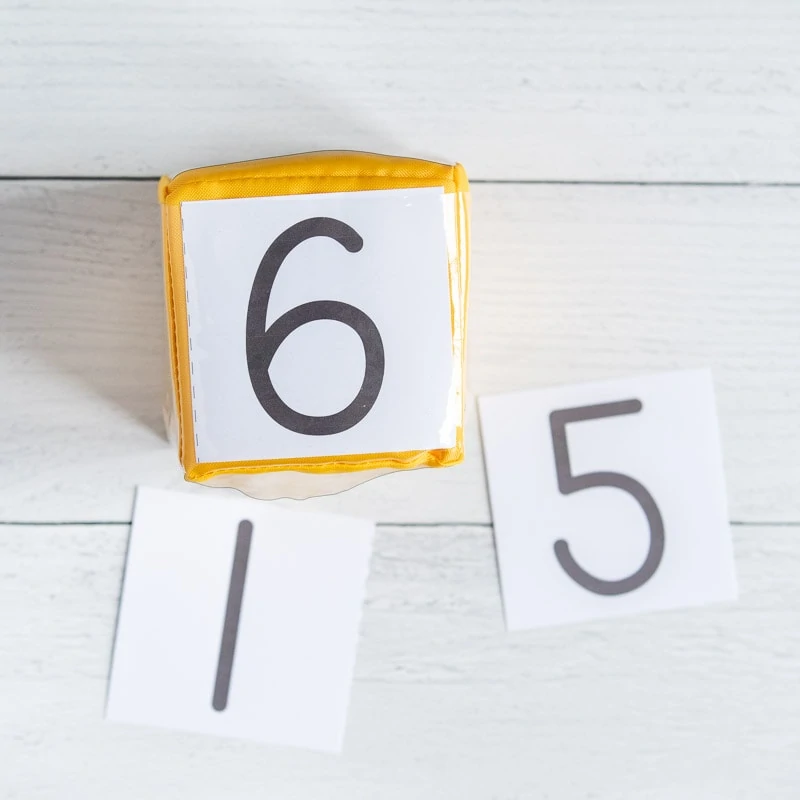 Counting dots on a die is great counting practice and develops skills your child needs. Pick whichever is best for your child at this time.
Materials needed:
This list of materials may seem like a lot, but you probably already have pretty much everything at home. I like to give explanations, alternatives, and examples so the list appears longer than it really is.
Your free printable roll and cover mats. The printable die template and gross motor cube inserts are included in the same PDF. The download is located lower in the post.
Printer and paper. I recommend 32 lb bright white paper. It's more durable than standard printer paper and is brighter for nicer images. See this post on the best paper for printables for a comparison of printouts on several papers and cardstocks.
Laminator and pouches, optional but recommended.

You can also use secure page protectors. We use these heavy duty "secure" page protectors with a flap to keep the page inside whenever I don't feel like laminating.
Page protectors are reusable and a more sustainable choice for celebrating Earth Day.

Scissors and/or paper trimmer. I use this paper trimmer.
Manipulatives to cover the numbers.

You can also mark numbers off with markers, crayons, etc. We love Stabilo Woody wax crayons instead of dry erase markers. No stink and no ink to stain everything!

Tongs, optional. Your child can place manipulative with plastic or bamboo toast tongs for an added fine motor challenge.
Differentiated instruction cube (also called a gross motor cube). optional, or dice.
For "regular" dice, I recommend large soft dice if you have little ones at home who are still placing things in their mouths.
Glue or tape, if you're making your own die with the printable template.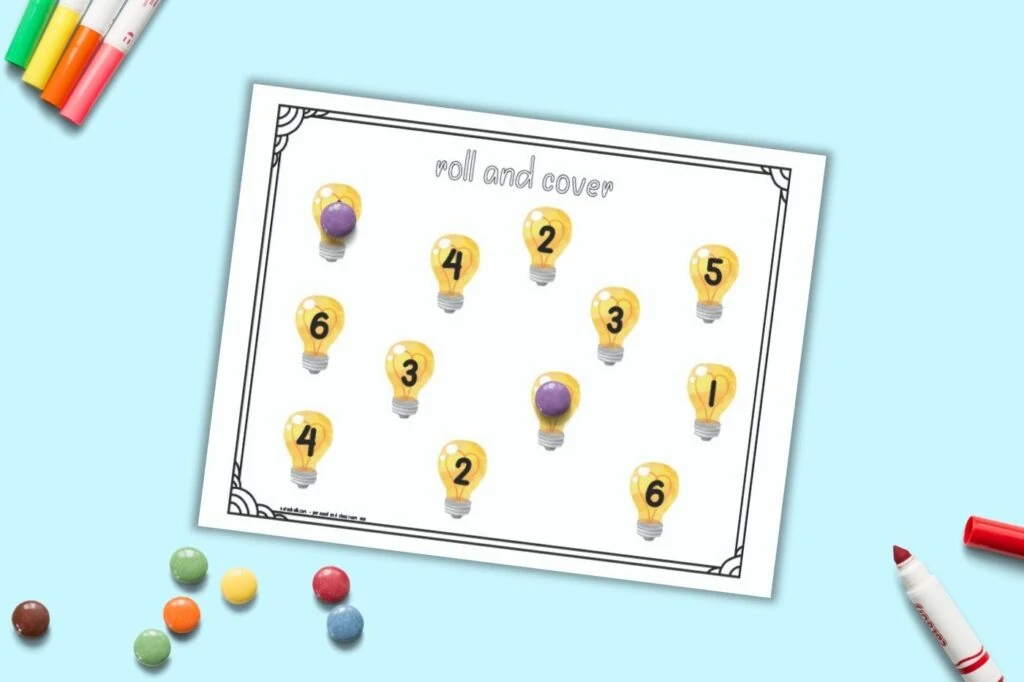 How to print and prepare roll and cover mats:
Download your PDF from lower down in the post. Look for the image that that says "click here to download."
Print the pages you want. There are four different roll and cover mats. Each one has the numbers 1-6 twice per page. The last three pages of the PDF have the printable dice. Two pages are differentiated instruction cube inserts, one page is a die template to cut and assemble.
Laminate the roll and cover game boards or slip them in page protectors. This is what we do just to make the activity easier and faster to put together. Do not laminate the die template pieces. Page protectors are reusable, which makes them a more sustainable choice. You can also store the pages in a three ring binder for easy organization.
Cut the differentiated instruction cube cards and place them in your cube (if using). Officially, the opposite faces of a six-sided die always add up to 7, like you see in this printable die template. Does it really matter for this game? Probably not, but now you know there's a specific pattern to how numbers are arranged on dice.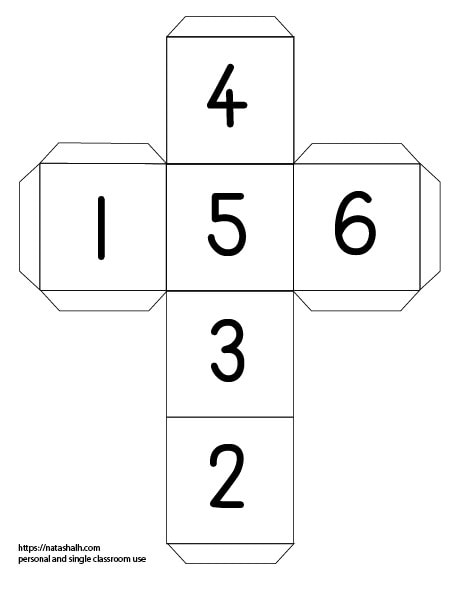 If you're using the printable die:
Cut the die template along the solid lines.
Fold the tabs in and assemble. I recommend using Tacky Glue on the tabs and tape along all the outside edges to improve durability.
Play and learn! Play is simple – a player rolls the die, then finds and covers the correct number if one is still available on their card. Because there are four designs, multiple children can play at the same time.
Play ends when all the spaces are covered. Luckily, this set includes four different designs so your child can play again and again! My daughter will play time and again, especially when we use the gross motor cube.
For an added fine motor challenge, have your child use tongs to place their manipulative over the number.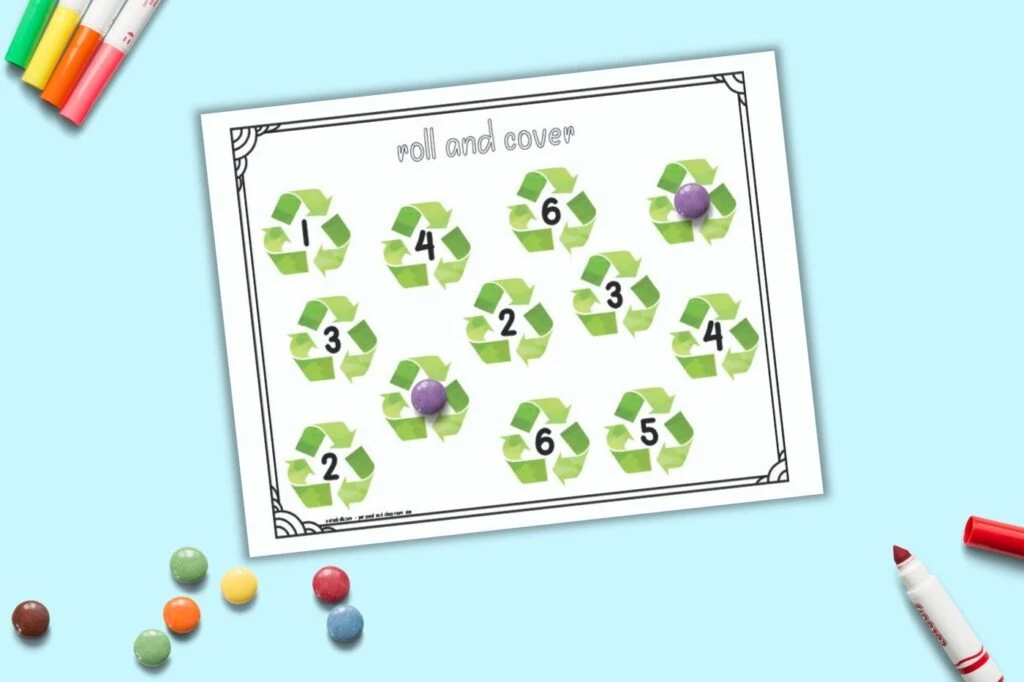 Free printable Earth Day roll and cover mat download
Please note that the artwork in these printables is copyright by DigitalArtsi and is used under license. Thank you, Jane, for your beautiful artwork and generous licensing.
Like all free printables on The Artisan Life, these are licensed for personal and single classroom use. This includes use with Scout groups, therapy clients, library activities, etc. as long as you are personally organizing the activity .
You are not licensed to redistribute the printables to other adults for use with their children or students. Instead, please refer your friends and coworkers to this post so they can download their own copies.
If you agree to these license terms, click below:

I hope your little learner has fun practicing their numbers and fine motor skills with these roll and cover printables! Make sure to grab these additional free printables for Earth Day while you're here on The Artisan Life:
Free Printables for Earth Day
Celebrate Earth Day with these free printable environmental coloring pages for children, teens, and adults.
Toddlers and preschoolers love dot marker coloring pages! Click through to download free Earth Day do a dot pages and suggestions for making them reusable.