These Earth Day coloring pages are fun to color with your family! Use them to spark a conversation and post them on your fridge to serve as a beautiful reminder.
Can you believe Earth Day is more than 50 years old?! First celebrated in 1970, it's grown to a worldwide event that's observed every April 22.
Today I'm sharing 20+ Earth Day and environmental coloring pages to help you and your family remember the core message of making more environmentally-friendly choices whenever possible. These pages are great all year, not just on Earth Day!
This post may include affiliate links, which means I may earn a small commission on purchases made through these links at no additional cost to you.
Ways to celebrate Earth Day
As I've written several times this year, we're trying to become a lower waste family. Here are a few easy ways to lessen your impact on the environment all year long, not just on Earth Day!
Consider using cloth diapers and/or wipes instead of disposables

Start composting

Use a glass or stainless refillable water bottle instead of buying bottled water

Use a silicone or stainless sippy cup alternative for babies and toddlers

Make your own kombucha (it's surprisingly easy!)

Buy in bulk when possible

Grow some of your own food, even if it's just herbs on a windowsill or a pot of tomatoes on a balcony

Make your own beeswax wrap to use instead of plastic wrap and aluminum foil
Find other reusable alternatives like silicone ziplock bags instead of plastic disposables
My motto is "something is better than nothing!" Remember that even small choices add up with time.
Earth Day & Environmental Coloring Pages
These images are just low resolution previews, not the high resolution PDF files you'll want to print! Please look below the preview for download information.
I am so pleased with this first coloring page! It reminds me of the design I drew on the bag all those years ago. It features a globe with trees, mountains, and leaves.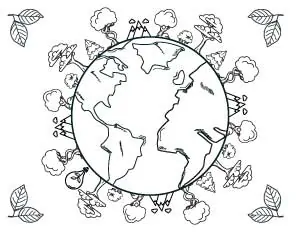 This coloring page with a child planting a tree is a great one to share with your kids!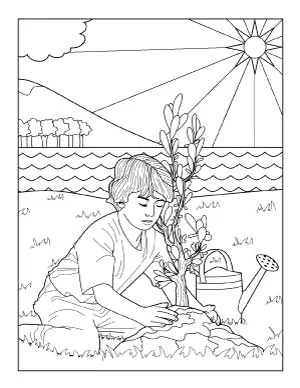 These children holding hands around the globe is another good one to share with family members.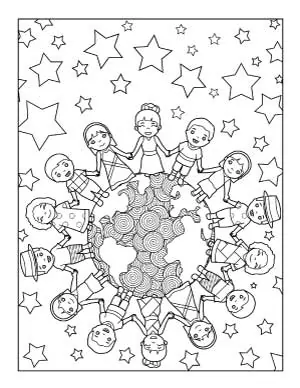 I love this Mother Earth coloring page!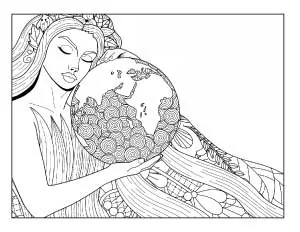 This plant growing in the middle of a city is such a great reminder that you can grow things anywhere!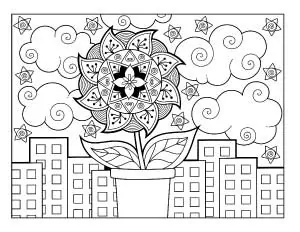 In this coloring page, the wood spirit/Mother Earth figure is accompanied by a Gandhi quote "Earth proves enough to satisfy every man's needs, but not every man's greed."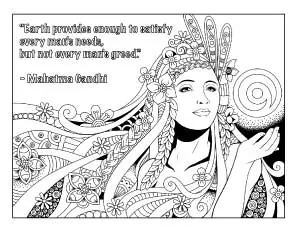 This coloring page features the message "Positive Action."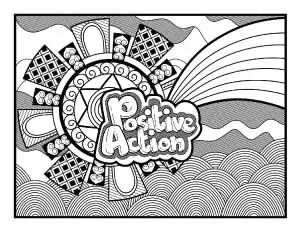 One of the most common reasons I've heard for not taking steps to be more eco-friendly is that "I'm just one person." People frequently just don't see how their efforts alone can make a difference!
But just like the proverbial latte a week can add up over the course of a year and impact your budget, your other personal choices add up, too. Your efforts to make a difference and can help to inspire others. That's the message with this coloring page featuring the text "I have a profound impact on this world."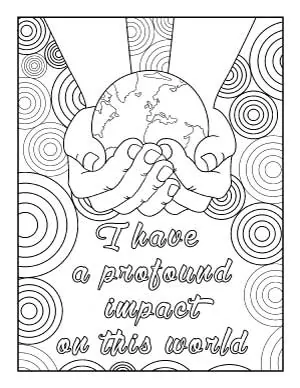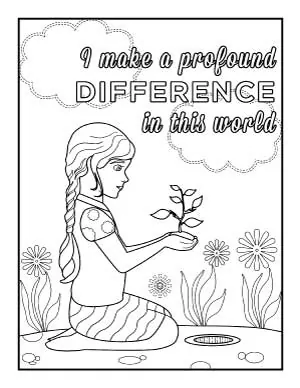 This page says basically the same thing, but shows a girl planting a seedling.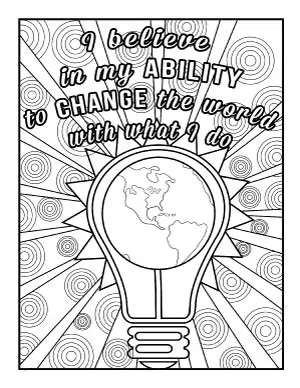 This coloring page featuring a lightbulb with the Earth inside also has a similar message "I believe in my ability to change the world with what I do."This coloring sheet just has the globe surrounded by floral doodles and two stalks of wheat.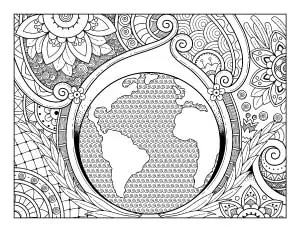 If you're not a fan of quotations on your coloring pages, you'll enjoy this tree with leaves!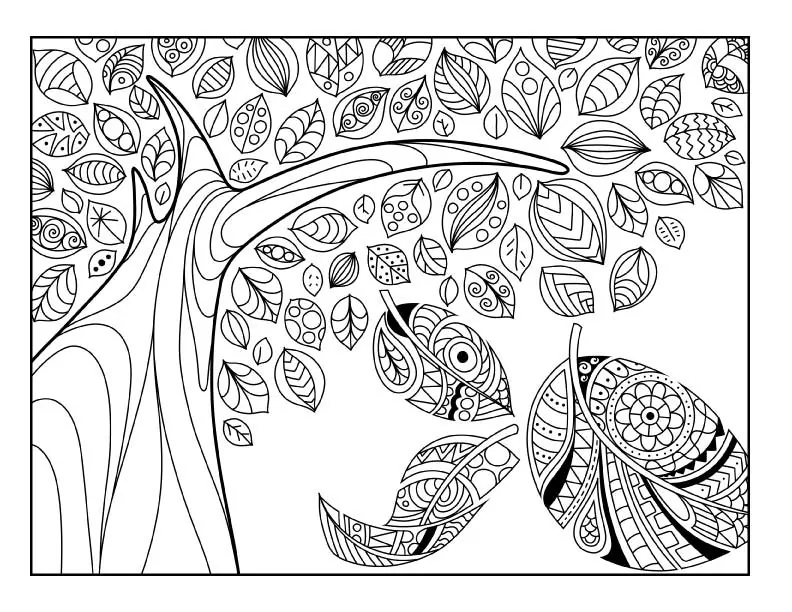 This coloring page features Gaia and the quotation "The Earth is what we all have in common" from Wendell Berry.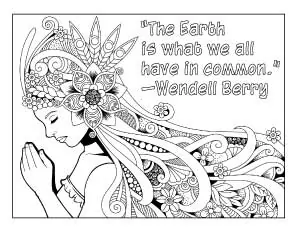 This floral coloring page is so much fun to color!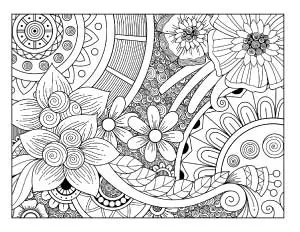 This coloring page has a John Muir quote "When one tugs at a single thing in nature, he finds it attached to the rest of the world." I selected the quotation because I think it's such a beautiful reminder of how interconnected and interdependent everything is in an ecosystem.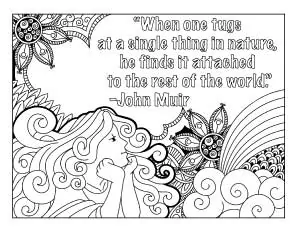 My husband recently read a biography of Einstein, so I also wanted to include this Einstein quote coloring page! I love this quote "Look deep into nature and you will understand everything better."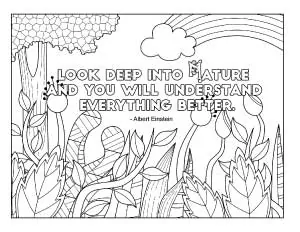 These sprouting seeds have plenty of space in the sky to write your own message. It would be a good one for talking about plants with your children, too!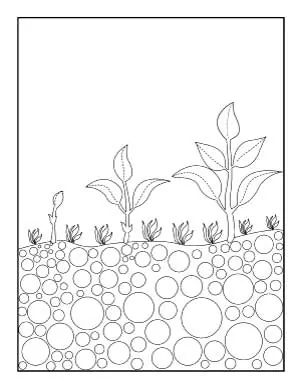 And, of course, I have to include a few floral mandalas! The first mandala features flowers and bees. It seems so appropriate considering how important bees are to agriculture and the tragedy of colony die off that's affected so many of these important pollinators.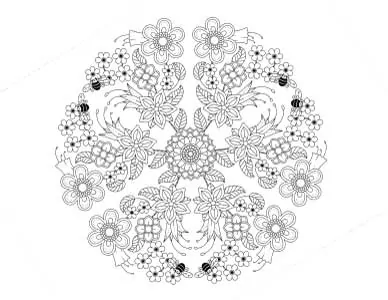 The second mandala has plenty of flowers and leaves to color.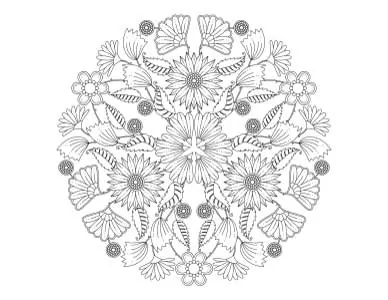 The third mandala features florals and a ring of ladybugs!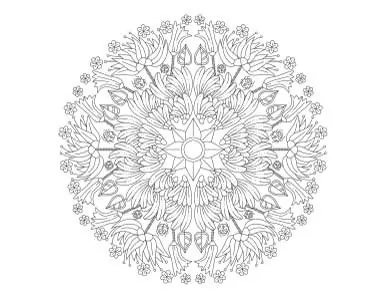 The fourth mandala has a lovely butterfly at the center and smaller butterflies around the outside.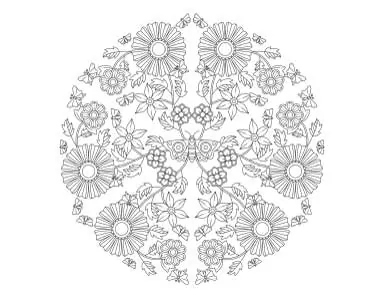 Alright, let's talk about where to download your Earth Day coloring pages!
Like all free printable coloring pages on The Artisan Life, these are licensed for personal and classroom use. You are welcome to print and use them as many times as you'd like for your own children, students, Scout group, etc.
You are not licensed to redistribute the files or printouts to others for use with their students or children. Please just refer your friends and coworkers to this page to download their own copies.
If you agree to this license, let me know where to send your PDF and these coloring pages will fly across the internet and into your inbox:
I'm always sharing more printables and coloring sheets on The Artisan Life, so please remember to Pin this post and check back soon!
Free printable coloring pages
Check out more free printable coloring pages on The Artisan Life!