These free printable fall dot marker printables are fun for kids and help your toddler or preschooler develop their hand-eye coordination, grip strength, and fine motor skills. They're also low-prep and loads of fun!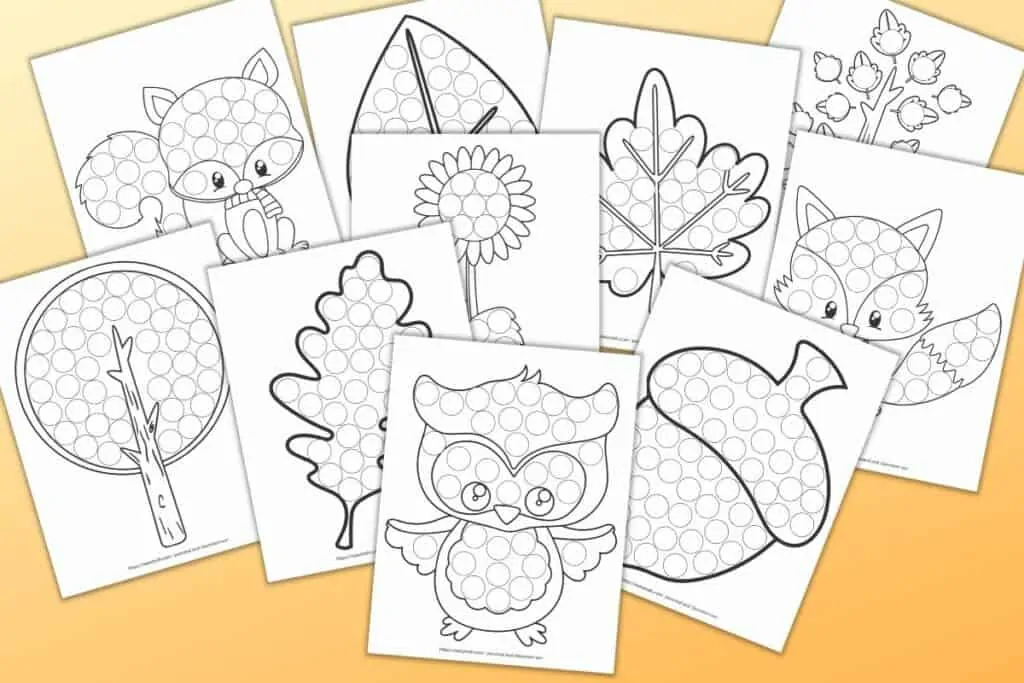 These do a dot marker printables for fall are a great way to celebrate the fall season with your toddler or preschooler. They're an easy, no-prep addition to your homeschool preschool curriculum or a fun, screen-free activity for your child at home.
Benefits of dot marker printables
Dot worksheets can help your child develop important skills like hand-eye coordination, grip strength, finger strength, manual dexterity, and their fine motor skills.
More than ever before, children are entering school with poor fine motor skills and low manual dexterity. Researchers posit this is because of an increase in screen time and decrease in time for other, more "traditional" activities. A study found that preschooler's manual dexterity was inversely related to their screen time. In other words, the more screen time the preschooler had, on average, the worse their manual dexterity was.
These fall do a dot marker printables are an easy way to keep your toddler or preschooler's development on track – and they'll have fun, too.
As a note – although I am a huge fan of traditional learning activities, a recent conversation with a social worker friend convinced me that I may need to ease up a little on my anti-screen policy.
He told me about studies that show some use of screens is beneficial for younger children as long as it's curated and they get plenty of traditional activities, too. Using truly age-appropriate programs can help children learn how to learn effectively from screens. I read over this Homer Learn & Play app review and am considering getting it for my kiddo. If you've used it, or have other suggestions, please leave a comment and let me know!
How to use dot marker printables
This post may include affiliate links which means I may earn a commission on qualifying purchases at no additional cost to you.
My daughter loves using these printables with her Classic Do a Dot Markers. I keep a close eye on her while she's using them to make sure she doesn't try to place the cap in her mouth (she's still under 3), but allowing her to open and close the cap provides extra fine motor practice
Dot markers are pretty low mess, but toddlers can figure out how to make almost anything messy. For a guaranteed low-mess activity, pair these dot printables with colorful round label stickers. This makes a great road trip activity or easy activity for a doctor's office waiting room. Make sure to get 5/8″ or 3/4″ round stickers – 1″ round stickers will be too big for these printables.
To challenge your child's fine motor skills even more, use these dot marker printables with small manipulatives like pompoms or buttons. They can place the pompoms with their hands or you can have your child use bamboo tongs, plastic tweezers, or small silicone tipped tongs to transfer the pompoms from a bowl onto the mat.
Mom hack: use pliers to pry open the keeper bar on silicone tongs so it doesn't slide down and frustrate your little learner by holding the tongs closed.
Laminate your printables to make them reusable with stickers and manipulatives.
Free dab a dot printables for fall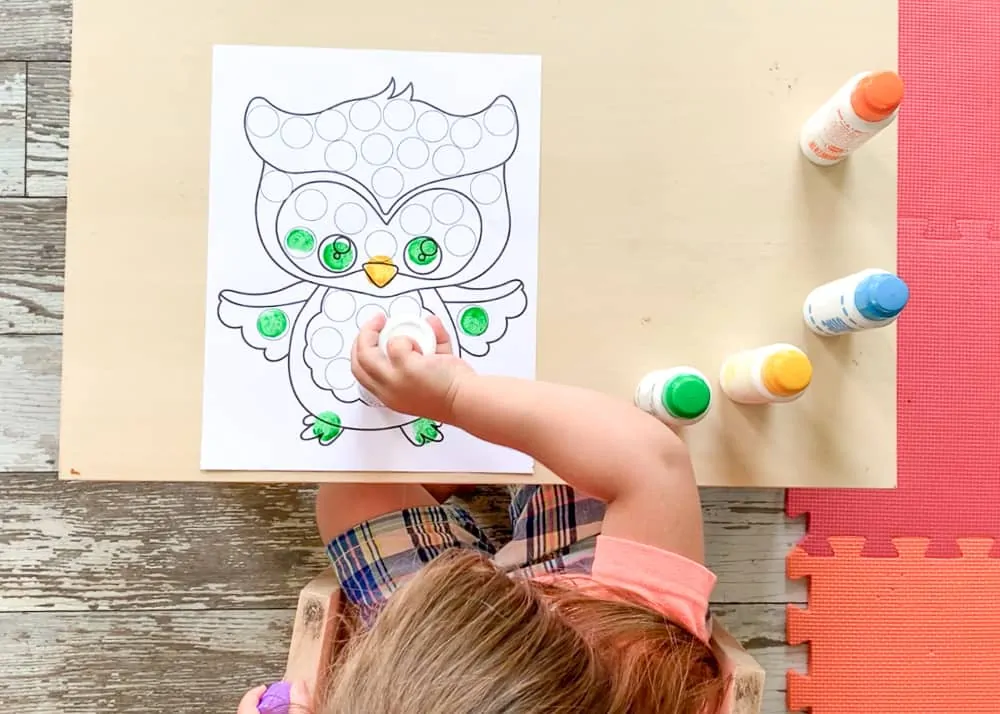 Fall do a dot marker images include:
An acorn
Five different leaves
A cute fox
A raccoon
An owl
Two trees
A sunflower
Some have many dots to color and some have fewer so you can pick the one that's right for your child's level of interest.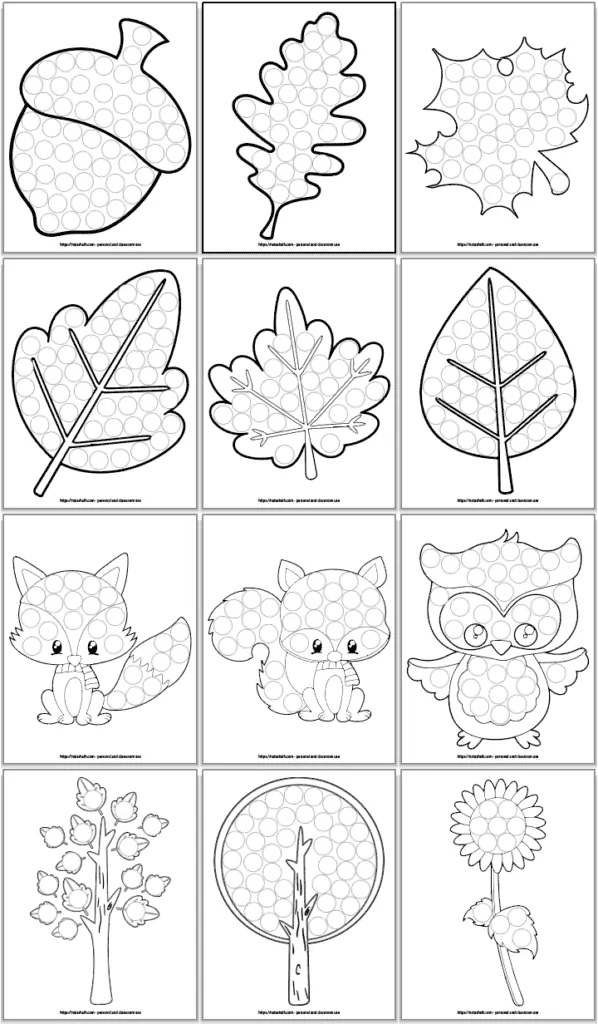 Like all free printables on The Artisan Life, these are available for personal and classroom use. This includes use with scout groups, homeschool co-ops, and other similar groups. You are welcome to print and use them as many times as you'd like for your own children, students, therapy clients, etc. as long as you are 1) personally organizing the activity and 2) not charging specifically to participate.
If you have a toddler or preschooler at home, make sure you download my guide to the 5 domains of school readiness so you can ensure your little learner is on track!