This free printable habit tracker for kids can help your child develop strong, healthy habits and cultivate their intrinsic motivation. My daughter loves coloring and feels so proud when she gets to color in her circles for the day. I hope your family also enjoys using this kid's habit tracker printable!
If you'd like a new habit tracker, too, make sure to stop by this post with free printable habit trackers for adults. Not sure of what to track? Stop by this post of ideas of habits to track.
This post may include affiliate links which means I may earn a commission on qualifying purchases at no additional cost to you.
This habit tracker for kids is designed to increases your child's intrinsic motivation and sense of accomplishment. That's why there is no "reward" box to fill in on the bottom. The book Punished by Rewards by Alfie Kohn makes a compelling argument for avoiding rewards as they're commonly used. Kohn says we should try to foster intrinsic motivation, not extrinsic motivation. I highly recommend listening to the audio book version. Kohn reads the book, himself, and it's interesting to hear how he reads it and what he emphasizes.
Whether or not you chose to use rewards or incentives in your family is entirely up to you, but I do encourage you to explore the idea of using rewards sparingly. If you read Punished by Rewards, I think you'll agree.
Materials needed for kid's habit tracker printable
You don't need much to print and use this kid's habit tracker – just your printable PDF and access to a printer. But there are a few other things you might want in order to make your habit tracker reusable and easy to use.
Materials you may want include:
If you laminate your page, your child can use the same tracker multiple times. Just erase and start over again! On the other hand, you may prefer to have them complete a new page each week so they can look back on their progress. The choice is yours and depends entirely on your situation and child.
Whether you decide to reuse the page or not, magnets or poster putty can help you display the chart somewhere visible. Keeping a habit tracker visible and accessible is key to success.
The habit tracker printable has space to record the week and track six habits. You don't have to use all six lines. As your child completes each habit for the day, they can color in the corresponding bubble, as shown below: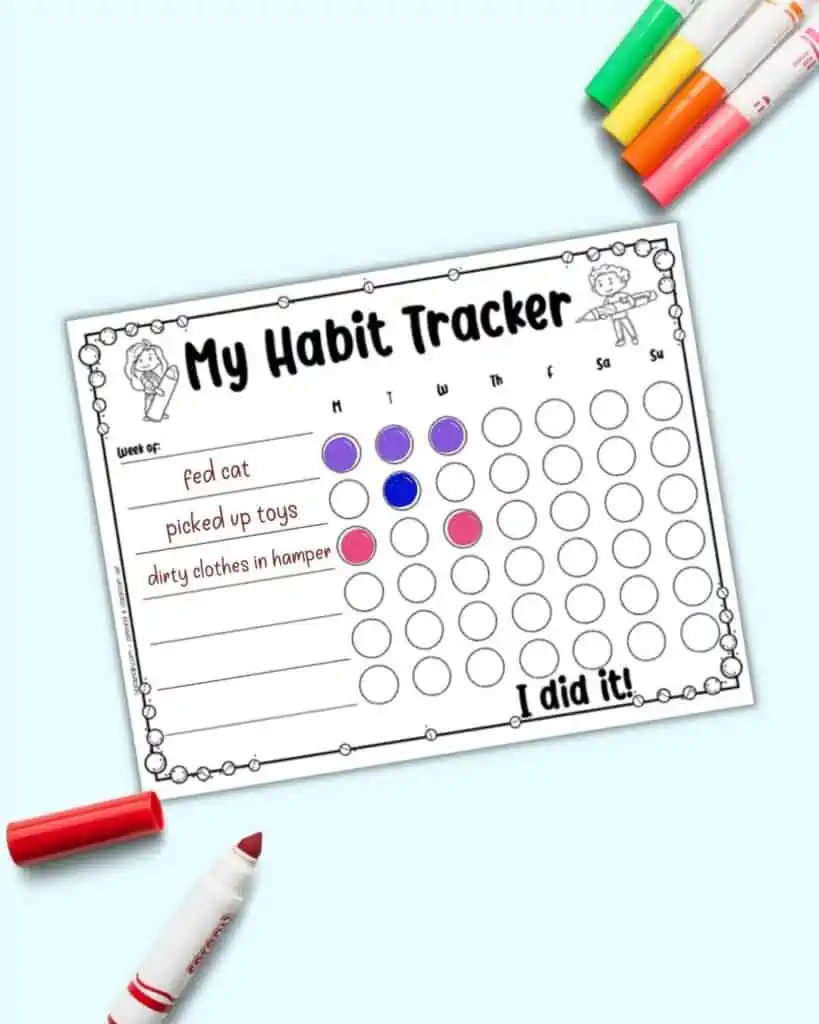 Children learn through observation, so make sure to grab yourself a free printable habit tracker for adults so you can set a positive example.
Children's habit tracker download area
The budget-friendly, black and white kid's habit tracker shown in this post is available for free download. Look for the row of purple arrows just a bit lower down on the page to grab your freebie.
If you'd like a colorful theme, you can snag a low-cost bundle with four fun, colorful habit trackers including:
Unicorns
Mermaids
Dinosaurs
Safari theme
This bundle is just $1 and includes all four colorful trackers. (Free download link is located below this widget – look for the row of purple arrows and the "click here to download" button.)
Alright, lets get to the freebie download portion! These habit tracker printables are licensed for personal and personal classroom use. You are not licensed to redistribute the files or print outs to others for their personal use. Please refer your friends and colleagues to this post so they can download their own copy.
If you agree to this license, you may click below to get your free, black and white habit tracker for kids.

I hope you enjoy this habit tracker for kids! Make sure to keep your family's journaling and planning habit going strong with these additional freebies:
Journal Prompts and Planner Printables
Planner and calendar printables allow you to stay organized without a trip to the store or wait for the mail.
Journal prompts remove the fear of the blank page and allow you to start journaling today! Make sure to grab your free printable journal pages in each post.