These free printable habit trackers can help you finally form positive habits that stick for good.
Today we'll be taking a look at the popular habit tracker idea, how habit trackers work, how to use a habit tracker, and give you the opportunity to download 9+ free printable habit trackers.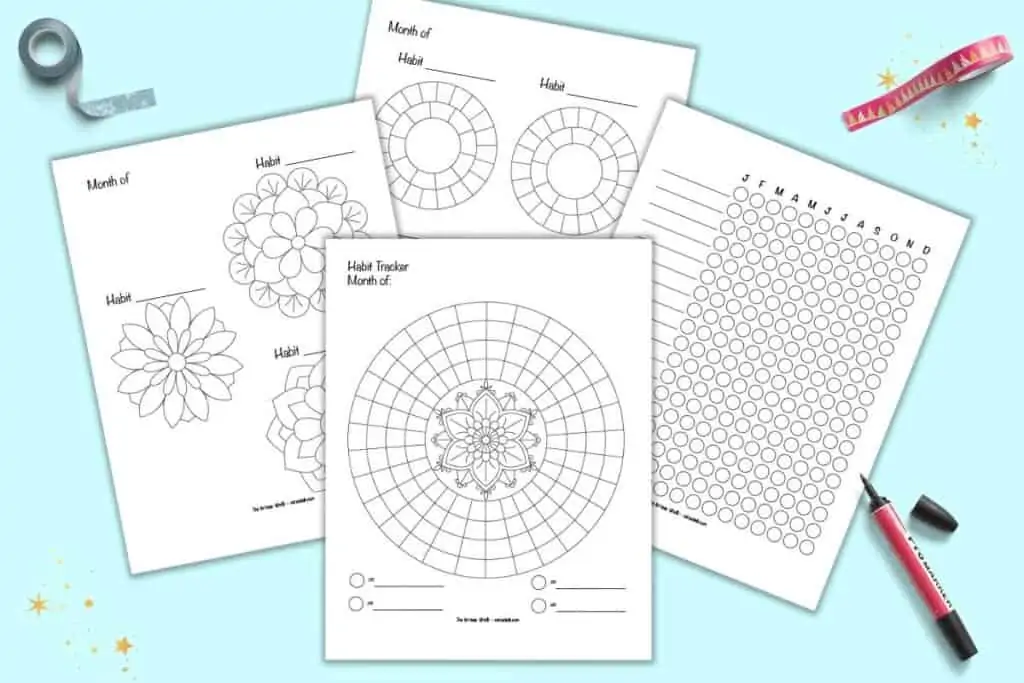 These habit trackers work great in a bullet journal, Happy Planner, or home binder!
The printable habit trackers I could find for free online were all pretty basic, so I made a variety of habit trackers for you, including monthly habit trackers, weekly habit trackers, mini habit trackers, and circular habit trackers.
This post may include affiliate links, which means I may make a commission on purchases made through these links at no additional cost to you.
What is a habit tracker?
Maybe you've seen habit trackers on Instagram or Pinterest, heard about them from a friend, or read about them in a book like Deep Work. But what is a habit tracker and how does it work?
In short, a habit tracker is a tool that gives you a place to record when you meet a specific goal. It gives you a visual record of when you did, or did not, meet your goals.
Usually when people refer to a habit tracker, they mean a chart of some kind in a journal or planner, but other things can serve as habit trackers, too. For example, a large water bottle with marks to remind you to drink water and that allows you to see how much water you've consumed that day could be considered a habit tracker!
For the purposes of this post, we'll be talking about the pen and paper type of habit tracker (like the free printables below!).
Do habit trackers work?
"If you can't measure it, you can't improve it." ~ management expert Peter Drucker
Like any tool, a habit tracker only works if you do. Simply printing a habit tracker out and leaving it buried under a stack of papers on your desk won't accomplish anything!
When used consistently, a simple habit tracker is a powerful tool that helps you stay accountable. You can quickly see, at a glance, what you have or haven't done. Using a habit tracker removes the supposition and guesswork.
Habit trackers can also help motivate you to actually achieve your goals because you don't want to lose your streak or see a glaring white spot on your tracker!
Forming a habit can take a long time and the results can seem slow to appear. Using a habit tracker helps keep you accountable and on track until the habit is internalized and/or you start seeing the results to desire.
Habit trackers can also help you see what is and isn't working. For example, if you consistently fall short of meeting a goal, you know it's time to reevaluate your goal or something about your routine.
Not sure what to track? Check out this post for 75+ ideas of habits to track!
How to use a habit tracker printable
Using a habit tracker is super simple.
First, select the right type of habit tracker for the job.
Weekly and monthly habit trackers are very popular and let you see, at a glance, how frequently you achieved a particular goal. Simply label your tracker with what you want to track then shade in the appropriate box when you meet your goal!
Mini trackers are great for tracking single habits and larger trackers give you space to track several different things on the same chart.
You can also use habit trackers for more occasional things, like washing your sheets or changing your home air filters. You can track these in an annual tracker by shading a box or with a tracker that gives you space to write in the date. You could also use a mini tracker with just one box per week instead of a box per day.
You can also use an annual tracker with 365 boxes to keep track of a single habit for the entire year. This is a great idea for things you want to do every single day like drink adequate water, write in a gratitude journal, or floss your teeth.
365 days at a glance trackers are also great as mood trackers.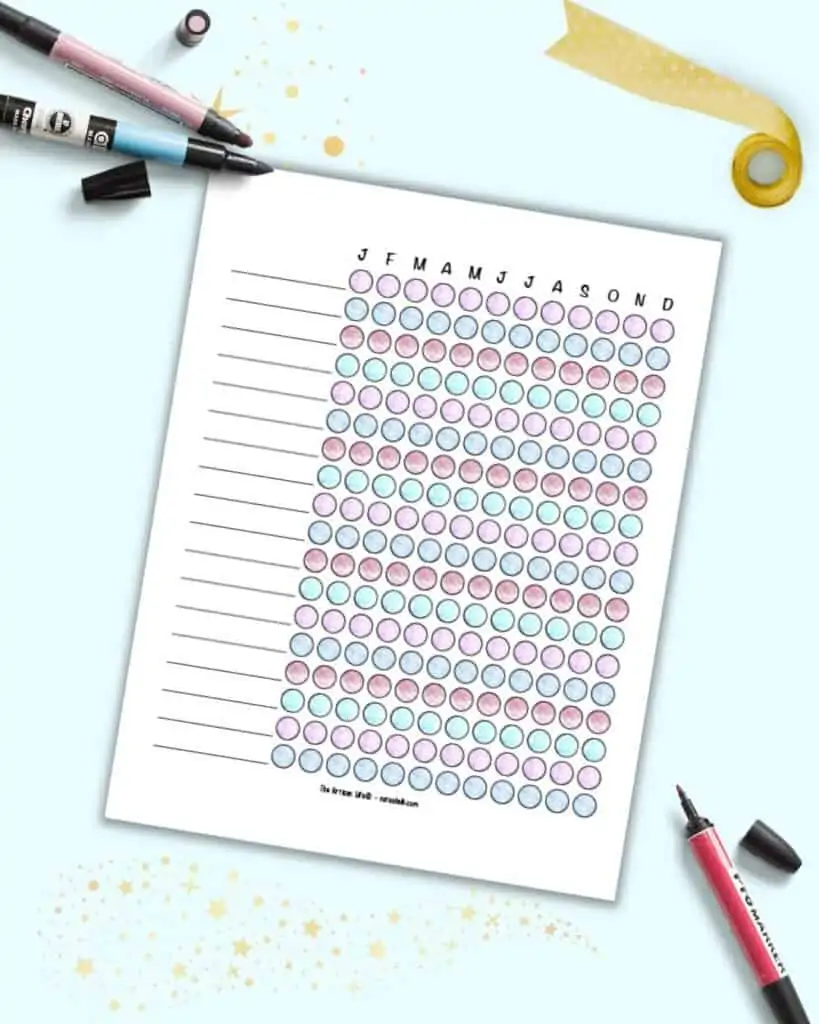 Then, actually use your habit tracker!
To make your habit tracker more effective, don't just check off each box. Instead, shade it in using your favorite markers or pens. That way the impact of missing a day is much more noticeable.
The Staedtler fineliner pens are great for journaling and coloring. If you haven't checked them out yet, you should. For more colorfast pen ideas, make sure to check out this post about the best pens for bullet journaling.
Sale
How to resize letter printables for MAMBI Happy Planner
To resize a normal letter sized page for a Classic Happy Planner, print at 83%. Trim away the excess paper and punch with a Happy Planner hole punch.
You can see where to put the 83% in the print dialogue box in the screenshot below. The image shows a mood tracker printable and Preview on Mac. The box will look very similar on other systems/programs.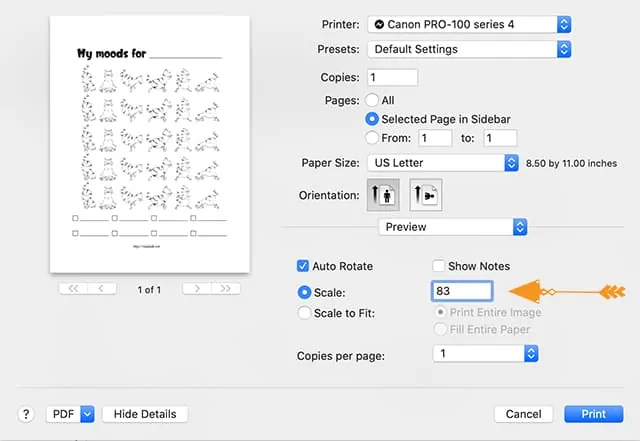 To resize a letter sized printable for the Mini, print at 67%.
Free printable habit trackers
Here's what you've been waiting for – your free habit tracker printables!
These images are just low resolution previews, not the printable PDFs. Please download the PDF below the preview images. Look for the row of purple arrows pointing the way.
You can print out the pages, punch them, and insert them in your planner or you can print, cut, and tape or glue them on a page.
If you want to use these as bullet journal habit trackers, I recommend printing them on matte sticker paper, cutting them out, and sticking them in your planner.
Sale
Avery Shipping Address Labels, Inkjet Printers, 100 Labels, Full Sheet...
No more jams or smudges with Avery shipping labels. White labels optimized for inkjet printers.
TrueBlock technology covers up everything underneath the shipping label so you can reuse boxes.
Great for shipping or mailing packages, organizing boxes, bin labels , classroom organization & stickers, printable sticker paper, or creating...
There are circular trackers for 30 and 31 day months as well as mini trackers for 30 and 31 day months: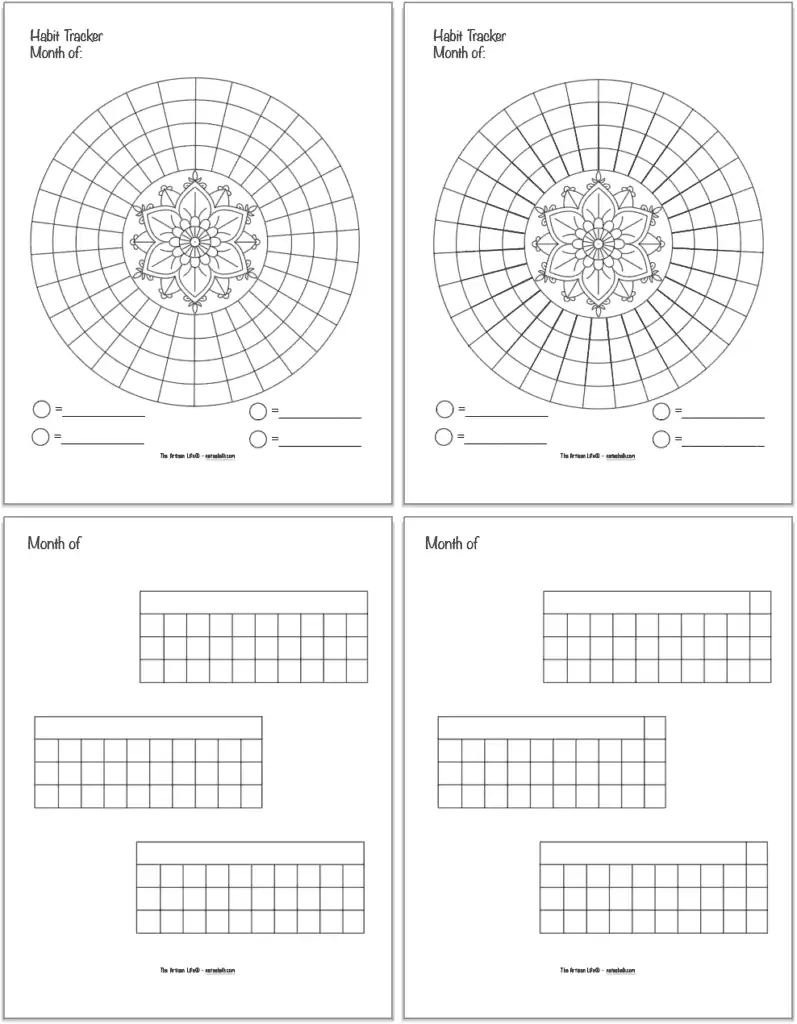 There are mini mandala trackers and more simple round mini trackers, a mandala tracker with space to write on the actual tracker, and a simple year at a glance tracker. The mini trackers are also great for tracking the same habit over multiple months so you can see your progress.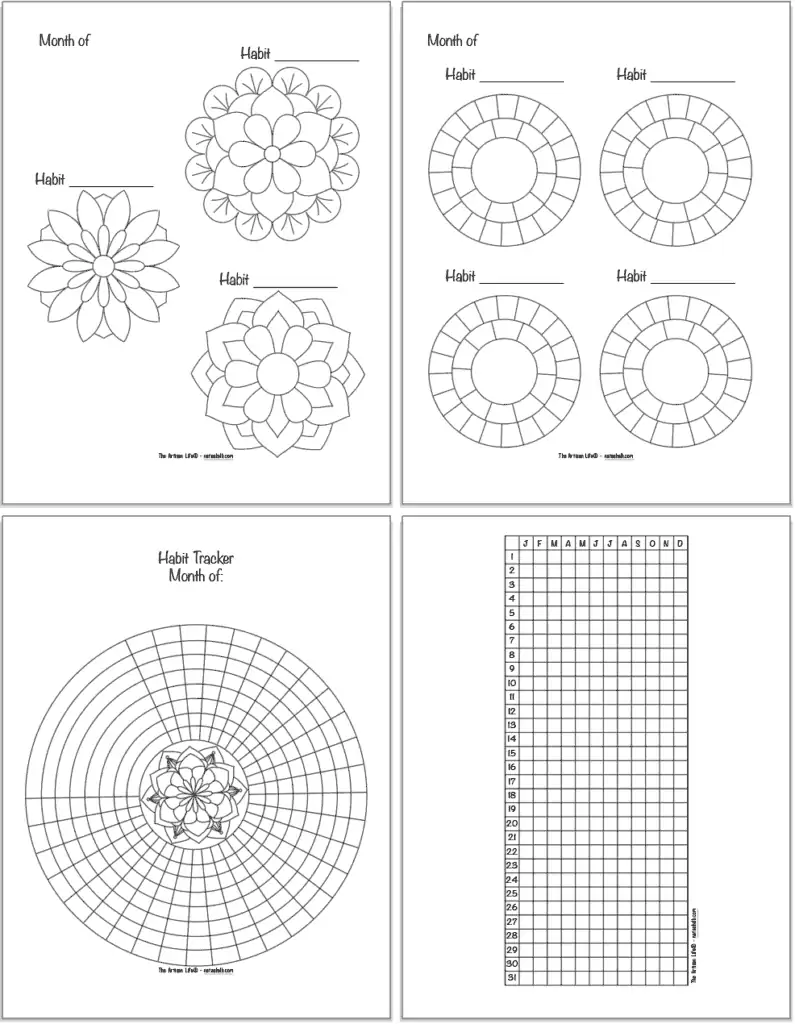 Last but not least, there are two more styles of year at a glance/365 day habit trackers: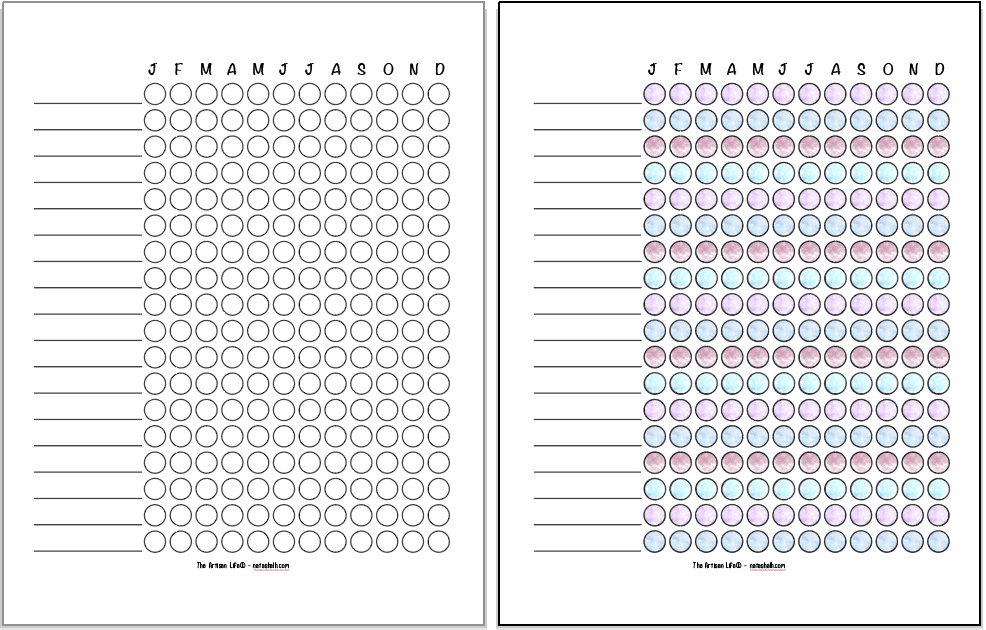 These trackers are available free for your personal use. You can use them with your family or in your personal classroom, but you are not licensed to redistribute the digital files or give out copies. Please just refer your friends, family, and coworkers to this page so they can download their own habit trackers!
If you agree to this license, you may click below:

I hope you enjoy these free printable habit trackers! If you enjoy keeping a physical planner or journal, please stop by the posts below for more planner printable freebies.
Planner & Journal Printables
Looking for more planner and journal printables? Check out these freebies on The Artisan Life!