These free printable Hanukkah theme counting clip cards are a fun, low-prep way to help your child improve their counting abilities, number recognition, finger strength, and fine motor skills. They're great for teaching world religions or celebrating your own family's traditions. I hope you enjoy!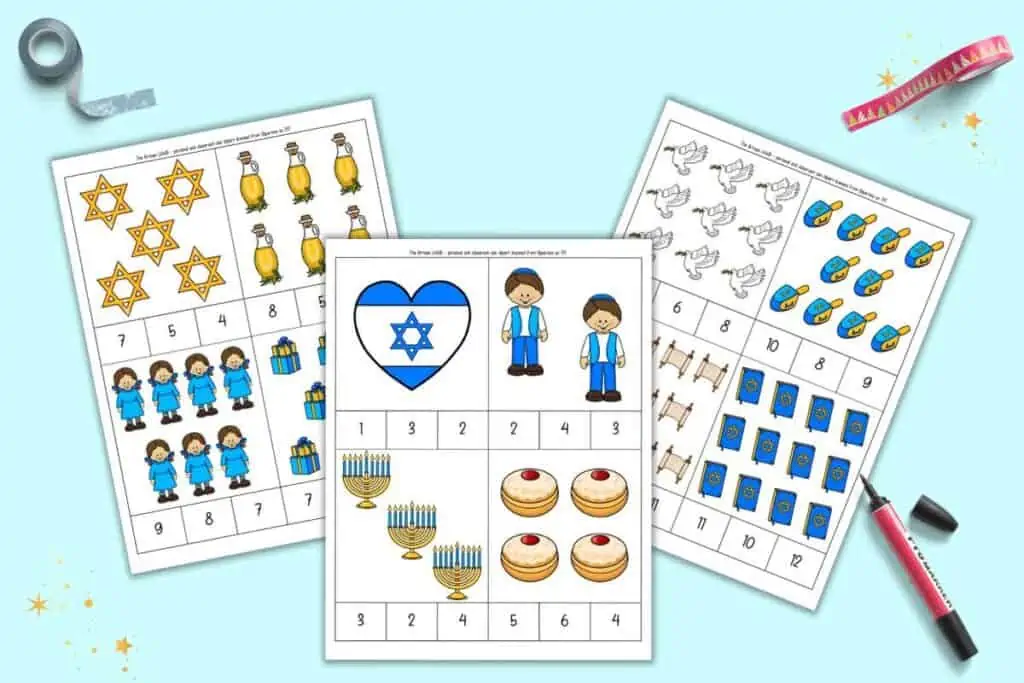 If you're studying Hanukkah with your child or classroom, be sure to grab these additional probables while you're here:
This post may include affiliate links which means I may earn a commission on qualifying purchases at no additional cost to you.
How to print and and use counting clip cards
Counting clip cards, also called count and clip cards, are a low-prep, reusable, and hands-on way for your child to practice counting and number recognition.
Counting clip cards can help your child develop and improve:
Number sense
Counting abilities
Number recognition
Subitizing skills
Fine motor skills
Subitizing is the ability to immediately recognize small quantities without consciously counting them. For example, you automatically know when you see four dots on a die that it means "4" without counting them "1, 2, 3, 4." This is instant recognition is subitizing.
If you don't have a clothespin for clipping the answer (or if your child can't operate one yet), that's okay. Your child can mark the answers with a manipulative, like a counting bear, pompom, or nature treasure.
For more fine motor practice, you can have your littler learner use large tongs or plastic tweezers to place a manipulative. In the image below, you can see my daughter using a graphing page with tweezers and wool balls:
Materials needed for counting clip cards
You don't need much time or materials to print and use these count & clip cards:
Your free printable. The download is located further down the post. Look for the row of purple arrows.
Paper or cardstock. If you're not laminating the pages, use cardstock. If you are laminating, I recommend 32 lb "premium" paper. It is thicker than regular printer paper and is bright white for vibrant images. To see it in use, see this post with the best paper for printables.
Laminator and laminating pouches. Optional, but recommended to make the cards reusable.
Scissors or a paper trimmer/cutter. I use this paper trimmer.
A clothespin or manipulative to mark answers. If your pages are laminated, your child can use a dry erase marker or a dry erase crayon.
What is a dry erase crayon? It's a wax crayon that you can use instead of a dry erase marker. We use the Stabilo Woody crayons/pencils and they're great. They're water soluble and wipe off easily with a damp cloth or paper towel, which makes clean up quick and easy. They can even be used to make coloring pages reusable. See them in action in this post with free printable dinosaur coloring pages.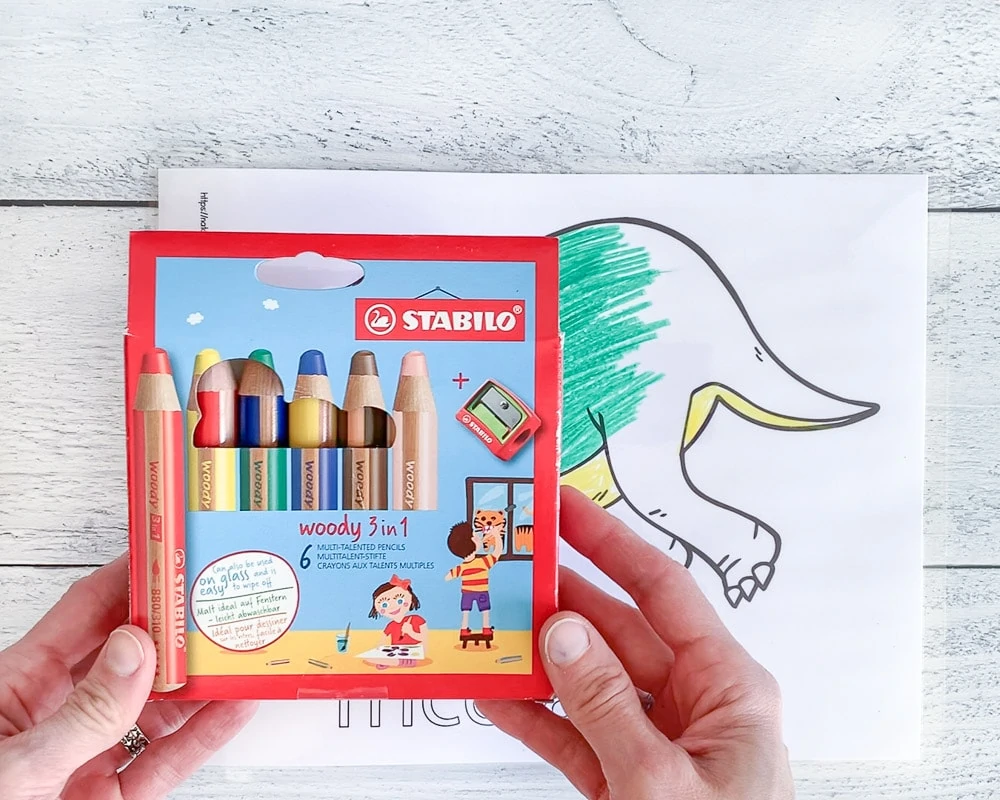 Sale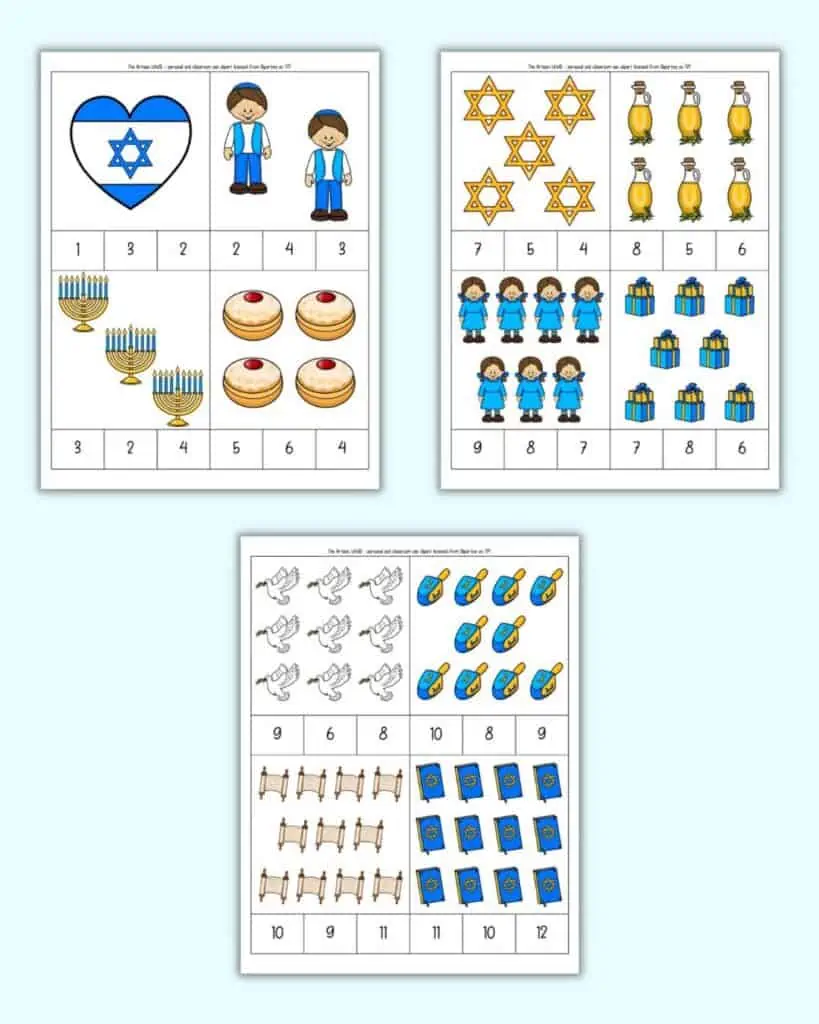 How to use counting clip cards
First, download your printable and print the pages you want. The cards have numbers 1-12 with 4 cards per page. Look for the row of purple arrows lower down the page.
Laminate the pages before cutting them out, unless your laminator instructs otherwise. This saves you from cutting everything twice.
Cut the cards out.
Count, clip, and enjoy! Your child may need help if they're new to this type of activity or still working on their numbers.
If you don't have a clothespin, your child can place a manipulative on top of their answer or mark it with a dry erase crayon/marker. They're a fantastic art supply that will quickly become a go-to favorite!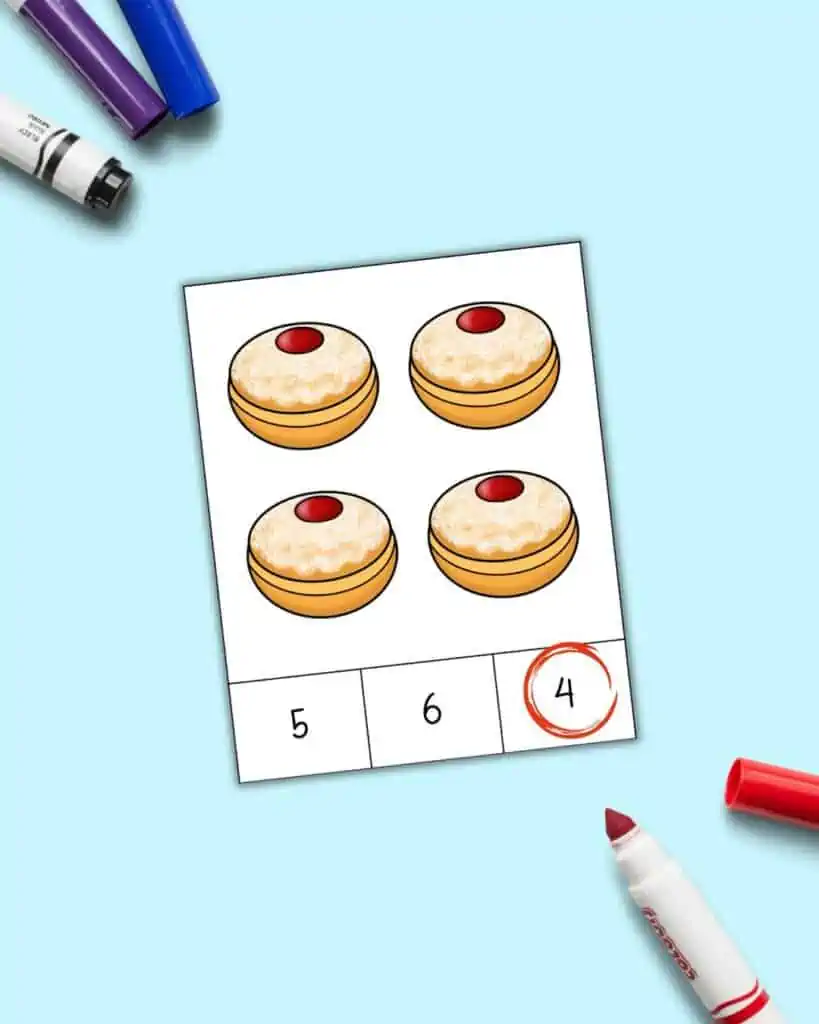 Free printable Hanukkah theme count and clip cards PDF download
Alright, let's get to the free printables!
Like other free preschool printables on The Artisan Life, this printable is licensed for personal and single classroom use. You are also welcome to use it with scout troops, homeschool co-ops, etc. Basically, as long as you are personally organizing the activity, it's fine to use these. Yes, you are also welcome to leave it for a substitute. Thank you to the considerate readers who've emailed to ask.

I hope your little learner has lots of fun with these Hanukkah themed counting clip cards!