These free printable Hanukkah dot marker coloring pages are a great way to help your toddler or preschooler celebrate the Festival of Lights. They can be used to teach world holidays or as part of your personal Hanukkah celebration. I hope you enjoy!
My daughter adores dab a dot painting printables. In fact, she even uses her dot markers on "regular" coloring pages. If your little one loves do a dot markers, be sure to check out these additional free printable do a dot pages.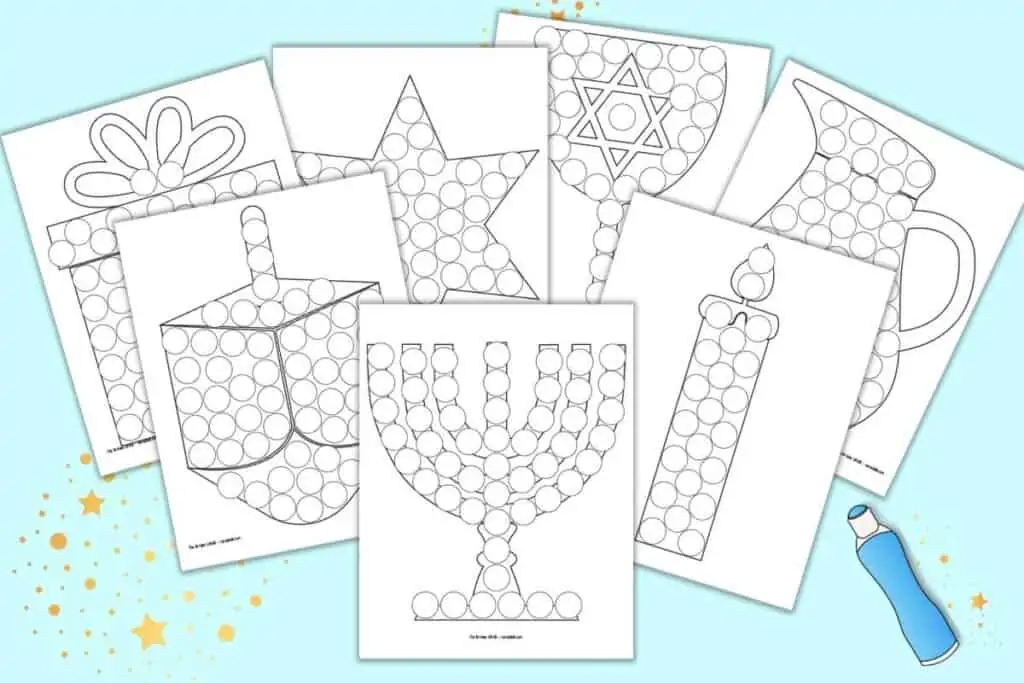 This post may include affiliate links which means I may earn a commission on qualifying purchases at no additional cost to you.
My daughter is very inquisitive and wants to know the "why" of everything. She was immediately curious when I told her that some of her favorite uncle's family doesn't celebrate Christmas, and they celebrate something called Hanukkah. I created these dab it marker pages to help explain Hanukkah to her. However you use the pages, I hope they're helpful for your family, too.
There are many children's books about Hanukkah that explain the holiday and its traditions, but one of my favorite is a newer book called The Ninth Night of Hanukkah. It shares the story of a family who just moved into a new apartment and doesn't have their menorah (or other Hanukkah materials) unpacked yet. The children improvise, get help from neighbors, and adapt to a new, challenging situation. At the end, they decide to add a ninth night to celebrate and thank their helpful neighbors and new friendships. (They name this new celebration Shamash Night in honor of the shamash "helper" candle.)
Benefits of do a dot printables
Do a dot marker pages aren't just no-prep fun – they're beneficial for your child. On top of the benefits of teaching the Hanukkah story to your child, these pages provide additional developmental opportunities.
Do a dot worksheets can help your child develop skills like their hand-eye coordination, grip strength, finger strength, manual dexterity, and fine motor skills.
Unfortunately, more and more children are starting school with inadequate fine motor skills and poor manual dexterity.
Researchers think this is because of increased screen time and decreased time for other non-screen activities. One study found that preschooler's manual dexterity was inversely related to their screen time. In other words, the more screen time the preschooler received, the worse their manual dexterity was.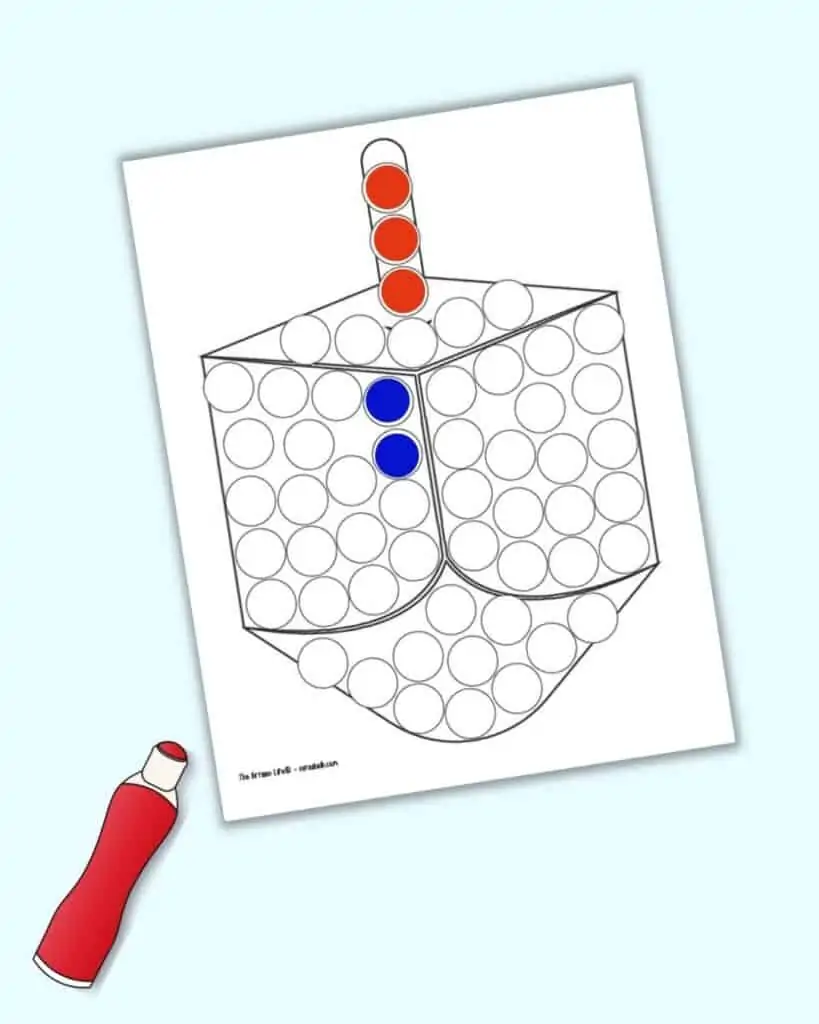 How to use dot marker pages
These pages were based on the measurement of my daughter's Classic Do a Dot Markers. The circles are perfectly sized for this line of markers, but they also work fine with other dauber style markers.
A reader recently emailed to ask where we found our markers. This is the exact set we have. According to Amazon, I ordered them on May 19, 2019. We've been using them ever since and they're still working fine.
It's best to store your markers on their sides (with lids tightly closed!) to keep the dauber foam coated with ink. We do sometimes have to pounce markers a few times to get ink flowing, but there is still plenty of ink left in the tube after more than two years of use.
For a no-mess activity, use these dot printables with colorful round label stickers. This makes a great quiet time activity for car rides, plane trips, and doctor's offices. Make sure to get 5/8″ or 3/4″ round stickers – 1″ round stickers are too big for the circles on the printables.
We use this set of coding label stickers. You get literally thousands of them for just a few dollars:
Another fun way to play is with small manipulatives like pompoms or big buttons. We use this set of wool pom poms, shown below with a count and graph sheet.
Glaciart One Wool Felt Balls, Felt Pom Pom Balls (120 Pieces) 1.5 cm - 0.6...
15mm Handmade Felt Wool Balls: These rainbow felt wool balls are handmade in Nepal with a careful touch that creates uniform poms in the 1.3-1.7cm...
40 Color Craft Assortment: With Glaciart One what you see is what you get, so unlike cheap options, you get the 40 colors shown in the pictures for a...
120 Needle Felting Ready Poms: Crafters say the soft texture on these wool pom pom balls lets your needle travel easily making them great for core...
Free printable Hanukkah dab it pages
First let's take a look at the included images. The pages are shown in groups of 4 to help this page load more quickly, but each design has its own page in the printable PDF. Download information and license terms are located below the preview images.
Please note that the menorah is a temple menorah, not a Hanukkah menorah. Unfortunately, I haven't been able to find an appropriately sized black and white Hanukkah menorah clip art image that with the license I need to create and share a coloring page. If/when I find something better with the license I need, I will update the PDF.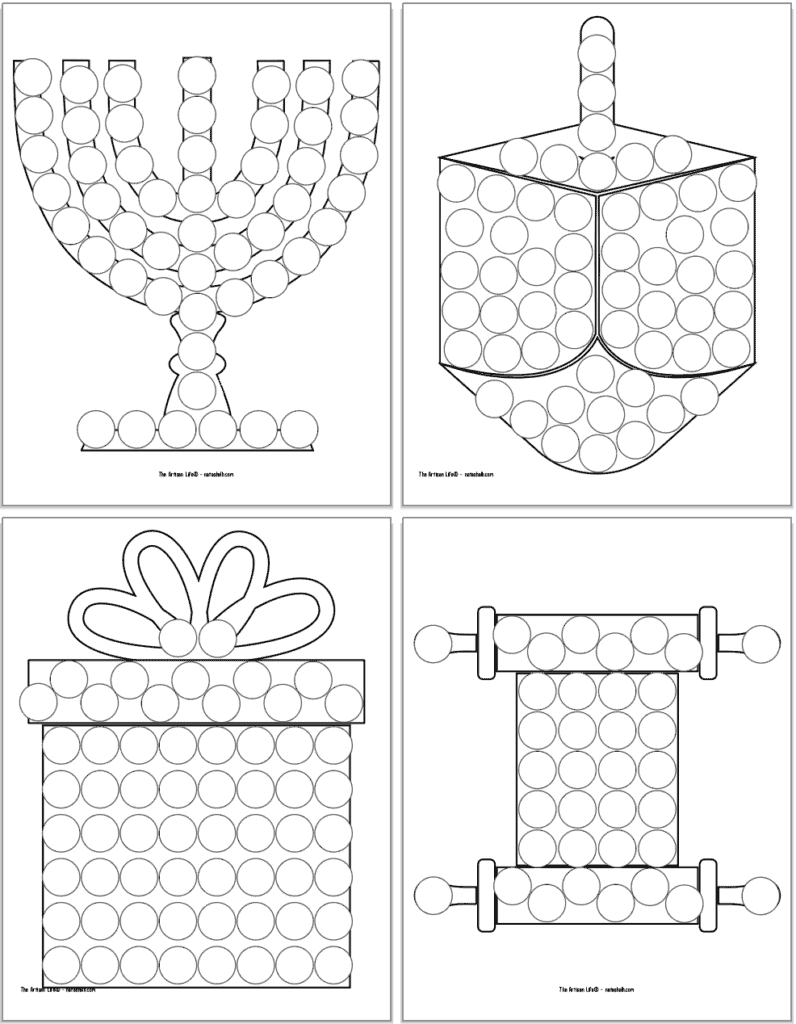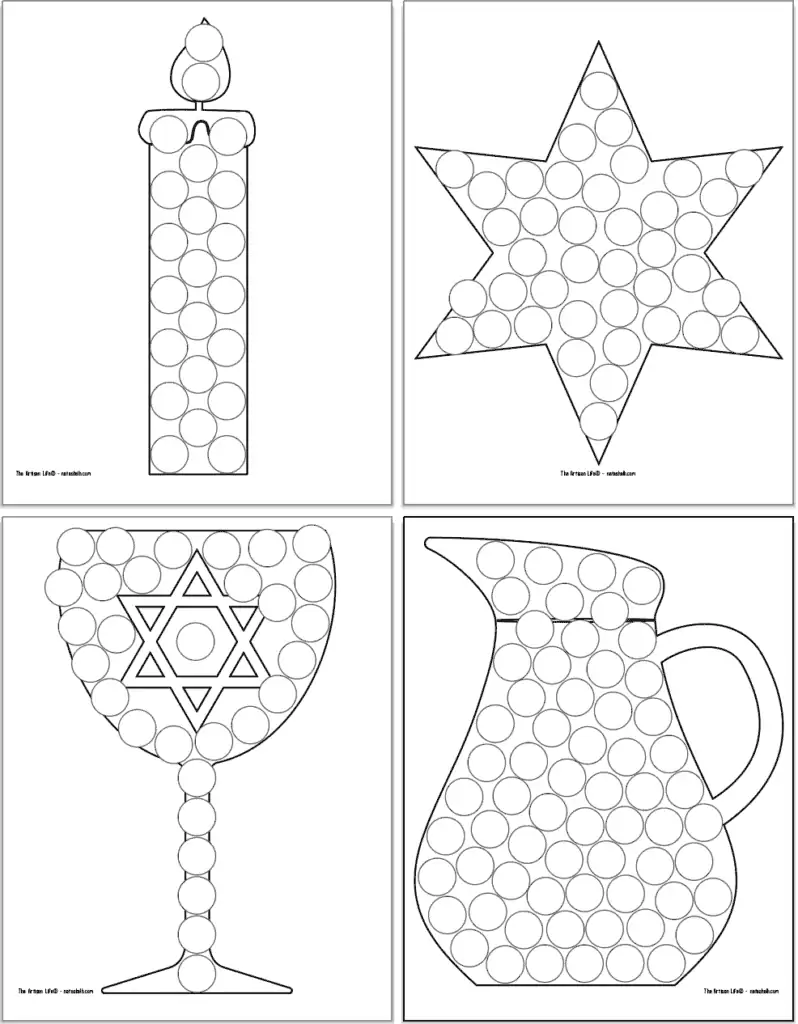 Like all free printables on The Artisan Life, these are licensed for personal and single classroom use. This includes use with scout groups, homeschool co-ops, Sunday school classes, your own therapy clients, etc.
You are welcome to print and use them as many times as you you want for your own children, students, therapy clients, etc. as long as you are 1) personally organizing the activity and 2) not charging specifically to participate.
You are not licensed to sell, or redistribute the files to other adults for use with their students/children. Instead, please refer them to this post so they can download their own copies.

Download these additional winter themed printables on The Artisan Life to keep your family busy and learning, screen-free:
Winter printables and activities
Need more winter printables and activities to keep your kids busy on a cold day?