Learn how to travel light with just a carry on and save money with these travel packing tips and tricks!
Crazy is it sounds, I purchased the carry-on bag I've been using for a couple years because it cost me less to buy a carry-on sized bag for my first trip to Hawaii than it would have to check my bag both ways. Learning how to travel light has saved me some serious money over the years!
I realize everyone's probably already read plenty of other packing light tip lists, but I hope I have a couple novel suggestions for you. Here we go – my best tips on how to travel light with a carry on and save money!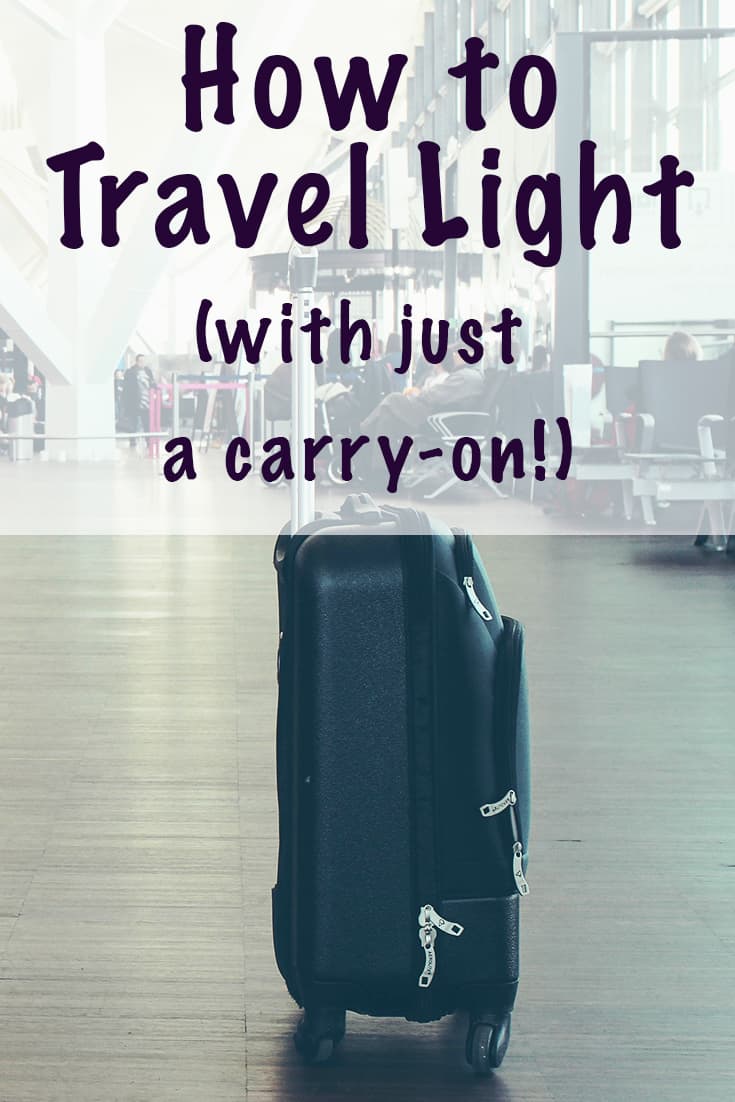 This post may include affiliate links, which means I may make a commission on purchases made through these links at no additional cost to you.
Tips for packing light
Pick your bag and commit.
Don't say "well, I can always take a check bag if I need to." Commit to that carry-on and personal item! Saying 'maybe I'll check a bag' is how I ended up with half a kitchen in California. (Though I have to add that if I'd seen some of the space-saving gadgets in this article I might have been able to downsize my bag, anyway!
My carry-on bag isn't glamorous or super fancy, but it's decently sturdy and has been on every plane trip with me for almost three years. Durable luggage can cost a lot, but buying a nice carry-on piece will really save you money in the long run. Rolling bags aren't always backpacking or public transit friendly, so you might want to consider a backpack if that suits your style better!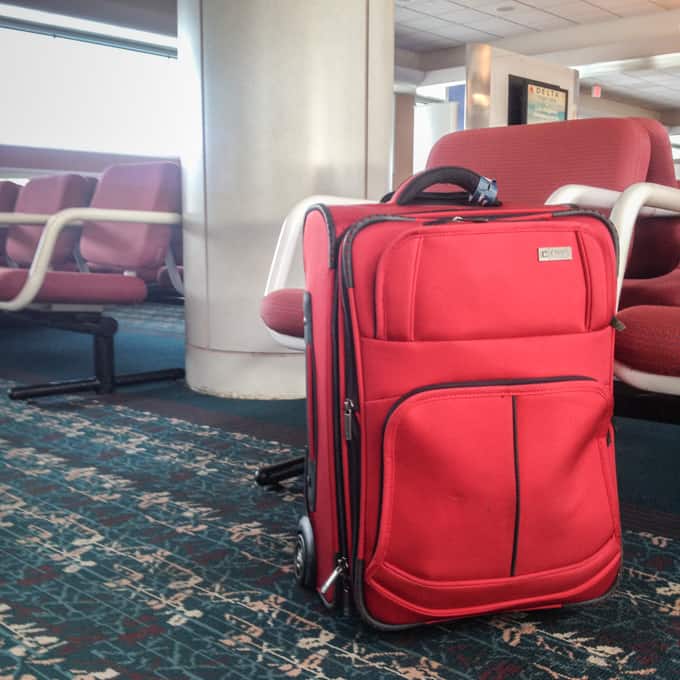 Take advantage of your personal item.
Just because you love your purse doesn't mean it's the best choice as a personal item.
Your personal item can actually be a 'small' backpack (as opposed to like a hiking bag). Even my largest purse doesn't hold quite as much as our super cheapo Jansport book bags!
Sometimes I just put my purse inside the backpack, other times I transfer the contents and pack my purse flat in my carry-on. Check your airline's personal item size restrictions, but you'll probably be surprised by how large of a bag this can be.
Want to cut down on stress and wasted time? Grab my cheat sheet with 7 tips on making it through security more quickly!
The cheat sheet is completely free to download – no email opt-in required! Just grab the download link below the preview image.
>> Download your TSA cheat here <<
Start planning early
I begin making a mental, or even physical, list at least a week out. I think about what I absolutely need to bring and then go from there.
For example, my most recent trip was to go see my sister's senior vocal recital, so I needed at least one outfit better than jeans and a t-shirt. I also absolutely need this big fleece blanket of mine or I will get hypothermia on the plane. Well, maybe not hypothermia, but I need that blanket! Beyond those two things, everything else was negotiable.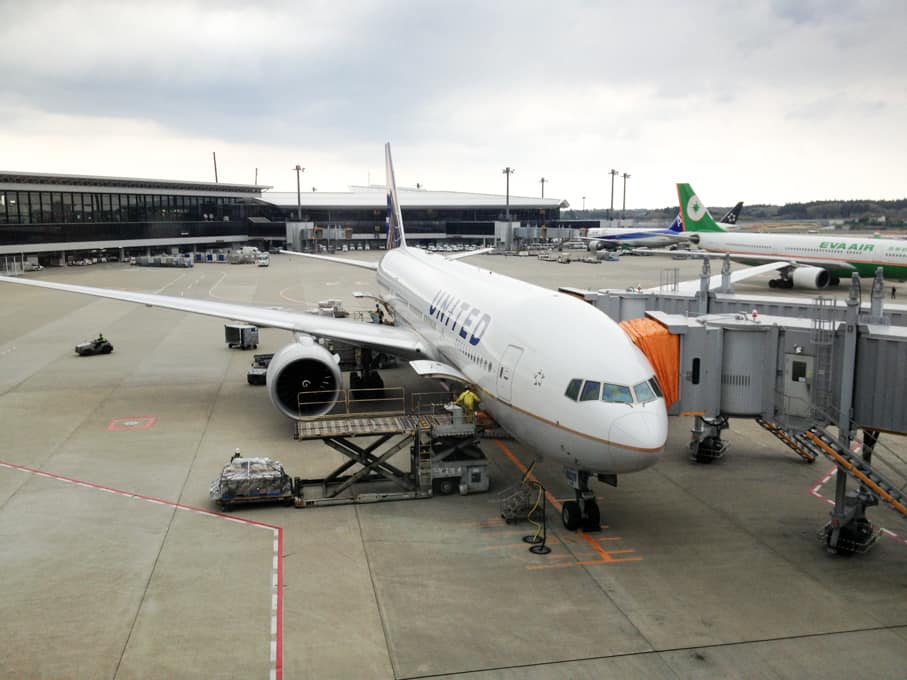 Plan your outfits
This one is a pretty well-known and popular tip, but it's important. Plan your outfits carefully and make use of mix and match, when you can.
Unless you need something specific for a special occasion, try to avoid packing one-off outfits that won't go with anything else.
Pack versatile pieces and don't just add something without considering it. I know you want that cute skirt, but then you need a top and shoes to go with it. If your reason is "well maybe I'll go out," you should consider removing it from your list. If your reason is "My trip is for a bachelorette party" then, by all means, keep it!
If you do need to dress up, pick something that goes with a pair of shoes you can wear more than once (if at all possible). One of the deciding factors when picking which dress to bring to my sister's recital was that it would go a pair of nicer slip ons I have that are way more multi-purpose than heels.
PS – If you'r planning a trip and not signed up for Ebates yet (They're called Rakuten now, but it's Ebates), you're leaving money on the table!
It's free to sign up and you can get money back on sites like Amazon, Walmart, and Target as well as on travel partners like Orbitz and Alamo rental cars. I'm so annoyed I didn't sign up ages ago!
Roll your clothes or fold them as little as possible
It sounds crazy, but try rolling your clothes instead of just folding them.
If you roll them well, this can actually take up less space.
Play around with you clothes and your carry-on bag to see if this could earn you some extra room! Also play with folding your clothes as little as possible.
Each extra fold adds bulk and wastes some space. For example, try folding shirts in half instead of in quarters.
Use your shoes
Okay, maybe you don't want to cram your fancy dress into your running shoes, but why not pack your shorts and workout tank in your sneakers? Or your socks? You can usually fit a couple pairs of socks in each shoe. Don't let all that space go to waste!
Obviously your winter coat's not going in there, but you can find something to fill that space.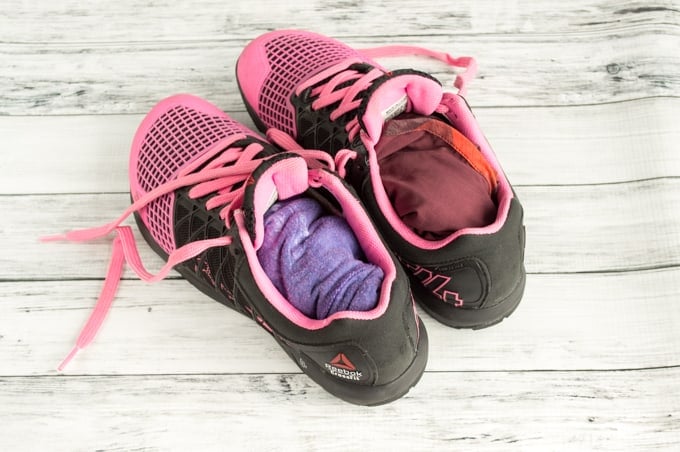 A bonus shoe tip: don't wear your largest ones on the plane!
No, really. Especially not when you're outward bound. If you wear a low-profile pair when you're leaving home, you can always wear the clunky ones coming back if you buy a few things or just can't get everything back in the bag quite the same way.
Use Ziplock or vacuum sealed bags
This sounds a little nutty and you may need to iron things after, but you gain extra space by packing your clothes in gallon Ziplock-style bags, pressing all the air out, and sealing them up.
Those zipper top bags you remove the air from with a handheld vacuum pump are even better! I used to own a Handi-Vac and it wasn't always the best with food, but it was awesome for packing and storing clothes.
There are other, no-equpiment required "vacuum" bags available, too, I just haven't had the chance to try them yet. The Space Saver Bags are highly rated and definitely on my "to try" list.
Compression Bags For Travel No Vacuum - Reusable Large Sealed Space &...
STOP PAYING FOR BAGGAGE CHECKS: Customers who spend money checking bags say these packing bags for travel (no vac or pump needed) give them space when...
WORRY-FREE TRAVEL SPACE SAVER BAGS: Check out the pictures to see how our one-way travel vacuum bags lets you hand-roll your clothes removing the air;...
REUSABLE TRAVEL COMPRESSION BAGS: These luggage bags organizers are crafted from high-quality polymers that are more durable than cheap plastic...
If you don't want to use all your freezer bags, even putting your outfits in plastic grocery bags, pressing the air out, and tying them up as tight as possible can help some.
You can see here that I gained about 1″ of space by putting these two dresses in a gallon zip top bag. I didn't even refold them or anything, just put them in the bag and pressed out the air.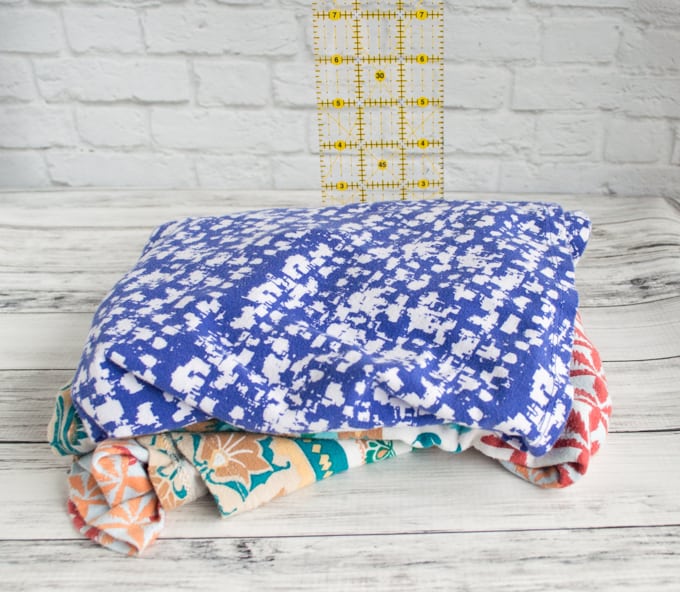 Not glamorous photos, I know. Sorry.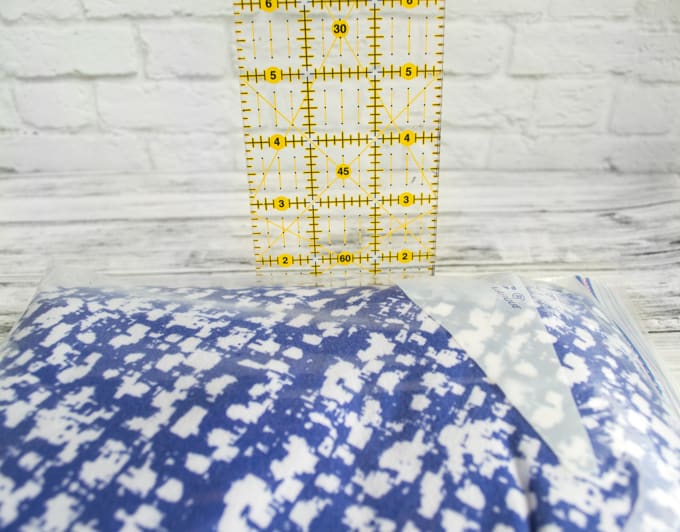 One inch may not seem like much, but it really adds up fast.
Transfer items to smaler containers
Most countries today have strict liquid limitations, but even if a bottle meets the guidelines doesn't mean you shouldn't transfer it to something smaller!
Bottles of essential oils, for example, are small enough to pass muster. Do you really need 15 ml of lavender for your week away? If you do, pack it. If you don't, consider transferring some to a smaller bottle.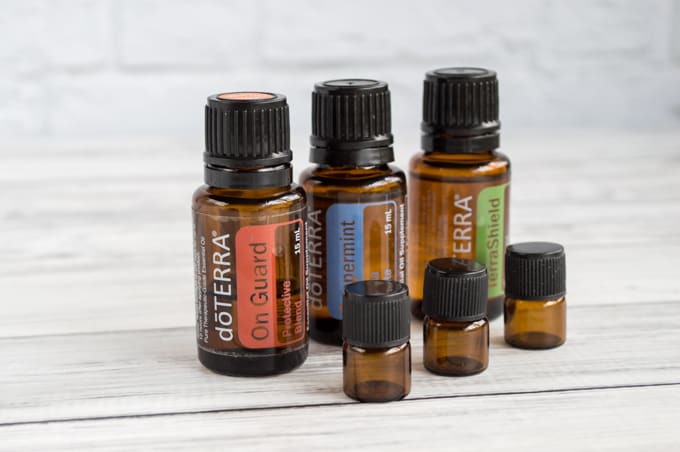 And let's be honest – are you actually going to use that entire 'travel size' shampoo while you're away? Probably not.
Most hotel shampoo/conditioner bottles are smaller than store-bought airplane sizes, so try hanging on to a few the next time you stay at a hotel and just swap the contents out for your own preferred products.
Moving things like shampoo and conditioner to smaller bottles can really help, even if you're not using just a carry-on. Those products are heavy! A small bottle of shampoo in your check bag will open up a lot of weight for you.
If you travel a lot, a set of silicone travel containers can be well worth the investment. We've been using ours for several years now and love them!
IHUIXINHE Portable Soft Silicone Travel Set 6 Refillable TSA Approved...
TSA Airline Carry On Approved: Travel size bottles safe for carry-on and airline travel. Light weight, easy to carry. Leak-proof bottle neck with...
Refillable & Squeezable: Easy to squeeze. Easy to refill. Soft and pliable silicone travel containers. Screw top and wide opening for easy filling and...
Food Grade Silicone: Made of 100% food-grade silicone without BPA, these Squeezable Silicone Travel Bottle Can also be used for Sauce, Salad Dressing,...
I have an entire carry-on liquids packing post – see how to pack "more" in your carry on liquids bag here!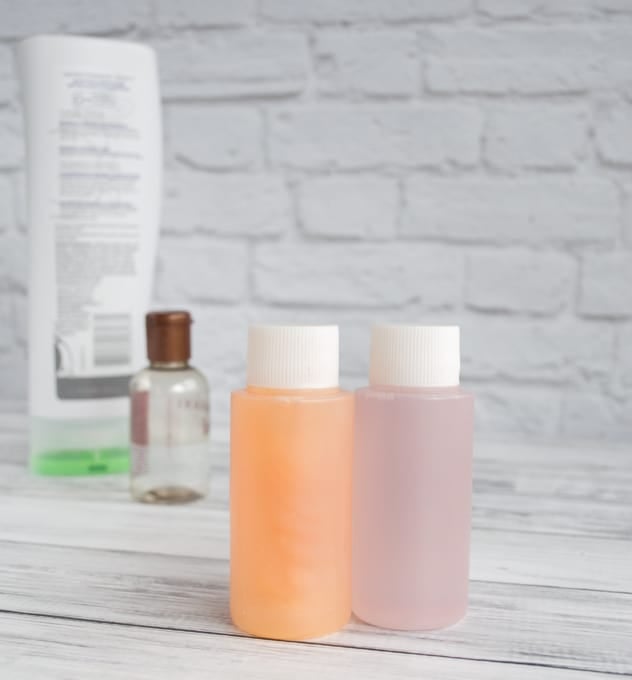 Get organized
Items tend to take up less space when they're well organized, so get organized!
I always have several zippered or drawstring pouches, especially in my personal item. This keeps everything tidy and easy to find, makes it easier for the scanners at the security checkpoint, and reduces the amount of wasted space in your luggage. I pack my electronics cords in one little bag and items like Ibuprofin and cough drops in another, for example.
I also use packing cubes all the time, even when I'm not traveling by plane. They make unpacking a breeze, too! Repacking is also easier when your things are at least mostly contained in packing cubes instead of just tossing around in cavernous hotel drawers.
TravelWise Luggage Packing Organization Cubes 5 Pack, Teal, 2 Small, 2...
PACKING MADE EASY – This 5 piece travel organizer set (1 small, 2 medium and 2 large packing cubes) compartmentalizes similar size items in their...
EXTRA DURABLE – Lightweight and durable nylon stands the test of time, keeping items secure without adding weight to your luggage.
FUNCTIONAL DESIGN – No more hectic searching for misplaced items! These packing cubes feature a breathable mesh design to more easily locate items...
Pack early
Even if you've carefully thought about what you're bringing, you still need to get everything in that bag several days ahead of time. Take it back out again if you want, but get it in that bag and make sure it fits. If it doesn't, then you need to do some painful reassessment of what you're bringing to pare down the list.
If you leave packing off until the last minute, you'll end up with too much stuff for your carry-on.
So there you have 'em – my tried and true tips for packing light and saving money by just bringing a carry-on (or hand carry luggage, whichever you prefer to call it)!
Remember to Pin this post now so you don't lose track of it!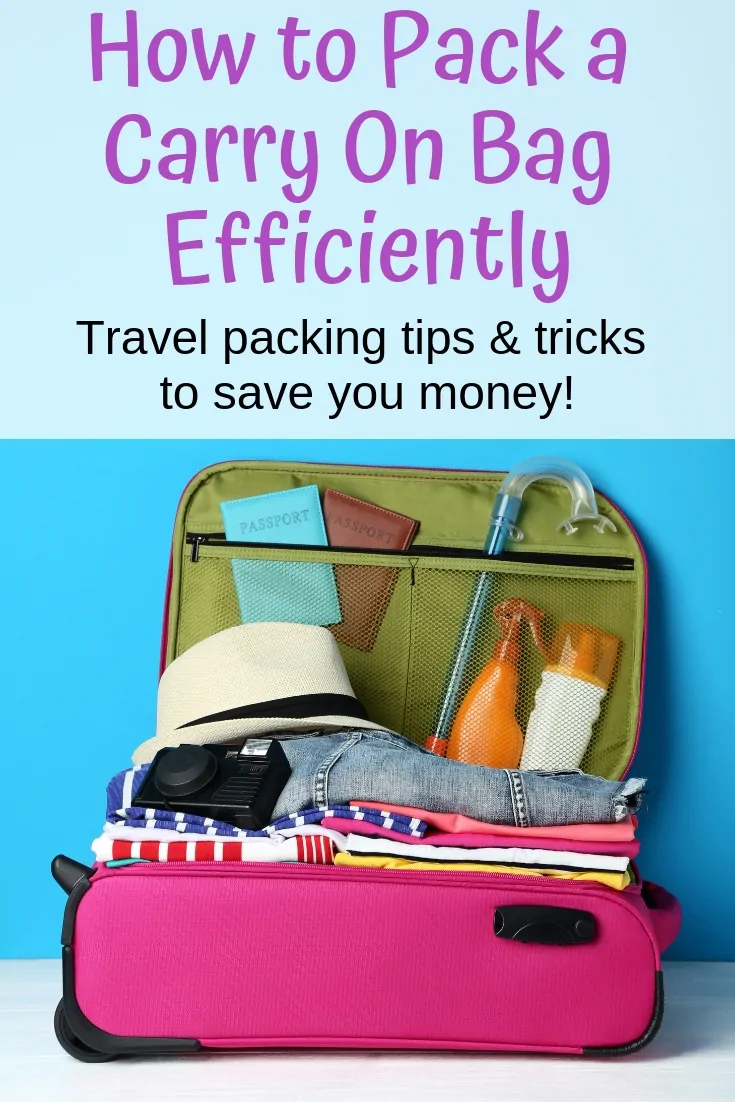 If you haven't already downloaded your 7 tips for getting through security, grab it now!
More travel tips
The best airplane travel snacks that will make it past TSA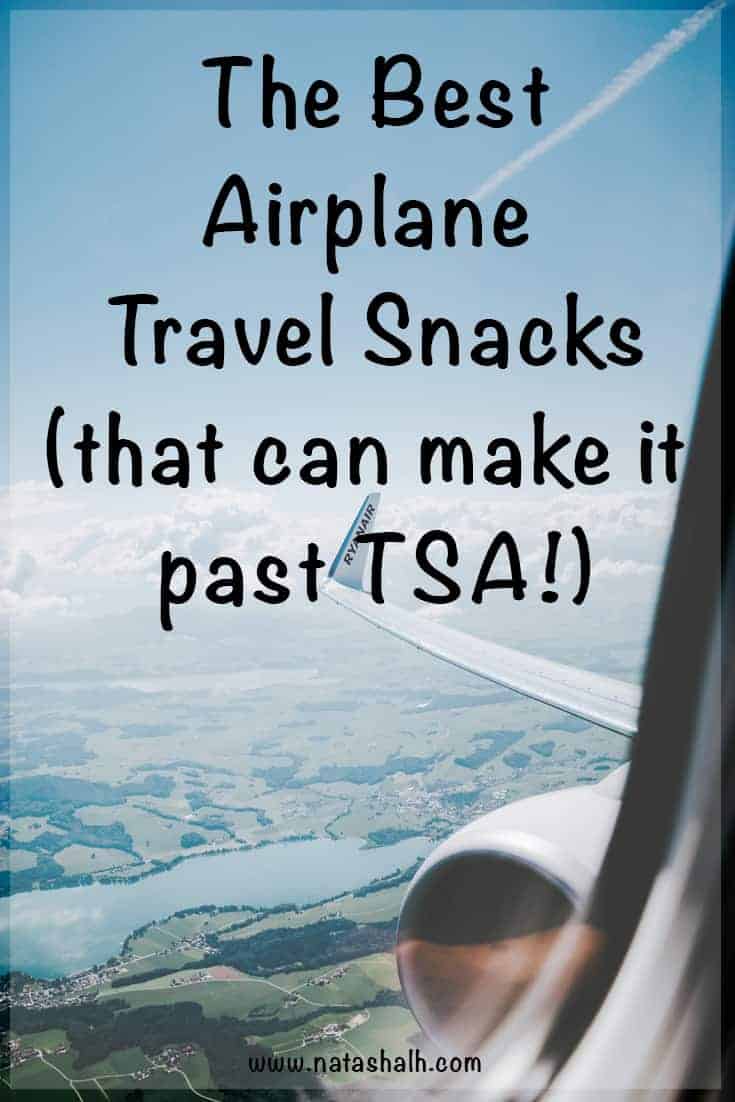 Tips for flying with an older infant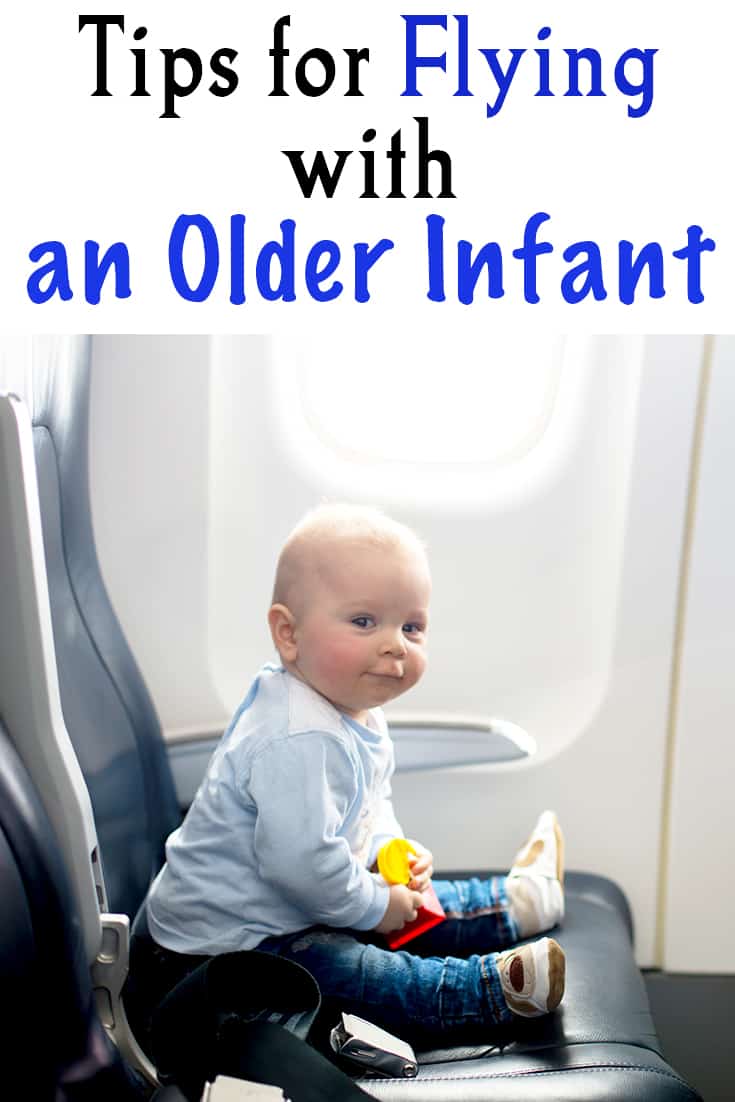 I know some well-traveled people stop by my blog. What are your favorite ways to pack light and avoid those check baggage fees?