Discover tips for flying with an older infant from a world-traveling mom!
Our LG is quite the traveler! She was on on 14-16 airplanes before her first birthday (some of the flights kind of blurred together!). She's been on a variety of flights ranging from voyages to/from Hawaii and the East Coast to quick island hoppers.
I've learned a lot on these trips, so today I wanted to share tips for flying with an older infant. In my experience, flying with a newborn is actually quite a bit easier than flying with a 6-12 month baby. These tips can help your trip with an older infant go a bit more smoothly.
I hope these tips help you out and make your trip with an older infant a bit more enjoyable for everyone.
This post may include affiliate links, which means I may make a commission on purchases made through these links at no additional cost to you.
Getting through Security can be a hassle, especially with a baby. Grab my tips for getting through TSA quickly!
The cheat sheet is available absolutely free – no email address required. Just use the download link below the preview image!
> Download your TSA tips cheat sheet here << (opens in a new tab)">>> Download your TSA tips cheat sheet here <<
Tips for Flying with an Older Infant
Pack toys with leashes
Unlike a newborn, an older infant can play with toys. Hooray!
Unfortunately, they also love playing the "pick it up" game. There's no way I want to hand a toy back to my baby after it's been on the airport or airplane floor! We have a couple of leashes and try to only carry on toys that we can attach to LG or her carrier. Many tethers have a spot for a leash, and the Oball line is super easy to attach a leash to. If your child is using a sippy cup, you probably want to get a leash for it, too!
Bring washable books
Washable books?! Yes, there really is such thing!
The Indestructibles line of books are all washable, which means you can wash or wipe them after they end up on the dirty airport floor.
As an extra bonus, you can usually clip them with a toy leash, as long as you don't mind the possibility of a few dents in the pages. I've never had one tear and I've leashed them multiple times.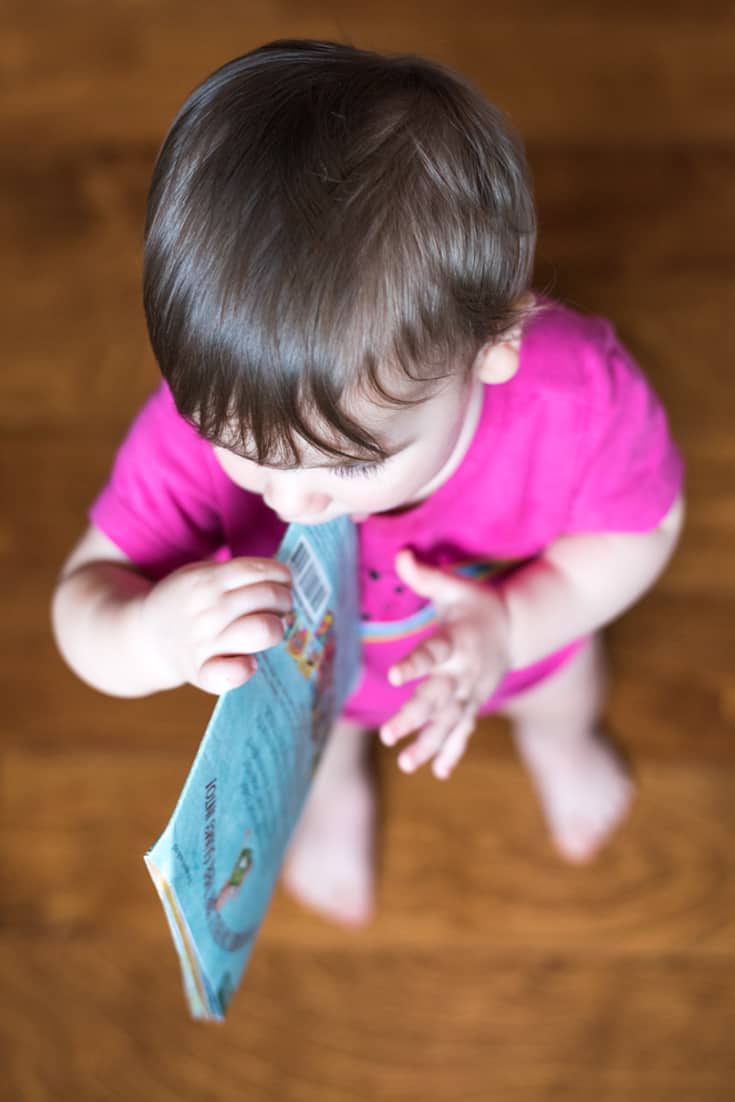 Remember that a diaper bag counts as a carry on
If your infant doesn't have a ticket, they don't have a baggage allowance. This means no free diaper bag! Take full advantage of your personal item and carry on to bring everything you need on board.

Bring antibacterial wipes
Tray tables and anything that has been in the seat back pocket are filthy!
I always wipe down the tray tables, armrests, and seat buckles right away with a Lysol wipe or antibacterial hand wipe.
Then I go over the surfaces a second time with one of our "normal" wipes (we use Seventh Generation wipes that don't have loads of added ick) to remove lingering unpleasant tastes from the Lysol wipe. I realize this seems a bit germaphobic, but LG loves trying to mouth buckles, belts, and tray tables so it's important to me!
Bring a sheet
Older infants love to be mobile! But who wants their baby crawling on the airport floor? Ew.
Consider packing a cheap flat sheet in your carry-on so you can spread it out for playtime during layovers.
A sheet is larger than a baby blanket and takes up less room in your bag. Honestly, LG isn't always keen on staying on the sheet, but at least it gives her a safe space to play! We typically use our carry-on luggage to make as much of a 'barrier' as we can to encourage her to say on the sheet.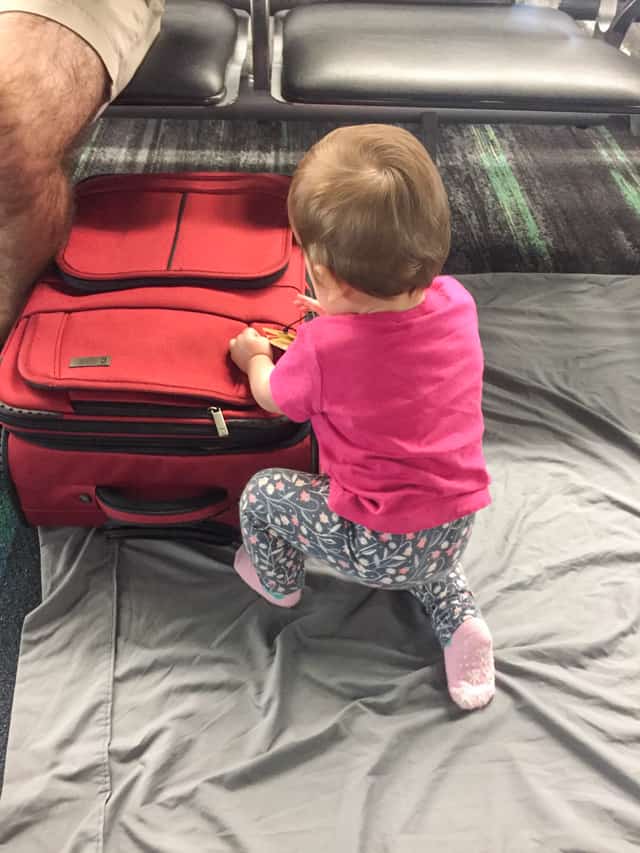 Consider a soft carrier
Research shows that a carseat is the safest place for an infant on a plane. However, it isn't always practical (or affordable!) to buy your baby his/her own seat.
Our LG has been both a ticketed infant and a lap child, but due to a mixup in seating assignments we weren't allowed to actually instal her carseat when she was ticketed. (The good news is they didn't give the seat to anyone else so at least she had the space to play!) Babywearing in flight can give your little one a cozy place to nap or nurse.
As a note, technically you're not allowed to wear a baby during landing and takeoff. People cite various reasons, but the actual reason is that baby carriers aren't approved child restraint devices (they're not carseats), so the FAA says they can't be used. I've only had one flight attendant enforce this, but just be forewarned.
We've found that wearing LG is much easier for us in the airport than trying to get around with a stroller. It leaves hands free and you can still wear a backpack!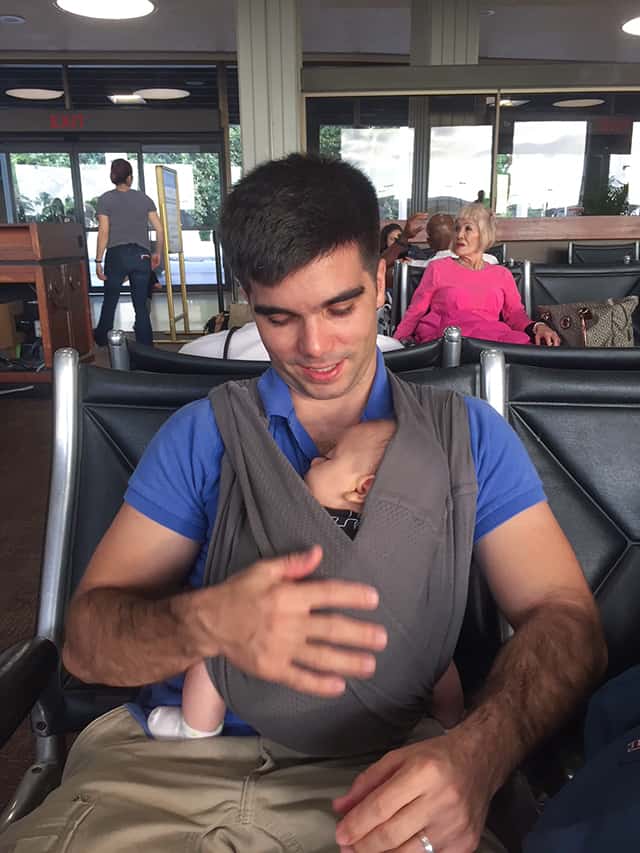 When she was a newborn, we used a K'Tan, but we stared using an Ergo at around 3 months and have never looked back. (In my experience, ring slings and wraps are a bit trickier to deal with in cramped quarters, but, by all means, use one if you prefer it.)
Nursing in a carrier can be convenient on the go, too. Yes, I have walked around the airport nursing my baby. Many carriers have flaps, covers, or tails that you can use to cover up while nursing, if that's something you do.
Pack Appropriate Food
I'm usually pretty strict about only allowing LG to eat in her high chair or in her Montessori cube chair at her own table. Her main nutrition still comes from breastmilk, but she also enjoys eating plenty of solid foods!
Packing your favorite, non-liquid, appropriate baby snacks can be helpful if you're traveling during a normal meal time. Sure, you can probably find something safe to feed your baby at the airport, but it will cost way more! Just pack a banana or some puffs or whatever you little one likes!
When I say non-liquid, I mostly mean you'll need to stay away from puree pouches, unless they're in you're 3-1-1 liquids bag. Breastmilk and formula are *supposed* to be allowed through security without restriction.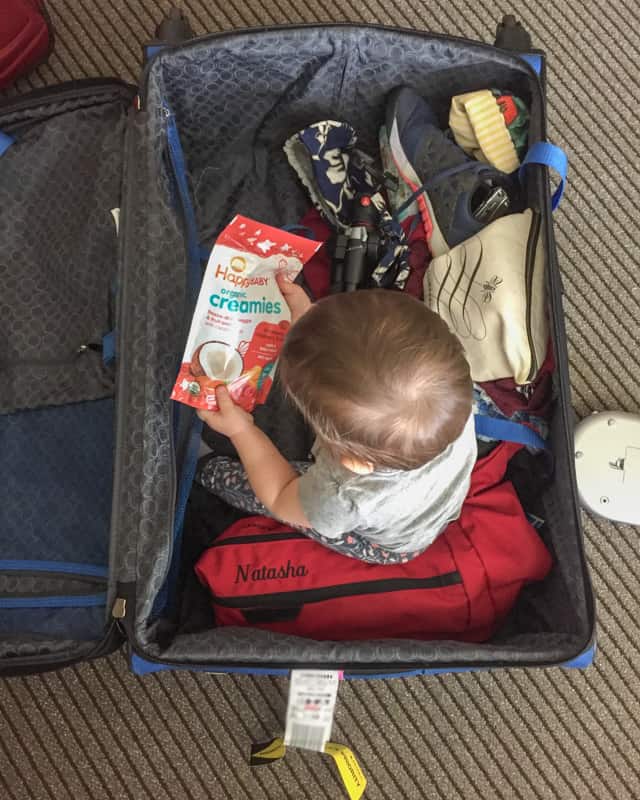 While you're packing Baby's meal, you might also want to bring some TSA-friendly snacks for yourself. You can check out my ultimate guide to the best airplane snacks that will make it through security right here!
Flying with an older infant is more challenging than flying with a newborn or younger baby, but don't let that keep you from taking an important trip!
Don't lose track of this post – make sure to Pin it to your vacation board now!
I hope these tips for flying with an older infant help you out! I'd love to hear your tips and tricks for making travel with older babies easier so please leave a comment below!
Travel Tips
Discover tried and true travel tips from a world traveling mom!
[pt_view id="6ac7606ga1″]