Snag a printable bill payment checklist and keep better tabs on your finances! Take your pick from ten monthly bill payment organizers and bill pay trackers.
I recently mailed a check waaay ahead of time because I'm paranoid about things getting lost in the mail. It's one of the few payments we don't have an electronic transaction set up for and I don't want to have it arrive late! I got hit with a late payment fee once because I remembered the due date incorrectly and I've made sure I never let it happen again!
Like many people, we primarily use paperless billing. This saves paper and clutter, but it can make it even tricker to keep track of when everything is due!
That's why today I'm sharing a bill pay checklist for you to print off. Actually, I have 10 free printable monthly bill payment logs for you so you can pick whichever best suits your needs!
This post may include affiliate links, which means I may make a small commission on items purchased through these links at no additional cost to you.
Using bill payment trackers is an important part of tracking your income and expenses so you can take control of your finances. It's important to know where your money is going – you can't set up a budget or hope to 'get ahead' if you're not paying attention to how and what you're spending on!
How to print your bill organizers
The coloring page printables are saved at full 8x5x11 size for marginless printing. If you don't have a marginless printer, simply check "scale to fit" so none of the design is cut off.
The colorized versions are also designed for full-page printing. You can scale them to fit or print at 100% – either way, you should keep all important parts of the document.
The non-coloring page bill organizers should fit just fine within standard printer margins.
If you want to hold punch your printables without losing any of the coloring design or tracker chart space, set a custom margin for three hole punching. It's super easy – just check out the steps below!
How to set a custom margin for 3 hole punching:
Go to your "print" dialogue box.
Under "Paper Size," scroll down to select "Manage Custom Sizes"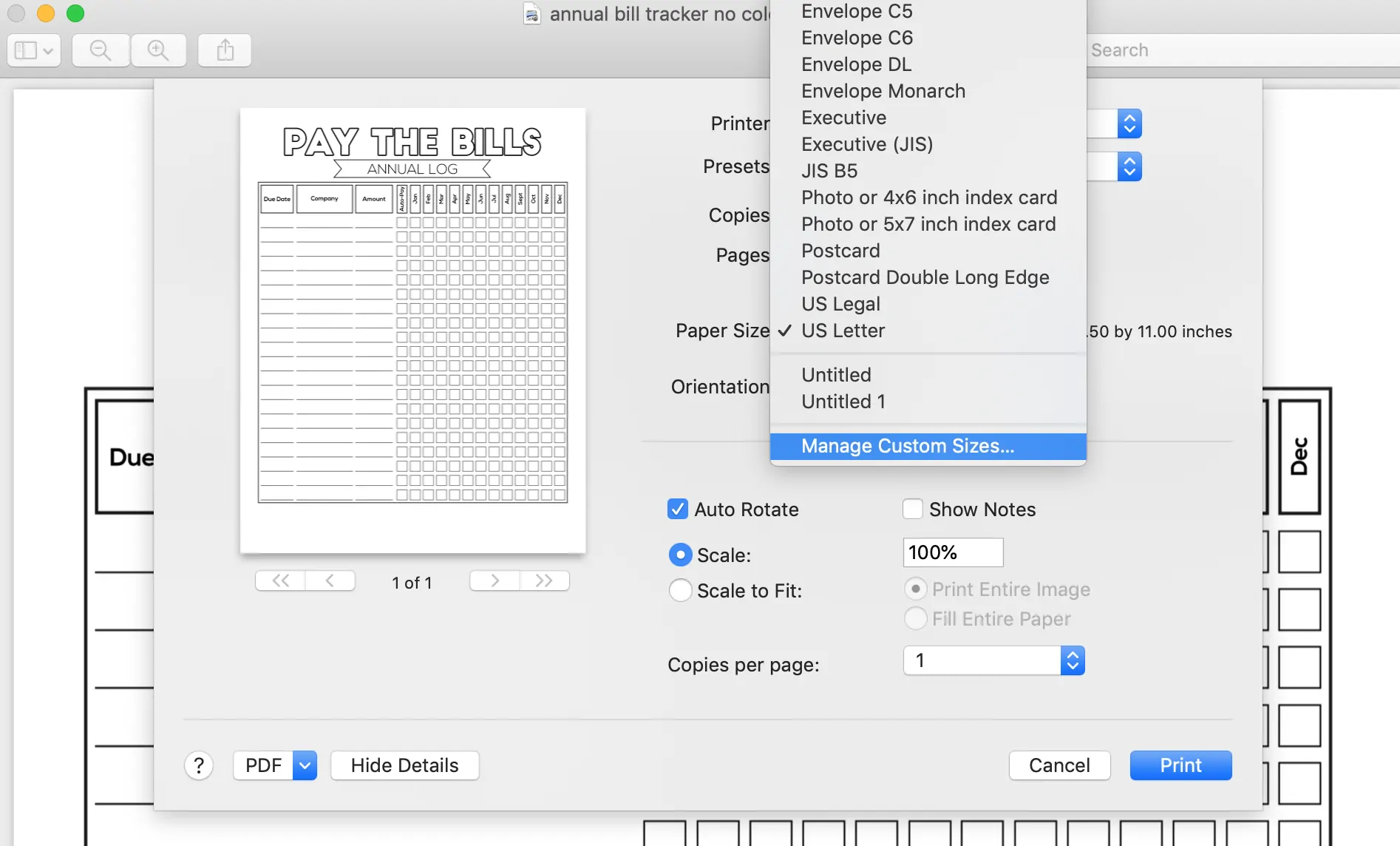 Add a new page. In Preview it auto-populates with 8.5×11 dimensions. If your software doesn't, simply input them.
You should also see a box where you can set the left, top, right, and bottom margins. Change the left margin to .75.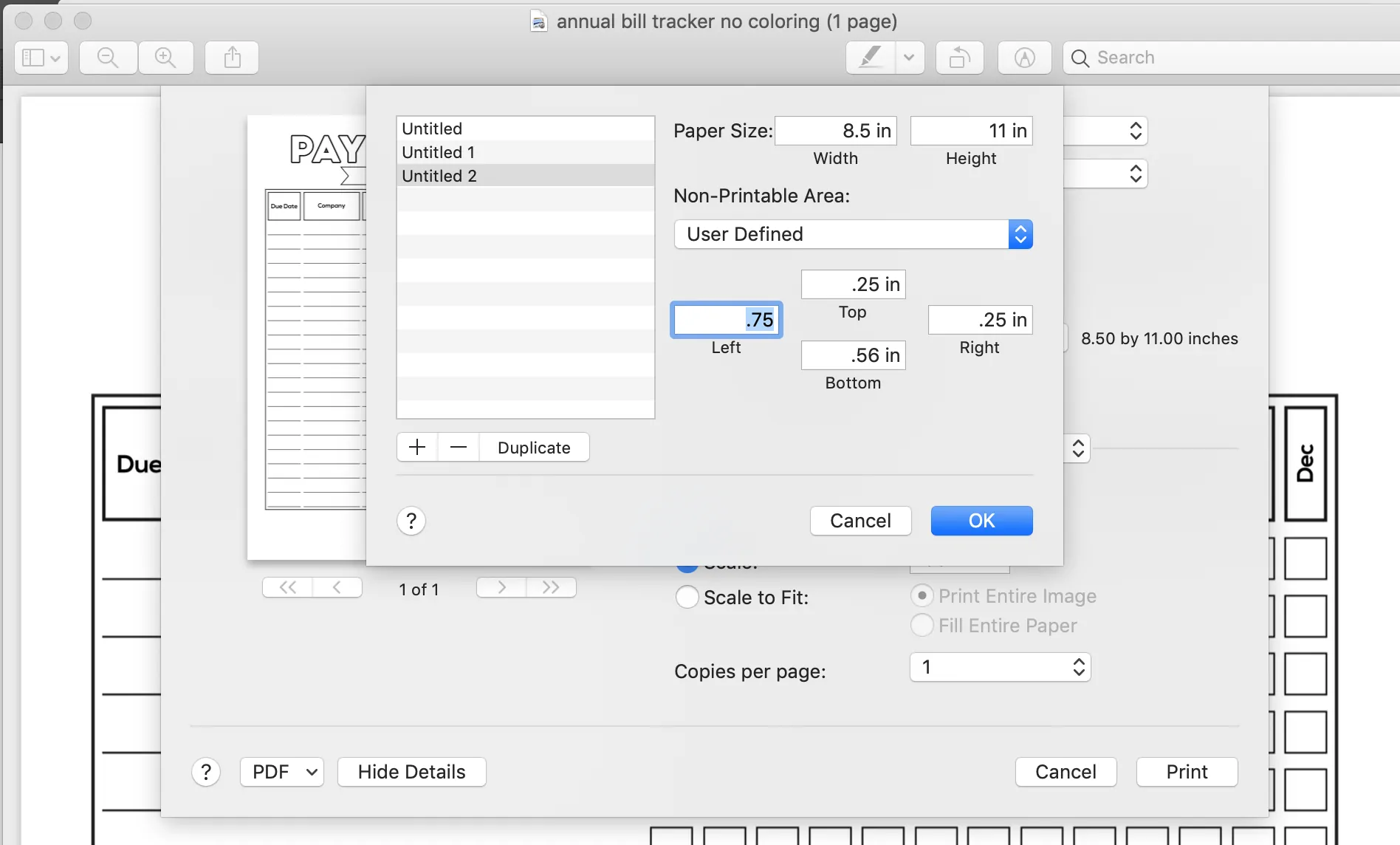 Just make sure you have this custom sheet selected when you print & select "scale to fit" and you'll be able to hole punch without knocking out any of your tracker!
The best paper to use for printables
Especially if you're printing off one of the coloring page options, I highly recommend using a 65# card stock or presentation paper.
Even the "normal" trackers can benefit from a nicer paper because it will hold up to use better! (Actually, I love 110 lb cardstock for coloring, but it can fill up a binder pretty quickly, which is why I recommend something slightly lighter for these printables.)
Bill payment checklists and trackers
Please note that the images below are just low resolution previews – if you try to save and print them they will look horrible! Please look below the preview for PDF download information.
Annual bill payment checklist PDF
This annual bill organizer helps you keep track of everything in one place!
The annual bill payment log is great for recurring payments, like your housing, cell phone, and internet.
This printable bill pay checklist is my free gift to you – no email address or login required! Just use the download link below.
>> Download the annual bill pay checklist right here <<
Monthly bill payment checklists
Use a fresh sheet for each month and record every bill when it arrives in the mail or your inbox. Write down the amount owed and when it's due. Check, highlight, cross out, or otherwise designate that you've paid the bill once it's paid!
There are three different versions of the monthly bill payment checklist/log. You can get it in full color, with decorative coloring page elements, or in plain black and white to save your ink!
Keep scrolling to see where to download these monthly bill trackers!
Printable bill payment log
If you prefer calendars to charts, these are the printables for you!
The calendar pages are undated so you can use them again and again. Simple fill out the month, year, and dates. Please note that the calendars are Sunday start (if anyone wants a Monday start, please leave a comment and I'll make on. I personally always use Sunday start so that's what I created.)
Again, there are three versions of this bill due date tracker so you can use whichever you prefer!
Annual bill payment checklist
This chart is easy to use for recurring expenses with fairly consistent amounts like car/health insurance, cell phone, internet, etc. Simply write the name of the expense in the left hand column, check whether or not it is set to auto-pay, and check off when you pay each month (or when the auto payment goes through).
These bill tracker and checklist printables are available FREE to Artisan Life members. Not a member yet? No problem! Use the form below to join the family and grab your printables today.
If you're already a member, you can use this form, too. Just make sure to use the same email address you've already signed up with.

Remember to Pin these bill tracker printables so you don't lose track of them!
I truly hope you find these bill tracker printables helpful!
More free printables on The Artisan Life
This post has great information on how to create affirmations that work if you'd like to write your own affirmations.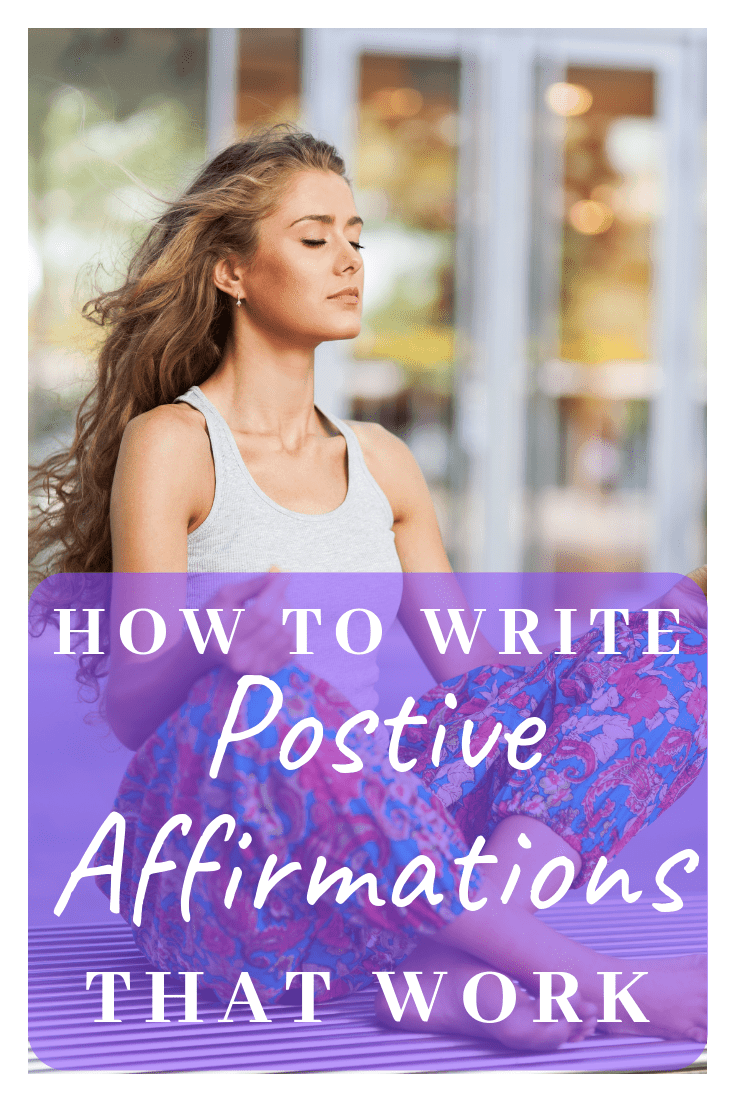 I've also learned that without gratitude, you'll never have enough. Learning how to be grateful for what you already have can bring so much more into your life! Discover how with this gratitude challenge.