Avoiding refined sugars is important to me and my family, but sometimes you need a bit of sweetener! This honey to sugar conversion guide will help you successfully substitute honey for sugar in your recipes.
Regular readers know that I am all about making healthier substitutions. I'm known for putting Greek yogurt in everything, and I've even been known to bake brownies and cakes with applesauce instead of oil. Something else I do is swap honey for sugar whenever I can.
Today I'm giving you tips and tricks for how to swap honey for sugar in your baked goods and a handy honey to sugar conversion chart printable for your kitchen.
Although honey is actually sweeter than granulated sugar, evidence suggests it may be healthier for a variety of reasons.
Additionally, for people who want to shop locally or become more self-sustainable, honey is a clear winner. It's very difficult to find local processed sugar, but local honey is available virtually everywhere. More people are taking up beekeeping, too, even in urban and suburban neighborhoods.
This post includes affiliate links, which means I may earn a commission on purchases made through links at no additional cost to you.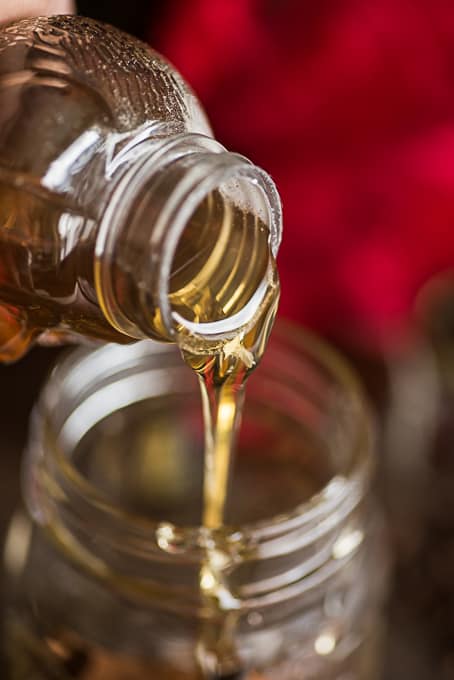 The benefits of honey vs sugar
At first glance, it might not seem like honey is healthier than refined sugar. Honey has approximately 21 calories per teaspoon while white sugar has 16 calories per teaspoon.
The benefits of honey are because of its composition:
Table sugar is 50% fructose and 50% glucose.
Honey is 40% fructose, 30% glucose, and also contains water, pollen, and minerals. (source)
Because of these differences, sugar has a higher glycemic index than honey. In other words, it causes blood sugar to spike more rapidly.
Although honey varies depending on the flower nectar used by bees to make it, honey typically contains magnesium, potassium, Vitamin C, Niacin, Folate, calcium, zinc, iron, and other trace minerals.
Honey has been used medicinally throughout human history, and modern studies may substantiate some of the health claims made about honey. For example, one study found that people with an allergy to birch who consumed birch pollen honey experienced a reduction in symptoms. Other studies indicate that honey may be helpful for treating wounds and ulcers.
Honey can contain probiotic bacteria that are passed along from the bees who made the honey. These bacteria may help digestion and support beneficial bacteria in the human gut. (source) Raw honey typically contains more of these beneficial probiotics.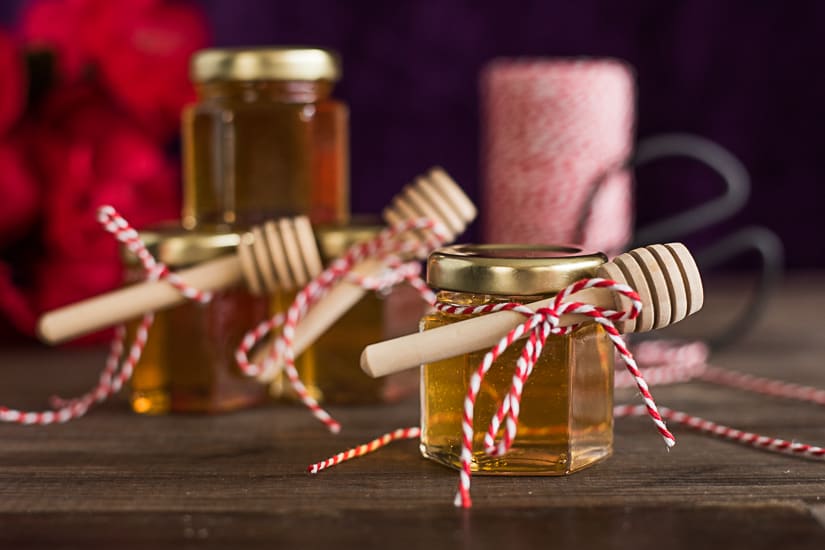 Tips for baking with honey & how to use honey for sugar
Chose the right honey
Honeys have different flavors depending on what flowers were used to make the honey. Darker honey is almost always more flavorful than light honey, so it's best to look for a lighter honey if you're baking something with a delicate taste. 
A white cake, for example, might be overpowered by a dark honey. If you're baking a flavorful spice cake, though, a darker honey could work just fine.
Clover honey is light-tasting and a safe bet for most recipes.
Bee Harmony American Raw Clover Honey, 12 Ounce
PRODUCT OF USA: Bees roam the vast, high-quality forage lands in the Dakotas, Montana and other Midwest states for our American Raw Clover honey....
PREMIUM RAW HONEY with natural pollen and enzymes. Packed and sealed with care in clear glass jars.
Sourced from trusted, select beekeepers committed to tending bees responsibly. We handcraft our premium raw honey for the love of bees, using...
Use honey in moderation
As mentioned above, honey is sweeter than sugar. This means you do not want to make a 1 for 1 swap! If you do, your baked goods will turn out way too sweet.
Instead, use 3/4 cup of honey for each cup of sugar. Make sure to scroll down for the honey baking substitution chart printable!
Subtract liquid from the recipe
Honey is a liquid. This means you need to subtract some liquid from your recipe to compensate if you use 1 cup or more of liquid honey.
Remove 1/4 cup of liquid from the recipe for every 1 cup of honey used. 
So, for example, if a recipe called for 1 cup of sugar and 1/2 cup of milk, you'd only use 1/4 cup of milk.
If you're using 1/2 a cup of sugar, remove 1 tablespoon of liquid from the recipe.
If you're replacing less than 1/2 cup, there's no need to remove extra liquid.
Make sure to scroll down to download the handy printable honey substitution chart.
Reduce baking temperature
Honey browns more quickly than sugar, which means your baked goods can become overdone more easily. To avoid this problem, reduce the baking temperature by 25ºF/14ºC. You may need to bake a bit longer to compensate.
Add baking soda
Honey is denser than sugar, so you'll want to add 1/2 teaspoon of baking soda per cup of sugar replaced. Add 1/4 teaspoon of baking soda if you replace less than one cup of sugar.
How to keep honey from sticking to your spoon
It is famously frustrating to get honey out of a measuring cup! To keep honey from sticking to your spoon or measuring cup, give it a quick blast of cooking spray.
If you don't use cooking sprays, you can coat your cup or spoon with a light oil (like canola oil) or butter (an old butter wrapper works well).
Only use honey if it makes sense
Honey is not granulated sugar. It works well in plenty of recipes, but it can affect the texture of some items.
For example, if a recipe calls for creamed butter and sugar and you use honey, it will affect the cookies' texture. They will most likely be denser, flatter, and more chewy instead of fluffy. They will probably be very tasty in their own way, but may not be what you expected. This is because creaming butter and sugar creates air pockets that simply cannot form when you use honey. (If you've ever made cookies with melted, browned butter, that's more the texture you can expect from cookies made with honey.)
Recipes that use honey
If you're feeling a little leery about swapping honey for sugar, just use a recipe that's designed for honey! Because of an increased interest in using unrefined sugars and grains, there are several good honey cookbooks available. (You can also scroll to the bottom of the post for honey recipes here on The Artisan Life!)
Sugar to honey conversion chart
Alright, here it is! The super handy printable sugar to honey conversion chart. It is so helpful if your recipe calls for more or less than one cup of sugar!
As always here on The Artisan Life, this printable is available free for your personal use. This means you're welcome to print and use it in your own home, in your classroom, with your scout troop, etc.
You are not licensed to redistribute the printable or the digital file. Just refer your friends and coworkers to this post so they can download it for themselves!
The image is a low resolution preview – please use the download link to get the printable from Google Drive.
Do you enjoy free printables? Join The Artisan Life family! You'll receive instant access to the free Members Resource Library and all the printables there. You'll also get exclusive access to premium printables each month (for free!)
If you found this post useful, please take a moment to Pin it!
Recipes with honey
Chocolate coffee clusters with honey caramel sauce
How to make spiced cinnamon honey