Discover the best travel snacks for airplanes! Learn what to pack for a long flight, make ahead airplane meals, and what food you can bring through TSA!
Years of living in Hawaii and making long haul flights back to the East Coast have given me plenty of practice packing travel food, so today I'm sharing my list of the best travel snacks for airplanes (plus some make ahead airplane meal ideas to keep you full in flight!).
These travel tips for snacks to bring on an airplane are more important now than ever before. After years of declining food and beverage service, most airlines are currently cutting out the food service all together. Make sure to bring your own food so you don't get hangry on your next flight!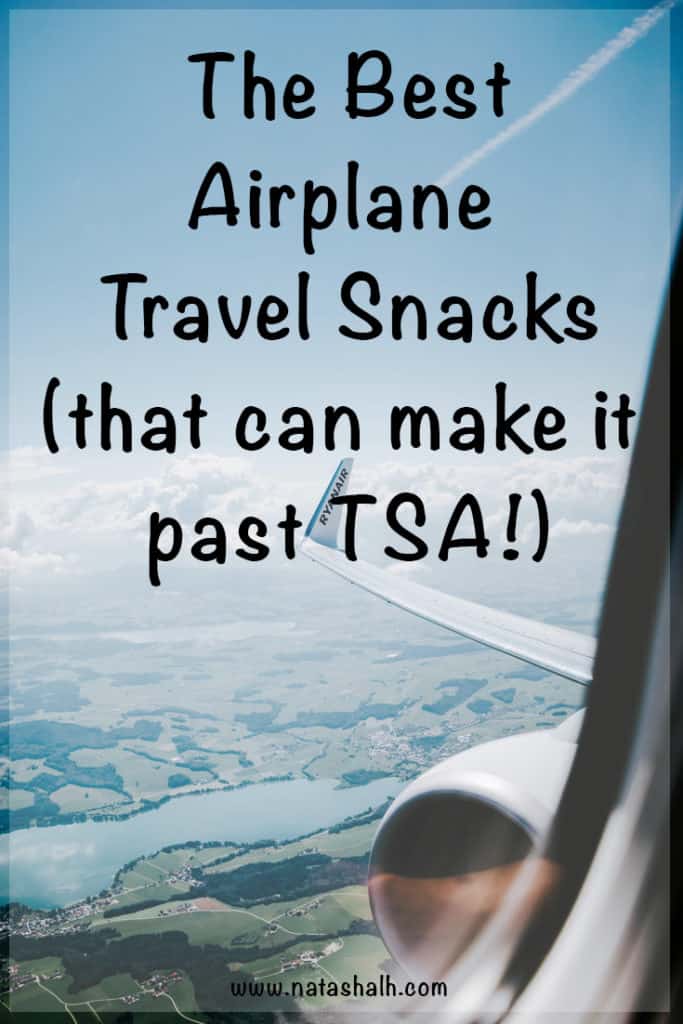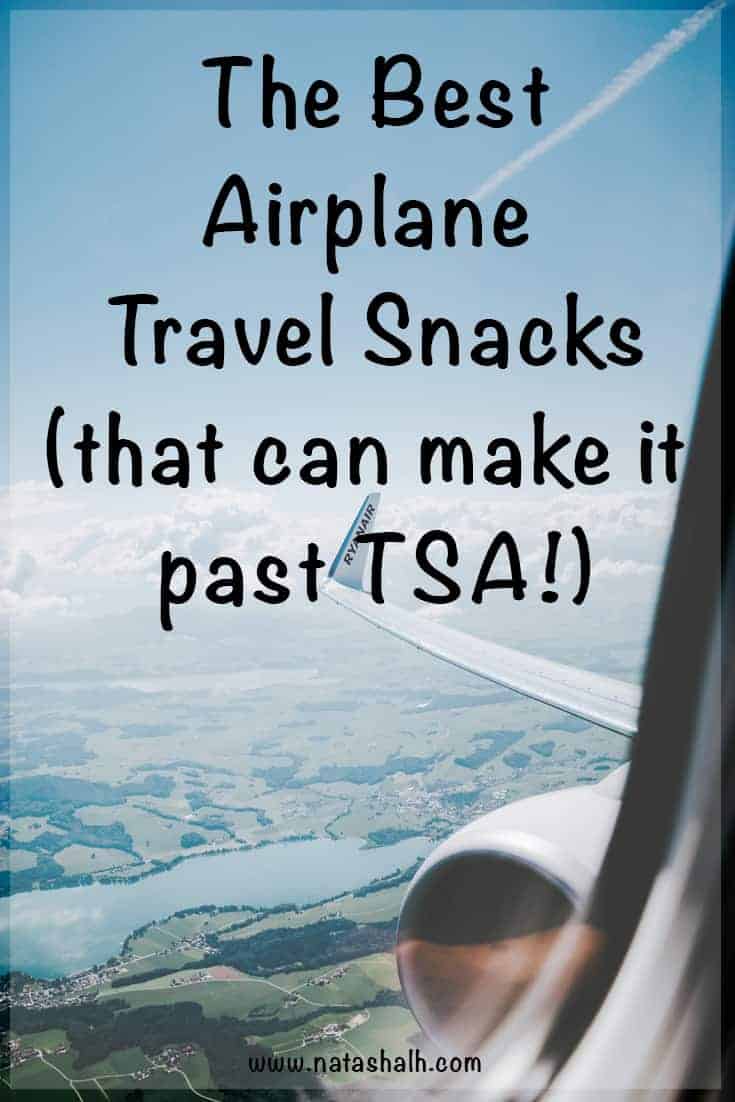 This post may include affiliate links, which means I may make a commission on purchases made through these links at no additional cost to you.
Can you bring food through security at airports?
Before we get into the suggestions, there are a few things to keep in mind:
Anything that the TSA considered a liquid or gel must be in a container 100 ml or less and in your liquids bag.
This includes things like peanut butter, almond butter, hummus, and yogurt. You and I know peanut butter isn't a liquid, but ¯\_(ツ)_/¯ If you are unsure about something, please check the TSA prohibited/allowed foods list.
Food items must be wrapped/contained (unless they're a naturally-occurring whole food item, like an apple or a banana).
For example: you can't just throw a sandwich in your carry on without a wrapper, but it's totally fine if it's in a ziplock bag. This really isn't a big deal because because you're probably already planning to wrap loose food, but just letting you know that it's an official rule!
Produce items are fine on domestic Mainland flights, but generally not allowed on international flights. I've been on some international flights where produce was okay on the plane, but couldn't deplane with you, but I've also had produce confiscated at the airport.
Expect to pull your food out at security. Although it is allowed through security, they're currently making you remove it from your bags, just like electronics and your liquids bag. If you have Pre-Check, they should allow you to keep your foods in your carry-on, unless it needs to be removed for additional screening.
At smaller airports, we have been asked to remove all food from our bags even with Pre-Check. To make things easier, consider packing all your food in the same location, even if you rearrange things after you're through security.
No matter how "good" an airplane snack is, overall, always make sure to chose foods that agree with you.
Sitting still and being at altitude can both adversity affect your digestive system, leading to bloating, trapped gas, and not so trapped gas. If you know something makes you feel uncomfortable on the ground, it's best to avoid it in the air and for several hours before flying.
2019 update: Although food is allowed on airplanes, many TSA checkpoints now make your remove your food from your luggage and place it in a separate bin at security. If you want to avoid avoidable delays at security, grab my cheat sheet with 7 tips for getting though security more quickly!
The TSA cheat sheet is available completely free, no email address required. Just use the download link below the preview to get it from Dropbox!
>> Download at the TSA cheat sheet here <<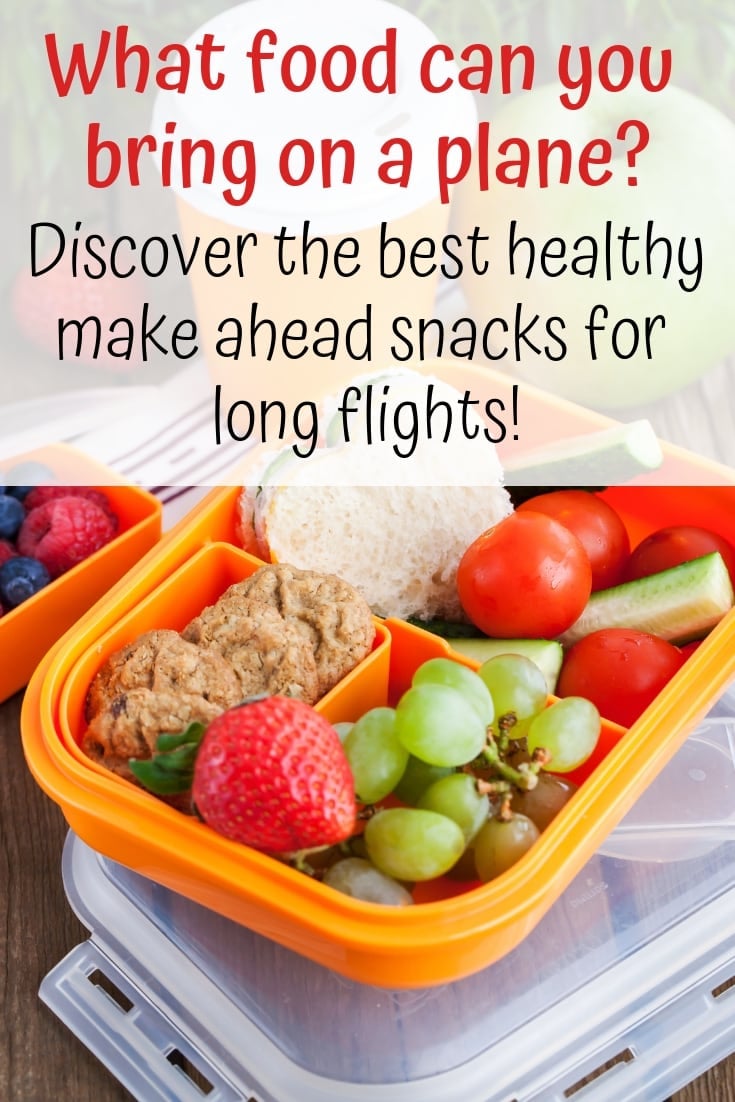 PS – If you're planning a trip and you don't use Ebates yet, (They're called Rakuten now, but it's Ebates) you're leaving money on the table! It's free to sign up and you can get money back with airline partners, Orbitz, Alamo rental car, and many other travel partners. You also get money back on sites like Amazon, Walmart, and Target. I am so annoyed when I think about all the money back I could have gotten if I'd signed up earlier!
The best travel snacks for airplanes – cool
Keeping your travel snacks cool is fairly easy because there are so many soft insulated bags, lunch boxes, and hot/cold lunch canisters available these days! If you don't own any of these items, your best bet is a paper bag (or two) because it will help keep your snacks more cool than a plastic or cloth bag. You can even pack any of these snack ideas in a hot/cold wide mouth thermos!
MIRA Insulated Food Jar Thermos for Hot Food & Soup, Compact Stainless...
Compact & Reliable: This insulated food thermos jar is the perfect lunchtime companion for busy individuals, offering convenience and reliability for...
Wide Mouth Design: Enjoy easy access for filling, eating, and cleaning with the wide-mouth design. The sleek design and smooth interior of this...
Fun Colors: Express your style with a variety of vibrant colors available in the MIRA Insulated Food Thermos Jar, making lunchtime exciting and...
Hard boiled eggs. Although you should avoid boiled eggs if they typically make you gassy (being at altitude can exacerbate the situation), I like eating boiled eggs on the go.
They're rich in protein, which can be hard to come by on a plane, and they're high in vitamin B12, which helps the body respond to external light and plays a role in regulating your circadian rhythm.
I used to struggle with making and peeling boiled eggs, but then I found this recipe from Serious Eats and it works every time. Cooking eggs correctly also eliminates that sulfur smell. (A quick note: boiled eggs are perishable, so they shouldn't be kept at room temperature for more than a couple of hours. Just keep reading for some tips on keeping your snacks cool!)
Fruits. Pre-cut pieces of melon (just make sure to pour off any extra liquid that accumulates at the bottom!) are the perfect airplane snack because they help keep you hydrated, too.
Berries are also a great choice because they help hydrate and contain antioxidants that may help combat the inflammation associated with travel and jet lag.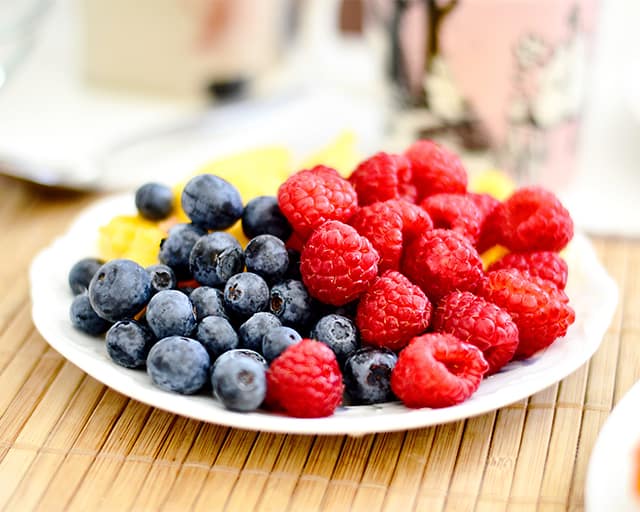 Do you have kids? If so and you're planning a trip, grab a free printable animal activity pack to keep them busy and quiet!
Grapes. I'm listing grapes separately from other fruit because they make an awesome ice pack that TSA won't confiscate! Frozen grapes are delicious. Place a bunch of grapes in a ziplock bag in the freezer overnight, then pop them in a small, soft cooler bag to help keep the rest of your travel snacks cold! (This trick also works well with green peas and corn, but they're not as helpful on the plane.)
Veggies. Baby cut carrots, carrot sticks, bell pepper strips, cucumber slices, whatever veggies you like to eat raw! If you prefer to eat your veggies with dip or hummus, you can either get a small container and place it in your liquids bag or snag a cup of dressing at the airport.
Salad. If you really want to eat healthy on the plane, consider packing a salad! But, of course, don't add the dressing. Spinach, kale, and chard are especially good salad bases for travel because they're all high in magnesium, an important mineral that helps regulate your sleep/wake cycle.
A sandwich. Just make sure to hold the condiments! Slip packets of mustard and mayo into your liquids bag or just hit up the airport food court. Lunch meats are perishable, so make sure to keep your sandwich cool.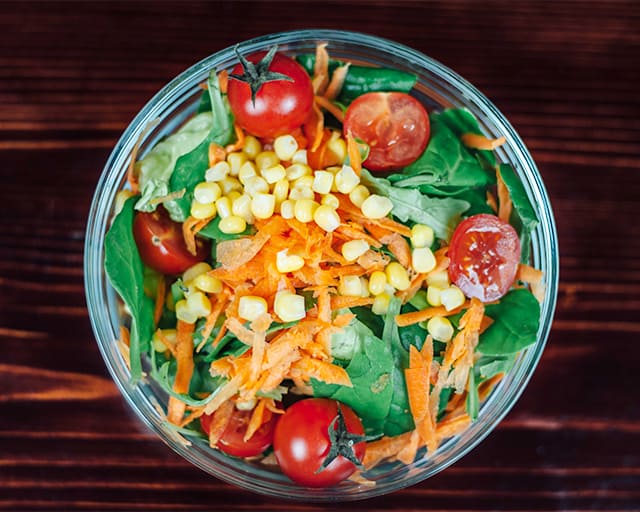 Make ahead meals for airplanes – warm
Yes, you can enjoy a delicious, warm meal on the airplane! (Or in the airport, your choice.) All you need is an insulated thermos or a lunch canister.
I highly recommend using one that's double wall stainless or has a soft insulated carrier instead of an old-fashioned glass thermos to prevent breakage. We purchased this lunch can for my husband in October 2014 and, in spite of daily use for almost 4 years, it's still working great!
We used it on a recent trip to pack a filling, warm meal enjoyed at the Atlanta airport. We particularly like that it has three separate containers. It enjoyed some extra security scrutiny on our outbound trip, but made it through just fine. On the way home, it didn't even get stopped for an extra search.
Sale
Zojirushi Classic Bento Vacuum Lunch Jar - Black
A convenient, efficient way to keep foods hot or cold longer when transporting to places without microwaves or refrigerators
Made from stainless steel with vacuum insulation; durable and will stand up to daily use
Equipped with 3 lidded inner containers; offers ample storage for food; includes a forked spoon and a convenient carrying bag
When you have an insulated lunch can or thermos, you can enjoy just about any hot meal that doesn't involve liquids. To be safe, avoid not only soups, but also things like baked beans and sauces that have a liquid component. A few hot meal suggestions include:
Rice, couscous, faro, and/or quinoa. If you're on a really long flight, you may want to avoid carbs since you'll just be sitting. If you're taking shorter flights or plan to get your day's exercise in walking (or running!) through the terminal, carbs can be helpful. To help avoid a 'crash' or feeling sluggish, make sure to pair carbs with a healthy fat or protein.
Chicken (without sauce). We grilled up some chicken the night before flying, microwaved it in the morning, and had delicious chicken on the go!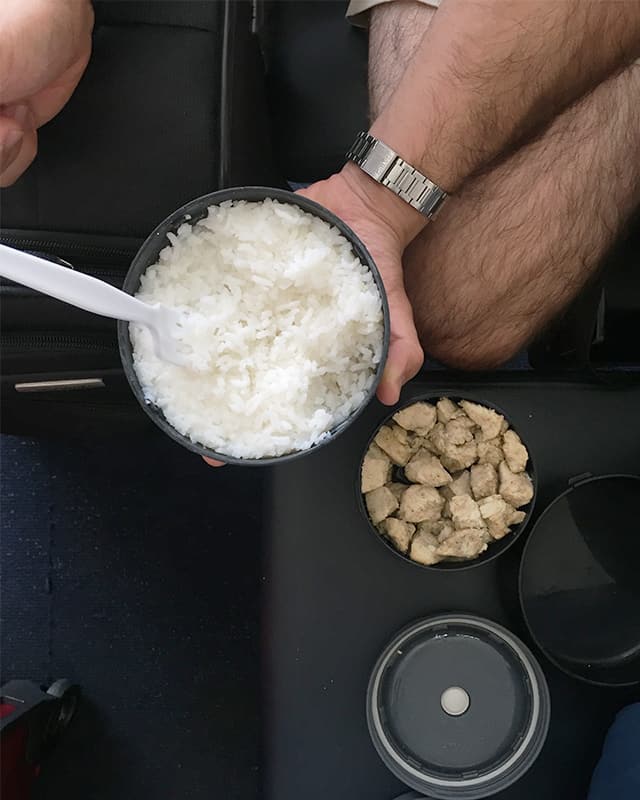 Baked or fried tofu (or your favorite non-saucy preparation).
Any lean, sauceless beef or pork. For example, this oven-roasted pork tenderloin sliced into medallions. Greasy red meats, like hamburgers, can give you some serious discomfort in the air and are usually best avoided, but you do you.
Potato wedges, smashed potatoes, or roasted veggies. Deep fried foods, like tater tots or french fries, usually aren't a great choice.
DIY airplane snacks – room temperature
Whole fruits like apples, bananas, peaches, and oranges. Avoid apples if they usually give you gas. Kiwis are fantastic for combating jet lag, but can be difficult to peel without a knife (technically the peel is edible…but who wants to eat it?)
Please note that fruits and vegetables are not always allowed on international flights. Sometimes they are allowed, but can't leave the plane with you at your destination. I've never had a problem with fruit on a Mainland US flight.
Unsalted nuts. I'm seriously loving the Costco Kirkland unsalted nut mix! Try to avoid added salt as much as possible while flying because it can contribute to dehydration and jet lag.
I know that nut allergies are a serious concern for some people, but eating nuts on a plane actually poses very little risk to other passengers. Severe respiratory reactions to all sources (foods, medications, pets, etc) account for approximately 2-4% of all in-flight emergencies. If you're on a flight and they make an announcement asking you to refrain from eating nuts, then don't break out your nuts.
If you have a nut allergy, notify flight attendants and ask them to make an announcement for you. Also take the time to thoroughly wipe down surfaces you come into contact with (tray table, seat belt, arm rest, etc). Honestly, everyone should always wipe everything down because it's all so filthy!
Low-sugar granola bars like Perfect Bars or RXBars. Try to avoid added sugars because they can contribute to jet lag.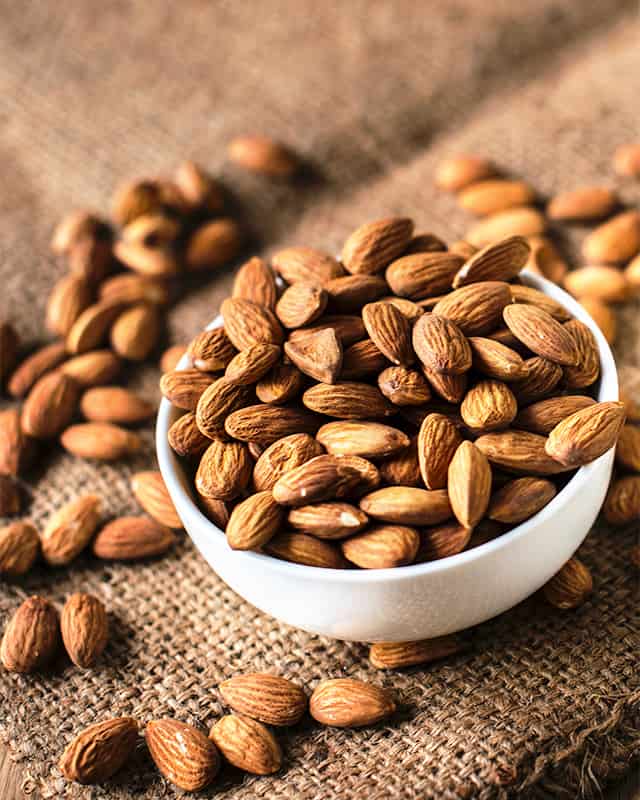 Airplane snacks to avoid or limit
Although they're easy to pack, foods like potato chips, candy, pretzels, salted nuts, and dried fruit should be used as 'last resort' snacks if you truly can't pack anything else. They can contribute to dehydration, which is already a significant problem when you fly.
In the terminal, try to avoid the temptation to eat heavy foods like pizza, fried chicken, and cheeseburgers. Coffee, tea, soda, and alcohol can all contribute to jet lag, so just be forewarned if you decide to indulge! (I personally can't resist having an espresso, even though I know it isn't the "best" choice while flying.)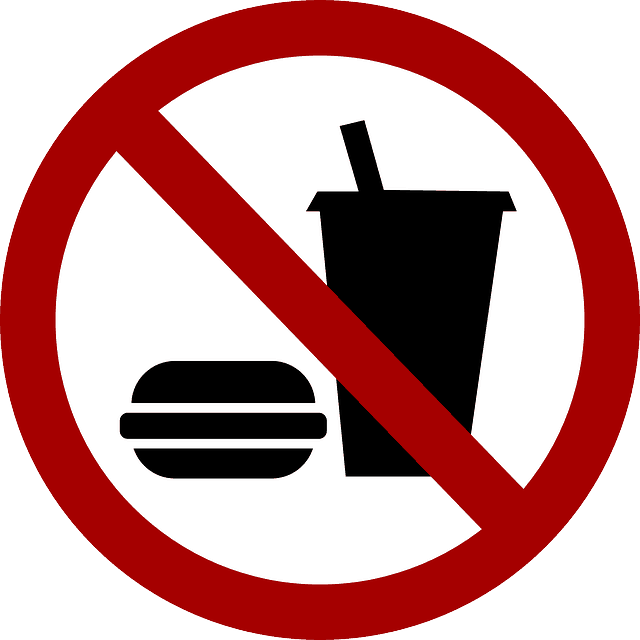 If you're currently packing for a trip, please stop by my post on fitting "more" in your TSA-compliant liquids bag. It's been one of my most popular posts every single week for three years so I'm sure you'll find lots of great information!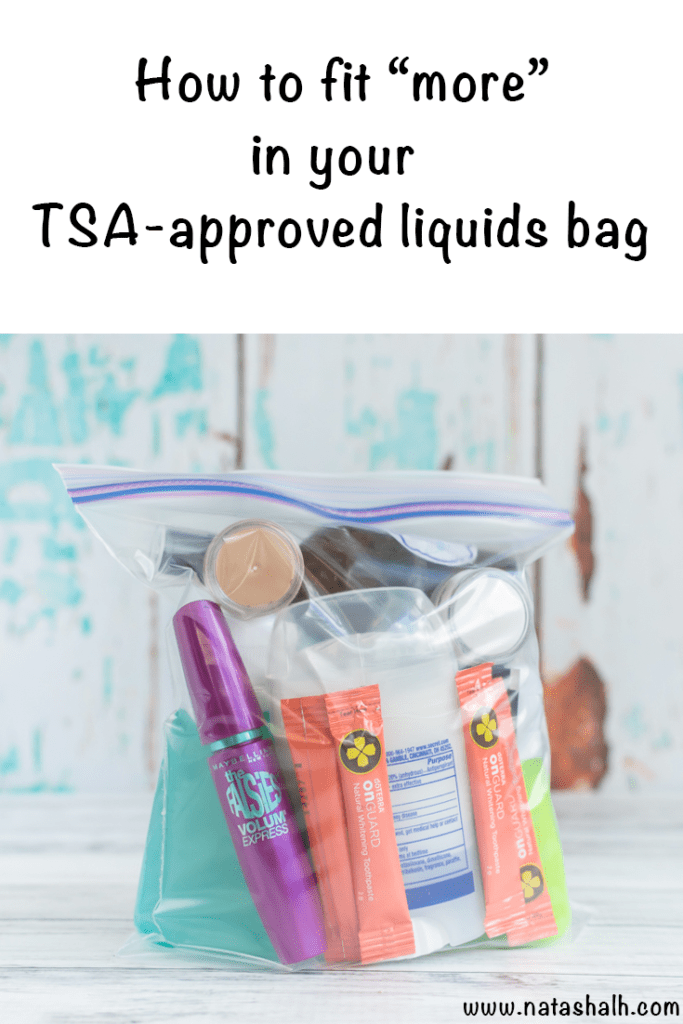 I really hope you enjoyed this list of the best travel snacks for airplanes that can make it past TSA! What are your favorite foods to bring on the plane?