This post may include affiliate links, which means I may make a commission on purchases made through these links at no additional cost to you.
Green plantains will always hold a special place in my heart; the night I met the wonderful man who is now my husband, he brought tostones (twice-fried green plantains) to a get together hosted by a mutual friend. Plantains have remained on our favorites list ever since!
Unfortunately, the usual way to prepare any type of plantain is frying in lots of oil. The oil is annoying to deal with and, can make a huge mess, and isn't the healthiest way to cook! After having a lot of success with baked, homemade potato chips, we decided to try making baked green plantain chips. They worked amazingly well! In fact, baked mariquitas de platano are far easier to make than fried green plantain chips.
Naturally, after creating delicious oven-baked chips, I had to create a worthy dip.
We both wanted something creamy and garlicy, so we decided to pull out the Greek yogurt and see what we could do. After some experimenting, we came up with a delicious, but very simple, garlic lime dip that perfectly complements the plantains.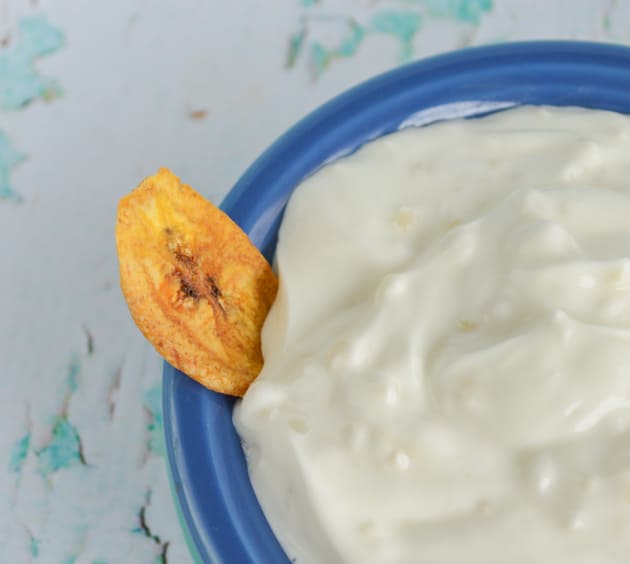 If you have a mandoline slicer, it is absolutely perfect for the job. If you don't have one, it's okay – you can get the job done with a knife and some persistent cutting! I've made the chips on the thinnest (1/16″) and next to thinnest (1/8″) mandoline settings and both work. If you're using a knife, just to try cut the plantains into slices as thin and even as possible.
Baked Mariquitas Green Plantain Chips with Greek Yogurt Dipping Sauce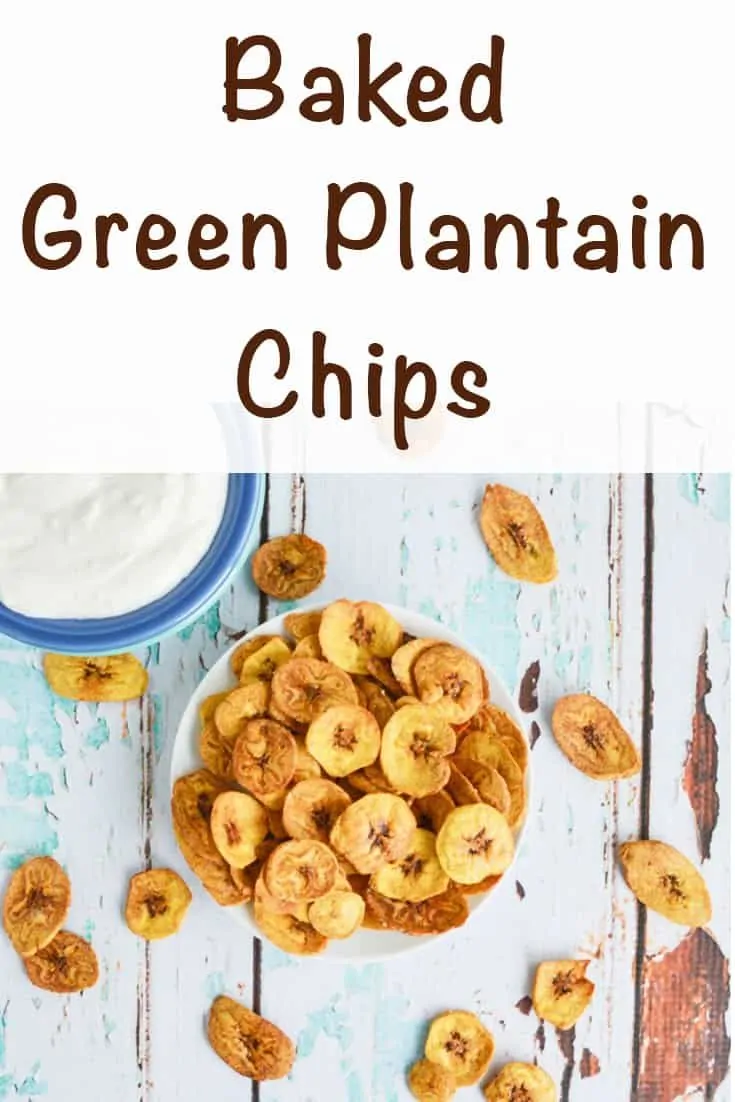 Prep Time 10 minutes

Cook Time 30 minutes

Total Time 40 minutes
Ingredients
For the chips
2 medium, very green plantains
1 tablespoon of olive oil
1 teaspoon of kosher salt
For the dip
3/4 cup of plain Greek yogurt
4 tablespoons of lime juice (or to taste)
1 teaspoon minced garlic, or to taste
3/4 teaspoon of salt
Black pepper, to taste
Instructions
For the chips
Preheat your oven to 400 degrees Fahrenheit.
Prepare a large baking sheet by lining it with parchment paper or silicone mat.
Cut the ends off the plantains and then make a slit through the skin down each plantain, lengthwise. Peel the plantain skins away.
Slice the plantains thin, as discussed above, and place them in a medium bowl.
Add the olive oil and salt to the plantains and toss to thoroughly combine.
Place the plantains in a single layer on your prepared baking sheet.
Bake the plantains until they're crispy and lightly browned, 10-15 minutes for very thin chips or 15-20 minutes for thicker chips.
Remove the chips from the oven and allow them to cool before serving.
For the dip
Combine the yogurt, garlic, lime juice, salt, and pepper in a small bowl and stir thoroughly to combine. For even better flavor, cover and refrigerate for at least an hour before serving.
This recipe says to use two plantains, but that's mostly because that amount of chips usually just fits on one baking sheet for me. You can always cut up more plantains and make multiple batches!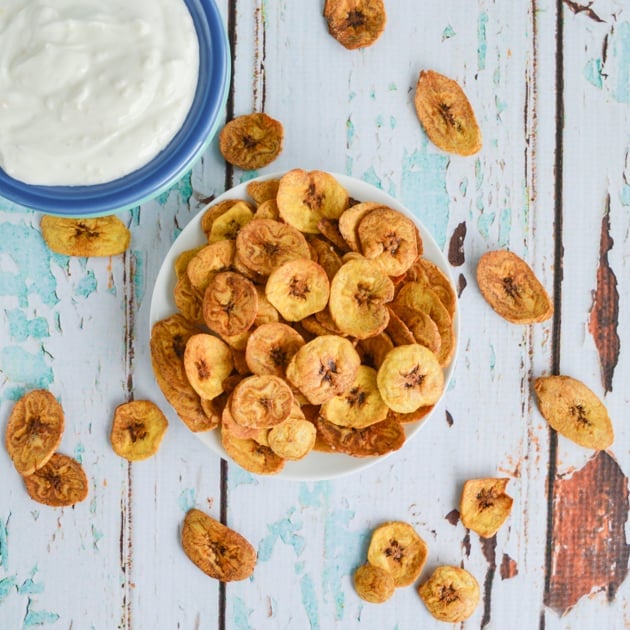 While I'm glad we didn't buy the Silpat mat I wanted and a mandoline (because we ended up getting both as wedding gifts), I wish I'd owned them years ago! It is always so much easier to do a job when you have the right tools. Christmas is coming and all that, so if you don't have either of these kitchen essentials, it could be time to start dropping hints! If you don't have it yet, I highly recommend asking for the Cook's Illustrated recommended baking sheet. I've had one for years and it's amazing!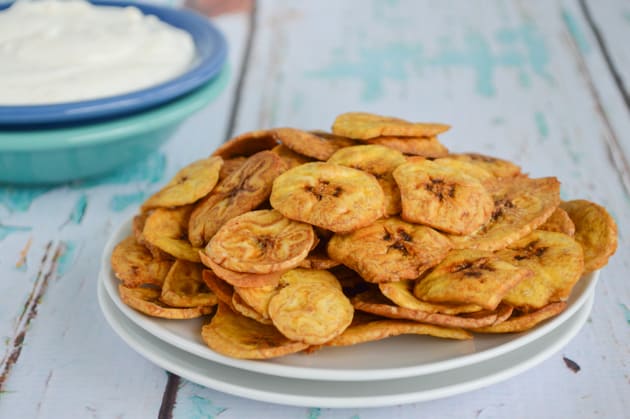 I really hope you enjoy these baked green plantain chips and Greek yogurt dip as much as we do! If you're a plantain fan, you may also enjoy these oven baked sweet plantains!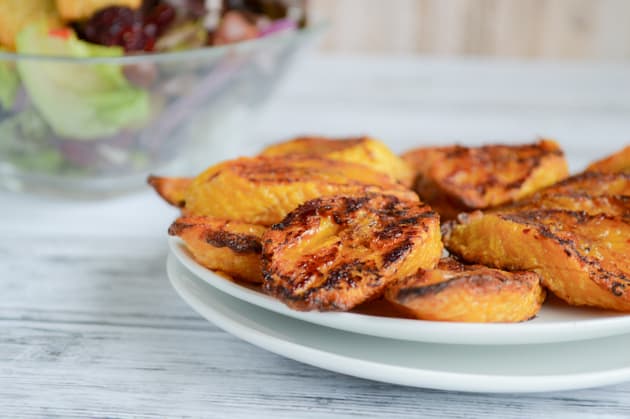 Do you have a favorite, non-traditional way to prepare a food that's different from the way other folks make it?