This post may include affiliate links, which means I may make a commission on purchases made through these links at no additional cost to you.
What is it about bananas and chocolate that makes such a great combination? I'm actually not even a big banana fan, but bananas and chocolate is such a tempting duo, so I make these chocolate banana bites as part of my meal prepping plan. They're a tasty little treat and keep well over the course of the week, making them the perfect way to build an indulgence into the schedule. Unfortunately, most commercial chocolate is full of junk: loads of added sugar, soy products, even artificial flavors. Then, of course, there's dairy, which is a no-no with strict Paleo, vegans, and some vegetarians. Luckily, it is really easy to make your own dark chocolate. As in, ridiculously easy and with only three ingredients! Raw cacao powder, cocoa butter (the edible kind, not the lotion kind!), and a bit of sweetener. That's it!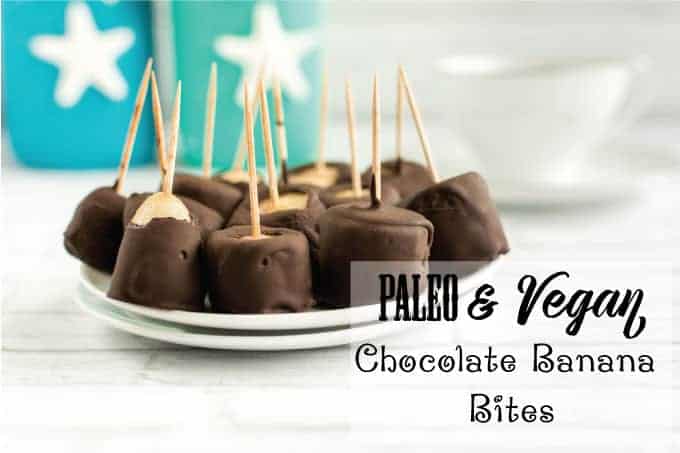 I do truly only use a bit of sweetener – just a tablespoon of maple syrup. To me, that's just right when added to the banana's natural sweetness. If you're not as actively anti-added sweetener as I am, you may want to put extra in your chocolate. If dark chocolate really isn't your thing or making chocolate sounds way too hard, you can always use your favorite chocolate or chocolate melts. But, seriously, this chocolate is super easy to make.
You can use these chocolate banana bites two ways – frozen or just refrigerated. You'll probably want to decide before you get peeling which you're going with. Thin slices don't work well for this recipe because they're annoying/difficult to cover with chocolate, so you'll need sizable chunks. Biting into an inch of frozen banana is a little intense, so I recommend sticking to sliced around 1/2″ to slightly thinner for frozen banana bites and 3/4″-1″ slices for refrigerated banana bites. You can freeze the bananas then transfer them to the fridge, but the bananas will end up somewhat gooey (freezing then thawing tends to do that to produce). I actually think that's pretty tasty, but you may think it's weird.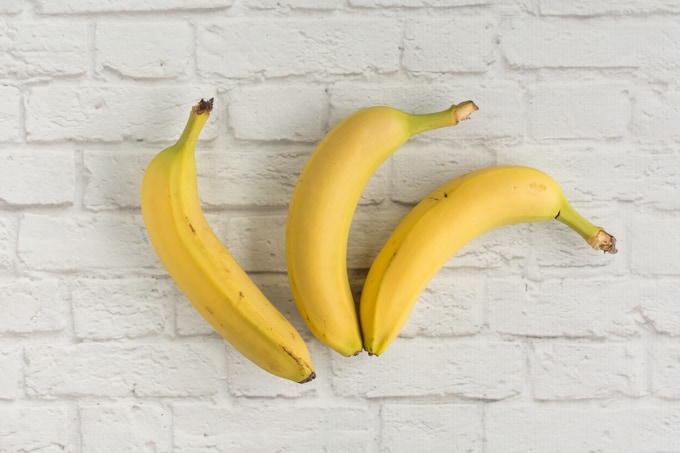 So do you know how you're going to cut you bananas? Great! The chocolate recipe will generously cover large (approximately 1″) pieces from four medium bananas. Make sure to choose ones that are still very slightly green – more firm bananas stay on the toothpick better during dipping. You'll also need about a half cup of food grade raw cocoa butter (around 90 grams) and half a cup of raw cacao powder (about 45 grams). You can substitute processed cocoa powder if necessary, but be aware that it probably has added sugar and other ingredients. The only other things you'll need are some tootpicks and parchment paper. Ready to get started?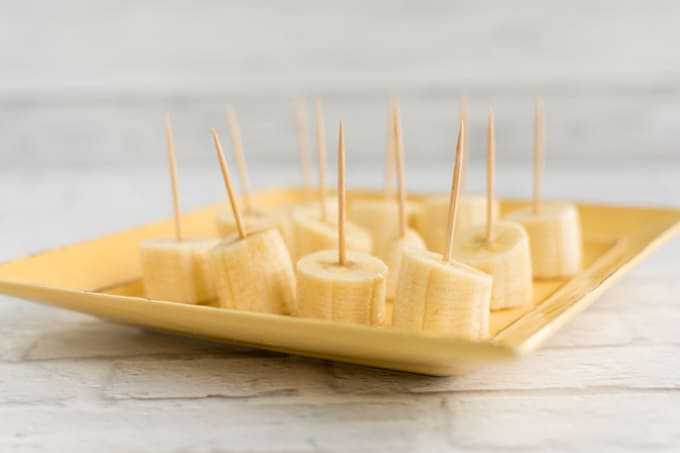 Yield: 15-30
Paleo & Vegan Chocolate Banana Bites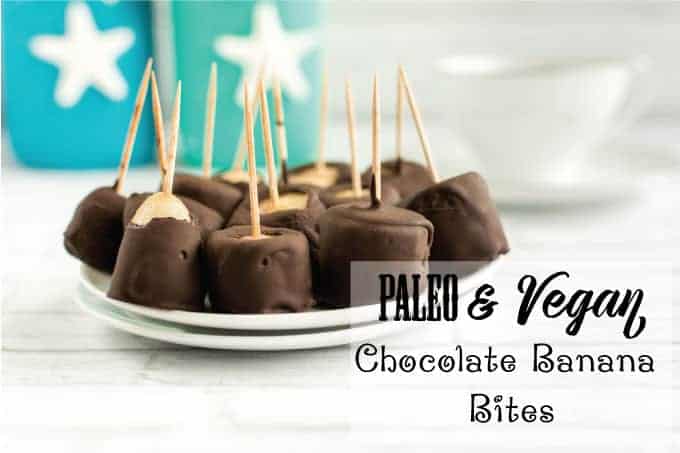 Prep Time 30 minutes

Cook Time 5 minutes

Total Time 35 minutes
Ingredients
3 - 4 slightly underripe bananas (being more firm helps them stay on the toothpick for dipping!)
1/2 cup cocoa butter
1/2 cup raw cacao powder
1 tablespoon maple syrup (Grade B is richer tasting!)
Instructions
Slice the bananas either into 1/2" pieces, if freeing, or 3/4"-1" pieces, if not freezing. Cover a baking tray or plate with parchment paper and transfer the banana slices to your prepared surface. Insert a toothpick in the center of each slice, and pop in the fridge for 30-60 minutes. Chilling them helps prevent the bananas from cooking when they contact the hot chocolate. If the idea of slightly-browned bananas grosses out you, toss them in freshly-squeezed lemon juice before inserting the toothpicks. Alternatively, combine 1 teaspoon of apple cider vinegar with 1 cup of cold water and toss the banana slices in the liquid for a few seconds to prevent oxidation.
Set up a double boiler by putting just a couple inches of water in a medium cooking pot and setting a smaller cooking pot (or heat proof bowl) down into the water. Make sure the smaller pot does not directly touch the bottom of the larger pot and be careful not to get any water in the smaller pot (this will make the chocolate bind up). Set your double boiler on a medium-low heat burner.
Add your cocoa butter to the inner double boiler pot. Measure out the cacao powder but don't add it yet.
Once the cocoa butter is fully melted (this happens quickly so don't wander off!) turn heat to low and whisk in the cacao powder and maple syrup until fully combined.
Tilting the smaller pot to make the chocolate deeper on one side, dip each banana piece in the chocolate and gently shake and tilt to remove excess chocolate. (Or not. I'm not watching to see if you have more chocolate than banana!). I've found gently spinning really helps sling chocolate off.
Place the chocolate-covered banana bites back on the parchment paper and keep dipping and coating until you're done!
Place the chocolate covered banana slices in the fridge or freezer for at least 30 minutes before removing the toothpicks and transferring them to an air tight container.
Enjoy!!

Super easy, right? With three to four bananas (depending on their size), Papi Chulo and I can each have a banana bite a day during the week.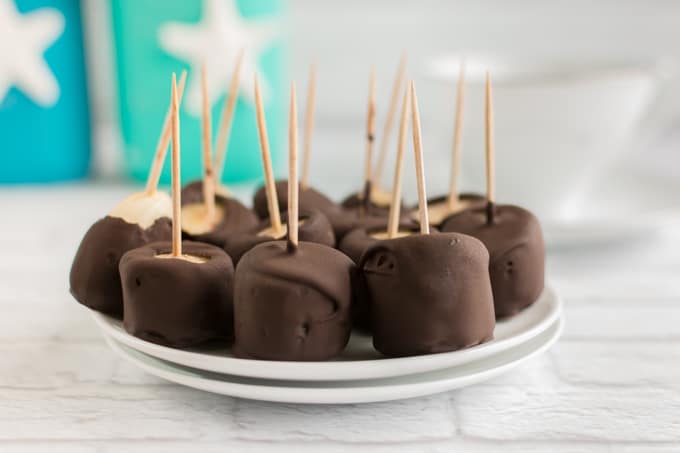 If you have left over chocolate, you can either eat it on the spot (no one's looking, right?) or transfer it to a mold to make your own chocolates. Don't have a mold? Just scoop it into a paper or silicone muffin liner, or even just a muffin pan. Let it cool and then you'll have your very own mini chocolate bar – hooray!
Who else does meal prep? If you're not meal prepping, why not?? It's a great way to save time and money while eating healthy!