This post may include affiliate links, which means I may make a commission on purchases made through these links at no additional cost to you.
You know how you can buy some green bananas one day and come home the next to find they've gone all brown and spotty? I hate it. I really can't stand eating a ripe or overripe yellow banana by itself, and there are only so many loaves of banana bread you can bring to work without being shunned in the break room. This Carribean-inspired banana fritter recipe is the perfect way to use a handful of ripe bananas, even ones that have a few mushy spots. You can eat them like pancakes for breakfast, whip them up as an afternoon snack, or enjoy them for dessert.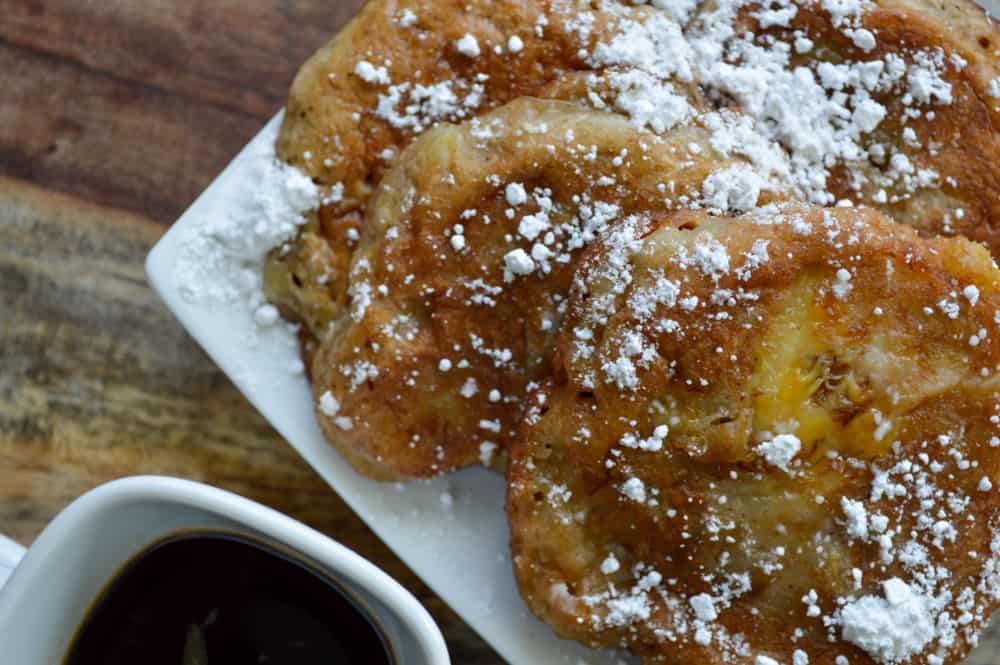 They are most delicious when they're nice and hot, so plan to eat all of the fitters when they're fresh. This recipe should make about 16 smallish fritters. I've found they fry up best when each fritter uses about 1/4 of a cup of batter because big huge fritters just don't cook as evenly. There's no need to get really specific, though – you can just use a big serving spoon to portion out the batter.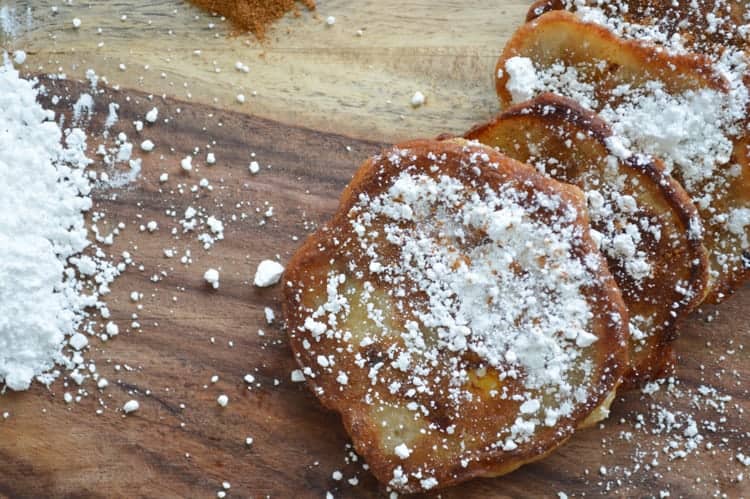 Of course, a cup of coffee or espresso is the perfect complement to these sweet treats! Honestly, they aren't all that sweet by themselves, but adding the powdered sugar ups the sweetness quite a bit. If you'd prefer something a little less sweet, just leave off the topping or omit the slight amount of added sugar in the fritter batter.
Banana Fritters with Cinnamon Powdered Sugar
Ingredients
3 very ripe bananas
2 tablespoons of sugar
1/2 a teaspoon of cinnamon
3/4 of a cup of flour
1/2 a teaspoon of vanilla extract
1/3 a cup of milk (I used almond milk)
1 egg
1/4 cup of vegetable oil, or more, depending on your skillet
Instructions
Combine the dry ingredients and whisk together.
Whisk together the milk, egg, and vanilla extract.
Mash the bananas with a fork in a medium bowl.
Slowly add the milk mixture to the dry ingredients, whisking to combine.
Once the other ingredients are throughly mixed, fold in the mashed banana.
Pour enough oil in a skillet to cover the bottom with about an inch of oil and heat on medium/medium high until it is hot and shimmering.
Using about 1/4 of a cup of batter for each fritter, fry as many as will comfortably fit in your skillet until they are golden brown on the bottom side, about two minutes. Most pans fit about four fritters at a time.
Carefully flip the fritters and continue frying until the second side is golden brown, about an additional 90 seconds. Cooking times will vary slightly depending on your pan, oil temperature, fritter size, and stove.
Remove the fritters, drain them on paper towels, and continue this process with the remaining batter. Add more oil, if necessary.
Serve hot with honey, powdered sugar, or as is!
These are also very good with a quick orange glaze. Simply place 3/4 of a cup of powdered sugar in a bowl and add about three tablespoons of orange juice. Whisk together to create a liquid glaze to pour over the fritters. It will harden up in a few minutes, but why wait? Here are a few with an uncured glaze: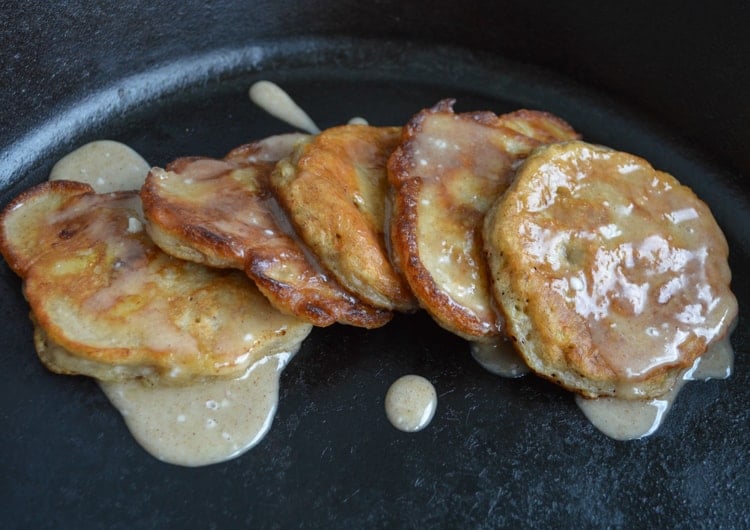 When I don't glaze them, I usually opt for some powdered sugar and additional cinnamon. Yum! I hope you enjoy these banana fritters are much as we do!