The past two years, I've heard people saying the pumpkin pie/pumpkin spice craze has gone too far, but I couldn't disagree more!
I say bring on the pumpkin everything. I love it, and it only lasts for a couple months each year.
Once you bake up this easy pumpkin pie cake, everyone will agree with you that pumpkin is not a passing fad and that it hasn't gone overboard. This dessert is a great way to be instantly popular at a pot luck and is sure to impress. It's also delightfully simple and quite a bit healthier.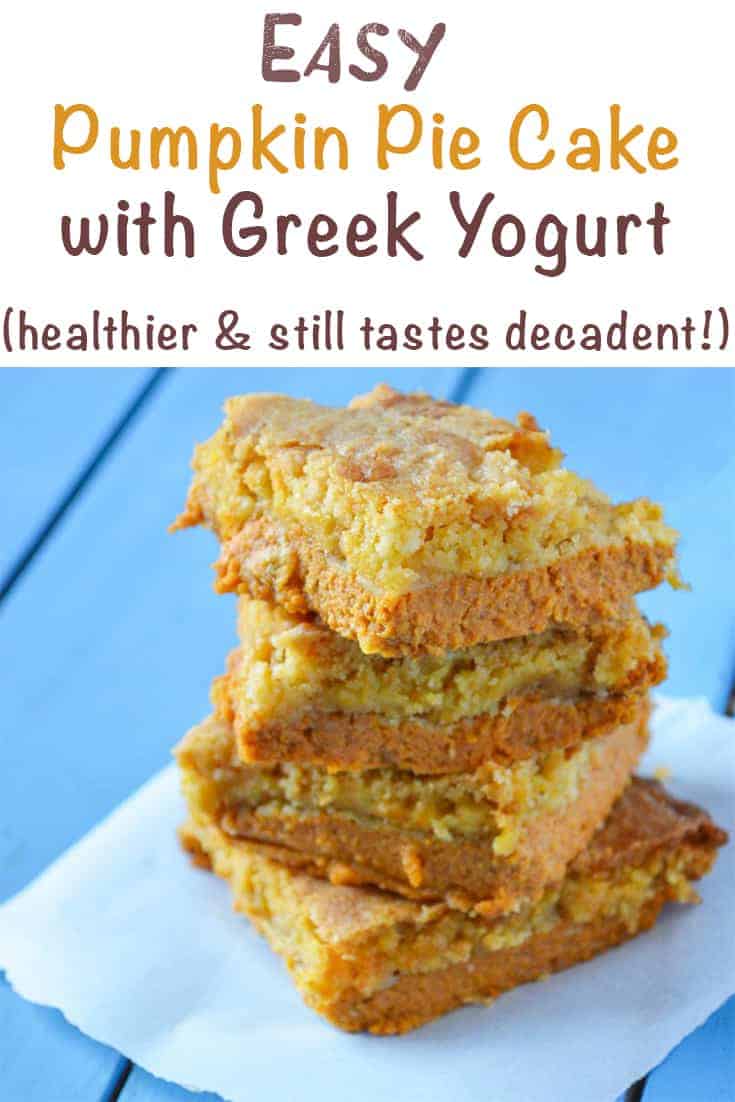 This post may include affiliate links, which means I may make a commission on purchases made through these links at no additional cost to you.
Yep, it's time for some Greek yogurt again!
I love pumpkin pie cakes/bars, but they usually contain evaporated milk. By swapping the evaporated milk for Greek yogurt, you slash about 450 calories from the dish and an enormous quantity of saturated fat and cholesterol.
The cake mix and butter topping still isn't exactly health food, but at least the pumpkin custard portion of the dessert is significantly better for you and, I think, actually even tastier!
If you want an even healthier pumpkin pie bar recipe, please see this post for Greek yogurt pumpkin pie bars made entirely from scratch – no cake mix!
The Greek yogurt makes the pumpkin pie part of this dessert slightly tangy.
I like it as a contrast to the sweet crust, but add an additional 1/4-1/2 a cup of sugar if you really want a sweet pumpkin custard, too.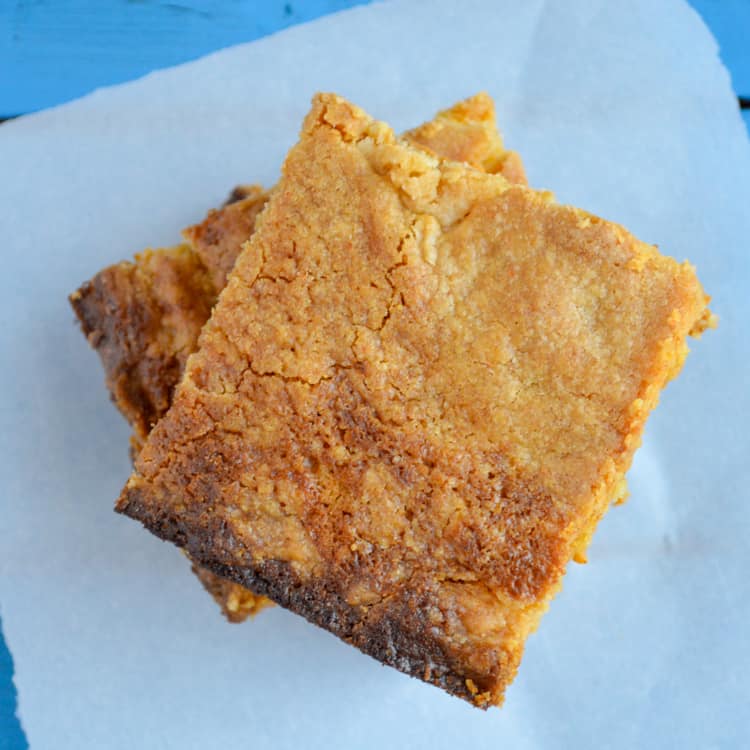 This is delicious warm, room temperature, or with homemade whipped cream on top! You can sprinkle the finished pie cake with extra cinnamon or keep it plain.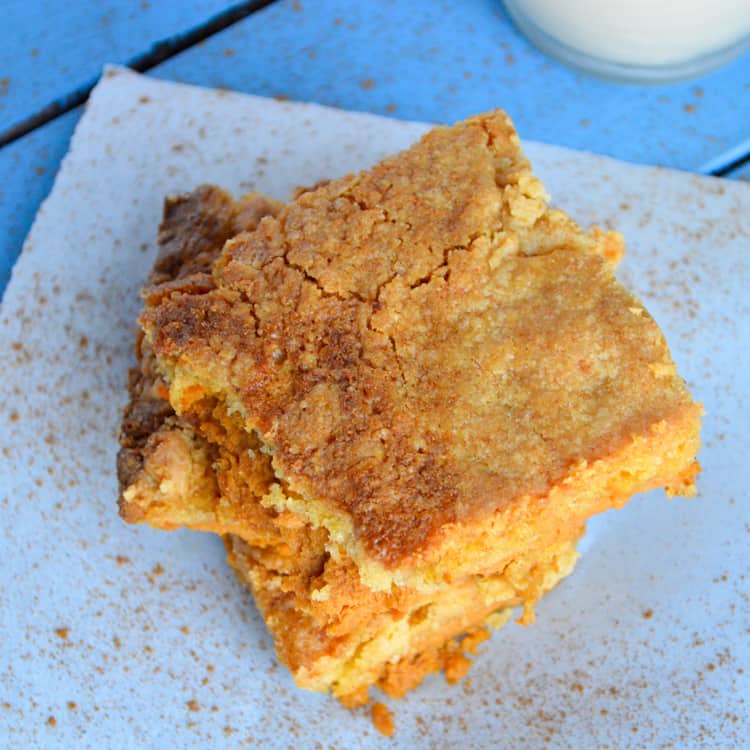 Another delicious way to make this cake is by adding a chopped pecan topping before cooking it. Yum!
Yield: 12
Easy Pumpkin Pie Cake with Greek Yogurt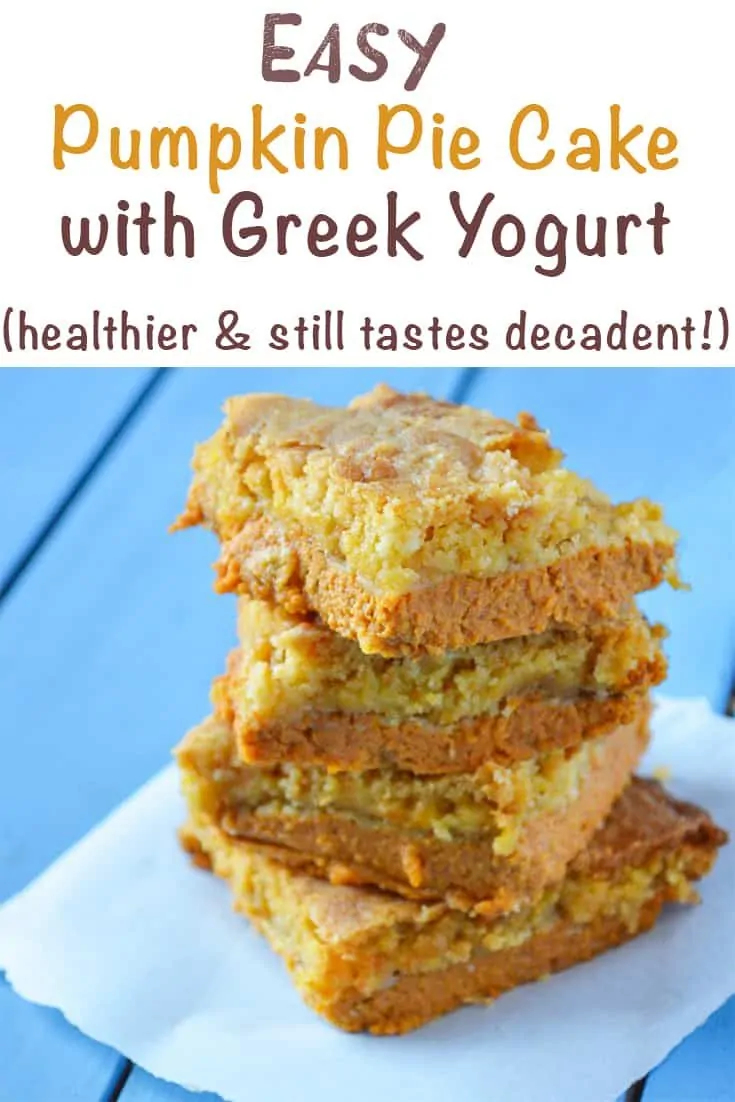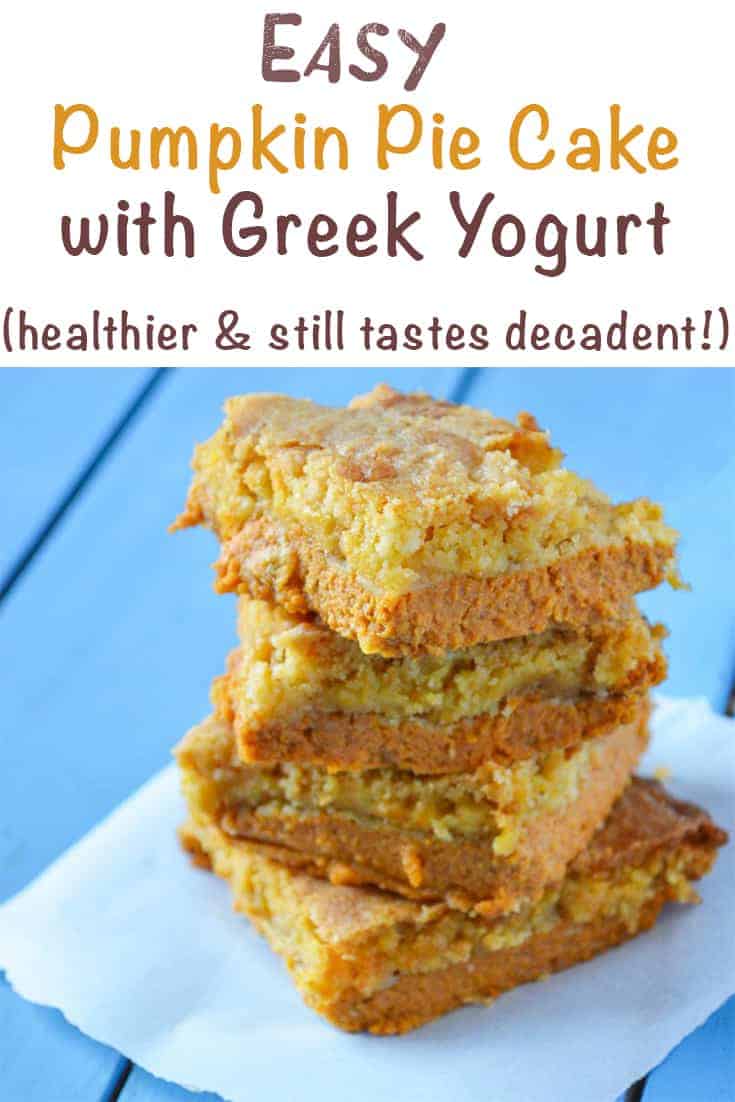 Ingredients
1 16 oz can of pumpkin puree (not pumpkin pie filling!)
2 teaspoons of ground ginger
1 teaspoon of cinnamon
1/2 teaspoon of ground nutmeg
1/4 teaspoon of ground cloves
1 cup of plain Greek yogurt
3/4 cup of sugar
2 eggs
1 1/2 sticks of unsalted butter, melted
1 box of yellow cake mix
Instructions
Preheat the oven to 350 degrees Fahrenheit and lightly grease a 13 x 9 glass baking pan with butter.
Combine the pumpkin and spices in a saucepan and cook over medium heat, stirring occasionally, until the mixture transforms from a bright orange, canned smelling mixture to a deep orange, savory and aromatic mixture you just can't wait to eat. This takes 5-10 minutes.
Off the heat, whisk in the Greek yogurt.
Once the Greek yogurt is fully incorporated, whisk in the sugar.
Beat the two eggs together and then whisk them into the pumpkin mixture.
Pour the pumpkin into the baking dish and spread it evenly, if needed.
Cut the corner of the cake mix pouch and spread it, as evenly as possible, over the pumpkin.
Pour or spoon the melter butter over the cake mix. It will probably pool up, so use the back of a spoon or a spatula to spread it as evenly as possible.
Bake on the middle rack in the preheated oven for 40-50 minutes, or until the top is browned.
Allow the pumpkin pie cake to cool for at least two hours (if you can stand the wait!) before cutting in to ensure it holds together when served.
More pumpkin recipes
Love Greek yogurt, pumpkin, and healthier treats? Please stop by and check out my pumpkin pie spice dip! It's a dessert dip you won't regret indulging in.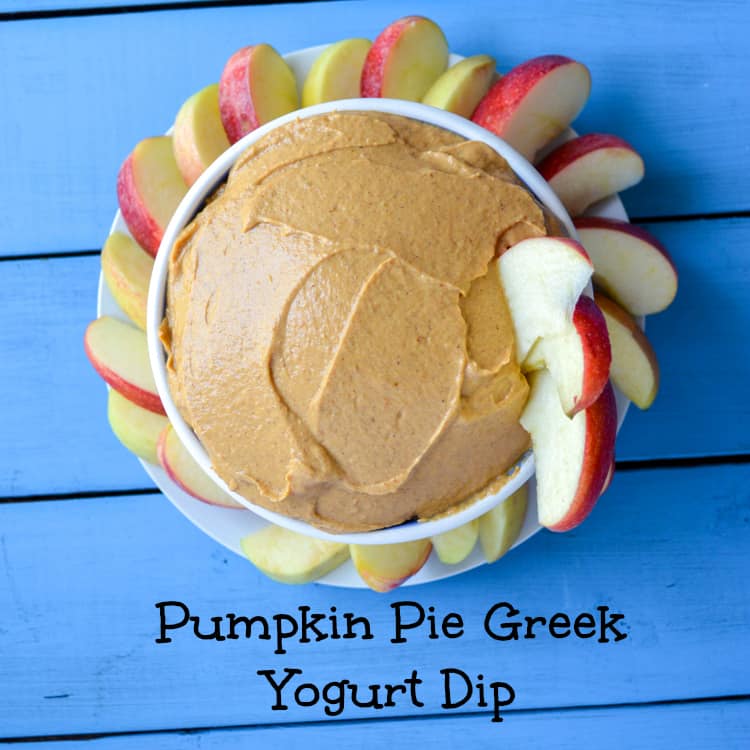 I also have even healthier Greek yogurt pumpkin pie bar without the cake mix!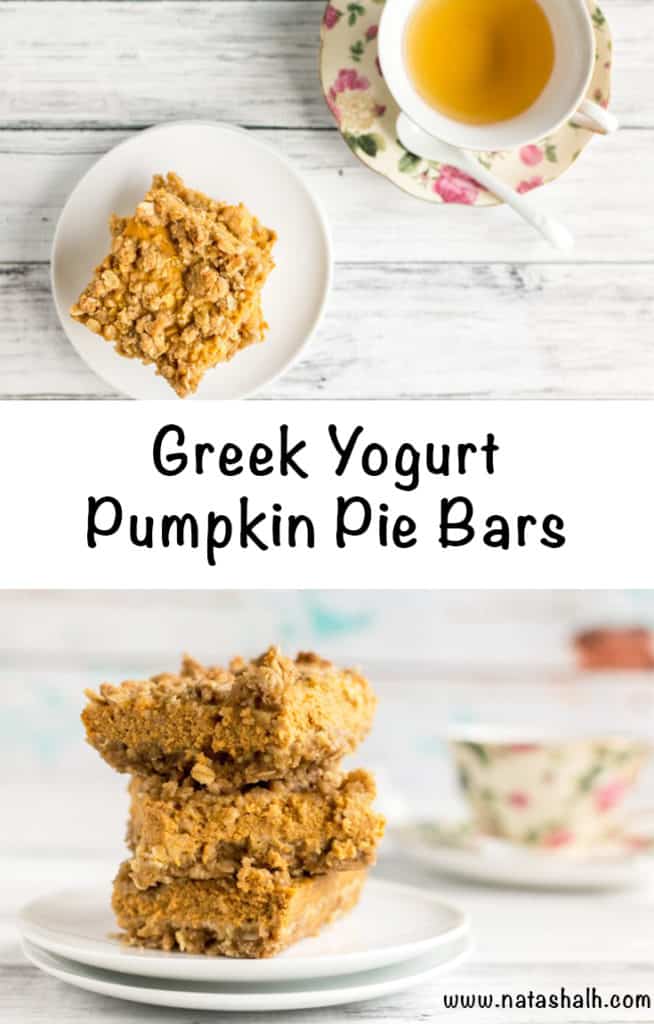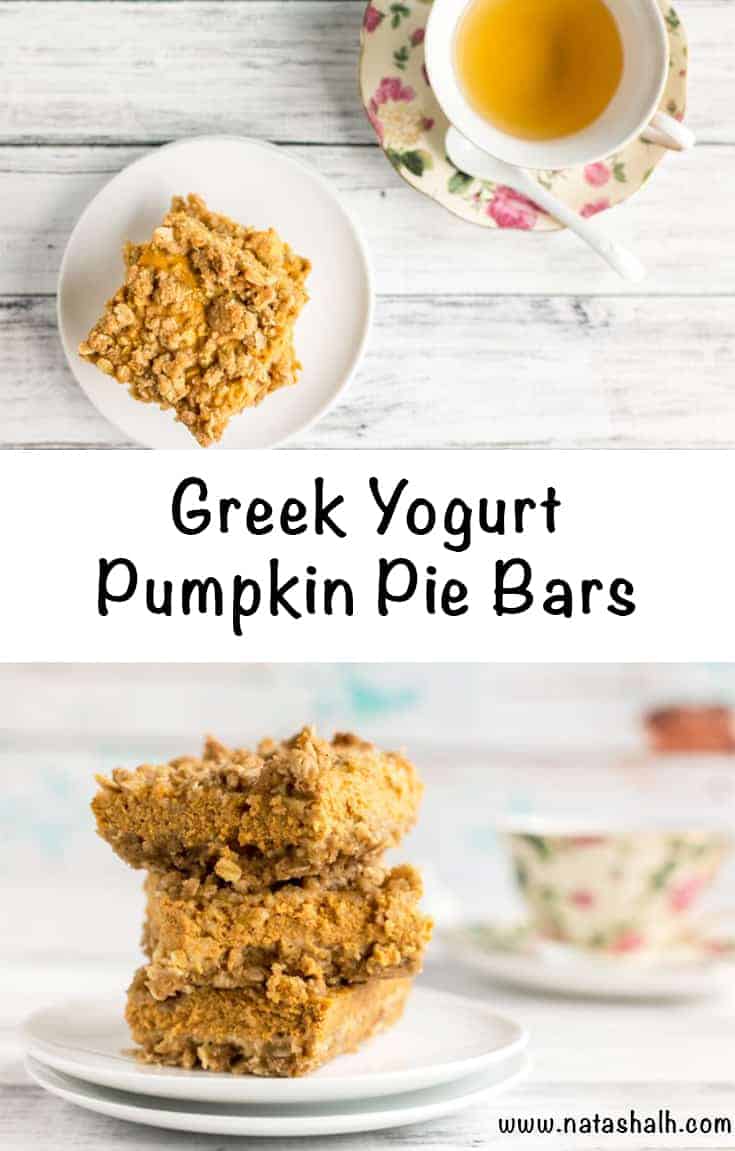 What's your favorite healthy substitution? Apple sauce for oil? Greek yogurt for…everything? I'd love to hear!