These free printable fall gross motor dice are the perfect way to get your early learner moving! Use these fall theme gross motor dice as a brain break for toddlers, preschoolers, or kindergartners or just as a fun way to get up and moving.
You can use these printable gross motor movement dice on days when you're stuck inside. They're also a fun brain break activity for early learners. You are welcome to use them in your classroom, but they're also great for homeschool or just fun at home if your child goes to school.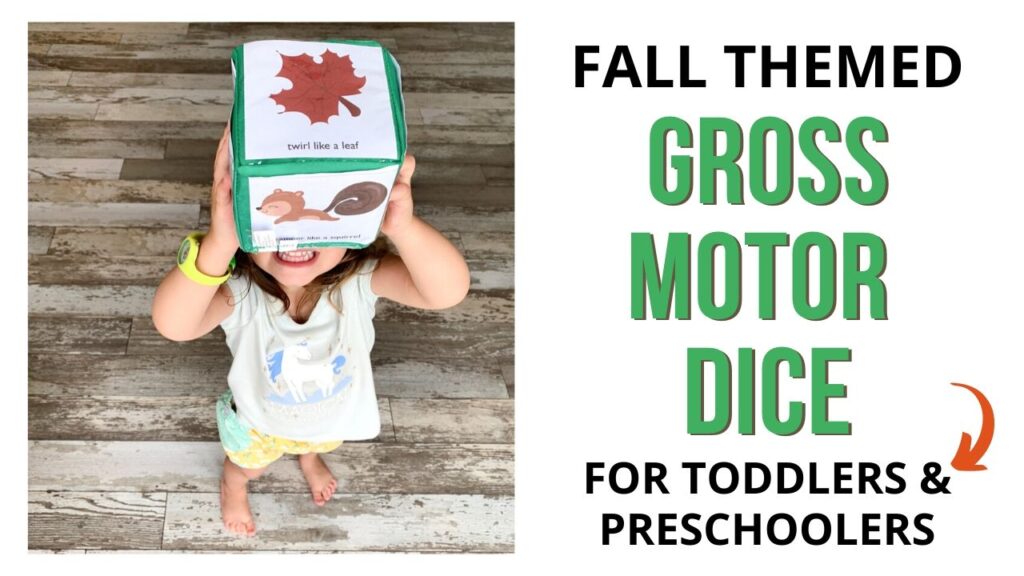 The free fall gross motor game printable dice PDF includes color and black and white cards to insert in a differentiated instruction cube and printable dice to cut out and assemble. You can also use the cube inserts as cards to draw or paste them to the outside of an empty box to make your own large dice.
There are so many ways to play this fun fall gross motor movement game for toddlers and preschoolers! I hope you enjoy this little fall themed game as much as we do.
Benefits of brain break games
This post may include affiliate links which means I may earn a commission on qualifying purchases at no additional cost to you.
"Brain break" is a term used in education to describe quick, whole class activities that give students a chance to stop what they're doing, move around, calm down, and refocus.
Proven benefits of brain break games include:
Increased productivity
Reduced stress
Improved ability to stay on task (source)
Better classroom behavior (source)
For best results, use a brain break game before complete boredom and frustration have set in. Use them to break up instructional time, homework time, or even chores!
Of course, as mentioned above, these fall gross motor dice for toddlers and preschoolers are also fun as a stand alone activity for early learners. Don't feel like you need to wait for the right moment to bring them out – just grab them and get moving!
Related: Free printable fall bingo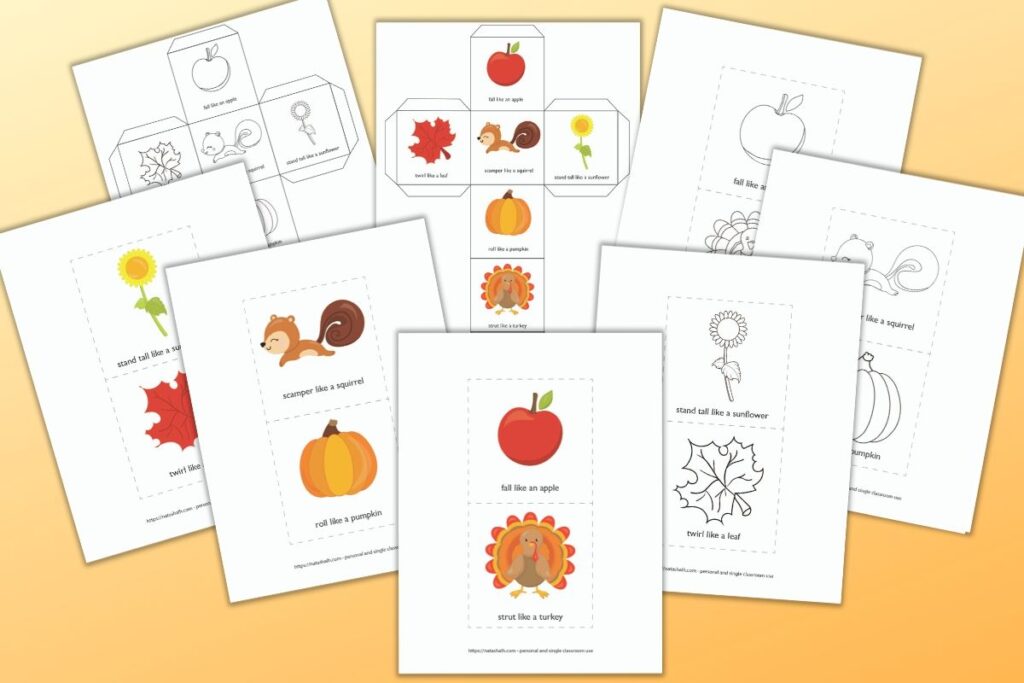 Fall gross motor movement dice game
​Gross motor actions include:
Fall like an apple
Scamper like a squirrel
Stand tall like a sunflower
Twirl like a leaf
Roll like a pumpkin
Strut like a turkey
Related: Free fall do a dot printables
Materials needed:
Free printable fall gross motor cube inserts or dice (download links are further down the page)
Differentiated instruction cube (optional)
Paper or cardstock
Scissors
Tape or glue, if you're making your own dice.
We have this set of differentiated instruction cubes and use them a lot. They can be used for a variety of purposes for students of all ages, and they're fun as giant stacking blocks for younger kids.
If you don't have a cube, I recommend using heavyweight cardstock and packing tape to make your own die. These materials are much more durable than paper and "normal" tape.
Alternatively, you can cut the cube cards out and use them as cards, but rolling a giant die is a big part of the fun of playing with a gross motor movement cube!
How to make fall gross motor movement dice
Download your free printables (located below the instructions) and print the pages you want. There are color and black and white cube inserts and die patterns. All pictures and instructions are the same.
Cut out the differentiated instruction cube cards or your desired die pattern.
Insert cards in cube pockets or make your own die. You may need to trim the cards a little extra, depending on your cube. Some aren't sewn completely straight.
To make your printable gross motor movement die:
Cut the die along the template's perimeter. Make sure to leave the tabs attached.
Pre-fold all lines to the inside, including tabs.
Fold die into a cube shape, tucking tabs inside. Glue the tabs inside or tape them in place. I find it best to tape as many tabs as possible on the inside of the cube using gift wrap style tape, then I tape the outside with packing tape to make the die more durable.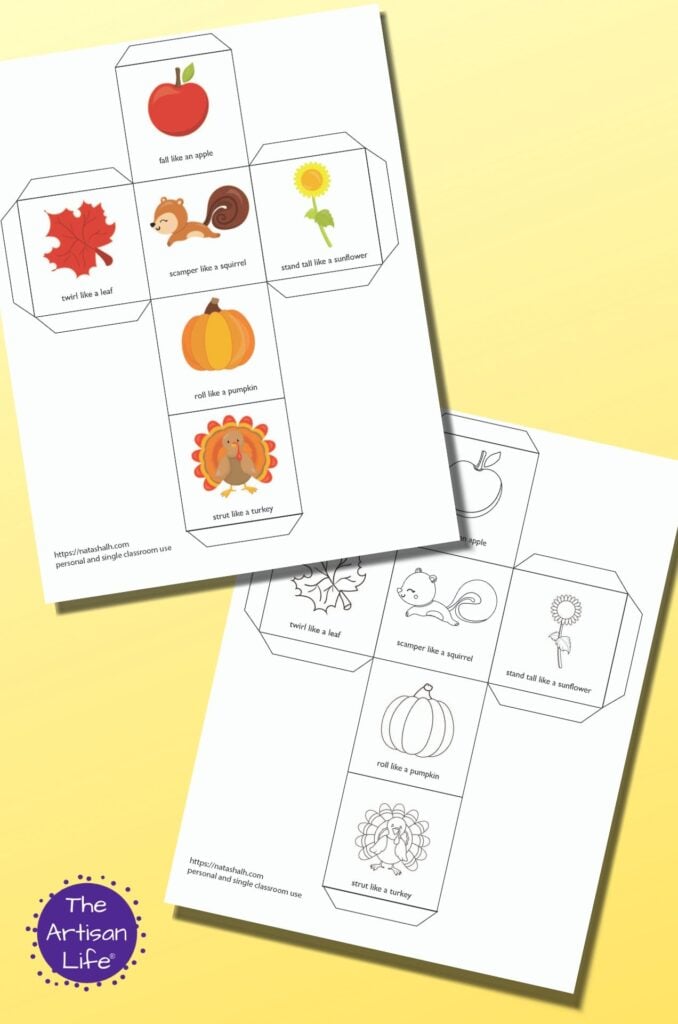 How to play with fall gross motor dice
Roll your die! It's fun to get silly and creative. Roll it like a bowling ball, play basketball into a box, or come up with other ways to get moving while rolling.
Perform the face-up action.
Laugh, enjoy, and repeat. Don't be surprised if your little one starts placing the die so that a favorite action is showing face up so they can do it again and again.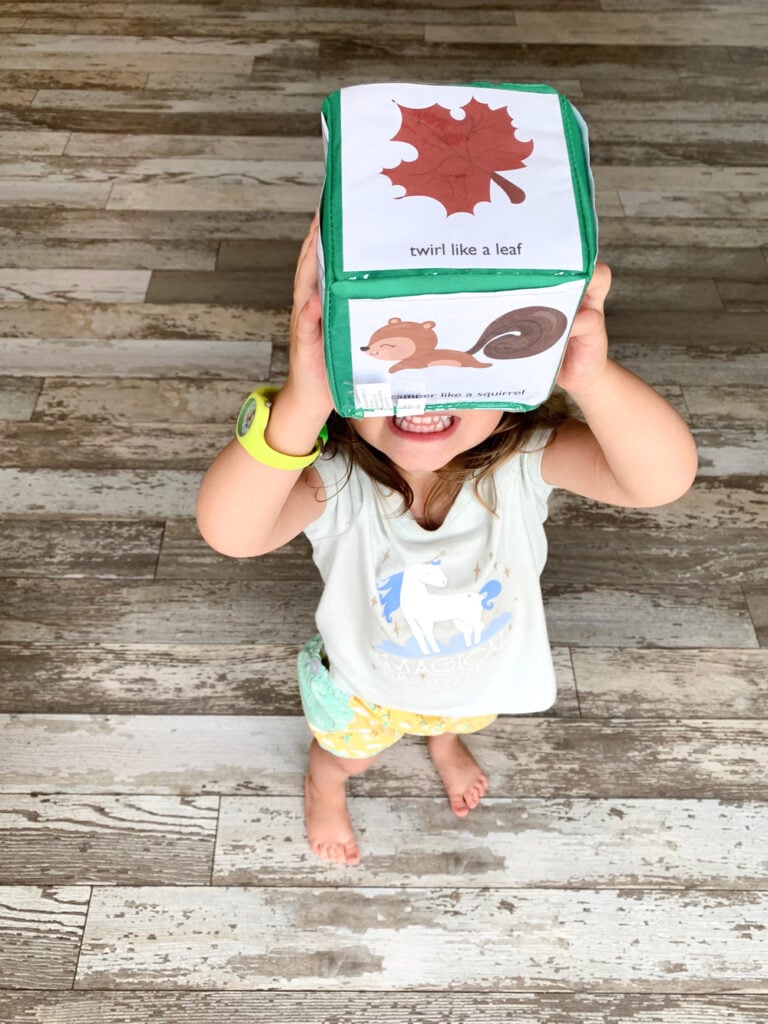 Free printable fall theme gross motor dice
Please note that, like all free printables on The Artisan Life, these are available for personal and classroom use. This means you are welcome to use them with activities you are personally organizing for your own children, homeschool co-op, classroom, etc.
Do not alter, sell, or redistribute the digital files or printouts to others for use with their children or classroom. Simply refer your friends and colleagues to this post so they can download their own copies.
Fall Printables & Activities
These printable fall activites and decorations will keep your kids busy & your home festive for the fall season!