These free printable Mardi Gras counting cards are a family-friendly way to celebrate Mardi Gras and help your preschooler or kindergartener practice their numbers.
The counting cards can either be used as count, write, and wipe cards for "older" learners who are working on independently writing their numbers or paired with the provided number tiles to help preschoolers work on number recognition.
However you decide to use these counting cards for Mardi Gras, I hope you and your little learner enjoy!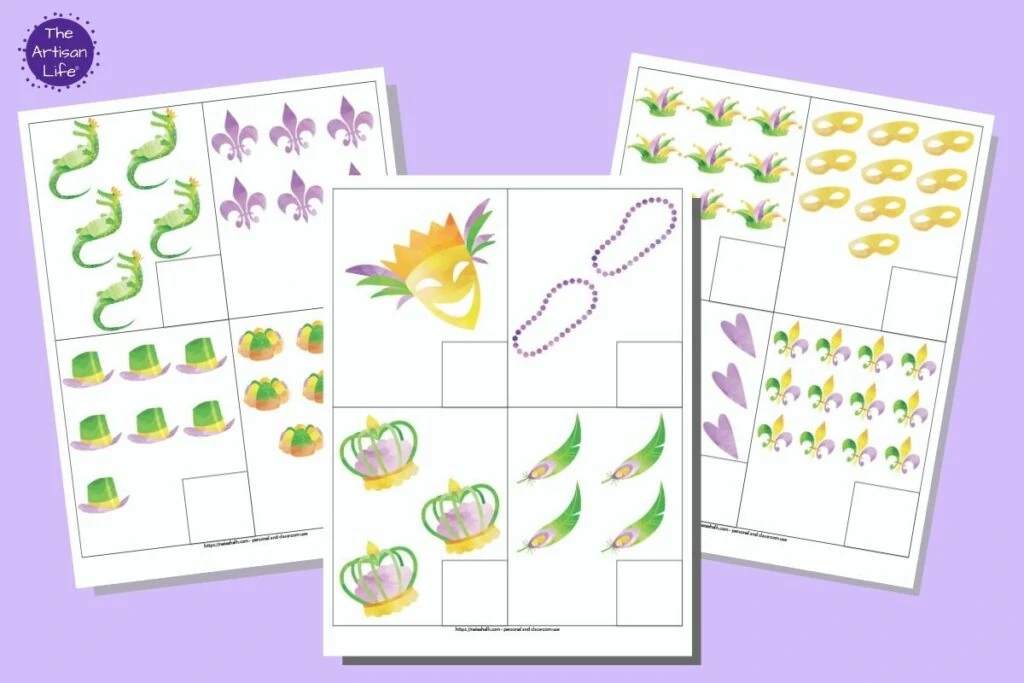 This post may include affiliate links which means I may earn a commission on qualifying purchases at no additional cost to you.
Materials needed
You don't need much to print and use these counting cards. Here's what you'll need for best results:
Your free count and write cards (download is further down the post)
Paper or cardstock. I recommend this HP 32 lb paper because it's sturdier and brighter than "normal" printer paper. If you're not laminating, cardstock can be a good choice, too (but the images won't be as vibrant). See this post on the best paper for printables to see print out compassions of popular papers and cardstocks.
Laminator and laminating pouches. These are optional, but highly recommended. Printables typically only last for a couple of uses with young children if they're not laminated.
Scissors or a paper trimmer/cutter. I use this paper trimmer.
A dry erase crayon or dry erase marker, if you're making write and wipe cards. We've recently started using Stabilo Woody pencils/crayons instead of dry erase markers and love them. They're like a thick wooden pencil with a wax crayon core that can be used as a crayon, watercolor pencil, or dry erase marker. They come off easily with a very slightly damp cloth.
Here's a picture of my daughter using her dinosaur prewriting cards with a Stabilo Woody. They are great. No marker stink, no ink to get all over hands and clothes, and they're multi-purpose.
Here's now to use the counting cards with your child:
First, grab your free printable counting cards from further down the post.
Print the pages you want. This set of counting cards has numbers 1-12 with four cards to a page. The number tiles are on the final page. You don't need to print these if your child will practice writing independently.
Laminate the pages before cutting, unless you laminator directs otherwise.
Cut the cards out.
Count and play! I like to demonstrate counting aloud. I use my index finger to point as I count, working from left to right, top to bottom in preparation for reading.
Your child can either place the appropriate number tile in the blank square on each card or write it in. Your child can also wipe the number off with a cloth, dry erase eraser, or paper towel. The erasing provides extra fine motor practice, too!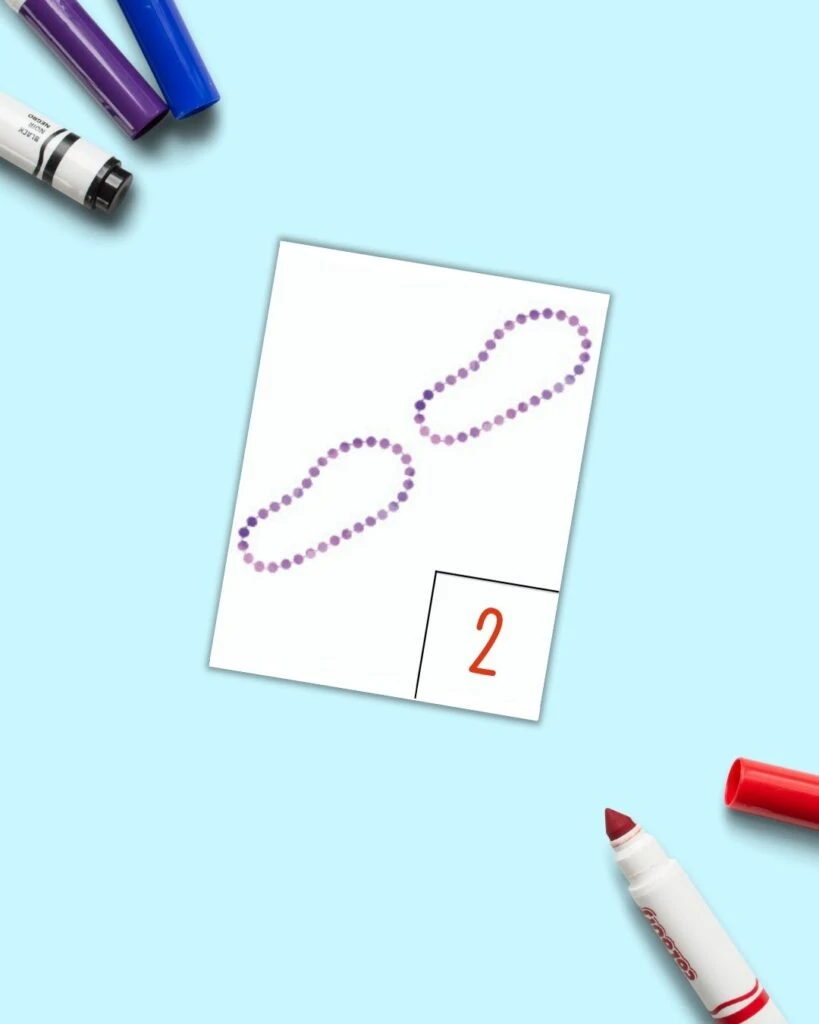 If you want more family-friendly Mardi Gras fun, be sure to grab these additional free printables:
Free printable Mardi Gras counting card download
Like all preschool printables on The Artisan Life, these are available for personal and single classroom use.
You are not licensed to redistribute the files or printouts to others for use with their children or students. Please just refer your friends and coworkers to this post so they can download their own copies.
I hope your little learner enjoys these counting mats!
Free Mardi Gras Printables
Celebrate a family-friendly Mardi Gras with these free printables.
This Mardi Gras matching game is perfect for toddlers and preschoolers.
This family-friendly Mardi Gras bingo game is fun for the whole family! It's also perfet for classrooms, French clubs, and church group Mardi Gras celebrations.