Set your preschooler up for writing success with these dinosaur themed trace in the path fine motor pre-writing practice pages! Use them as a print and play no-prep activity or laminate them for repeated use. Your dino-loving child will love using them and you'll love that they're practicing important skills while having fun!
These prewriting practice tracing pages will help your child develop their fine motor skills and hand-eye coordination as they trace along the path with a finger or draw between the lines with a marker or crayon.
If your child loves dinosaurs, be sure to grab these free printable dinosaur bingo cards, dinosaur number puzzles, dinosaur ten frames, dinosaur preschool mazes, and dinosaur matching game, too.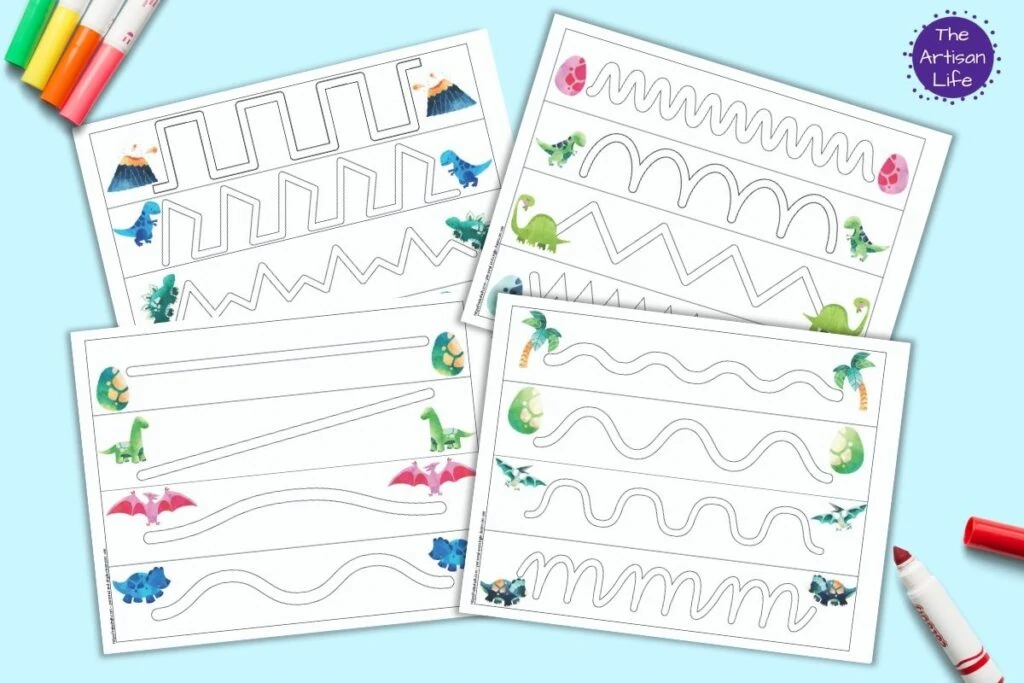 This post may include affiliate links which means I may earn a commission on qualifying purchases at no additional cost to you.
Make this activity reusable by laminating the pages or sliding them in page protectors for use with a dry erase marker. It's also easy to cut the laminated pages into strips that you slip onto a binder ring for a go-bag activity that easy to wipe down after a car ride or trip to the doctor's office.
In the image below, you can see my daughter using her car tracing pages cut into strips to see what I mean:
What are prewriting skills?
In a nutshell, prewriting skills are all skills that must be learned before writing.
Prewriting skills help your child hold and use a pencil correctly and comfortably, draw, color, and copy shapes. These skills prepare your child to write legibly and confidently.
Your child won't magically learn how to hold a pencil correctly the first time they pick one up. They may not be even able to use these tracing paths particularly well the first time they try. That's okay! They need plenty of practice.
Unfortunately, many children are entering school with poor fine motor skills. Researchers have observed an inverse relationship between the amount of screen time a preschooler receives and their fine motor skills. In other words, the more screen time they have, the worse their fine motor skills are (source).
Luckily, it's very easy to provide your child with opportunities to build their fine motor and prewriting skills.
How do I teach my preschooler prewriting skills?
Prewriting skills have a couple of different components.
Fine motor and manual dexterity skills.
Specific letter formation shapes | — O + / \ X Δ and a square. (source)
Before your child can write specific letters and numbers, they need to develop their finger strength, fine motor control, and hand-eye coordination.
There are many play-based ways to build and reinforce these skills:
Threading and lacing activities
Playing with play-dough (check out these alphabet play-dough mats for a recipe you can make at home!)
Using scissors
Using tongs and large tweezers with manipulatives
Drawing and coloring
Tracing
Practicing the specific pre-writing shapes
Making crafts
Building with blocks
Using fine motor trays to write in cornmeal, sand, etc.
Tearing paper
Using stickers
And more!
These dinosaur themed prewriting trace in the page paths can help keep your dino-loving child engaged, learning, and having fun! They're perfect for homeschool preschool parents, classroom literacy centers, and therapists.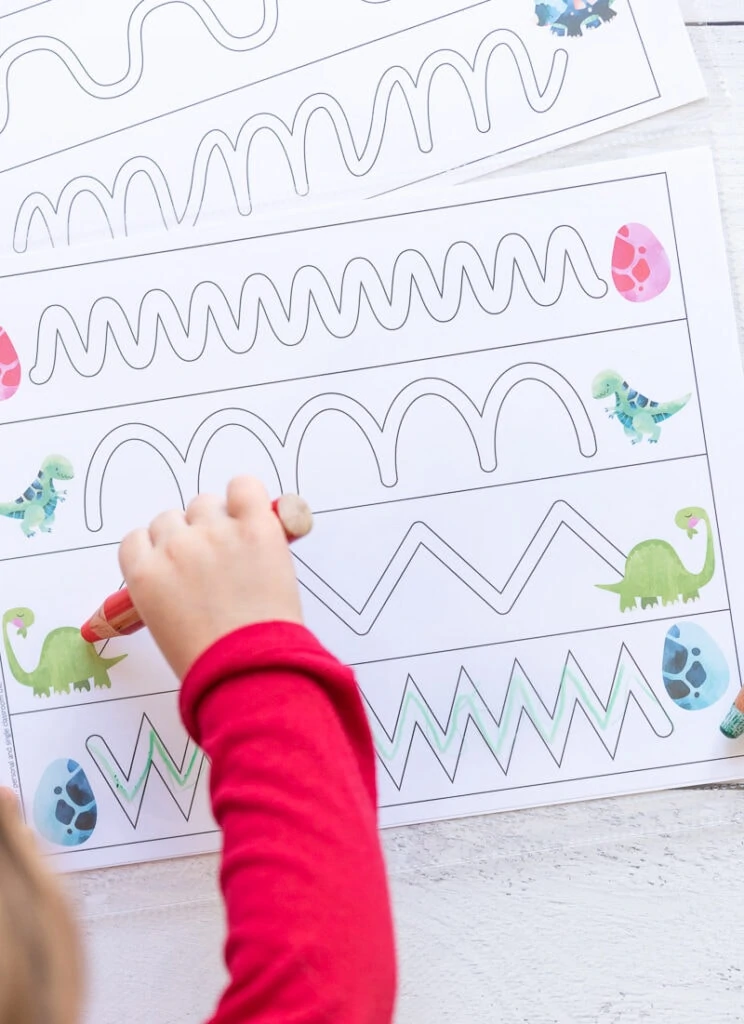 How to print and use trace in the path prewriting pages
This set has four different pages with four tracing paths each. There is a mix of straight, wavy, and zig-zag paths to trace inside to teach and reinforce the necessary pre-writing letter formation shapes as well as curves.
Some of the paths are easy, but some of them are more challenging. It's completely okay if your child can't do every single one on the first try.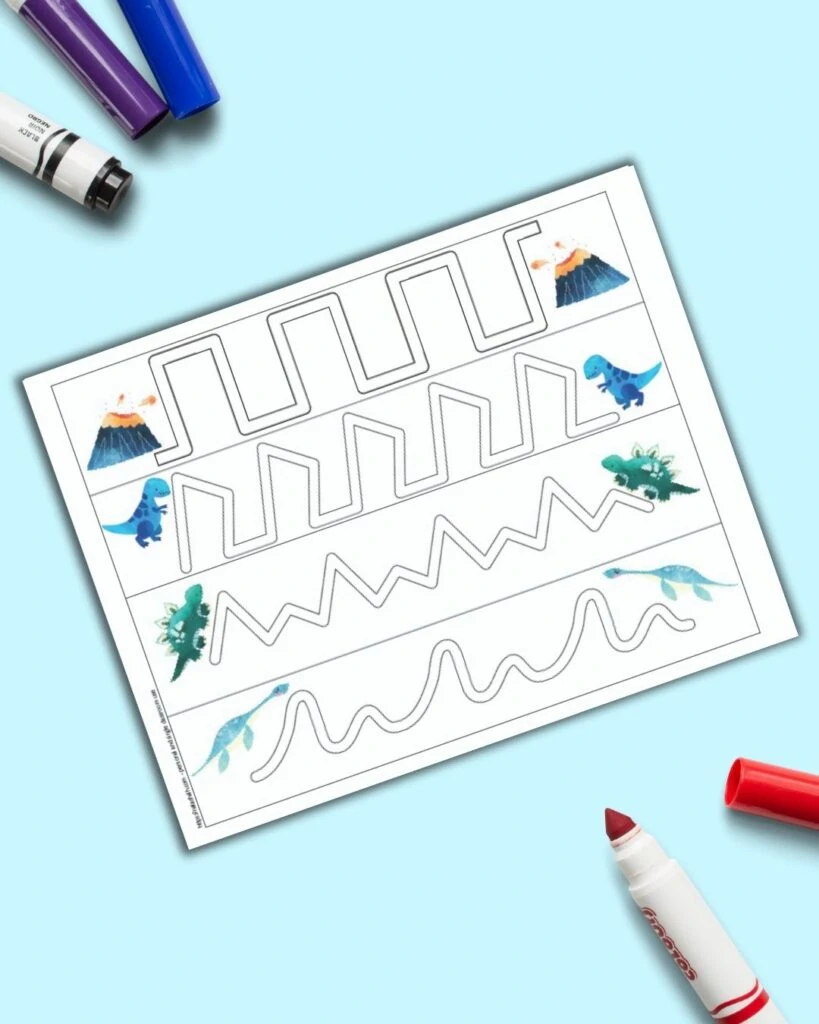 As mentioned above, these trace in the path pages are perfect for toddlers and young preschoolers. Your child can even use a finger to trace the lines if they aren't ready for a pencil or crayon yet.
For additional fine motor fun, be sure to grab these free dinosaur themed preschool mazes, too.
Materials needed:
How to use trace in the path prewriting cards
Make sure to get your download from lower down in the post.
Print the pages you want to use. If your child is new to this type of activity, you might want to skip printing the last page. If they're very practiced at tracing, they might not be interested in the first, easiest page.
Demonstrate how to use the pages. You can start by tracing from left to right with your index finger, or you can jump straight to using a marker/crayon.
I cannot say enough good things about the Stabilo Woody pencils we purchased recently. They work on dry erase surfaces, as a "regular" art supply, and even as a watercolor crayon. They provide more friction than a dry erase marker (so they're better for strengthening little hands.) They don't have fumes like a dry erase marker and don't instantly stain clothes, tables, and walls because they are water soluble. They're easy to wipe off with a very slightly damp cloth or towel.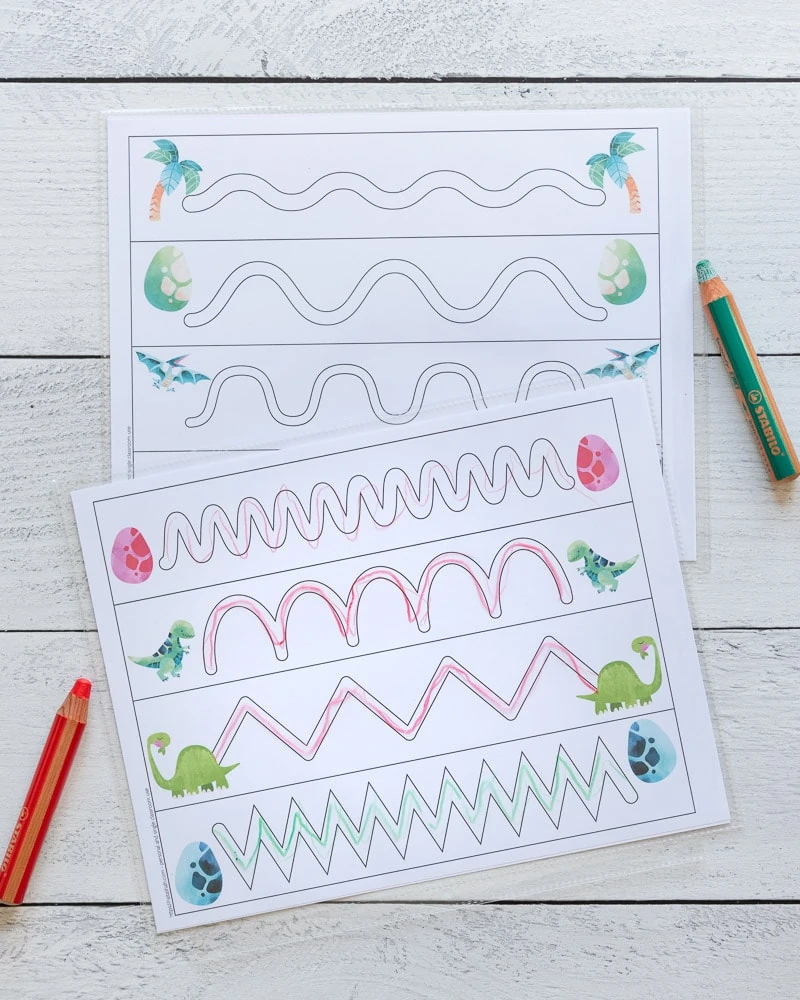 If your child has trouble tracing, or if you want a new activity to keep your child's attention, you can have your child place small manipulatives to fill the path instead of tracing inside.
Virtually anything small can work for covering the path. You can use nature treasures, pompoms, balls of play dough, mathlinks cubes, etc. After placing the manipulatives, you can count together how many it took to reach the end of the line. You may even want to leave the objects on the line so you can count and compare how many it takes to fill various lines. It's amazing how many ways you can use these simple printables for learning.
Free printable dinosaur tracing path download
Please note that the artwork in these printables is copyright by DigitalArtsi and is used under license. Thank you, Jane, for your beautiful artwork and generous licensing.
Like all free preschool printables on The Artisan Life, these are for personal and single classroom use. You are welcome to use them with Scouts groups, home school co-ops, personal therapy clients, etc.
You are not licensed to redistribute the files or printouts to others for their personal use. Instead, please send your friends and coworkers to this page so they can download their own copies.
If you agree to these terms of use, click below:

Make sure to grab these additional free printables for dino-loving preschoolers while you're here on The Artisan Life:
Dinosaur Printables & Toys
Your dino-loving child will adore these dinosaur themed printable activities and toys.