This printable Mardi Gras bingo is perfect for your school festival, French class, or fun at home with your kids!
I always loved having a Mardi Gras celebration in French class or French club. It was such a welcome change of pace from a "normal" day at school. I hope you use these free printable bingo card to "laissez les bon temps rouler" with your class or family.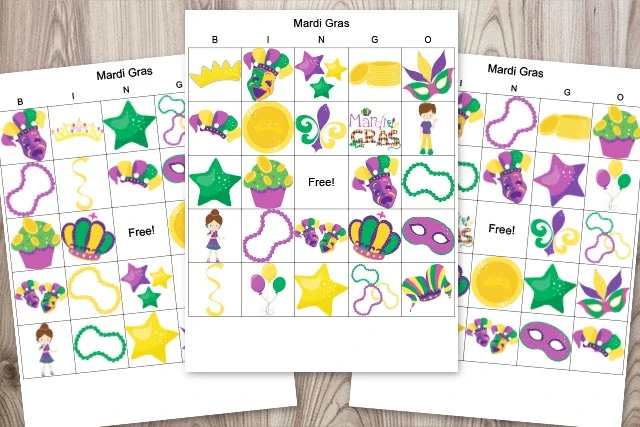 Mardi Gras, also called "Fat Tuesday" or Shrove Tuesday, is the Tuesday before Ash Wednesday. It's the last day of the liturgical year before Lent begins. Traditionally, it's marked by eating up rich foods before beginning the Lentin fast. That's why lots of churches have pancake suppers on Mardi Gras!
Mardi Gras celebrations began in Medieval Europe, but the tradition of throwing beads started in New Orleans in the 1870s. Purple, green, and gold are traditionally associated with Mardi Gras, and they're the dominant colors you'll see in these bingo games. Purple symbolizes justice, the green stands for faith, and the gold symbolizes power.
How to use Mardi Gras picture bingo
This post may include affiliate links which means I may earn a commission on qualifying purchases at no additional cost to you.
Playing picture bingo is easy. Print the cards and set of call cards at the back of the PDF. It's important to print the call cards because not all images are on every single bingo card. Cut the call cards apart and place them in a bowl. Draw cards one at a time and have players mark off the corresponding picture if it's on their card.
Because many of the images in this Mardi Gras bingo game are similar, I recommend showing the call card to make sure children make a correct match. This game is great for practicing attention to detail and visual discrimination!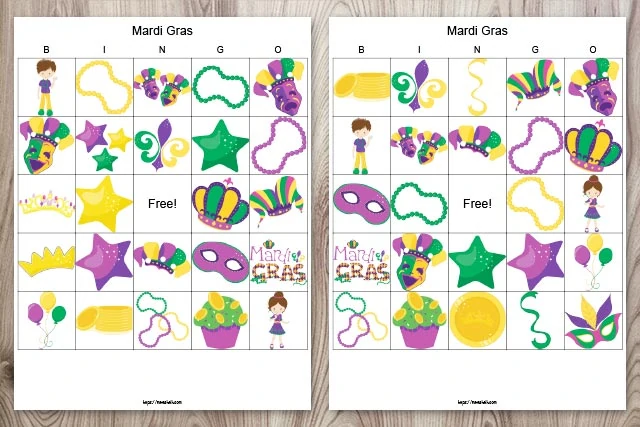 If you're playing in French class or practicing your French at home, try describing the call cards in French instead of English.
Instead of using bingo markers, try playing with small tokens like plastic Mardi Gras coins. This makes the cards reusable and players can keep the pieces after you play.
I print my bingo boards on presentation paper. It's a heavyweight paper with a special coating for crisp, bright images. I also laminate bingo boards to make them reusable. When you laminate your boards, you can use them year after year in your classroom or home!
Printable bingo for Mardi Gras/Carnival
These bingo boards are available for personal and classroom use. This means you can print at use them as much as you'd like with your own kids, personal classroom, or festival activity that you're helping coordinate.
Please do not give the digital files or printouts to other adults for their use – just send them to this page so they can download their own copies.
There are three different sets of Mardi Gras bingo cards available: A classroom set of 24, a set of 10, and a set of 4. All three sets are unique and can be combined for a total of 34 bingo games. The sets of 10 and 4 are free!
Classroom set of Mardi Gras bingo
First we have the set of 24 bingo boards available for one very low price. It's perfect for classrooms and school/church carnivals! They're also a fun activity for a Mardi Gras party at work.
Set of 10 Mardi Gras bingo cards
Next there's the set of 10 bingo boards. It's a favorite for people with larger families, small scout troops, and homeschool co-ops.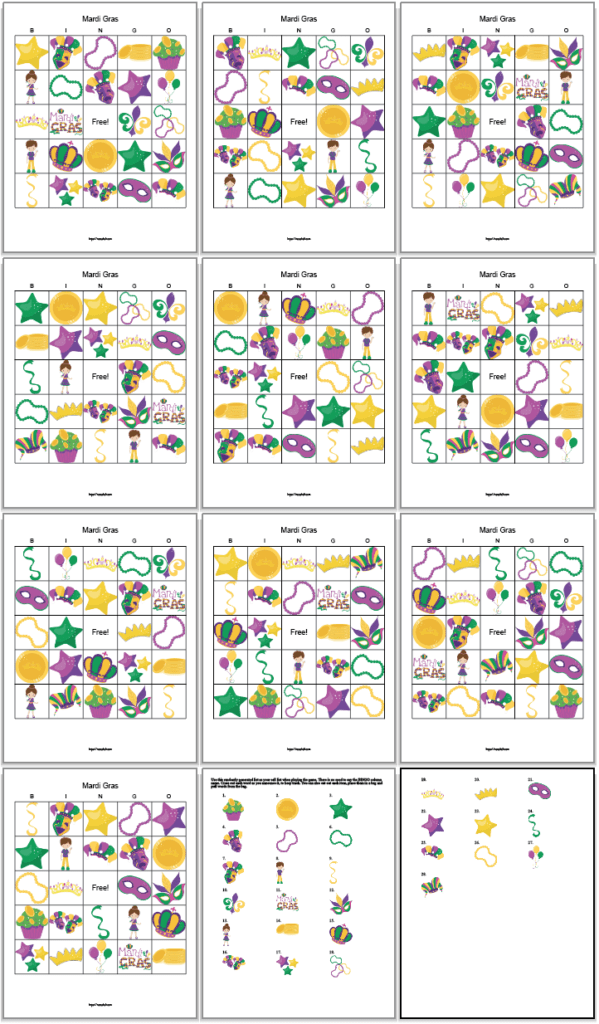 The set of 10 boards is free – just let me know where to email them to you using the form below:
Set of 4 bingo cards for Mardi Gras
And, last but not least, we have a set of four boards. These are completely free, no email address required. Just use the download link below the preview image to grab your PDF from Google Drive!
Please note that you will not see a preview since the file is compressed as a .zip. Just download the file and decompress it.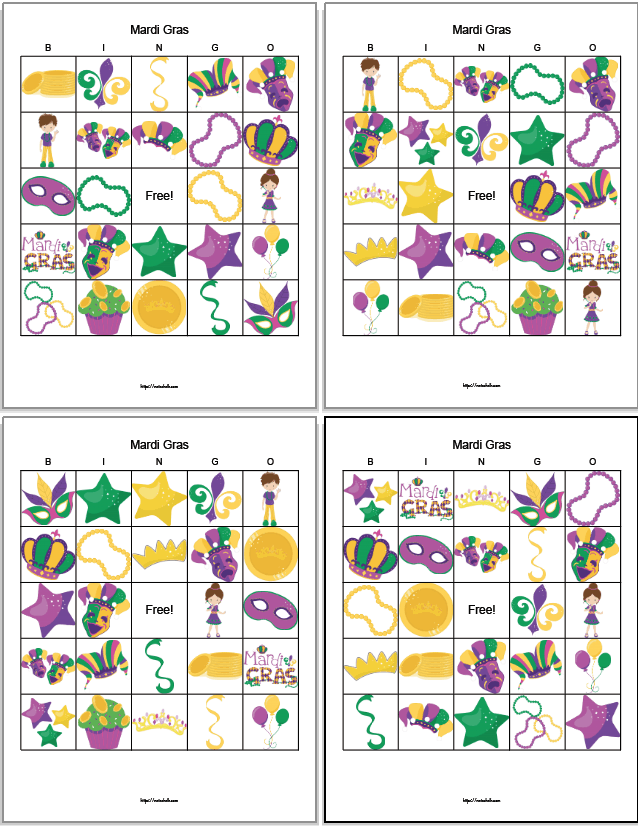 Download the set of 4 free printable Mardi Gras bingo boards here
Make sure to Pin this post now so you can find it again later! Pinning is also a great, easy way to say "thanks" and help me keep making printables.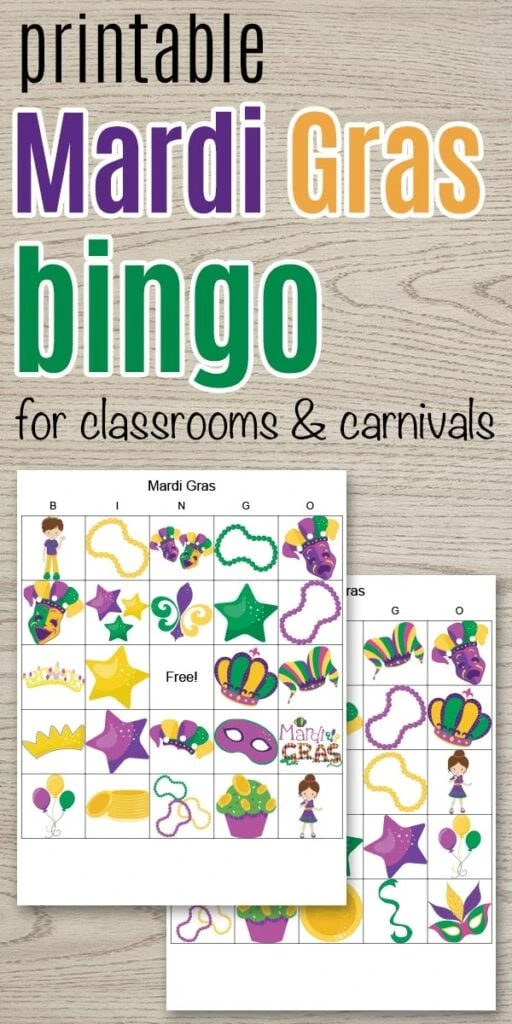 I hope you enjoy playing this Mardi Gras game with your children or classroom – laissez les bon temps rouler!
If you enjoy playing picture bingo, make sure to check out these options for more holidays and occasions on The Artisan Life!