These free printable safari animal bookmarks are so cute and colorful! They're the perfect for the children and fun-loving adults, too.
Even if your child isn't old enough for chapter books, they can still use and enjoy these bookmarks. My daughter (three at the time of writing) loves copying her Papa by putting a bookmark in her book whenever she has the chance.
My daughter specifically requested these safari animal bookmarks and picked out the animals she wanted. I hope your family enjoys her choices!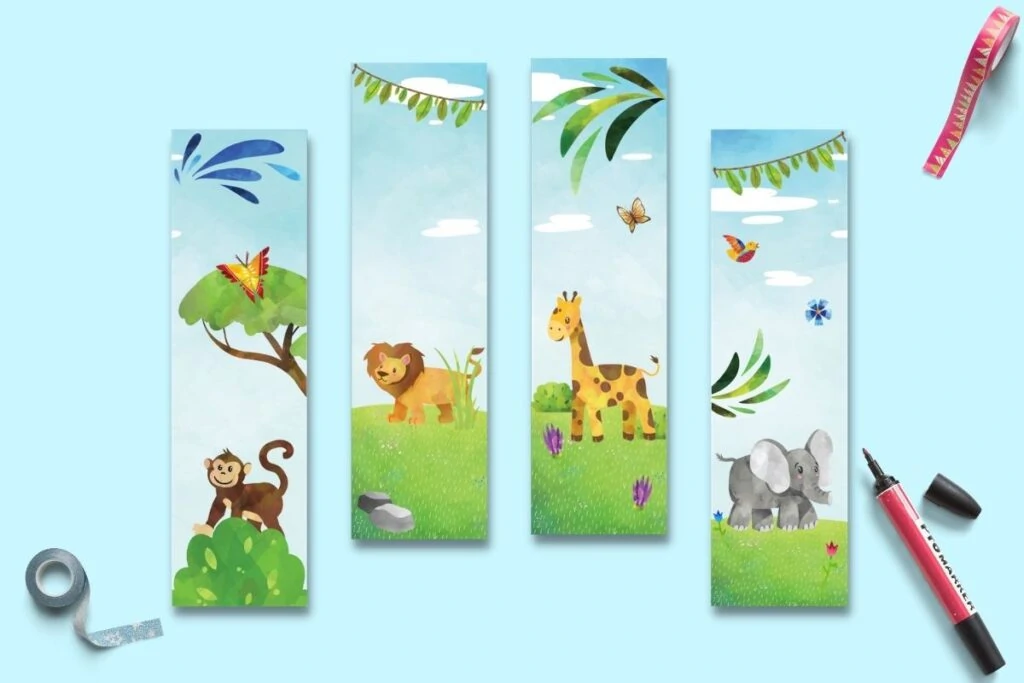 This post may include affiliate links which means I may earn a commission on qualifying purchases at no additional cost to you.
How to make and use printable bookmarks
Making your own bookmarks is easy. Here are the materials you'll need:
Paper and printer
Laminator and laminating sheets

Optional, but highly recommended.
Ink jet ink bleeds when wet. Laminating the bookmarks will help protect them from wet or sticky hands. It also makes them more durable, even for adult use.
You can let your inner middle schooler out and "laminate" the cut bookmarks with clear packing tape. It's not the same, but it's better than nothing!

Paper trimmer or scissors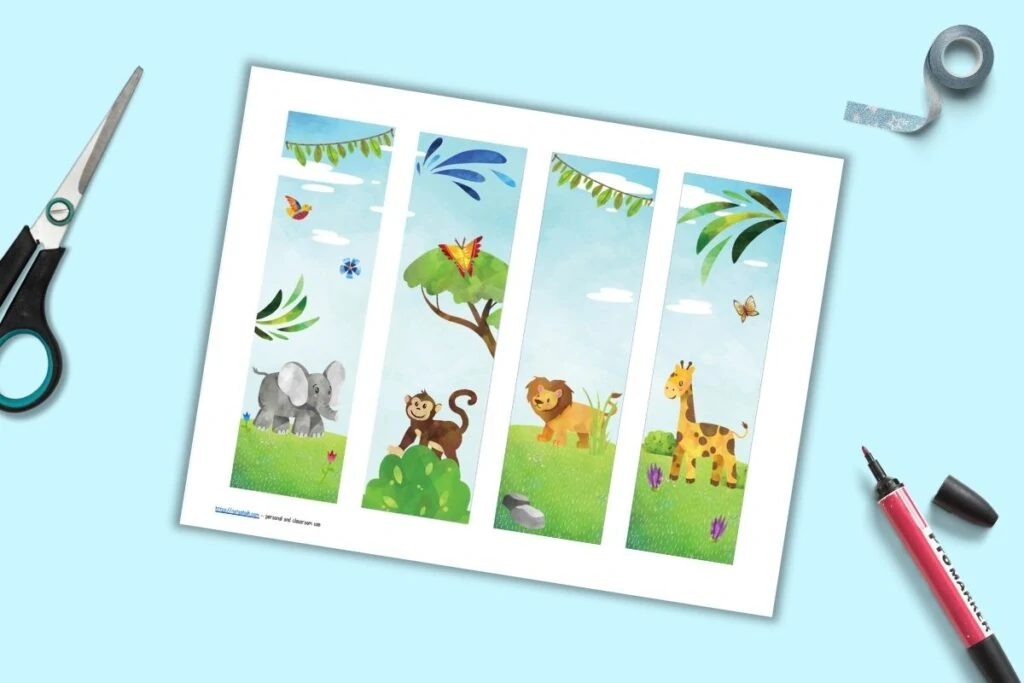 How to print bookmarks
1. Grab your free printable PDF from lower down in the post.
2. Print at 100% size. The blue box is not around the page in your version. I forgot to remove it before printing my copy – it's just something I use to make sure everything is inside safe printer margins.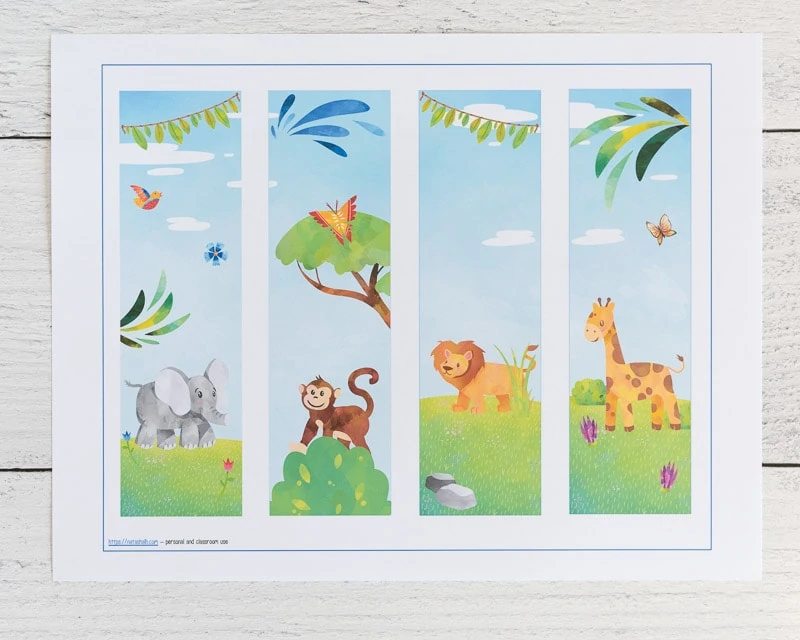 3. Laminate first, if you're laminating.
4. Cut out your bookmarks. A guillotine-style paper trimmer is better for laminated pages, but I use this Fiskar's paper trimmer when my daughter is around so she doesn't lose any fingers.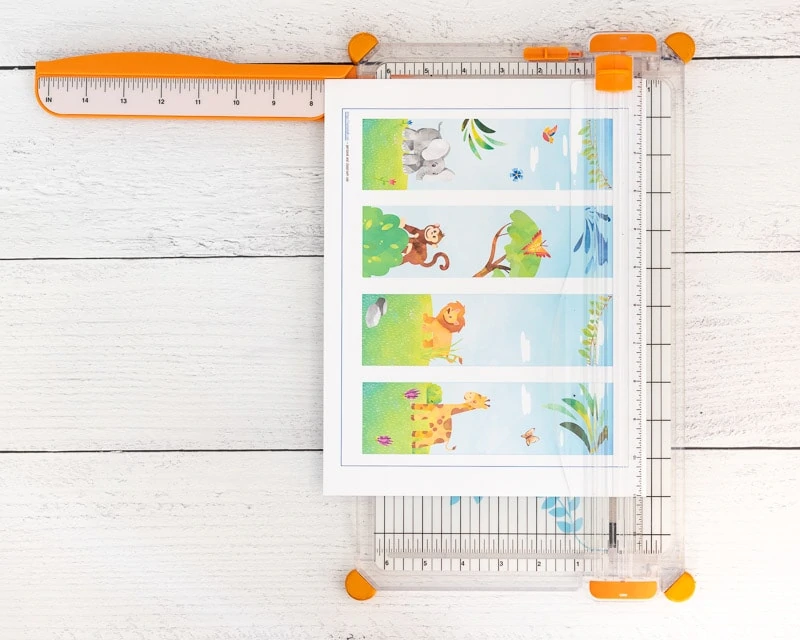 5. Read and enjoy!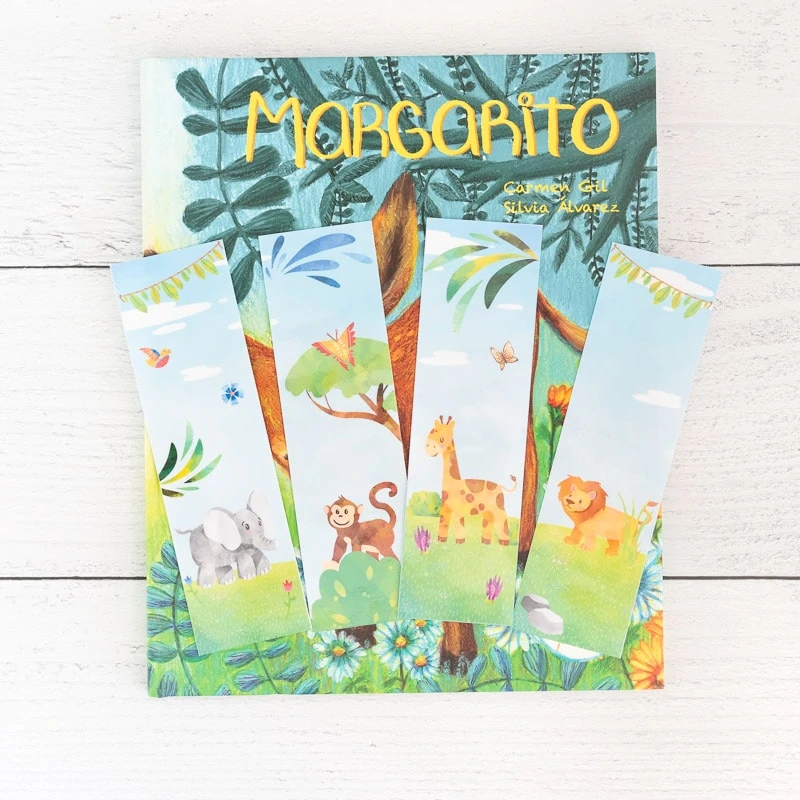 Free printable safari animal bookmark download
Please note that the artwork in these printables is copyright by DigitalArtsi and is used under license. Thank you, Jane, for your beautiful artwork and generous licensing.
Like all free printable bookmarks on The Artisan Life, these are available for personal and single classroom use. This means you may print and give the bookmarks to your own children, students, homeschool co-op members, therapy clients, etc. as long as you are personally organizing the activity and not charging to participate.
You are not licensed to redistribute the files or printouts to others for their personal use or with classes they are leading. Instead, please refer your friends to this page so they can download their own copies.
If you agree to this license, click below:

I hope your family enjoys these fun animal bookmarks! If you love reading, be sure to check out this printable reading journal. (PS – use coupon code SPRINGSALE for 30% off)