This printable gratitude journal for kids is the perfect way to help your child develop their attitude of gratitude! It's fun, filled with cute illustrations to color, and has special gratitude challenge activities for each week.
My daughter (2.5) and I recently started playing a game we call "nice day." We go back and forth saying "It's a nice day for…" For example, she might say "Nice day for walk outside" and I might respond "It's a nice day for blowing bubbles outside." This game is uplifting and so much fun. I love when we go back and forth with increasingly silly answers.
Our little game and responses to a recent email I sent members of The Artisan Life family prompted me to create a printable gratitude journal for children.
The journal is fun, cute, playful, and perfect for helping children develop their attitude of gratitude! I hope you enjoy.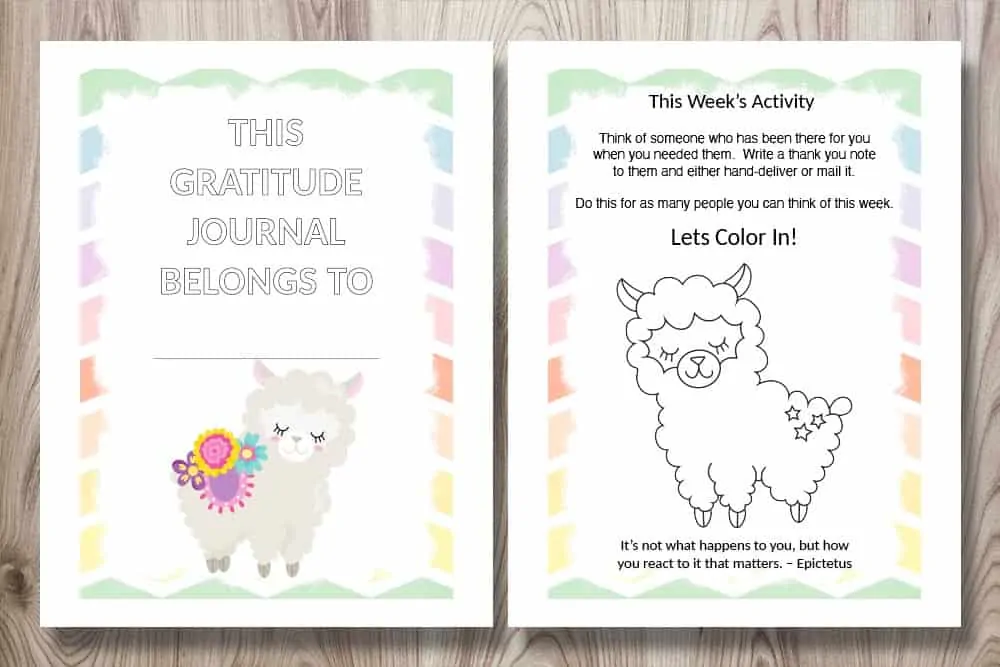 This post may include affiliate links which means I may earn a commission on qualifying purchases at no additional cost to you.
The benefits of gratitude for children
Gratitude is beneficial for everyone, not just adults. According to Greater Good Magazine, which is published by UC Berkley, several studies have shown that gratitude is beneficial for children and teens.
The benefits of gratitude for children include:
Improved life satisfaction
Protection from stress
Greater happiness and optimism
Better social support
More satisfaction with school, family, and friends
Greater engagement with schoolwork and hobbies
Less materialistic tendencies
Learning gratitude is a process. Children are not born naturally grateful. In fact, as any toddler parent can tell you, they frequently seen very ungrateful!
Gratitude is a learned behavior. You can encourage your child to develop their gratitude muscle by modeling gratitude yourself and engaging them with gratitude-building activities.
Gratitude-building activities do not include things like forced manners and making your child say "thank you." According to researcher Alfie Kohn, making children say "thank you" to others is more about showing that we, the parent, "know" what we're "supposed to" say. It does not actually promote thankfulness or gratitude. In fact, the practice of forcing "thank you" on children can backfire and lead to resentment!
Related: Printable growth mindset posters
The open-ended questions and drawing prompts in this gratitude journal for kids will help your child recognize things they appreciate. Pay attention to your child's responses and remember that nothing is too small or inconsequential for appreciation. Listen to their gratitudes and appreciations without judgement.
If your child has trouble naming something they're grateful for, try asking them about their favorite part of the day. Don't try to guilt them into feeling grateful by telling them things could be worse or that other people are having a more difficult time. (The same is true for you – never try to guilt yourself into feeling gratitude! It totally doesn't work.)
If you want to know more about raising grateful children, I highly recommend you check out the book Making Grateful Kids. Authored by a PsyD and a PhD, it gives 32 scientifically-proven strategies for helping children cultivate gratitude and appreciation.
Sale
If you need help working on your own attitude of gratitude, check out this post with at the best gratitude journals for busy moms.
Printable gratitude journal for children
Now that you know how beneficial gratitude is for children, let's take a look at the printable kid's gratitude journal!
The gratitude journal is fun and cheerful. It includes gratitude activity prompts, drawing prompts, a weekly journal page, and fun activities to help your child see using their new journal as a treat, not a chore.
Although the border is in color and each week has a cute, colorful image on the weekly journal page, the journal prints well in black and white. You don't need to use all your colored ink if you don't want to!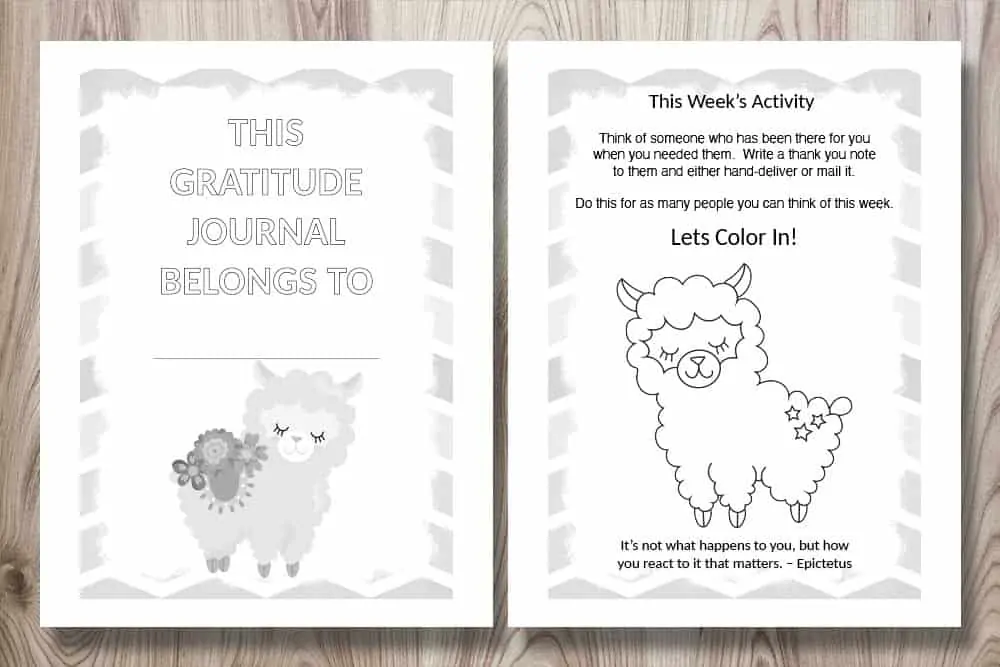 The journal features 15 weeks of pages. Each week has:
A weekly gratitude journal page
A gratitude activity with image to color
A gratitude writing prompt
A drawing prompt (and another picture to color)
A page for reflecting on the best part of the week
A maze
A sudoku puzzle
Don't worry, mama – the maze and sudoku answer keys are at the back! All coloring images and puzzles are unique so your child has something new to do every single week.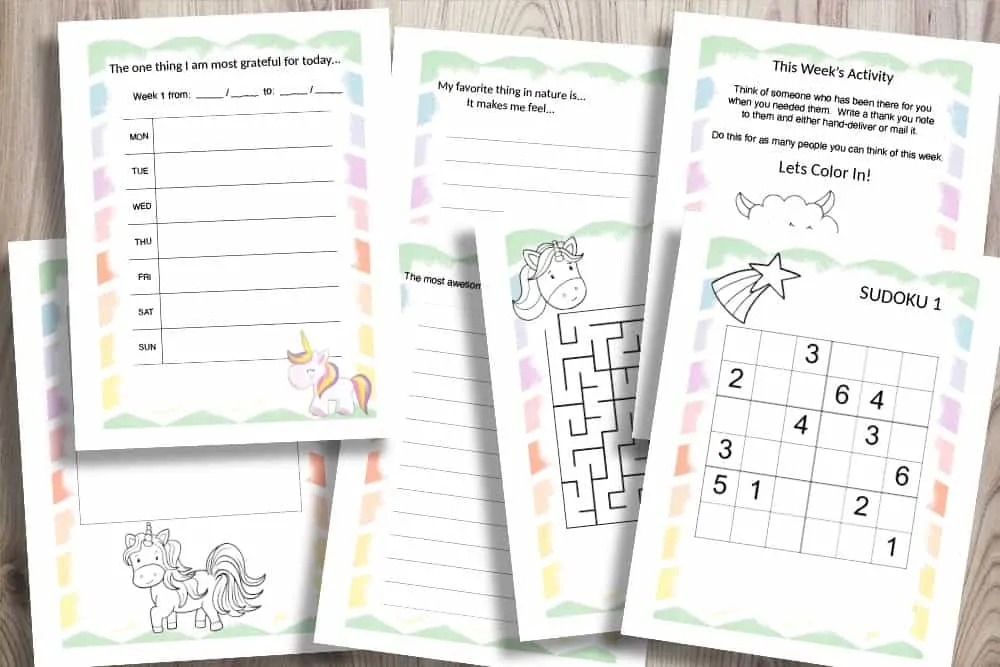 You can get a better feel for what's included in this slideshow with previews of the first to weeks:
If your child isn't a proficient reader or writer yet, they can still use this gratitude journal. I kept a diary when I was three and four years old by dictating it to my dad, who diligently wrote down what I said.
There are several ways to make your printable gratitude journal:
Print and three hole punch the pages for use in a three ring binder. The printed area of the printables is approximately 8×10″ so you shouldn't end up with annoying holes in anything important.

A three ring binder also allows you to add pocket folders for more drawings and mementos.

Print the pages and place them in a sliding bar report cover. The spine can easily slide off to remove individual pages for activities.
Have your pages printed at a copy shop and have them place the pages in a spiral binding or comb binding. If you have an at-home comb binder you can bind your own book.
To help your child develop more gratitude, positivity, and resilience, make sure to check out this post with 35+ positive affirmations for kids!
This printable gratitude journal for kids is available for personal and classroom use. Please do not redistribute the digital files or printouts to others for use with their family or classroom. Just refer your friends and coworkers to this post so they can download their own copy!
Related: Positive adjectives to call a child (and free printable poster)
There are to different versions of the gratitude journal printable available: a free preview and the full journal.
I'm making the free preview available absolutely for free, no strings attached or email address required. The sample has the cute front cover and the first four pages of the journal. The download link is located below the preview image.
I hope you do join The Artisan Life family, though. I create new, free, low-prep activities for kids virtually every week! Grab a free printable woodland animal activity pack when you become a member today.
The sample does not have the first week's maze or sudoku puzzle, but it has the journal page, gratitude activity/coloring page, weekly reflection page, and drawing prompt.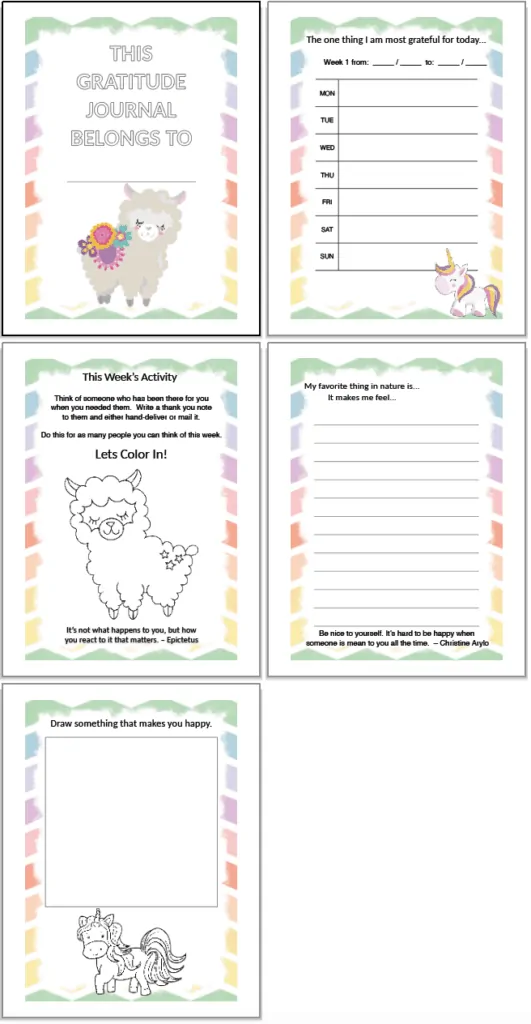 Download your sample gratitude journal for kids here
If you're ready to really activate your child's attitude of gratitude (and get 15 weeks of coloring pages and puzzles to keep them busy), get the complete journal printable.
The full, 15 week printable gratitude journal for kids is available for the very low price of $3.99.
This printable gratitude journal with activities, quotes, and coloring pages is so much fun. I can't wait to use it with my daughter when she's just a tiny bit older. I'm sure your kids will love it, too!
Don't lose track of this printable – make sure to Pin it now!
Gratitude & Positivity for Families
Do you want to develop your attitude of gratitude and help your children be more optimistic and resilient? Check out these additional resources!