These growth mindset poster free printables are great for your home, office, or classroom!
I've been meaning to make growth mindset poster printables for about a jillion years now. Once I finally sat down to do it, I had so much fun!
I hope you enjoy using these growth mindset printables!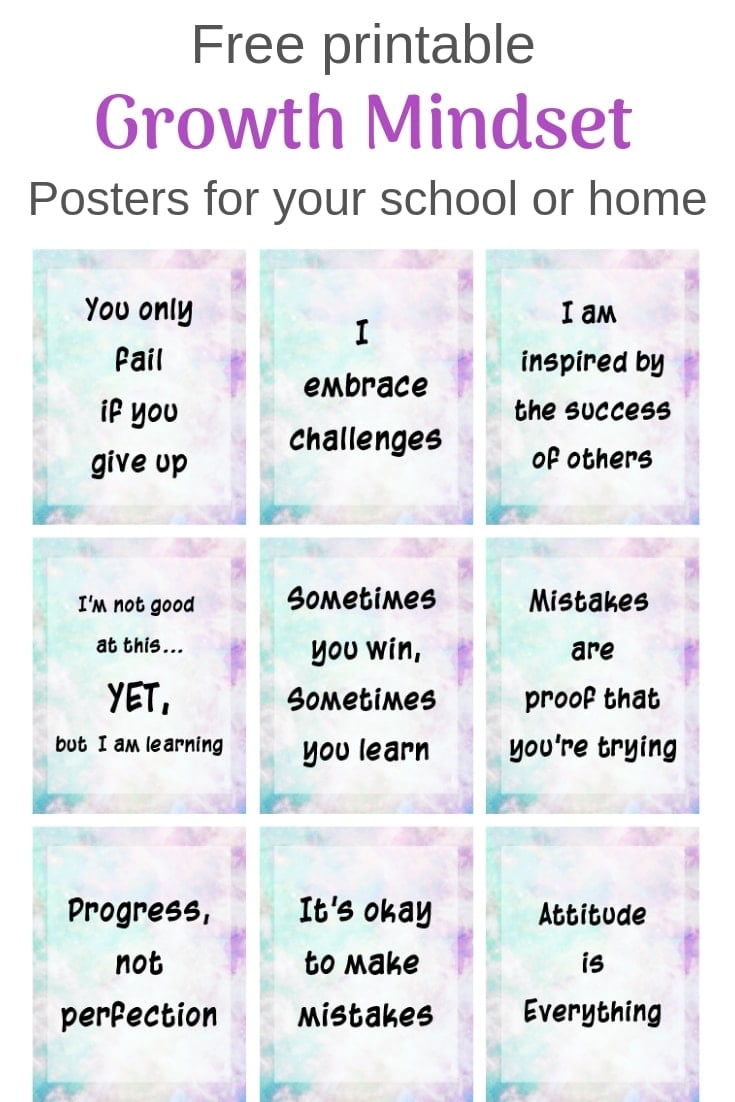 This post may include affiliate links, which means I may make a commission on purchases made through these links at no additional cost to you.
What is a growth mindset?
First, let's talk a little bit about what a growth mindset is. It can be kind of a buzzword that people assume you understand, but they don't necessarily take the time to explain it!
The term "growth mindset" was developed by Dr. Carol Dweck after she observed that some of her college students rebounded after a mistake or failure, but other students were completely derailed by even minor setbacks.
In short, having a growth mindset means that you believe your skills and abilities can be developed and improved.
People with a growth mindset see "failures" as opportunities to learn and grow, which means they improve and rebound after a setback.
People with a growth mindset tend to welcome feedback and value the opportunity to learn. They can celebrate other people's successes and ask them for advice without being afraid of seeming "stupid." They see hard work as a way to improve themselves.
Another characteristic of a growth mindset is authenticity. People with a growth mindset typically don't worry about what other people think of them, so they are free to be their authentic selves without putting on a show.
Growth mindset vs fixed mindset
A fixed mindset is essentially the opposite of a growth mindset.
Having a fixed mindset means you believe that skills and abilities are inherent and fixed. People with a fixed mindset might believe, for example, that they are "no good at math" or "not creative."
People with a fixed mindset tend to blame others for failures and setbacks because they have the belief that admitting a failure is their responsibility means they just aren't good enough (and never can be). This means these people tend to avoid challenges because they don't want to fail, or even struggle.
People with a fixed mindset tend to react poorly to critique and suggestions from others and see other people's success as a threat.
Another characteristic of a fixed mindset is being obsessed with being perceived as "smart" or "funny" or as having some other trait.
Although some people have a very dominant fixed or growth mindset, we all fall somewhere in between a totally fixed or completely growth mindset. None of us has a true growth mindset 100% of the time and that's perfectly okay!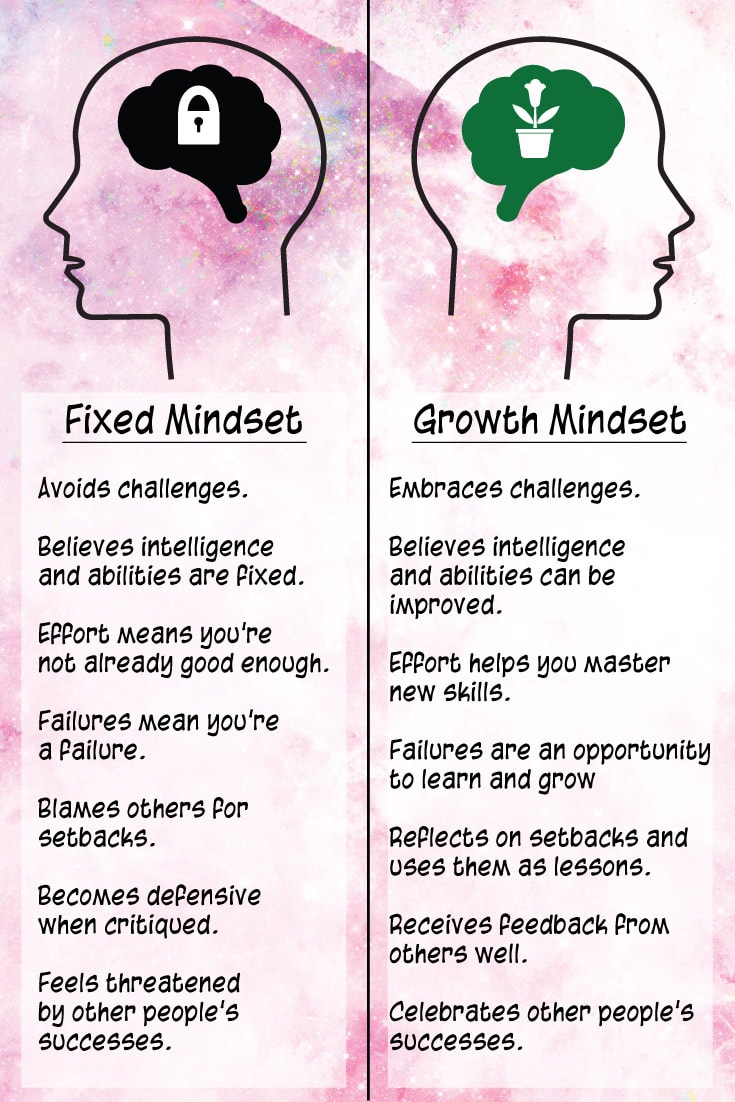 What's a false growth mindset?
There's also something Dweck calls a "false growth mindset" that she's seen teachers and educators accidentally perpetuate.
This happens when, for example, teachers or parents fixate on praising the process even though the results clearly aren't there. Continuing to praise the process isn't truly fostering a growth mindset because the child is never encouraged to ask for help and develop new strategies.
If you want to read about how to develop a true growth mindset, Mindset by Dr. Dweck is a great place to learn more.
Free printable growth mindset posters
Now that you have a better understanding of what a growth mindset it, let's get to the free printables!
These printables have growth mindset-oriented messages to bring positivity into your classroom, home, or office.
The printables are designed to be beautiful on when printed borderless, but it's completely okay if you don't have a borderless printer.
If you can't print borderless, you can either print full sized or "to fit," whichever you prefer. The printed border will be smaller if you print at full size, but the text will be a bit smaller if you print to fit in order to have a larger decorative border. Test out both and see which you like better!
It's easy to trim the prints down to 8×10 for framing, if you'd like.
For best results, print your posters on presentation paper or luster photo paper. Both will give you beautiful, crisp colors and look so much better than plain paper or cardstock.
I created 12 free printables for you and put each phrase on two different backgrounds so you can pick whichever set you like more!
These posters are available free for personal, workspace, and classroom use. Please do not redistribute the digital or printed files to others. Just send people to this post so they can download their own copies!
The files are stored on Google Drive and are compressed as .zip files. You will not see a preview because they're compressed, but you can easily decompress them on your device.
One set of printables as a fun wavy rainbow background. This set is great for children and classrooms because it's bright and cheerful!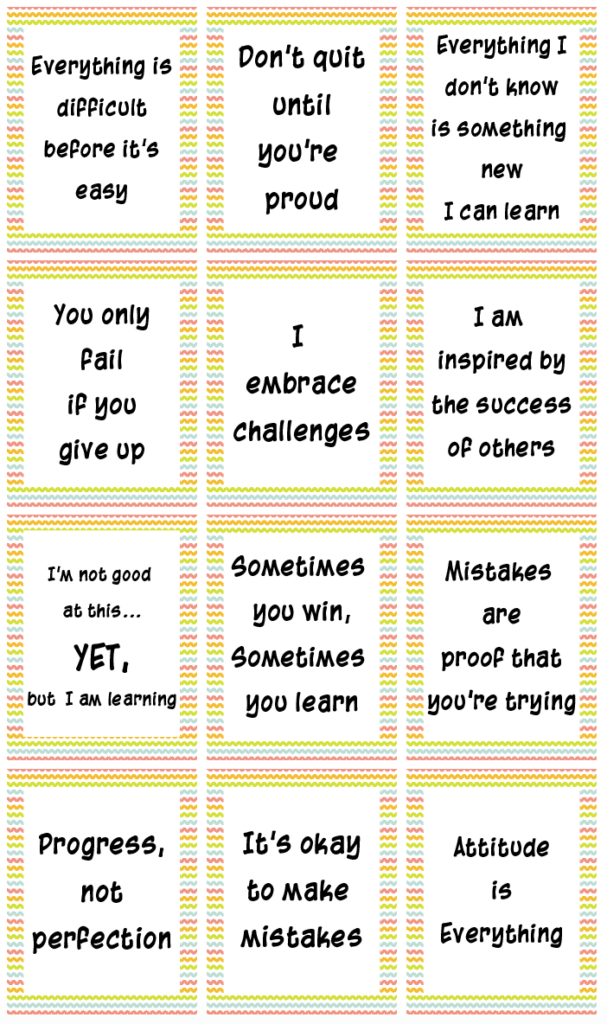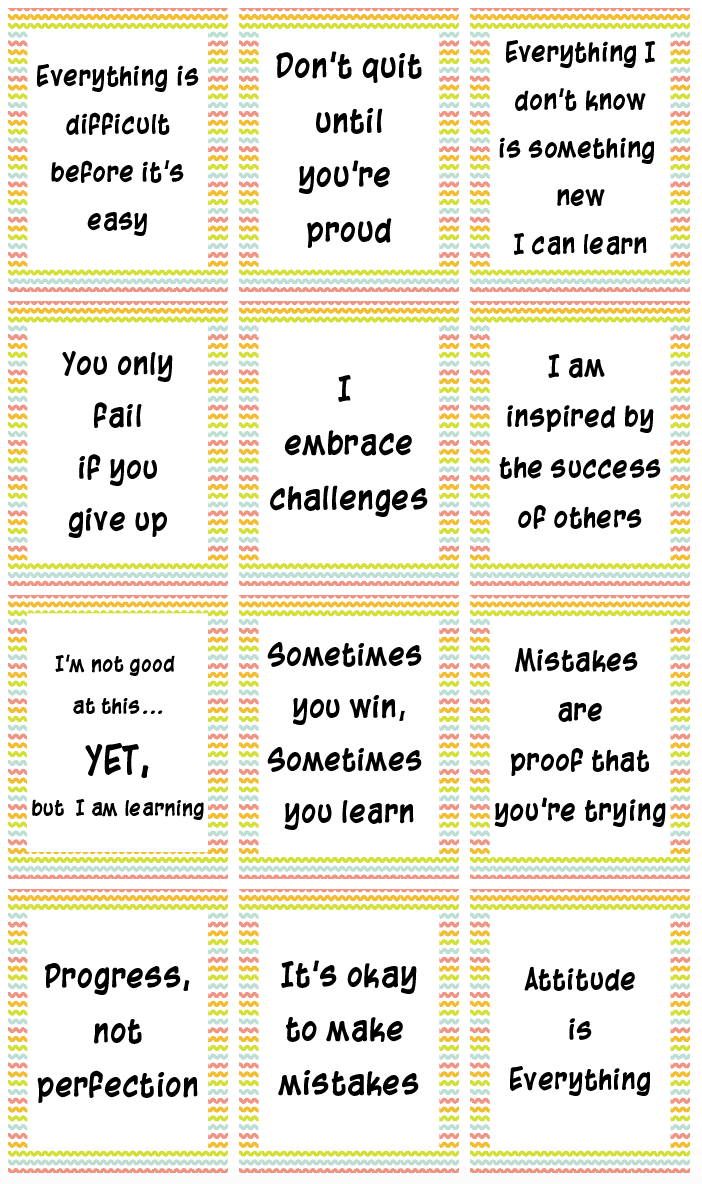 >> Download the rainbow growth mindset posters here <<
The second set of printables has a purple galaxy background. This set is great for older students and your own use.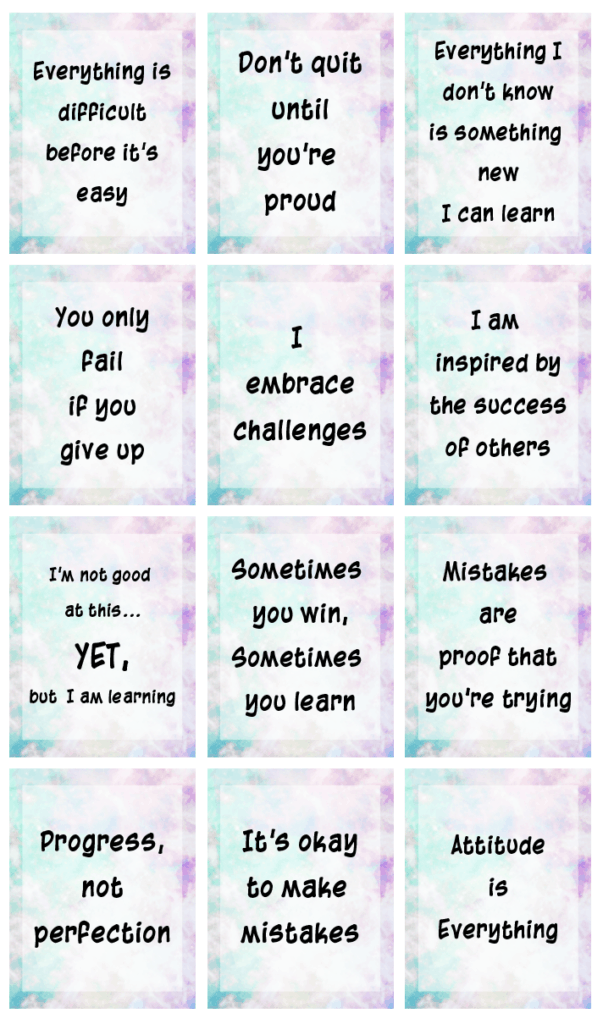 >> Download the galaxy growth mindset posters here <<
I hope you enjoy these growth mindset printables and that they help you bring a stronger growth mindset into your life!
Make sure you Pin this post now so you don't lose track of it!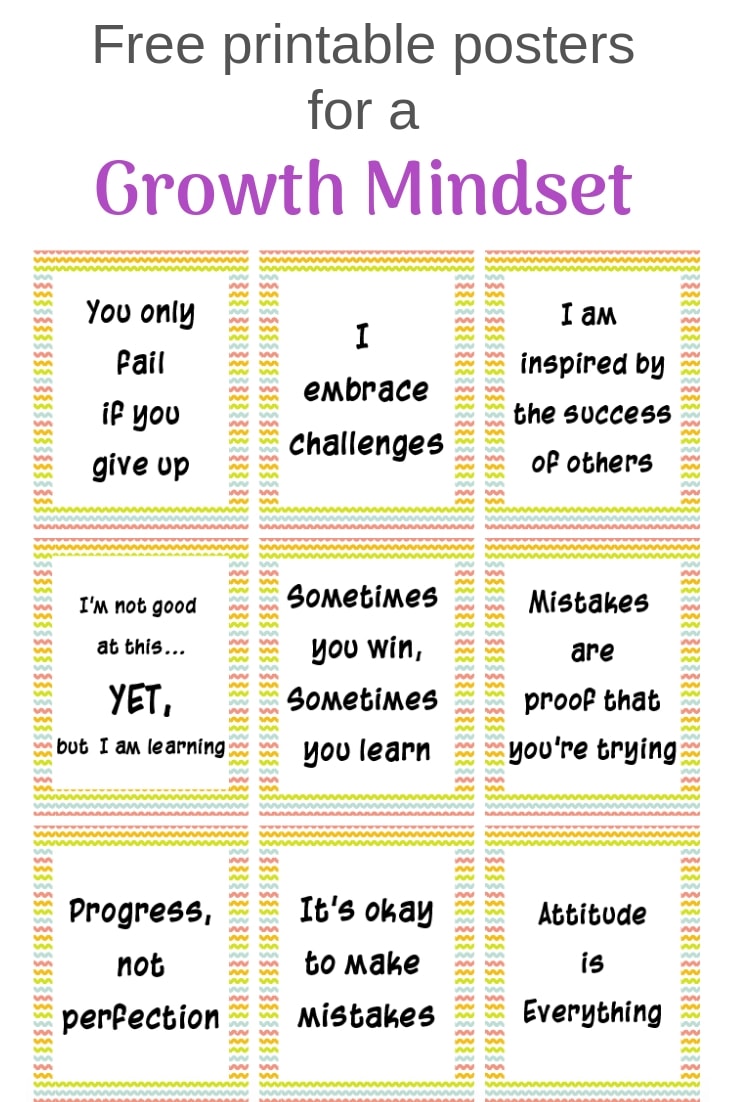 Growth mindset resources
I'm all about helping people live a creative, conscious life through gratitude and creativity! I'm a huge believer in neuroplasticity, the brain's ability to change. Developing a new, positive, growth-oriented mindset is absolutely possible.
Free printable gratitude journal page