This post may include affiliate links, which means I may make a commission on purchases made through these links at no additional cost to you.
I know it's not news to most people these days, but you can save major money by making food yourself at home. I don't just mean making your own dinner instead of going out to a restaurant. For example, consider the curried red beans and lentils I shared recently. The ingredients cost almost exactly as much as a single can or dehydrated cup of high quality prepared soup. Crazy, right? That recipe makes 12 generous servings of protein and fiber-filled, low sodium, no preservative soup for the price of one can of prepared soup. I have to admit these homemade chocolate creme sandwich cookies don't offer quite the same level of savings over purchasing Oreos, but you do have total control over the ingredients. You can skip the high fructose corn syrup and soy products found in the 'real deal,' and even swap out the flour for something whole wheat or gluten-free, so I think it's still a pretty good situation!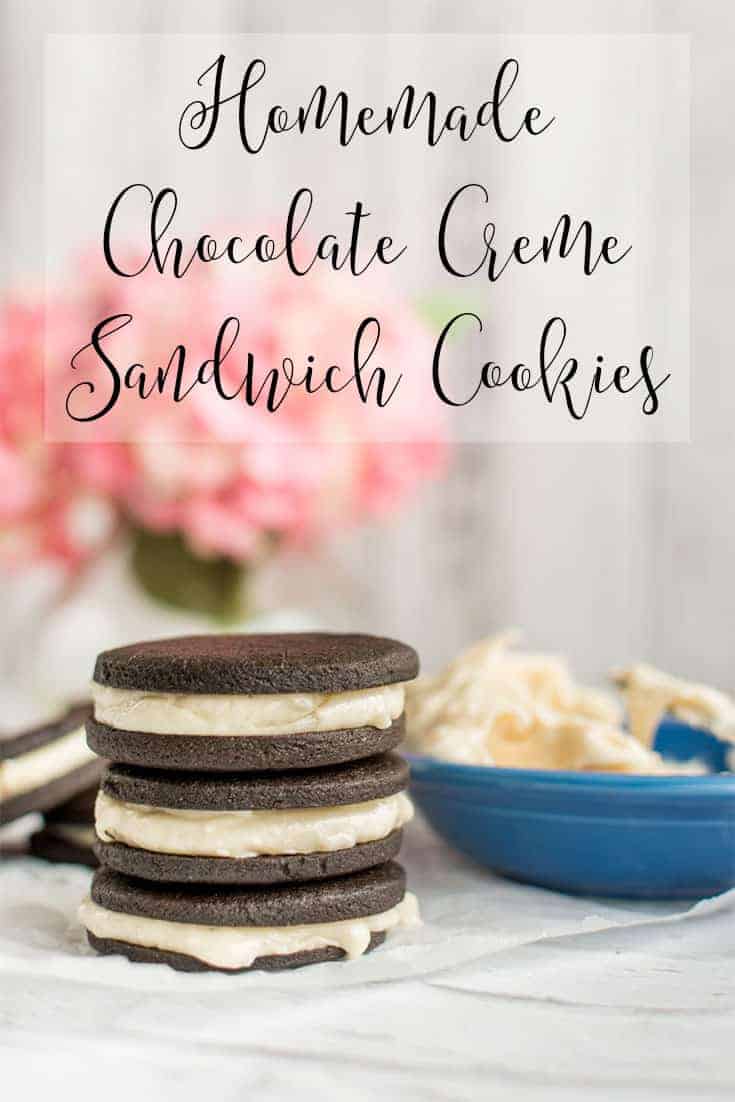 Oh, and you can also make them larger than 'real' Oreos, so that's another up side…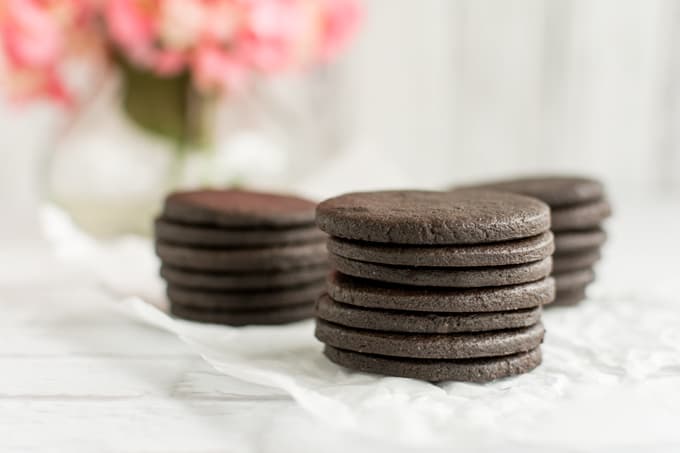 I used the the 2 1/4″ cuter from my circular cookie cutter set. Way bigger than a normal Oreo. =)
These cookies aren't difficult to make, but it is very important you chill the dough for 45-60 minutes before rolling it out and that you re-chill any scraps before rolling them out. Roll the dough out between two sheets of parchment paper or wax paper to prevent it from sticking to your rolling pin, and don't be afraid to put it back in the fridge if it gets warm and sticky.
The number of sandwich cookies you'll get depends on how big your cookie cutter is and how thick/thin you roll out the dough. Using my large cookie cutter, I got about 16 sandwich cookies (or 32 cookies).
I always, always use my Cook's Illustrated recommended baking sheet. It's heavy duty so it doesn't warp in the oven and it helps your cookies bake evenly!
Yield: 15-20
Homemade Chocolate Creme Sandwich Cookies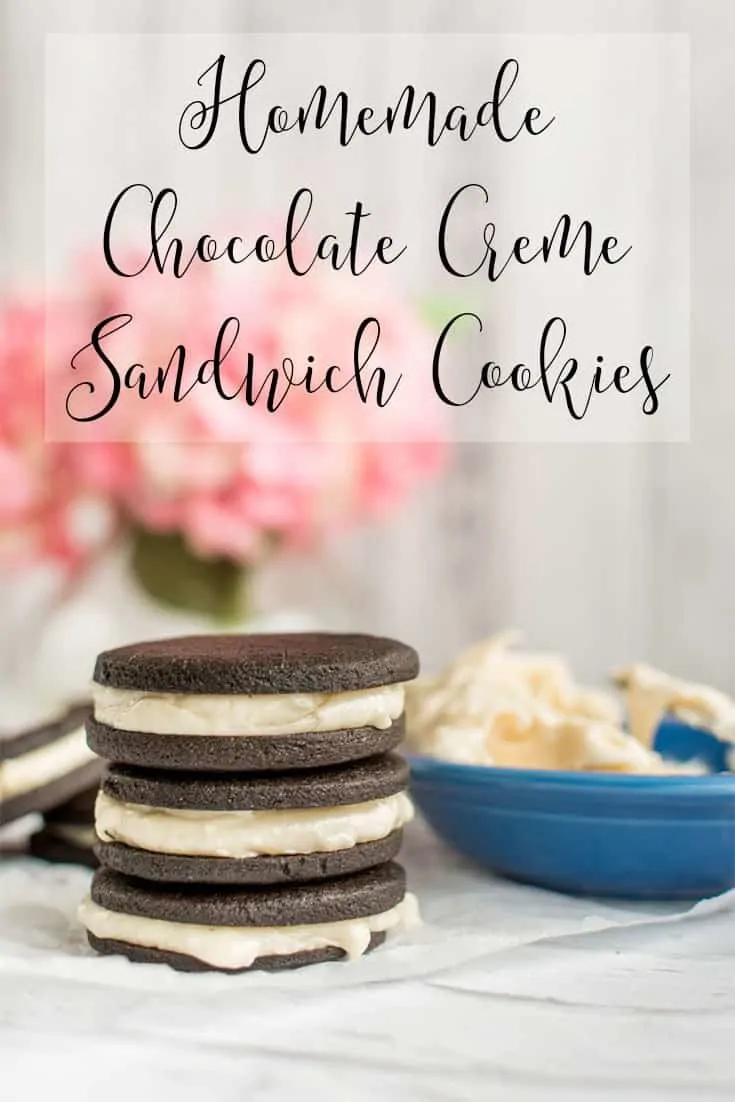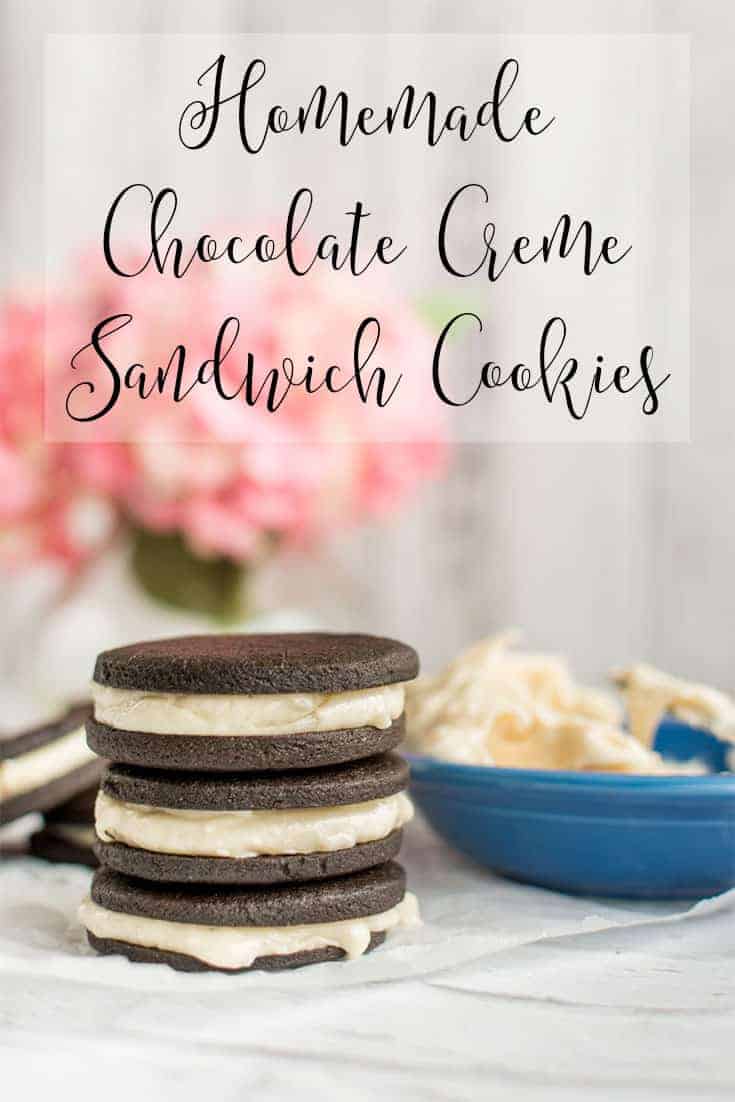 Cook Time 12 minutes

Total Time 12 minutes
Ingredients
For the cookies
10 tablespoons unsalted butter, cut into .5" cubes and allowed to warm to room temperature
1/2 cup unsweetened cocoa powder (I used Hershey's Special Dark)
1/2 cup granulated sugar
1 teaspoon vanilla extract
3 tablespoons milk (I used unsweetened almond milk)
1 1/4 cup flour
1/4 teaspoon baking soda
For the creme filling
4 tablespoons butter, at room temperature
4 tablespoons vegetable shortening
1 1/4 cup powdered sugar
1 tablespoon creamed honey
1 1/2 teaspoons vanilla extract
Instructions
Combine the flour and baking soda in a medium bowl and set aside.
Cream the butter, cocoa powder, and sugar together on medium-low in the bowl of a stand mixer fitted with the paddle attachment. (You can use a hand mixer, too, if that's what you have available.) This may take 2-3 minutes, depending on the temperature of your butter and the mixer you're using.
Add the vanilla and milk and allow them to combine (this should take about 30 seconds).
Carefully add about half the flour mixture, allow it to incorporate, then add the second half of the flour mixture. The dough should be fairly sticky (as opposed to crumbly) and moist, but cohesive. As with all baked goods, feel free to add slightly more liquid or flour, as needed, depending on your baking conditions.
Remove the dough from the bowl and divide it into two roughly equal portions. Pat each into a disk, wrap in plastic wrap, and place in the fridge for 45-60 minutes.
Line two heavy, rimmed baking sheets with wax paper or silicone baking mats, adjust the oven racks to the middle and lower-middle positions, and preheat your oven to 350ºF.
Prepare two sheets of parchment or wax paper, then remove one piece of dough from the fridge. Place the dough between the papers then roll it out until it is 1/4" - 1/8" thick. Cut out your cookies, then roll the scraps into a ball to re-chill and roll out again.
Transfer your cookies to a prepared baking sheet, then repeat with the second half of the dough.
If the scrap dough is chilled enough to re-roll at this time and you have space on your cookie sheets, go ahead and re-roll it. If not, save it for a second batch. (The scraps won't need to chill as long because they'll already be cooler than the original dough when you put it in the fridge).
Bake until the cookies look dry and delicious, about 11-12 minutes. Rotate the trays top to bottom if you needed to use two separate racks. Because the cookies are dark, they will not appear golden brown, so you do need to go off their apparent texture and the timer instead of the usual visual cues.
Bake a second batch with the re-rolled cookies, if necessary.
Allow the cookies to cool completely on wire racks before adding the creme filling.
For the filling
Beat the butter, shortening, vanilla, honey, and powdered sugar in your stand mixer or by hand until fully incorporated and smooth. That's it! For a stiffer filling, omit the honey and add an extra 1/4 cup of powdered sugar.
Slather filling the "under" side of a cookie (the side that was on the tray) then top with a second cookie for a delicious chocolate sandwich cookie!
These sandwich cookies store well in a sealed container on the counter – they don't need refrigeration or anything. I know they're still fresh and easy after five days, but beyond that I can't vouch for.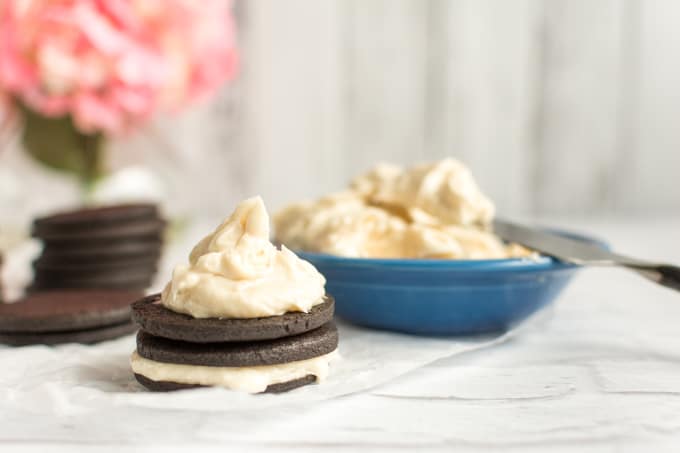 If you bake these and make them last more than five days, can you please let me know how well they hold up? I sincerely doubt we'll ever be able to get a batch to stick around for that long.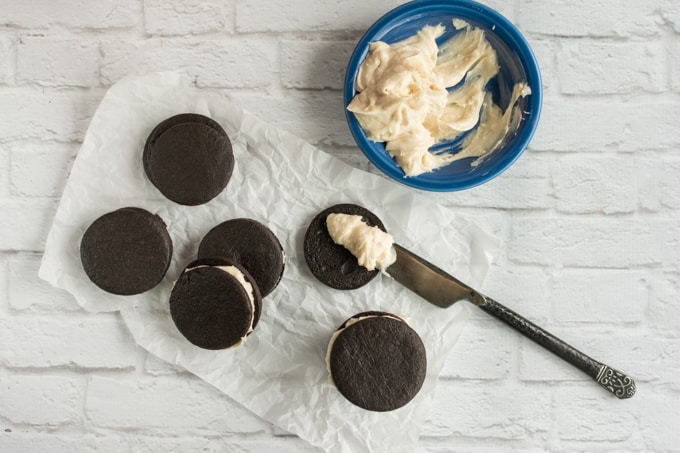 Who's ready to bake some cookies?!