This post may include affiliate links, which means I may make a commission on purchases made through these links at no additional cost to you.

How many times do you get a second chance at capturing missed honeymoon moments? Right around never, which is why I was so thrilled to participate in Dramamine's "No More Missed Moments Challenge."
Last July, we went to Kaua'i for our honeymoon and decided to take a helicopter ride. I was so excited about getting awesome photos of Kaua'i's world-famous Na Pali coast and Waimea Canyon for our honeymoon photo album! Everything was great for 5 or 10 minutes, but then the motion sickness started to set in. I spent the remainder of the hour trying to get air in my face and not use the "aloha bag." Needless to say, there were no amazing photos. I refused to eat lunch after we landed and spent the entire afternoon lying in bed feeling awful while my husband (of less than a week at that time!) played games on his tablet and tried not to be too disappointed about the day.
As soon as I learned about the new Dramamine Non-Drowsy Naturals No More Missed Moments Challenge, I knew I wanted to try the product and give a helicopter ride another go! Our time in Hawaii is almost at an end and who knows if we'll even make it back here again, so I really wanted to get those "postcard" shots for our album. I booked a flight to Kaua'i for a day trip, signed up for a doors off helicopter ride, and charged my camera batteries for the adventure.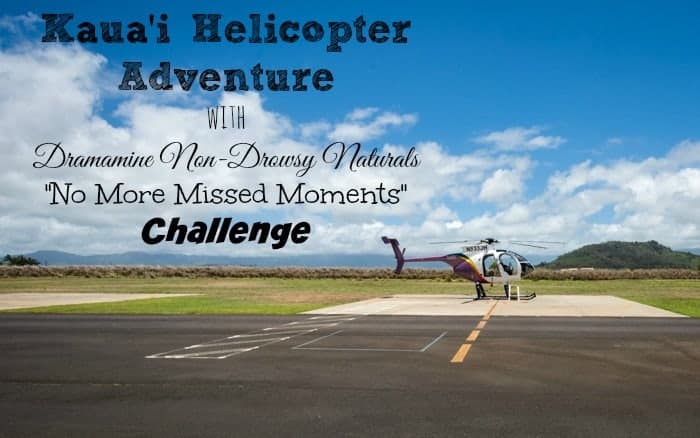 Last July's helicopter ride was the most agonizing hour I've ever paid money for. I mean, it was awful and motion sickness ruined my entire day. This time I took two Dramamine Non-Drowsy Naturals when I checked in for my ride, about half an hour before we actually took off. Quite honestly, I was really just hoping for a manageable level of motion sickness on my helicopter ride, but I experienced absolutely none. Plus, I felt fine afterwards without any grogginess or side effects because this new version of Dramamine really is completely non-drowsy! The recommended dose contains a clinically tested dose of ginger, so there's no guesswork like with ginger candies or gums , and it's safe for everyday use because there are no crazy chemicals. I could not believe how well it worked. It sounds like an exaggeration, but Dramamine Non-Drowsy Naturals is literally a game-changer for me. I am so susceptible to motion sickness that, when I was younger, my parents would make sure to bring at least one plastic bag on every road trip with me. I can't even look at my phone while my husband is driving on many of Oahu's roads. Now I know I can take Dramamine Non-Drowsy Naturals and feel totally fine. I am so excited!
Because I wasn't trying desperately to avoid using the courtesy bag, I saw all sorts of amazing things on this helicopter ride. If you've been to Kaua'i, you know it has several famous movie filming locations. We flew over the river Indiana Jones used to make his escape at the beginning of Raiders of the Lost Ark.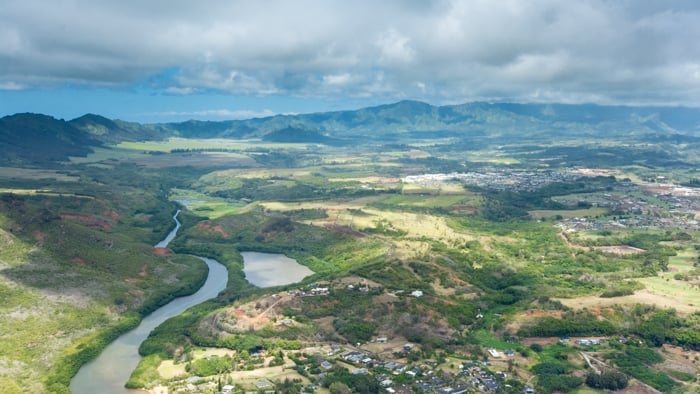 I saw the waterfall from Jurassic Park.
We flew over Honopu Arch, which has been in numerous movies including the 1976 King Kong. It is so large that a helicopter few through it in James Bond, the Man with the Golden Arm! You can't see through the arch, but it's under the narrowest point of that piece that looks like a thumb between the two beaches. Oh, and part of Pirates of the Caribbean: On Stranger Tides was filmed on Honopu Beach.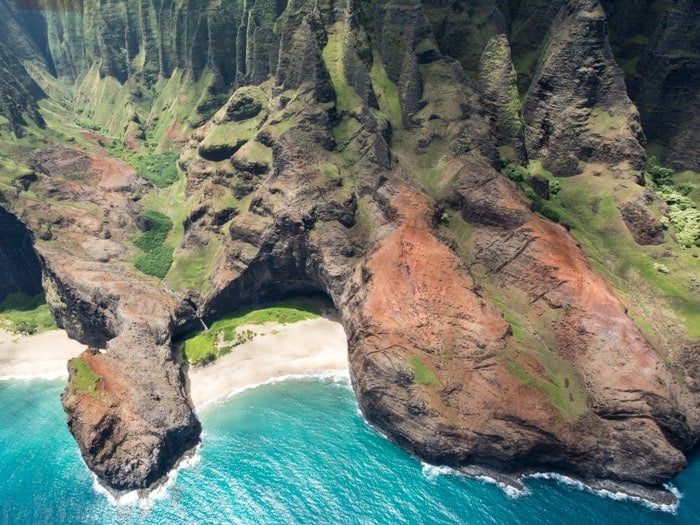 Hidden behind these rain clouds is the summit of Mount Waiʻaleʻale. During many years it the wettest place on Earth.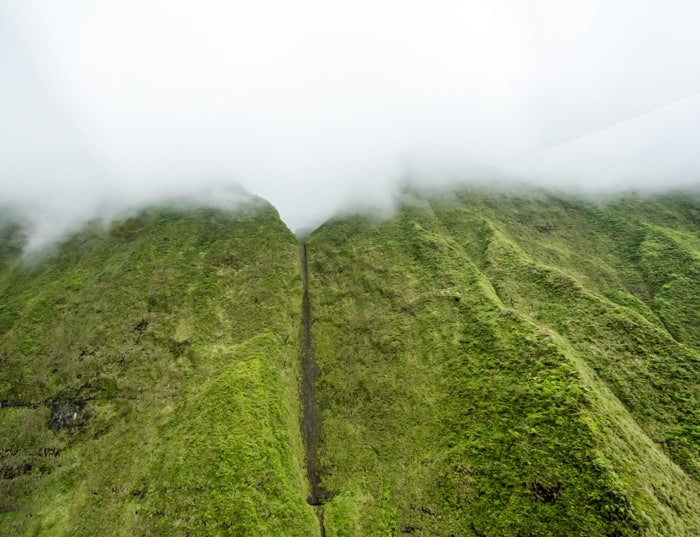 And, best of all, I was still smiling at the end!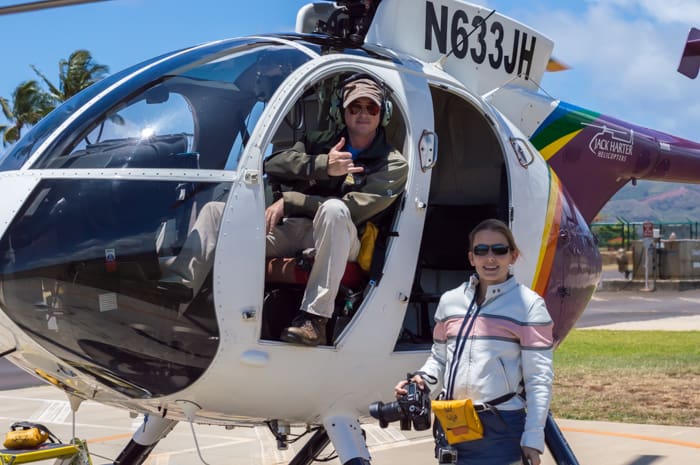 I am so thankful to have participated in the Dramamine Non-Drowsy Naturals "No More Missed Moments" Challenge and I can't wait to experience more in the future because now I know how to conquer motion sickness! If you don't want to miss any moments during your summer, make sure to stop by the Dramamine web page to get a coupon to use on your very own bottle of Non-Drowsey Naturals.
How are you with motion sickness? Have you ever had to skip something because you were afraid you would get motion sickness or missed out on what was happening because you felt ill?
I was selected for this opportunity as a member of Clever Girls and the content and opinions expressed here are all my own.