This post may include affiliate links, which means I may make a commission on purchases made through these links at no additional cost to you.
Okay, okay, maybe these biscotti are only low-fat compared to other desserts, and they still have plenty of sugar and flour, but with a meager three tablespoons of butter I think they're a lot 'better' than other cookies! They also, incidentally, take longer to prepare because they require two periods of baking. That doesn't make them difficult, though – they're actually very easy to make.
I decided to bake up a batch of biscotti because Papi Chulo kept buying boxes of half a dozen at the store for more than it would cost me to make about three times that many. Plus, these have a lot more flavor than the store-bought variety, no preservatives, and are easy to customize! I chose to use tart dried cherries (not Craisins – actual dried cherries), but you can use whatever dried fruit you'd prefer. If you've never had cherry biscotti, though, I think you should give it a try because the tart fruit offers a fantastic contrast to the cookie's sweetness. These were such a hit at home that Papi Chulo brought several to his Captain the other week!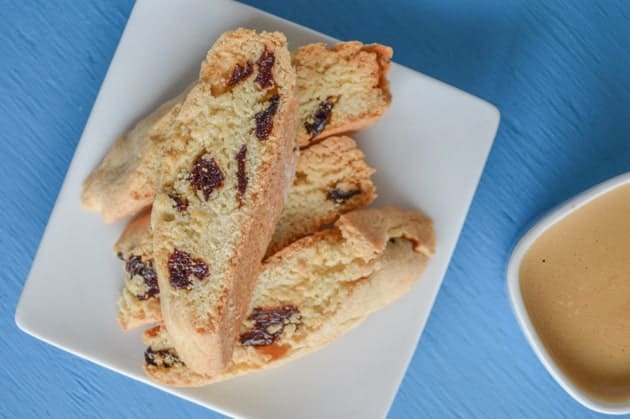 I made these biscotti with my awesome new KitchenAid standing mixer. They were the first thing I used my Christmas present for, in fact, but it's very possible to make them by hand instead of with the mixer. You can also use a combination of a handheld mixer and a spoon or spatula, too. The recipe, as given, makes about 18-24 biscotti. Actually, in all, I used three Christmas presents while making this recipe: my new mixer, a great Cook's Illustrated recommended baking sheet I got from my dad, and a Tovolo silicone spatula from last Christmas! I'm so lucky to have loved ones who understand me and give me presents I will use. =)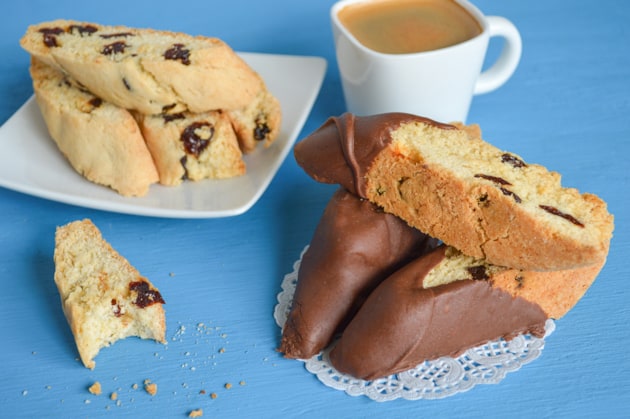 Low-Fat Tart Cherry Biscotti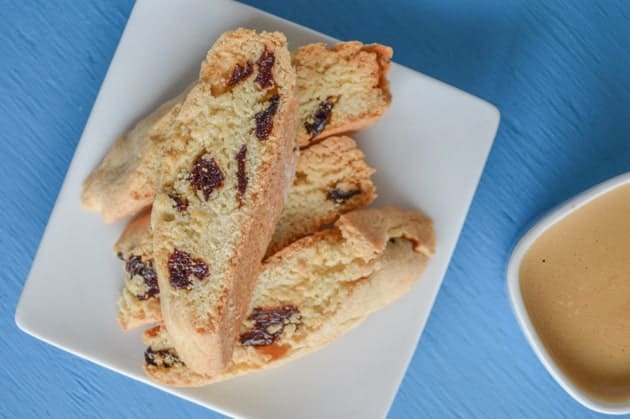 Total Time
1 hour
5 minutes
Ingredients
1 teaspoon of baking powder
2 cups of all-purpose flour
1/4 a teaspoon of salt
4 tablespoons unsalted butter, room temperature
1 cup of white sugar
2 eggs
1/2 a teaspoon of vanilla extract
1 cup of dried tart cherries
Instructions
Adjust an oven rack to the middle position, preheat your oven to 350 degrees Fahrenheit, and line a baking sheet with parchment paper.
Combine the baking powder, flour, and salt in a medium bowl and whisk to combine.
Using the paddle attachment, beat the flour and sugar and butter together in the bowl of your standing mixer until they're combined and smooth. If you don't have a standing mixer, you can do this with a hand mixer, or even by hand.
Add the eggs in, one at a time, and beat until combined, and then beat in the vanilla extract.
Add the dry ingredients and mix until just combined. If working by hand, fold the flour mixture in with a large spoon or spatula.
Fold in the dried cherries.
Divide the dough into two equal portions and, using floured hands on a lightly floured surface, roll each half out into a 'log' shape. The loaves should be roughly 12-13" long and 2" wide. Pat each loaf slightly to flatten it a little, but don't press it all the way flat.
Place both logs on the prepared baking sheet, making sure to place them about three inches apart, and bake on the middle oven rack until they turn a golden color and are cracking slightly on top. This should take 30-35 minutes.
Remove the partially baked loaves from the oven and allow them to cool for about 10 minutes.
Carefully remove the loaves to a cutting board and use a serrated knife to cut them, diagonally, into slices about 3/4" thick.
Place the cut cookies back on the baking sheet with one cut side up and the other cut side down.
Lower the oven temperature to 325 degrees Fahrenheit and replace the baking sheet on the oven's middle rack.
Bake for 7 minutes, flip each biscotti so the previously down side is now facing up, and bake for an additional 7 minutes, or until they are golden brown.
Transfer the biscotti to a wire cooling rack as immediately as possible.
Allow the cookies to cool completely and then enjoy!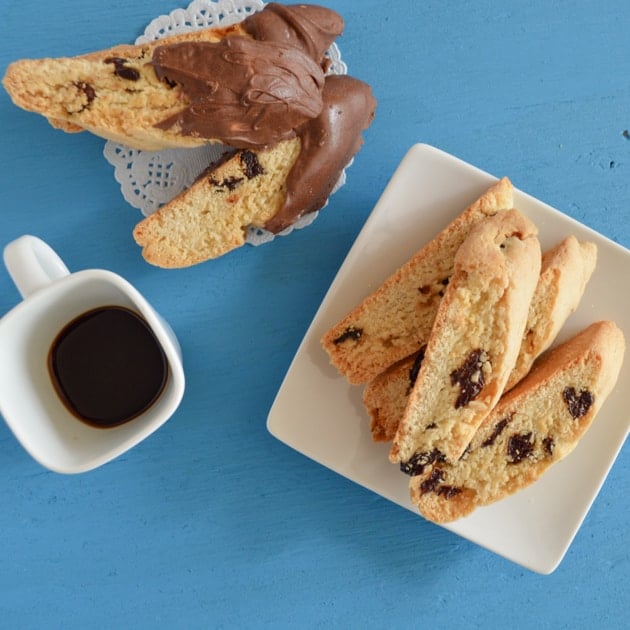 Okay, are you ready to get naughty? If so, you can dunk the cooled biscotti in chocolate! Simply heat the chocolate in a double boiler on your stove, swirl an end of side of each biscotti in the chocolate, and then place it on a fresh sheet of parchment paper to cool. Of course, this kind of blows the whole 'low-fat' thing out of the water, but I enjoy adding chocolate to about half of each batch.
I recommend using a high-quality milk chocolate like Ghirardell because sweetness goes well with the tart cherries. Quite honestly, I actually like the biscotti more without the chocolate, and they can store in an airtight container for about two weeks without it (The chocolate usually makes the biscotti go a little soft after a few days of storage), but my man likes the extra chocolate and it is a nice treat every once in a while.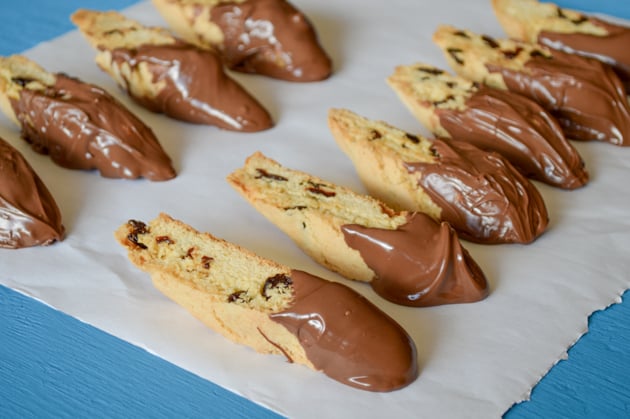 Of course, they'll only store for two weeks, anyway, if you haven't eaten them all by that point in time! I think they're particularly delicious with coffee or a cup of black tea. Papi Chulo thinks they're appropriate for breakfast and actually dunks them in his expresso. No matter what you choose to enjoy your biscotti with, I'm confident you'll enjoy them. =)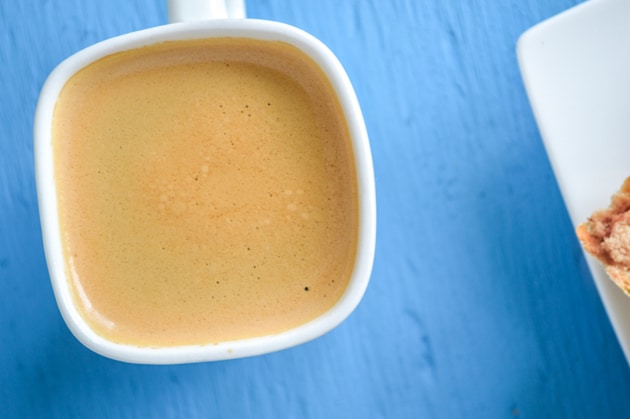 What's your favorite flavor of biscotti?