This post may include affiliate links, which means I may make a commission on purchases made through these links at no additional cost to you.
You know how you don't go see the sites in your town until company comes to visit? This post is a little like that. I've enjoyed eating tuna for a long time. I was always pretty excited when my dad packed tuna salad and crackers for my school lunch, and I have been known to buy canned tuna in bulk. I love tuna salad for lunch, or even supper, especially when Papi Chulo is at work and I want a "real" meal without doing lots of cooking for just one person. In spite of all that, I've literally never posted a canned tuna recipe! That's why I was so excited to be accepted as part of Bumble Bee's "New Year New You" campaign to write and post a recipe using their tuna. I finally had that company coming to town as motivation to see the sites! Or, rather, to share one of my favorite quick lunchtime treats: avocado tuna salad.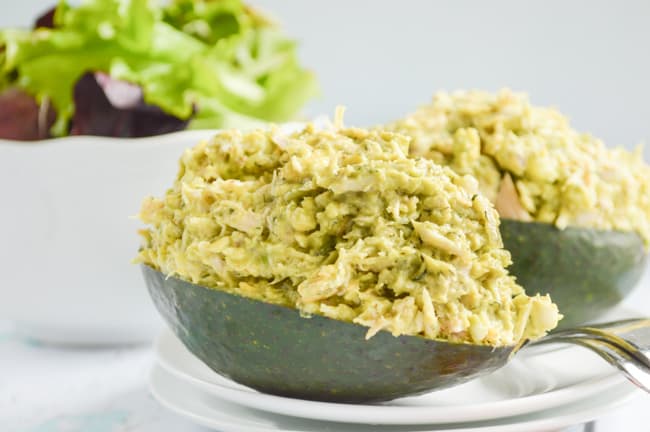 I think tuna is pretty awesome, and it's a fantastic "gateway food" for anyone who wants to eat healthy but is worried about time or money. It's pretty inexpensive, lasts a long time in your panty, and most tuna salads are quick and simple to make! It's also easy to bring to school or work because of those neat little pouches of tuna they make that don't require a can opener to break into. It's a great source of lean protein, and it has a helpful quantities of several important vitamins. What it doesn't have, however, is fiber.
Enter the avocado.
Avocado has plenty of "good" fats, a healthy measure of fiber, and its own set of vitamins. Combine tuna and avocado in one dish and you have a protein-packed dish with filling fiber and an array of nutrients! Throw in a few bonus veggies and spices and you create this tasty, Paleo-friendly avocado tuna salad that's fantastic by itself, on leafy greens, or (if you're not-so-Paleo), on bread or crackers. I think it's the perfect way to promote the "BeeHealthy" initiative!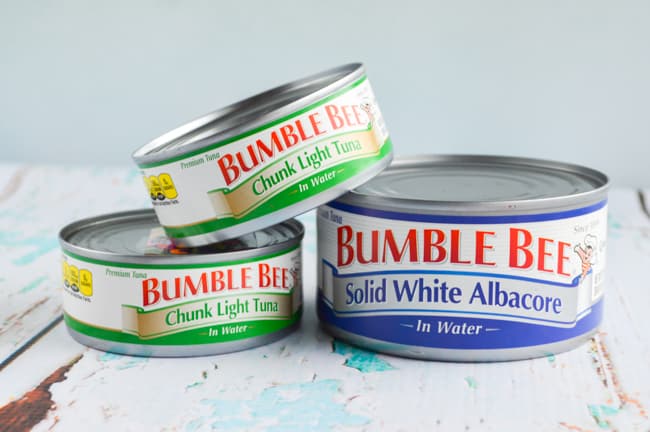 I like to use shallot, but you can substitute red onion, instead. Shallot has a milder flavor, though, and won't leave you with the same level of super-vicious "onion breath" after lunch.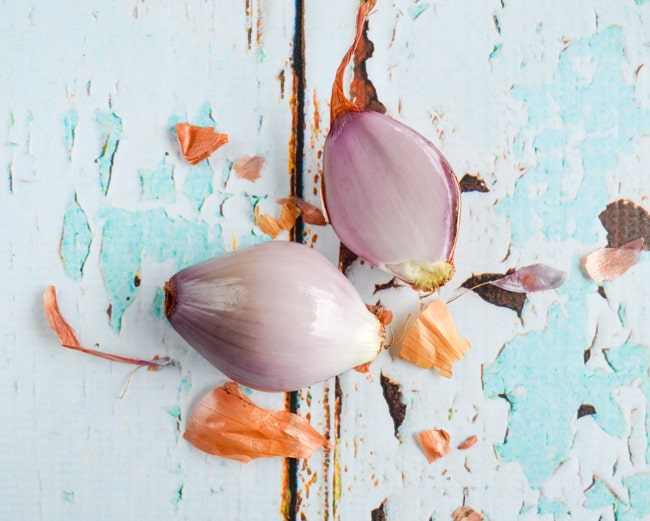 You can't really substitute the fresh lemon for bottled lemon juice, though. At least, not if you want your tuna salad to stay pretty and green instead of brown and oxidized! In my experienced, bottled lemon juice doesn't prevent oxidation of apples, bananas, avocados, etc. the same way fresh does.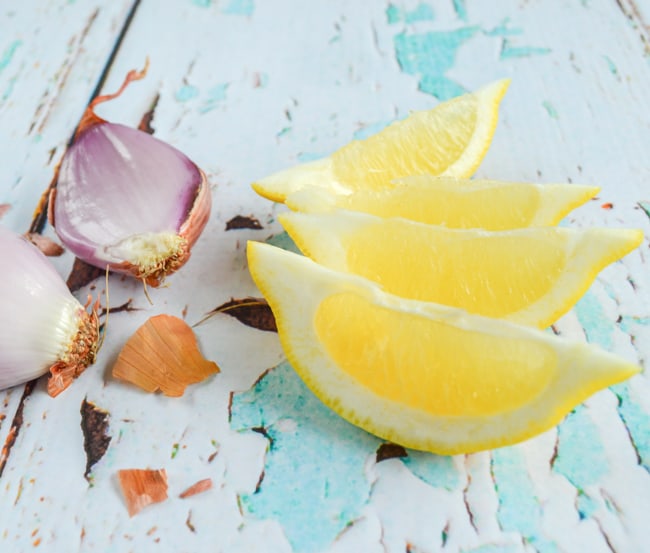 In addition to adding lemon juice to the mashed avocado, you can also swirl some around in the avocado shells to keep them pretty for presentation, if you'd like.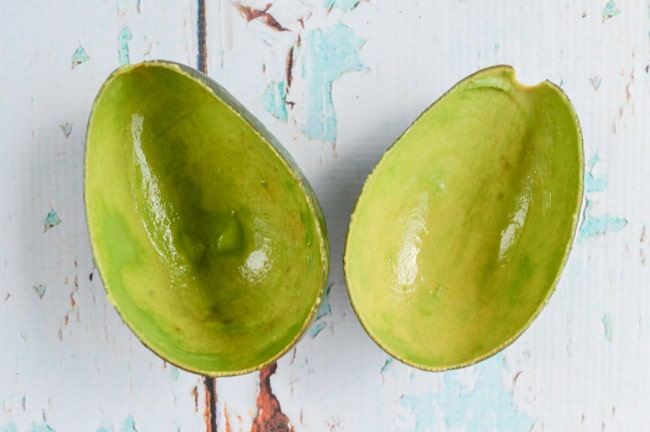 Ready to see the recipe for this inexpensive meal that's easy to whip up in minutes and healthy to boot? I thought so. =)
Yield: 2-4
Paleo Avocado Tuna Salad with Bumble Bee New Year New You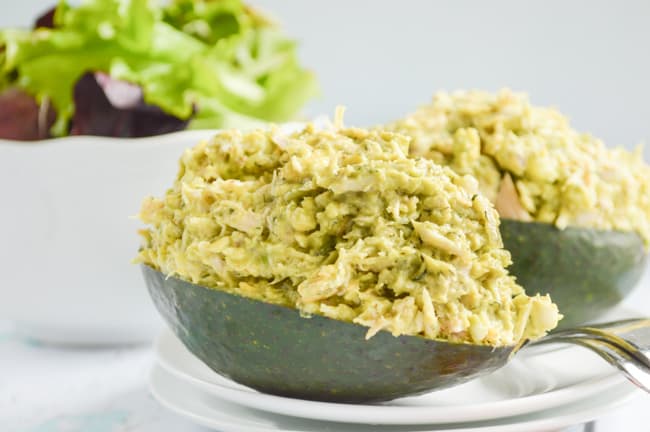 Prep Time 5 minutes

Total Time 5 minutes
Ingredients
1 ripe avocado
1 "large" can of tuna or two "small" cans, fully drained.
1 fresh lemon
1 large shallot bulb, minced
2 teaspoons stone ground or deli mustard (something nice, not just the plain yellow stuff!)
1 teaspoon dried dill
1/4 teaspoon freshly cracked pepper (or to taste)
1/8 teaspoon salt (or to taste)
Instructions
Cut the lemon into 6 or 8 slices.
Cut the avocado in half length-ways, discard the seed, and scoop out the flesh. Place the avocado in a medium bowl and make sure to scrape the shells as clean as you can inside.
Squeeze half the lemon slices over the avocado in the bowl and one slice into each of the emptied avocado shells. Swirl the juice around inside the avocado shells or use your fingers to totally coat the inside of each shell with lemon juice.
Use a fork to mash up the avocado in the bowl. It's okay to leave some chunks. but make sure at least some of it is fully mashed.
Add the shallot, mustard, dill, pepper, and salt to the avocado and stir to combine.
Stir in the drained tuna.
Adjust with more salt, pepper, etc. if you'd like - I'll admit that I tend to go light on the salt and you may want to add more!
Pack into the avocado shells, serve on lettuce, or however you desire.
Enjoy!

See how quick and easy that is? Plus this avocado tuna salad is both healthier and less expensive than most lunches you can buy. Because of the lemon juice, you can even make it in the morning and be greeted with green goodness at lunch time (instead of an unappealing amount of oxidation). Hooray!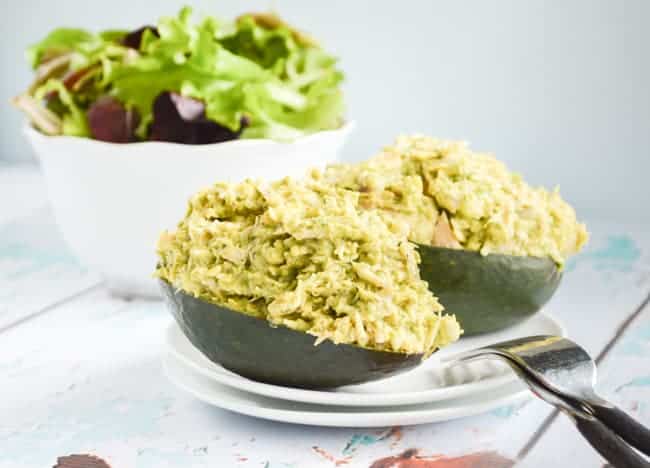 I totally understand if avocado isn't your thing, so if you're looking for other quick, easy recipe ideas, make sure to check out the Bumble Bee website for more.
Do you enjoy tuna or tuna salad for lunch? What's your favorite way to use Bumble Bee tuna?
I was selected for this opportunity as a member of Clever Girls and the content and opinions expressed here are all my own.