This post may include affiliate links, which means I may make a commission on purchases made through these links at no additional cost to you.
We had Thanksgiving with friends this year and the hostess made really great sweet potatoes. I'm not a huge sweet potato fan, and I especially detest yams.
Most sweet potato casseroles I've seen are covered with marshmallows and so overwhelmingly sweet I just can't eat more than a bite or so.
The sweet potato casserole my friend made was not ridiculously sweet and was super delicious! I realized that, with a few quick changes, it could be Paleo and even more tasty, so you know I had to make my own version.
This Paleo sweet potato apple cranberry casserole with a nut streusel topping is a scrumptious, healthier alternative to the usual holiday casserole suspects!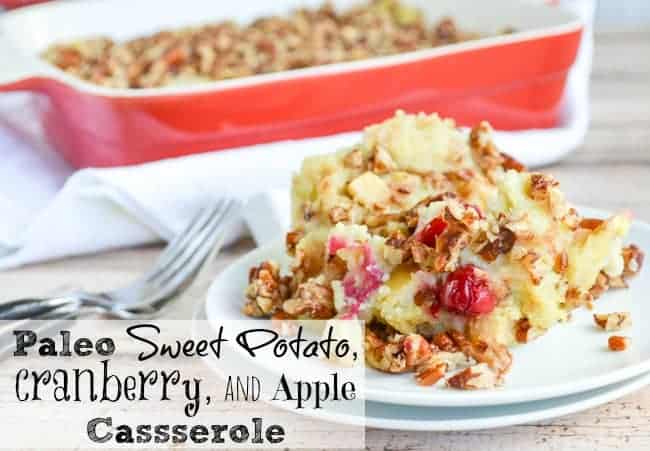 Yes, those really are sweet potatoes. I hate yams (which are actually totally different from sweet potatoes, even though a lot of people use the words interchangeably), but have discovered I actually like white sweet potatoes.
Most of the sweet potatoes available locally are white Japanese or purple Okinawa sweet potatoes, and I like both options a lot more than the 'normal' orange sweet potatoes, mostly because they're not as overwhelmingly sweet.
Don't let a lack of white sweet potatoes stop you from making this – just use whatever is available where you live! The original recipe from my friend actually used canned sweet potatoes, so you could even use those, in a pinch.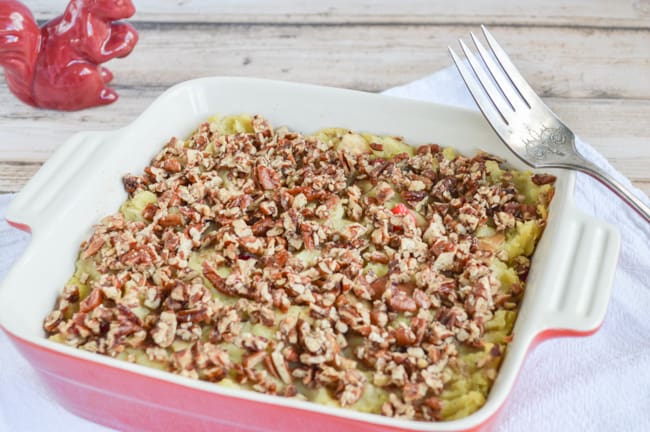 In addition to swapping canned sweet potatoes for freshly-cooked ones, I also substituted several other ingredients to make this Paleo-friendly.
The 'original,' had flour, oats, butter, cream cheese, and lots of brown sugar. It was definitely more of a "dessert" by my reckoning! I don't feel bad about eating this casserole as a side or even a main dish, though!
Even though I added a little maple syrup to the topping, I didn't put any added sweetener in the potatoes.
The cranberries add a definite tang, so if you're worried about it being too tart, you can add a tablespoon or two of maple syrup to the potatoes, too. If you're used to eating foods without gobs of added sugar, you really shouldn't need to, though! I hope you enjoy this sweet potato apple cranberry casserole as much as we did!
sweet potato apple cranberry casserole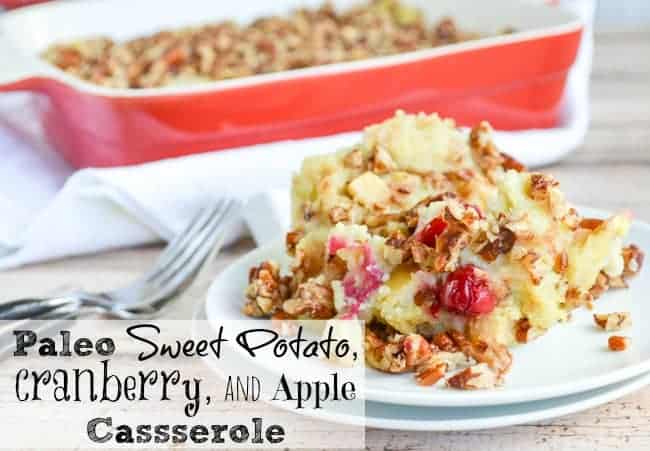 Prep Time 15 minutes

Cook Time 30 minutes

Total Time 45 minutes
Ingredients
For the casserole
~2 pounds of sweet potatoes (it's better to be a little over than a little under)
1/2 a cup of coconut cream, plus a little extra as needed
1/2 cup cranberries, washed and picked over for stems
1/2 cup apple, chopped into ~1/4" pieces (choose a crisp apple, not a mealy one!)
1/4 teaspoon cinnamon
A tiny pinch of cloves (less than 1/8 tsp)
For the streusel topping
1 cup pecans, chopped fairly fine
2 tablespoons coconut oil
1 tablespoon real maple syrup
1/4 teaspoon cinnamon
1/8 teaspoon salt
Instructions
Preheat your oven to 350º Fahrenheit
Wash/scrub your sweet potatoes. Place them in a microwave-safe dish and cover them with a moistened paper towel. Microwave for 5 minuets. Flip the potatoes so the opposite side is facing up, rewet the paper towel, and microwave for an additional 5 minutes, or until they are tender when poked with a knife.
Allow the potatoes to cool slightly and then peel them. The peels should come off easily!
Place the peeled sweet potatoes in a bowl and mash them with the 1/2 cup of coconut cream. They should be moist, but not wet because the cranberries and apples will add a little extra moisture when the casserole bakes. Add a spoonful of extra coconut cream at a time, as needed, to moisten the potatoes.
Carefully stir in the cranberries, apple, cinnamon, and cloves.
Transfer the sweet potato mixture to an 8x8 casserole dish and spread evenly.
Combine the chopped pecans, coconut oil, maple syrup, cinnamon, and salt in a small bowl.
Sprinkle pecan mixture evenly across the mashed sweet potatoes.
Bake until the nuts are starting to brown/caramelize and the cranberries you can see have started to split open - about 30-40 minutes.
Serve and enjoy! Leftovers store well when covered and placed in the refrigerator and are good reheated or cold.

If you're like me, you may have difficulty keeping yourself from eating the pecan topping before it even makes its way to the casserole dish. It is so delicious!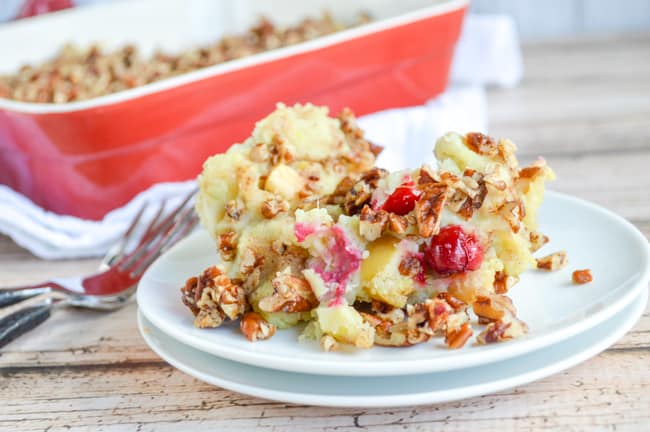 The tart cranberries pop in your mouth, the apples add both some texture and a bit of sweetness, and the pecans lend the whole dish a bit of crunch. It's an amazing combination of flavors and textures that's great hot or cold as leftovers.
What's your favorite way to cook sweet potatoes?