This set of 0-20 number line free printables is in budget-friendly black and white. The set includes a page with 4 number lines to cut out, a bulletin board 0-20 number line printable, and a number line printable worksheet for your child or student to label. Use these number lines in your classroom, in your homeschool lessons, or for extra after school practice!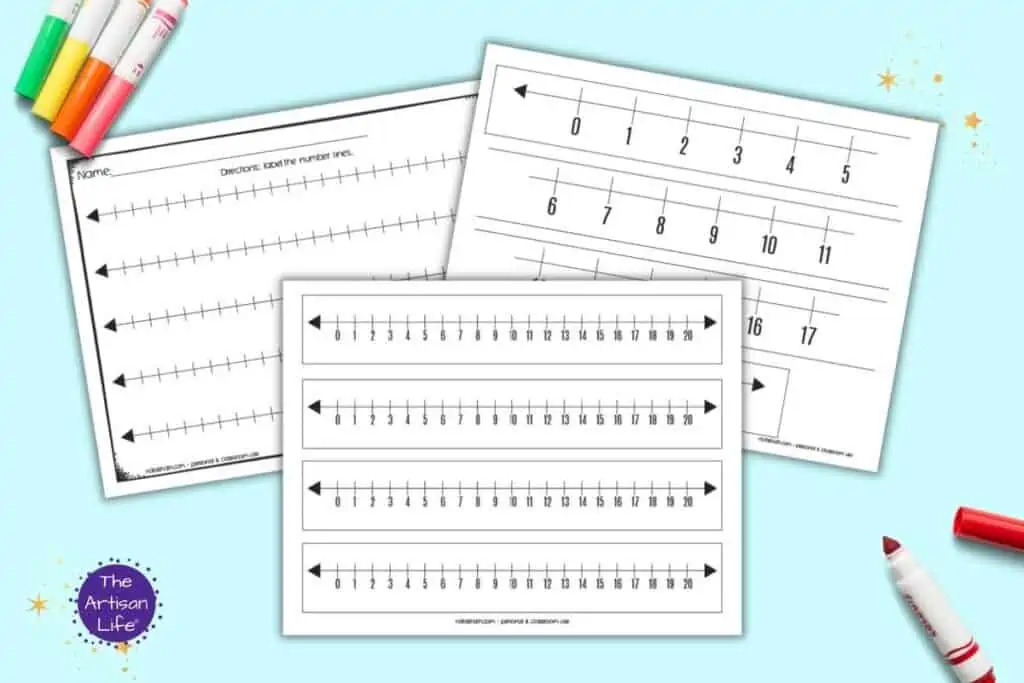 This post only includes 0-20 number lines in black and white. Please see this post for 1-10 number line printables.
This post may include affiliate links which means I may earn a commission on qualifying purchases at no additional cost to you.
Materials needed for number line printables
We're not going to take an in-depth look at using number lines in this post. Instead, I wanted to give you a couple of quick tips and suggestions for how to prepare use your printable number lines.
Materials you may want include:
You will also need clear tape to assemble your bulletin board number line.
And here are a few ideas and suggestions for ways to use your number line printables:
The set of four 0-20 number lines on one page can be laminated, cut out, and used in your math center or as bookmarks.
To assemble the bulletin board number line, cut the three sections out along the lines and tape them together. They can also be mounted on poster board, held in place with thumb tacks, or stuck up with poster putty.
The bulletin board classroom number line can be laminated for durability.
The number line worksheet can be used for 1-20 or for other number sets like skip counting by 2s, 5s, 10s, etc.
0-20 number line printable PDF download area
Here's what you're getting in your free PDF:
These number line printables are licensed for personal and personal classroom use. You are not licensed to reattribute the files or print outs to others for their personal use. Please refer your friends and colleagues to this post so they can download their own copies!
If you agree to this license, you may click below:
Your link text