This post may include affiliate links, which means I may make a commission on purchases made through these links at no additional cost to you.
Papi Chulo and I assumed from day one that we wouldn't be able to spend our first anniversary together. In fact, we knew it so early on that we intentionally celebrated our one month anniversary! It's okay, though – we've decided to officially call ourselves newlyweds for the next year, too.
So what's all that got to do with a quinoa, sweet potato, and kale skillet? Well, instead of celebrating our anniversary with my husband, I ended up enjoying a nice brunch with my mom and sister. I ordered a dish that included sweet potatoes, kale, and quinoa and I loved it! I haven't seen anything all that similar online, so I decided to make my own version of the dish and share it with y'all.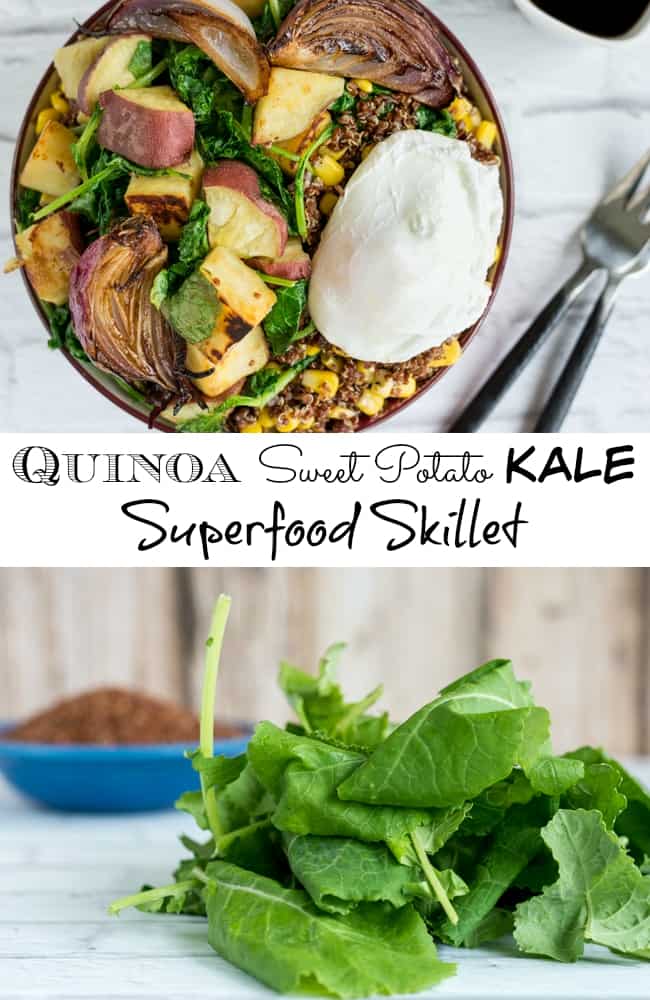 This quinoa skillet is a great choice for breakfast, lunch, or dinner. It does take about an hour to prepare, but most of that is not active time. The meal has lots of vitamins and a great dose of fiber, plus quinoa is a complete protein! That's pretty cool. For even more protein, you can add a poached or fried egg. Alternatively, you can leave the egg off and you'll have a tasty, vegan-friendly dish!
I promise you that my potatoes are actually sweet potatoes, they're just a milder variety that happens to not be bright orange. I really prefer them to the usual suspect-style orange sweet potatoes, but any type of sweet potato will work. You can also use whatever variety of quinoa you prefer – it comes in all different colors, too!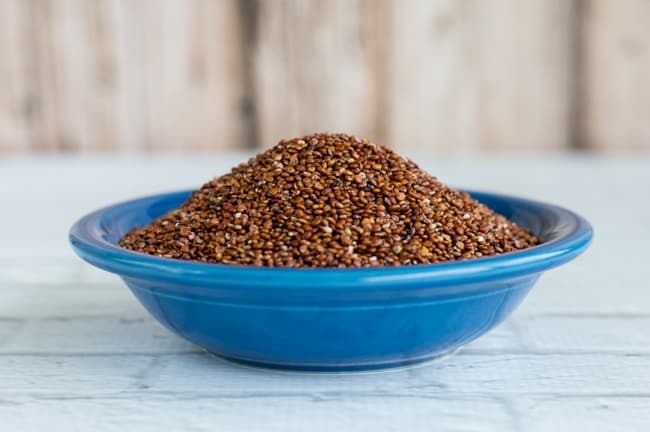 You also have some kale choices. I love using baby kale because I don't have to cut it up, but you can use any kind of kale. I also enjoy using red kale (as shown in this kale cranberry salad recipe) because it is more tender than "normal" kale. If you're using full sized leaves, just make sure to cut the stems out and roughly chop the leaves before adding them to the skillet.
As a final note before getting to the recipe – I didn't add garlic or many other seasonings because I wanted the natural flavors of the other ingredients to shine through. Feel free to add other herbs and spices to make the dish more bold if you can handle that at breakfast! Don't worry, the onions do not make this dish overly pungent. By the time they're cartelized, they're sweet and tender. Because I know some people are not big on onions (ahem, Papi Chulo), this recipe only calls for one onion. You can use multiple onions if you're all fans!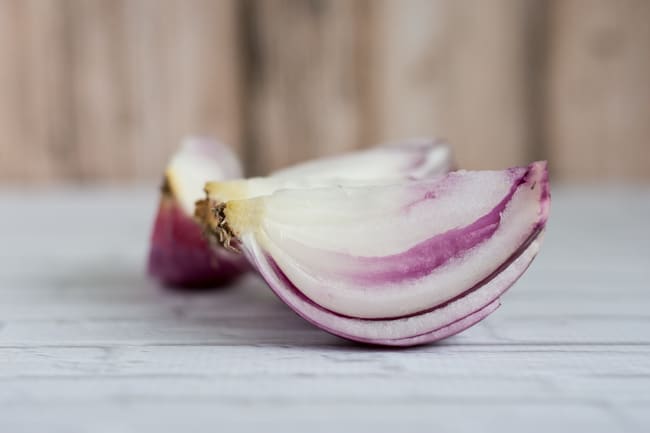 Yield: 4
Quinoa Sweet Potato Kale Superfood Skillet Recipe - Vegetarian Friendly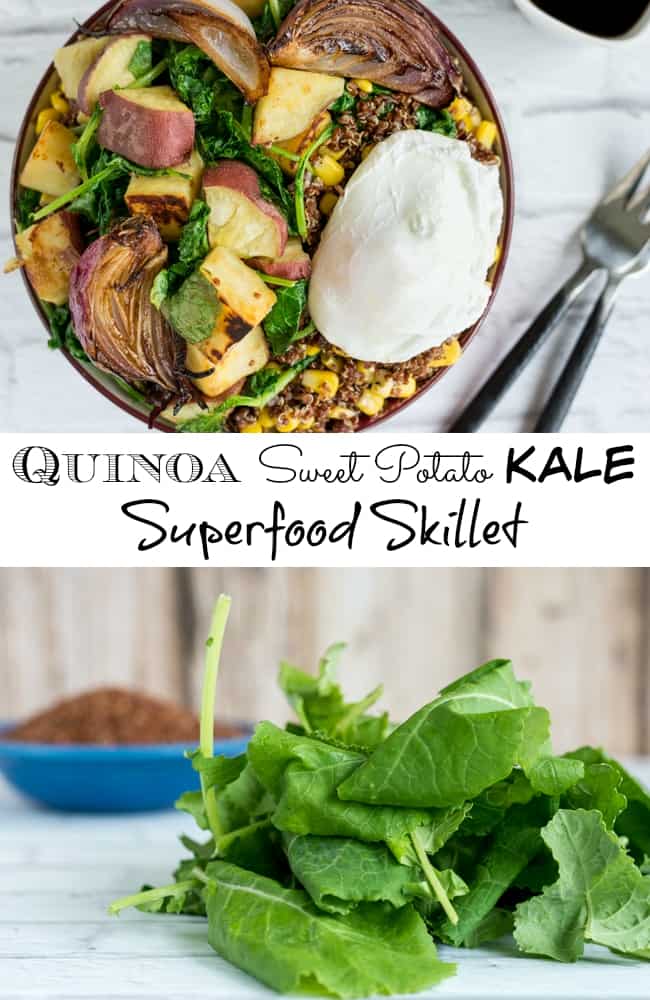 Cook Time 1 hour

Total Time 1 hour
Ingredients
2 medium sweet potatoes
1 medium/large red onion
1 tablespoon olive oil
1 tablespoon balsamic vinegar
1 cup quinoa, rinsed thoroughly
1 teaspoon dried thyme
a couple cranks of freshly ground black pepper
a pinch of salt
1/2 cup frozen or canned corn kernels
2 cups of water (or quantity directed by the quinoa package)
1-2 teaspoons olive oil
3-4 cups kale, chopped if necessary
1 egg per person, poached or fried (optional)
Instructions
Preheat your oven to 400ºF. Peel and quarter your red onion, then place the quarters on a heavy rimmed baking sheet with one flat side facing down. I use the Cooks Illustrated recommended Wear-Ever aluminum baking sheet.
Combine the olive oil and balsamic vinegar in a small bowl, then spoon the mixture over the onion quarters.
Roast the onions for about 20 minutes, carefully flip them, and roast for 15-30 minutes more, or until they are caramelized on both sides and cooked all the way through. The exact amount of time will depend on you oven, baking sheet, and size of your onion, so keep an eye on them to make sure they don't go past caramelized into "burned" territory! They should look something like this: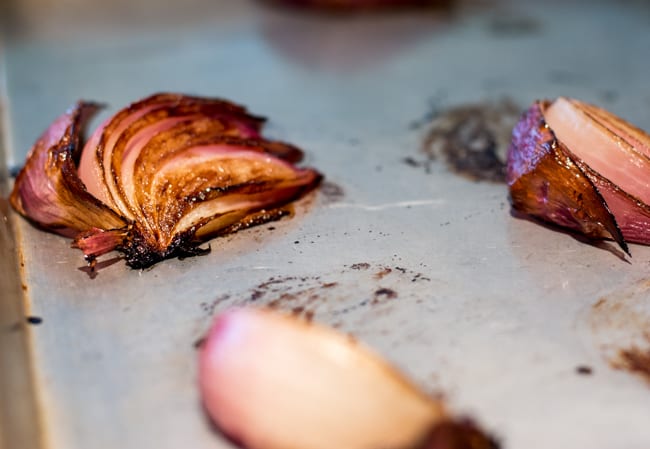 Meanwhile, wash and scrub your sweet potatoes, but don't peel them. Either prepare a pot and steamer basket or set up a large rice cooker for steaming. Using your preferred method, steam the sweet potatoes for about 30 minutes, or until they're just tender all the way through.
Once the sweet potatoes are cooked, remove them from the steamer and set them aside to cool.
When the potatoes are ready and the onions are either done or nearly so, start cooking the quinoa. Add the dried thyme, pepper, and salt to the quinoa then cook it according to package directions.
When the quinoa has absorbed all the water and the white germ is visible, about 15 minutes or as directed by the package, remove it from the heat, stir in the corn kernels, re-cover the pot and allow it to sit.
Heat the remaining olive oil in a large skillet over medium heat. Use 1 - 2 teaspoons, or whatever is needed to lightly coat the whole pan.
Cut the sweet potatoes into 1/2" - 1" chunks. Be careful because they will still be hot inside!
Add the sweet potatoes to the preheated skillet and allow them to cook, undisturbed, until the "down" side browns nicely, about 3-4 minutes. Carefully flip the chunks with tongs or a spatula and allow them to brown an additional 2-3 minutes.
Use the time while the sweet potatoes brown to prepare your eggs, if you're adding them.
Stir the sweet potatoes again, then stir in the kale. Cook until it has started to wilt. This will happen pretty quickly! Depending on your kale, this should only take a minute or two.
Add the quinoa/corn mixture to the sweet potato/kale mixture and stir to combine. Remove from heat.
Transfer the quinoa skillet to a serving bowl and top with the onion quarters and eggs, or plate each portion individually and top with an egg and onion quarter apiece.
Enjoy!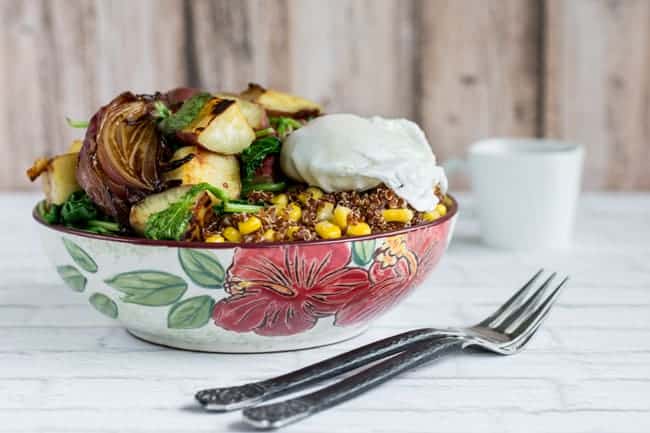 I have to admit I am not a poached egg master. I follow the Serious Eats poached egg recipe and recommend you check it out, too, if you're not familiar with the technique.
Writing up this recipe and looking at the pictures makes me want to prepare this sweet potato skillet again pronto. The rich flavors and contrasts are amazing! Plus it's fun to write a fall recipe that doesn't involve pumpkin. The weather here doesn't change much, but we may be lucky enough to visit some fall temperatures later in the season. Based on things written in recent emails, I think Papi Chulo didn't quite believe me that leaves change colors in fall until he saw it on an episode of Planet Earth. Poor guy – Charleston, South Carolina has the most changeable seasons he's ever experienced! I can't wait to show him West Virginia. =)