This post may include affiliate links, which means I may make a commission on purchases made through these links at no additional cost to you.
I love strawberries so much! They are absolutely, hands down, my favorite fruit. Where I grew up, u-pick strawberry were fairly common. You could get a basket or bucket, head out into the field, and pick strawberries so ripe you could smell them in the sun.
Grocery stores frequently have amazing deals on strawberries during peak season – last summer I got 3 pounds for $6 on the Mainland! Unfortunately, the usual price for strawberries in Hawaii is about $7 a pound. Womp-womp.
The other day at Costco they had a large container something slightly better than that per pound, and I convinced my husband to let us buy strawberries. I drew up this strawberry shortcake cupcake recipe to help us celebrate our delicious treat!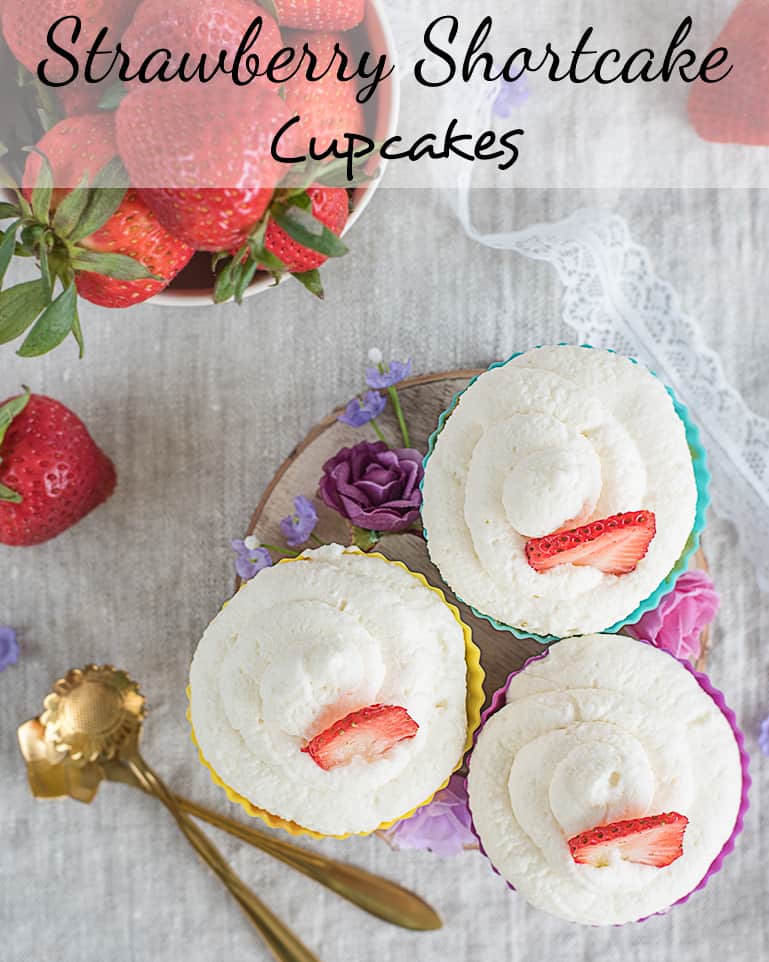 I wanted a strawberry cupcake that was more than just pink colored fluffy cake – I wanted it to be reminiscent of rich, creamy shortbread.
Many traditional shortbread recipes actually aren't that sweet (I've seen plenty recipes without any sugar in the actual biscuit portion!), but are definitely rich.
These strawberry shortcake cupcakes hold true to that tradition; they do have sugar, but about half as much as many other cupcake recipes with a similar batch size. The cupcakes are topped with a sweetened whipped cream frosting and, of course, you can always add a strawberry on top!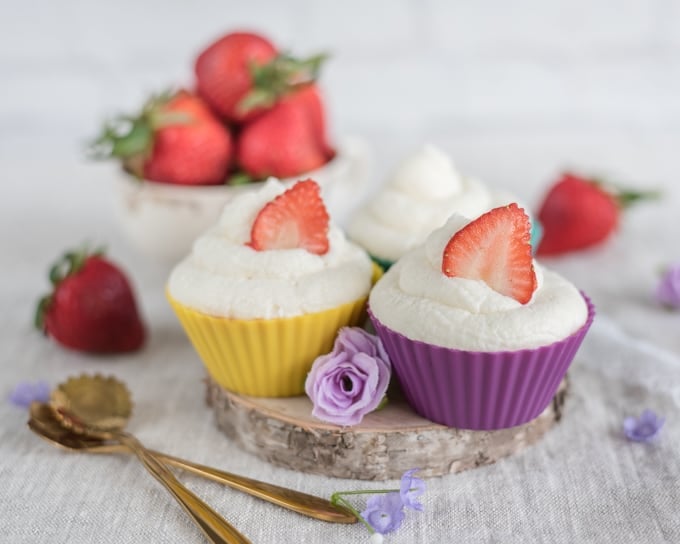 Before getting into the recipe I have to caution you about two things: 1) once frosted, the cupcakes are best eaten immediately, or at least within the same day 2) eating them all in one day may way to easy. 😉 If you aren't able to eat the cupcakes quickly, especially after they're frosted, I suggest freezing the extras. Freezing cupcakes is easy – just wrap them individually and pop in the freezer! I found a very informative blog post on how to freeze and store cupcakes on Life as a Strawberry.
Yield: 12-18
Strawberry Shortcake Cupcake Recipe with Whipped Cream Frosting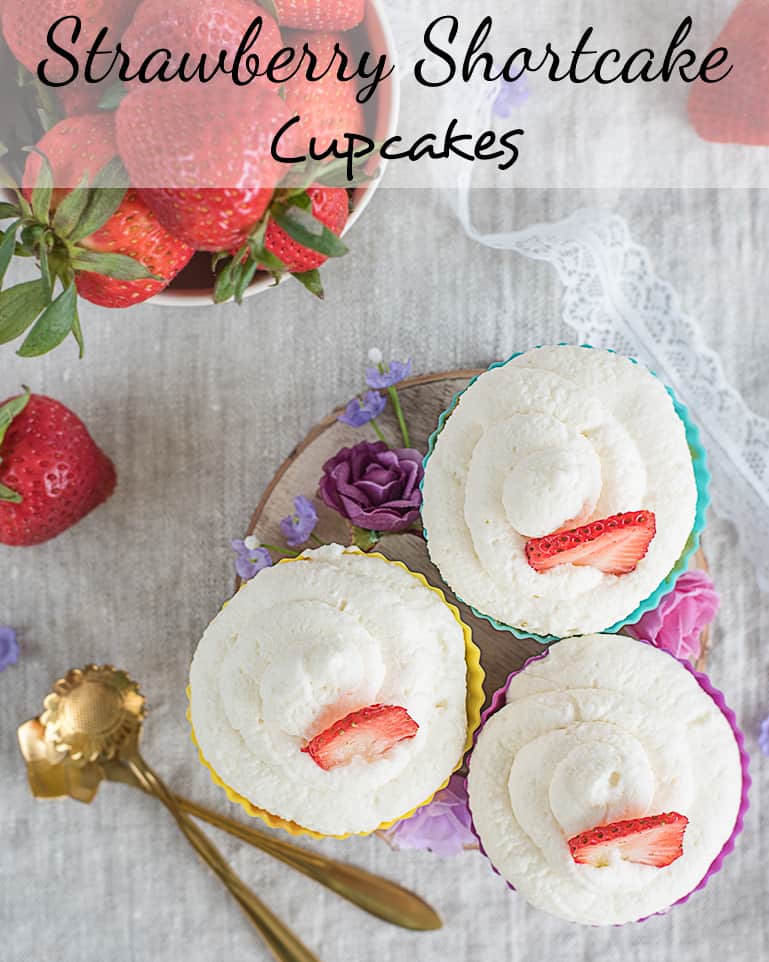 Cook Time 20 minutes

Total Time 20 minutes
Ingredients
For the cupcakes
1 teaspoon lemon juice
1/4 cup + 1 tablespoon milk (I used vanilla almond milk)
1 2/3 cup flour
1 teaspoon baking powder
1/4 teaspoon baking soda
1 egg
2 egg whites (or 1/3 cup liquid egg whites)
1 teaspoon vanilla extract
1/2 cup sugar
3/4 cup butter, cubed and at room temperature
1/4 cup plain Greek yogurt
3/4 cup chopped strawberries
For the frosting - for a generous quantity of frosting on each cupcake, double the frosting recipe.
1 cup heavy whipping cream
2 tablespoons granulated sugar or castor sugar
2 tablespoons powdered sugar (for a stiffer frosting, use 4 tablespoons powdered sugar and no granulated sugar)
1/2 teaspoon vanilla extract
Instructions
Preheat your oven to 350ºF and place a track in the middle position. Prepare a cupcake pan with liners, either paper or silicone.
Combine the lemon juice and milk in a small bowl and set aside.
Combine the flour, baking powder, and baking soda in a medium bowl.
Combine the egg and egg whites in the bowl of a standing mixer (or in a large mixing bowl, if you're using a hand mixer) and beat on medium-low to break the egg yolk and combine slightly.
Add the vanilla, sugar, and butter and beat on medium-low for about 1 minute to combine. The mixture will have a curdled appearance.
Add the Greek yogurt and mix for an additional 30-60 seconds. The mixture will still look curdled - don't worry!
Turn off the mixer and add about 1/3 of the flour mix. Beat on medium-low to combine, then add the remaining flour in heaping spoonfuls. Beat until just combined and lumps are worked out. The batter will be slightly thick - that's fine. The strawberries will add extra moisture.
Carefully fold in the strawberries with a spatula.
Spoon batter into your prepared baking cups/cupcake liners. Because the cupcakes are rich and creamy, not super light and fluffy, fill each one more than half way.
Bake until a toothpick inserted in the middle comes out clean - about 20 minutes. Because ovens and pans vary, start checking in on the cupcakes after 18 minutes.
Transfer the cupcakes, in their liners, to a wire rack to cool completely before icing.
Bake a second batch, if needed, with any additional batter.
For the frosting
Chill your mixing bowl and whisk beater in the fridge or freezer for 10-15 minutes.
Pulse the granulated sugar in a food processor or bender to make it more fine. This is optional, but helps prevent lumps and grittiness in the whipped cream.
Pour the cream into the chilled bowl and mix on medium-low it becomes frothy, then increase to medium-high or high and beat until stiff peaks form.
Add in the vanilla and sugars and beat to combine.
Store in the fridge in an airtight container until you're ready to frost the cupcakes. Remix for 10-15 seconds before frosting.
To frost your cupcakes, ether use a spatula or a piping bag - the choice is yours!
Serve cupcakes immediately after frosting. Although homemade whipped cream does not deflate like the canned variety, it will separate and weep slightly, so the cupcakes can become soggy if they sit around after being frosted. If you don't plan to eat all the cupcakes within the day, only frost the cupcakes you plan to enjoy and save the remaining whipped cream for use later.
If you'd like a generous quantity of whipped cream frosting on each cupcake, you may want to double the frosting recipe. It's entirely up to you and how many cupcakes you make. If you fill each liner generously, you'll have enough batter for 12. If you fill each liner less generously or have smaller baking cups, you may make closer to 18. As noted above, these are best eaten promptly after frosting. That probably won't be a problem, though!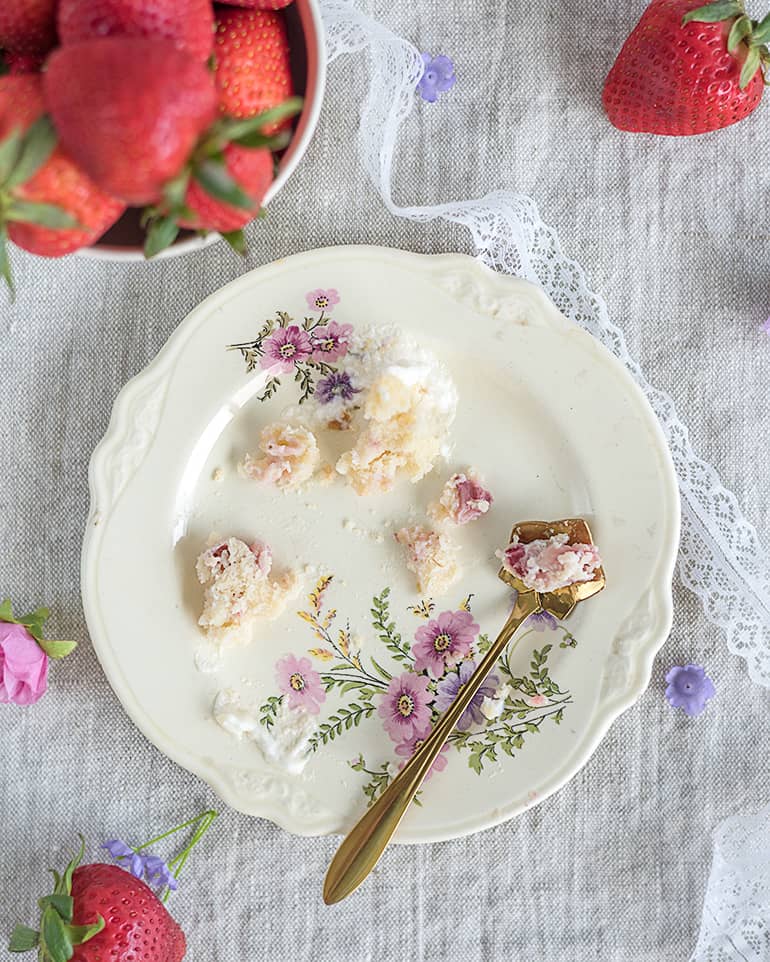 Leftover whipped cream can be stored in an airtight container in the fridge, so you can always just ice each cupcake right before enjoying it. Or, of course, you can dip your remaining strawberries in it! 🙂
I really hope you enjoy these strawberry shortcake cupcakes as much as we did!
What's your favorite seasonal fruit? Do you have any favorite produce that is typically cost-prohibitive where you live?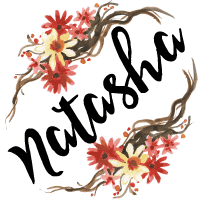 More Related Posts
[catlist search="recipe" numberposts=4 orderby=rand excludeposts=this]