I spend a lot of time outside and, in spite of my best efforts to stay hydrated and wear lotion, sometimes my skin needs a really good scrub.
Unfortunately, my favorite Bath and Body Works scrub costs $16 when it's not on sale, which leaves me a little hesitant to use it as often as I'd like!
Luckily, making your own body scrub is pretty darn easy! This invigorating eucalyptus mint sugar scrub is a 'copy cat' of my favorite B&B scrub at a fraction of the price. Hooray!
You don't have to use eucalyptus and mint, they just happen to by my favorite scents. Use both, one, neither – whatever you want! You are the one using it, after all.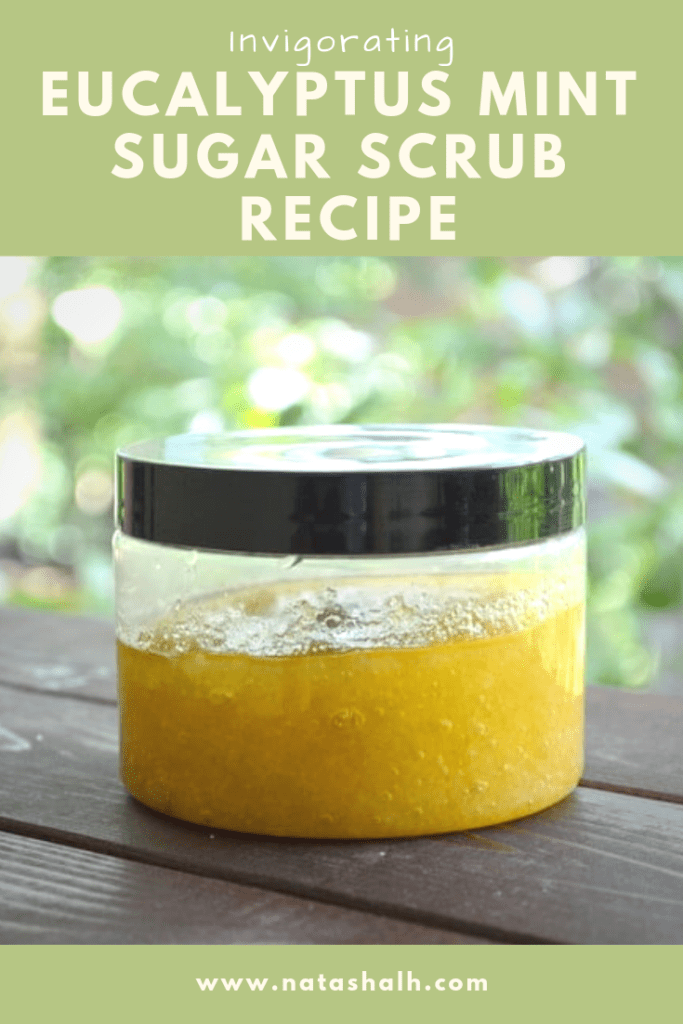 This post may include affiliate links, which means I may make a commission on purchases made through these links at no additional cost to you.
Benefits of exfoliating
Using a sugar scrub to exfoliate and moisturize is one of the ways I show myself a little love, even when I'm super busy!
Exfoliating your skin:
Removes dead skin cells, which makes your skin look fresher and softer & increases your skins ability to absorb moisturizers.
Evens skin texture.
Improves circulation.
Most people can benefit from exfoliating twice a week. This body scrub is fantastic for exfoliating your arms, legs, and feet!
Ingredients for Eucalyptus Mint Body Scrub
This recipe makes a little over 1 cup of finished product (because that's what size container I had on hand). For more volume, just double it! I used an old jar from a commercial sugar scrub, but glass mason jars work fantastically well, too.
1/2 a cup of raw cane sugar (it has big crystals and is a very light brown color)
1/2 a cup of refined white sugar
3/4 cup of extra virgin olive oil

Cut back to 1/4-1/2 cup for a less moisturizing scrub
Olive oil does give the scrub a color tint. Use fractionated coconut oil if you prefer something more clear!

1/2 a teaspoon of eucalyptus essential oil
1/2 a teaspoon of mint essential oil
Using 1/2 a teaspoon of both oils will result in a strongly scented sugar scrub. I like this because the scent lingers on my skin throughout the day and I really enjoy that!
If you want something a little less potent, scale it back to 1/4 of a teaspoon of each. However much you use, make sure to use essential oils that are okay for topical use! Be cautious with citrus oils that may cause photosensitivity.
Exfoliating Sugar Scrub Recipe
1. Pour your sugar into a small/medium bowl.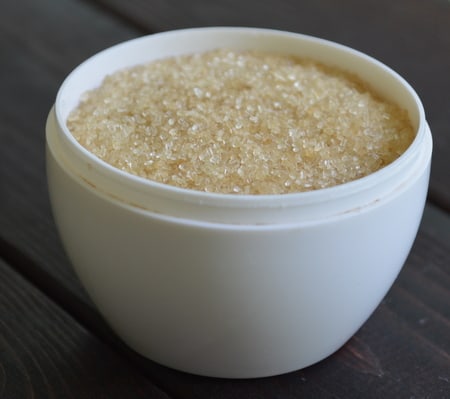 2. Add the white sugar and stir thoroughly to combine.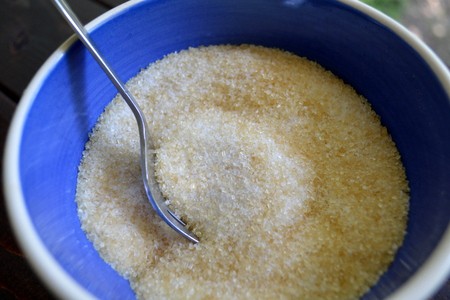 3. Add the olive oil and mix thoroughly. I find that a fork works best for this!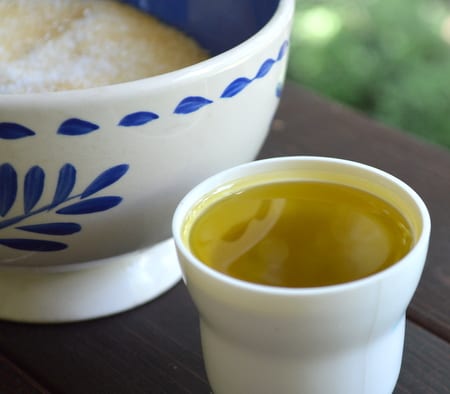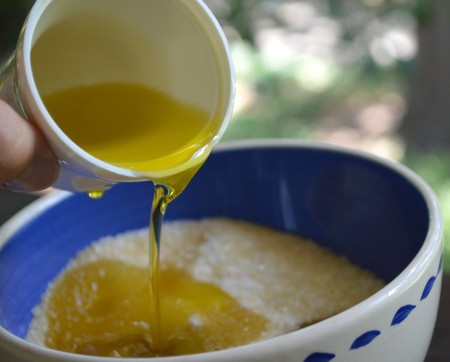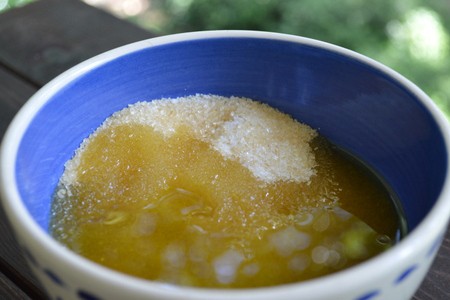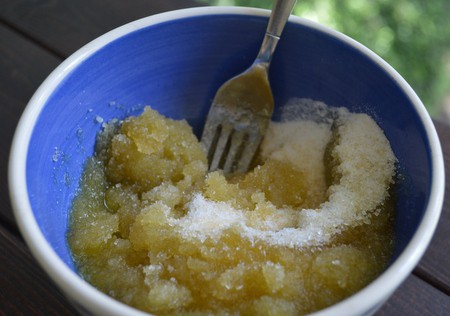 4. Mix in the essential oils.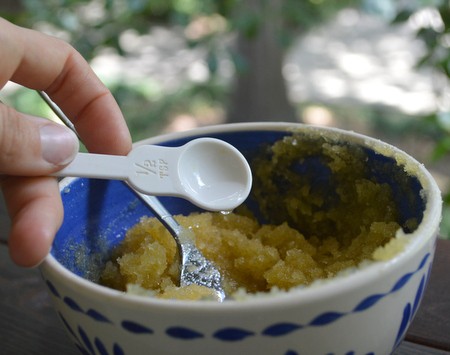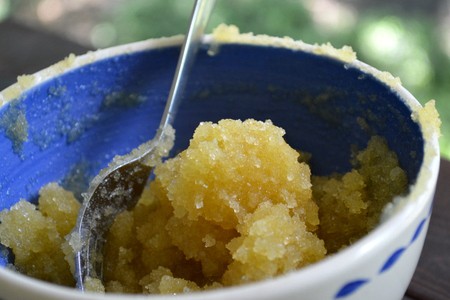 5. Transfer to your container and close the lid.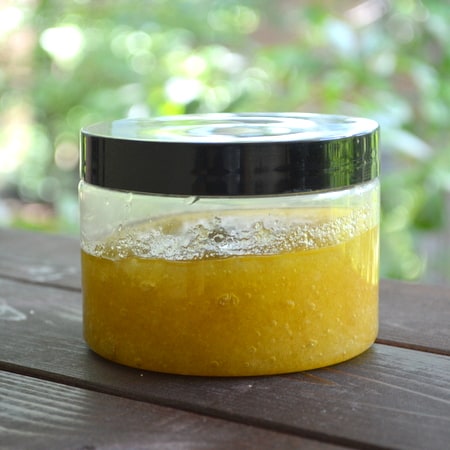 6. Use whenever you'd like!
This scrub works best on the hands and body and isn't really designed for the face.
You will notice some separation – this is totally normal. It actually happens with commercial scrubs, too, and is nothing to worry about. You can re-mix it, if you'd like, just before using, or simply scoop down into it to grab a bit of both layers.
This is a deeply moisturizing scrub, just like the commercial version that inspired it. For a more dry scrub, halve the oil.
Of course, you can mix up the scents, too, and change the ratio of raw sugar to white sugar. I like the half and half because it is scrubby without being painful, but you can make it more gentle by using a more white sugar/less raw sugar or even more powerful by using all raw sugar.
More DIY body products
If you like this invigorating eucalyptus mint sugar scrub, you'll also enjoy these homemade body products!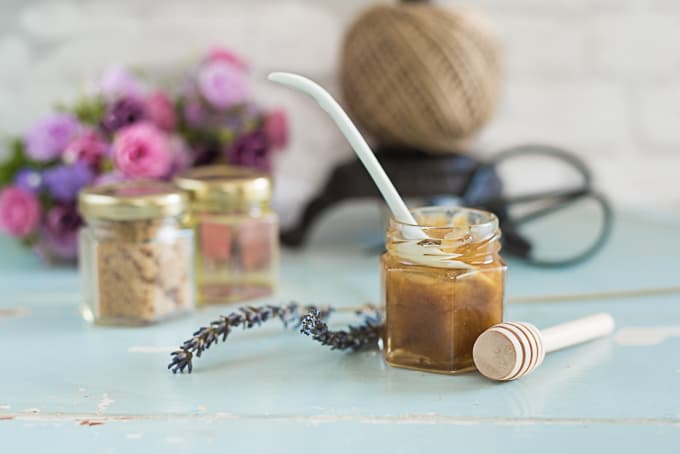 Whipped cinnamon latté sugar scrub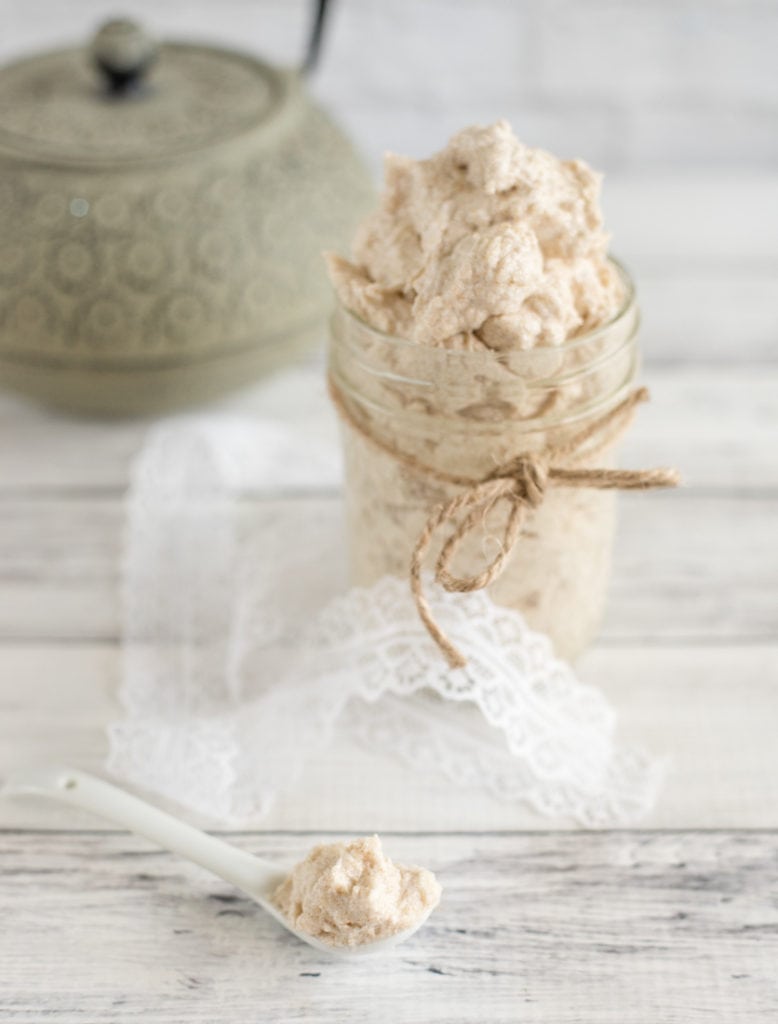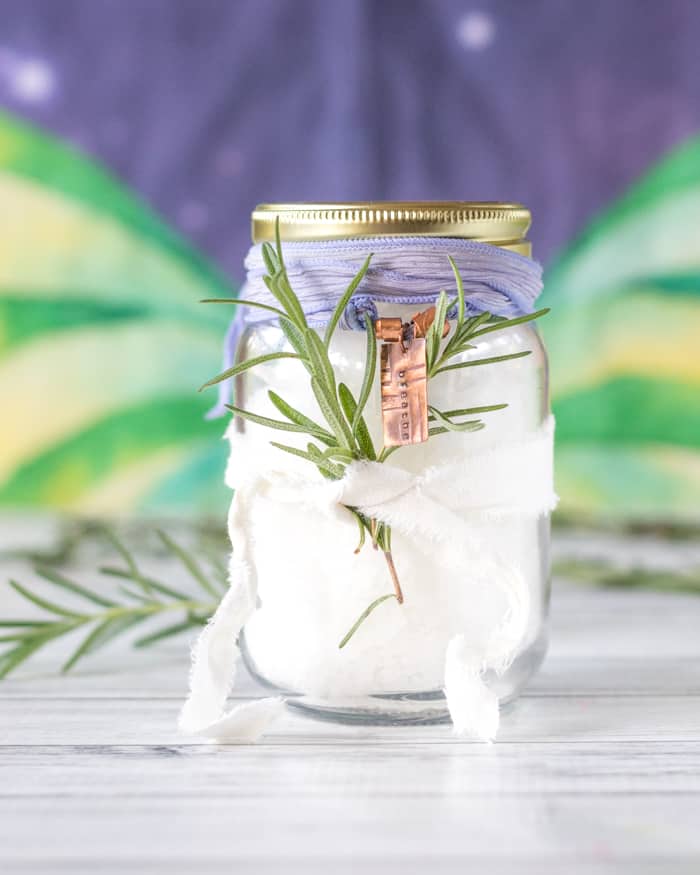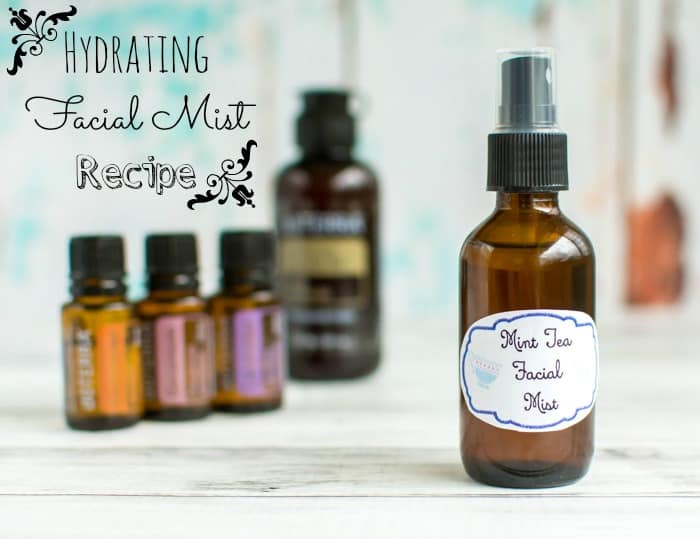 More Related Posts
[pt_view id="15d429e15n"]
[catlist search="tutorial" numberposts=4 orderby=rand excludeposts=this]