Discover the best chewable baby books and a bonus tip for how to get Indestructibles to be flat again!
The days when LG used to lie in tummy time, staring at her favorite board book or printable high contrast cards seems so long ago! It's only been about 6 months, but that's half her lifetime, so I guess it really has been a long time! A few weeks ago she started vigorously and immediately tearing into her favorite books…with her teeth.
Although I believe the mouthing books is part of the sensory experience, I also don't want her 1) destroying her favorite books or 2) eating that much cardboard. We've had to make the switch to chewable baby books for the time being. Although LG still gets to read her board books, as soon as it goes in her mouth we physically redirect her to a chewable book and say something like "you may chew on this book."
Luckily, there are several types of chewable baby books on the market today so you have lots of choices! I hope you enjoy this roundup of the best books your baby can't tear, plus a bonus tip on how to get Indestructibles looking nice again!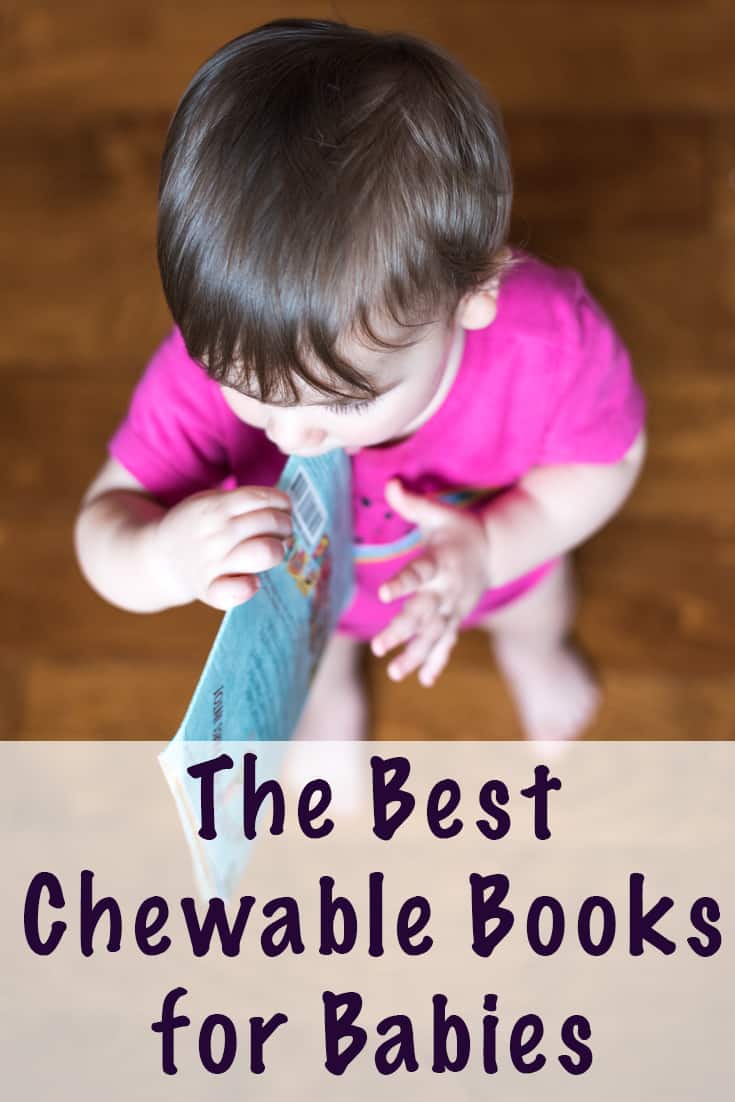 This post includes affiliate links, which means I may make a commission on purchases made through these links at no additional cost to you.
Types chewable baby books
There are four main types of chewable baby books: hard plastic, vinyl/soft plastic, fabric, and Indestructibles.
You can also find wood baby books, which can be chewable, but lots of chewing can still damage them, particularly if Baby has teeth! That's why I'm not including them in this list.
Indestructibles baby books
Indestructibles are super awesome! They're a specific product line that feels like a thick paper, but it chew proof, tear proof, and waterproof. LG has absolutely loved Indestructibles ever since she first received one at about 10 weeks old. Some of the books have words, others do not. As great as Indestructibles are, they are not wrinkle proof. Luckily, you can iron Indestructibles flat again! …as long as you're careful.
Pros of Indestructibles:
Tear proof
Waterproof
Chew proof (I've watched LG try to tear hers, unsuccessfully, with her teeth)
Washable
Lightweight and easy for Baby to hold
Soft so Baby won't hurt herself by dropping the book on a toe, playing peek-a-boo a bit too enthusiastically, etc.
Come in a variety of illustration styles so you can find one you like.
There are fun, redone classics like Old McDonald Had a Farm in Bolivia, Humpty Dumpty on the Great Wall of China, and Hey Diddle Diddle in New Orleans.
There's at least one bilingual Spanish Indestructibles!
Cons of Indestructibles
They do wrinkle and curl up to the point where they won't lay flat any more.
Although there are some redone classics (like!), you generally won't find classic baby stories.
Although some books have words, many of them don't. This is great and allows for open-ended play/discussion, but it can also be a bit mentally taxing when you're tired! Though, to be fair, many other chewable baby book options also don't have many words.
All Indestructibles are 7″x7″ and made from the same papery material so the physical sensory experience is the same for all the books.
They don't really stand up on their own, especially after a bit of "reading," so they aren't always the best option for tummy time or side lying time.

How to get Indestructibles to lie flat again
You can iron Indestructibles to make them flat, or almost flat, again! However, you must proceed with caution because direct heat from the iron can melt the pages. In less extreme cases, it can still leave semi-melted, shiny patches on your pages. To iron your Indestructibles:
Heat your iron to a hot & steam setting.
Place a color fast, natural material, and smooth cloth (so not a terrycloth towel, for example) between your book and iron. You can use a cotton or linen napkin, flour sack towel, or other ironing cloth.
Iron the book through the cloth. You can iron the whole book at once or, if it needs more smoothing, iron a page at a time.
Move the iron to the other end of the ironing board before removing your cloth to make sure there are no mishaps!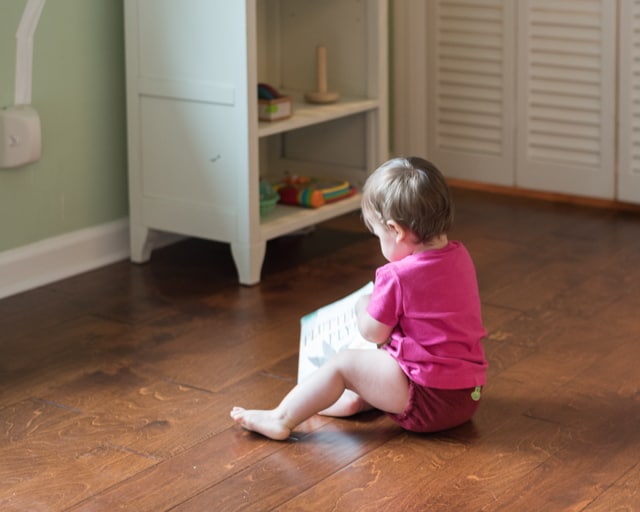 Soft cloth baby books
Cloth baby books are so classic! They're available commercially, handmade from places like Etsy, or you can DIY your own cloth baby books.
Pros of cloth baby books
They are very popular so there's a wide variety of materials, sizes, content, etc.
There are cloth baby books with crinkle paper, rattles, attached toys, and even ones with stuffed animal tails!
There are cloth versions of many classic books like Are you my Mother?, The Cat in the Hat, and Goodnight Moon.
There are artisans on marketplaces like Etsy who made customized cloth baby books. I even found a seller, Verdant Violet, who makes cloth books for babies with really specific science themes like electrical engineering and naval engineering!
There are a variety of tutorials online that show you how to make your own cloth baby book. A Pinterest search will show lots of ideas and patterns, both paid and free. How to sew a cloth baby book from Sew What, Alicia? is a good place to start for a simple, free tutorial with a few theme options.
Many cloth books are washable.
Cons of cloth baby books
The book may be too floppy to stand up on their own for play during tummy time or encouraging crawling/rolling.
Cloth baby books tend to get grubby more easily than Indestructibles or plastic options, necessitating more frequent washing.
Not all cloth books are washable or may not hold up well to repeated washing.
Some cloth books take a long time to dry, which can lead to stink/mildew problems.
Determined little ones with teeth may still be able to gnaw a hole in the fabric.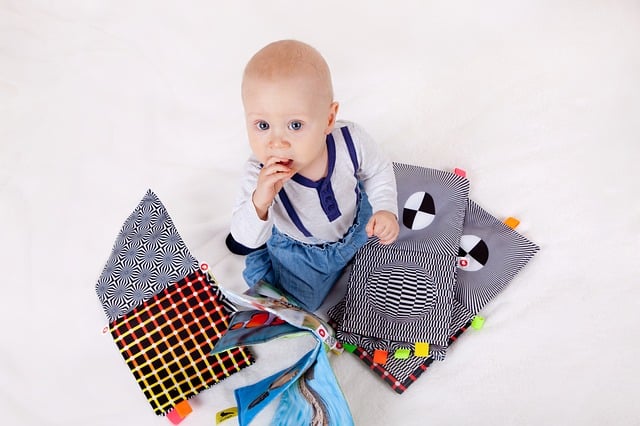 Vinyl baby books – "bath books"
Vinyl or soft puffy plastic "bath books" have also been around for quite some time.
Pros of waterproof baby bath books
They float and can double as a bath toy.
There are also some classics, like The Rainbow Fish, available.
Soft and light so they won't hurt Baby if dropped on toes, etc.
They come in a variety of shapes and sizes.
There are vinyl bath books that come with rattles, squeakers, tub clings, and even ones with bath crayons.
Cons of vinyl baby books
Many are very short with only a couple of pages.
You have to check to make sure the books are phthalate and BPA free – not all of them are.
If used in the bath, you need to make sure to wipe all the pages dry or they can develop mildew.
Hard plastic baby books
I honestly didn't know about hard plastic baby books until very recently! All of the hard plastic books I've seen have batteries and extra tech features (lights, music, etc.). This may be a pro or a con to you – it depends on your perspective!
Pros of hard plastic baby books
The pages are very easy for babies to turn, which can help develop fine motor skills.
Many of them have a lot of text, which makes them good for story time.
Cons of hard plastic baby books
There are far fewer books available. VTech and Fisher Price seem to make most of the available options.
They tend to cost more than other baby books.
Hard plastic books are heavier, which increases the risk of bonks and ouches.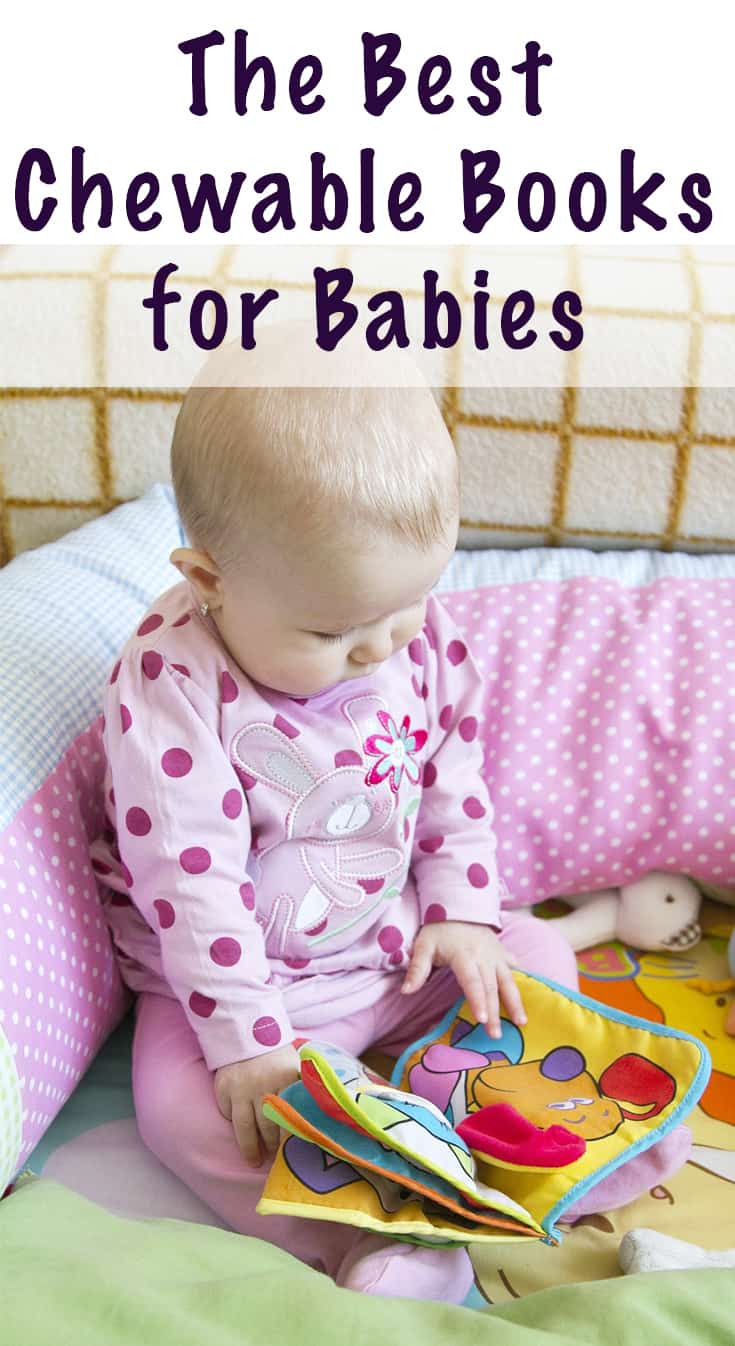 I hope you've enjoyed this look at four types of chewable baby books and each one's pros and cons! Each type of chewable baby book provides a different sensory experience that can enrich your little one until she learns to keep those board books out of her mouth!
What's your favorite type of book for mouthing babies and toddlers? Can you think of a type of chewable baby book I missed?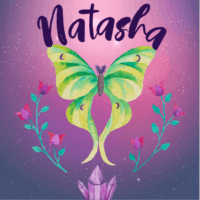 More books and toys for toddlers
The best ocean and fish books for toddlers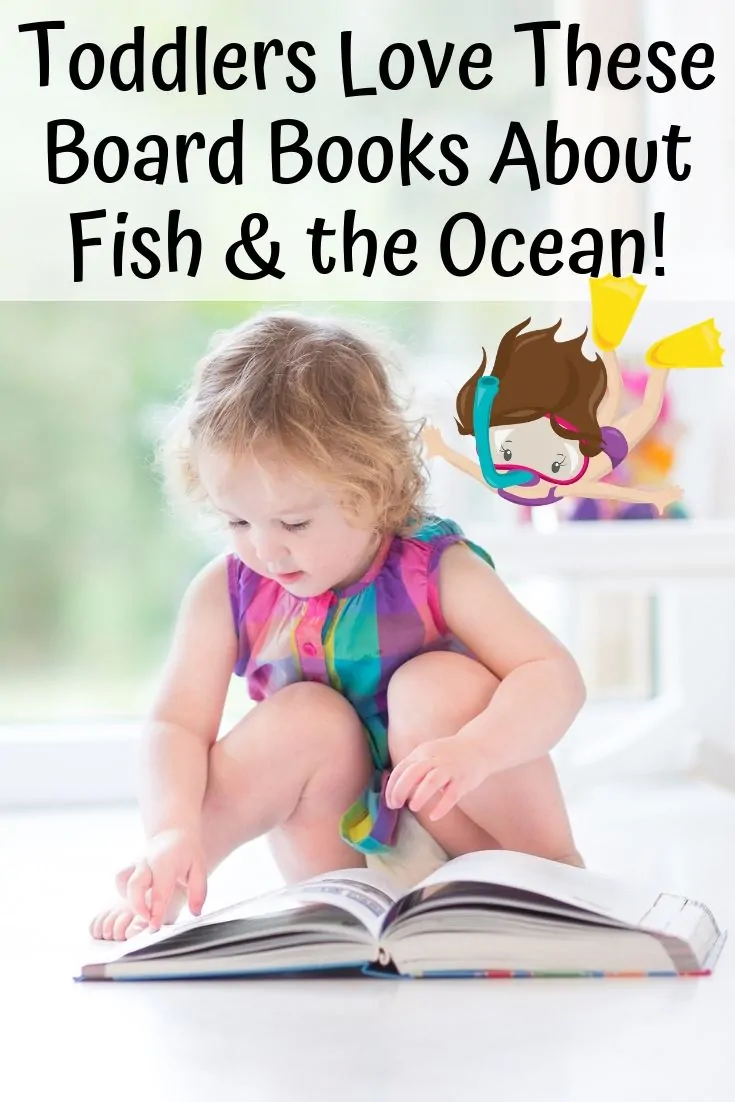 The best wood toys for toddlers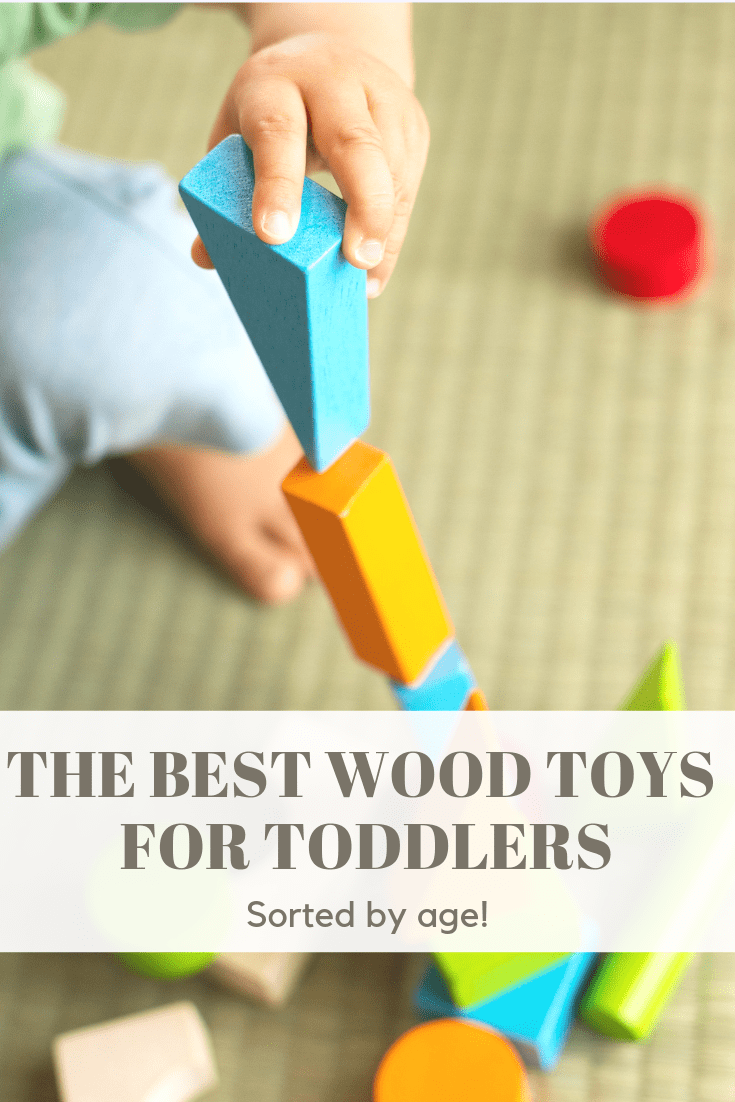 Awesome gross motor toys for toddlers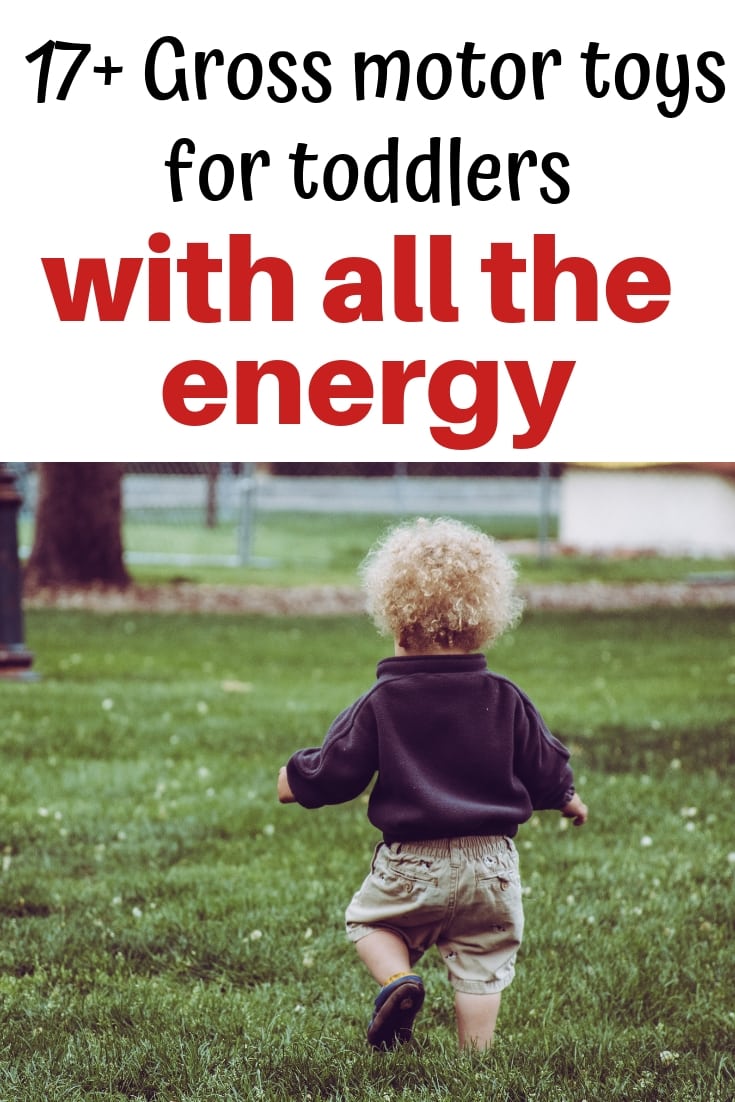 More Related Parenting Posts
[catlist search="parenting" numberposts=4 orderby=rand excludeposts=this]