Most toddlers adore animals. I think my 18 month old says more different animal sounds than 'real' words! Today I'm sharing a toddler-approved collection of the best animal books for toddlers to help you find great books about animals for the toddler in your life.
While proofreading this post, I realized that I call several books a "favorite" in our family. I stopped to think about whether or not I was overusing the word/if it was an accurate description, and I decided that it really is. We own many, many books and our LG loves most of her collection. It's amazing to watch her "read" to herself and she constantly brings books to us because she wants to hear them.
I hope that these books about animals help your little one foster the same type of love for reading!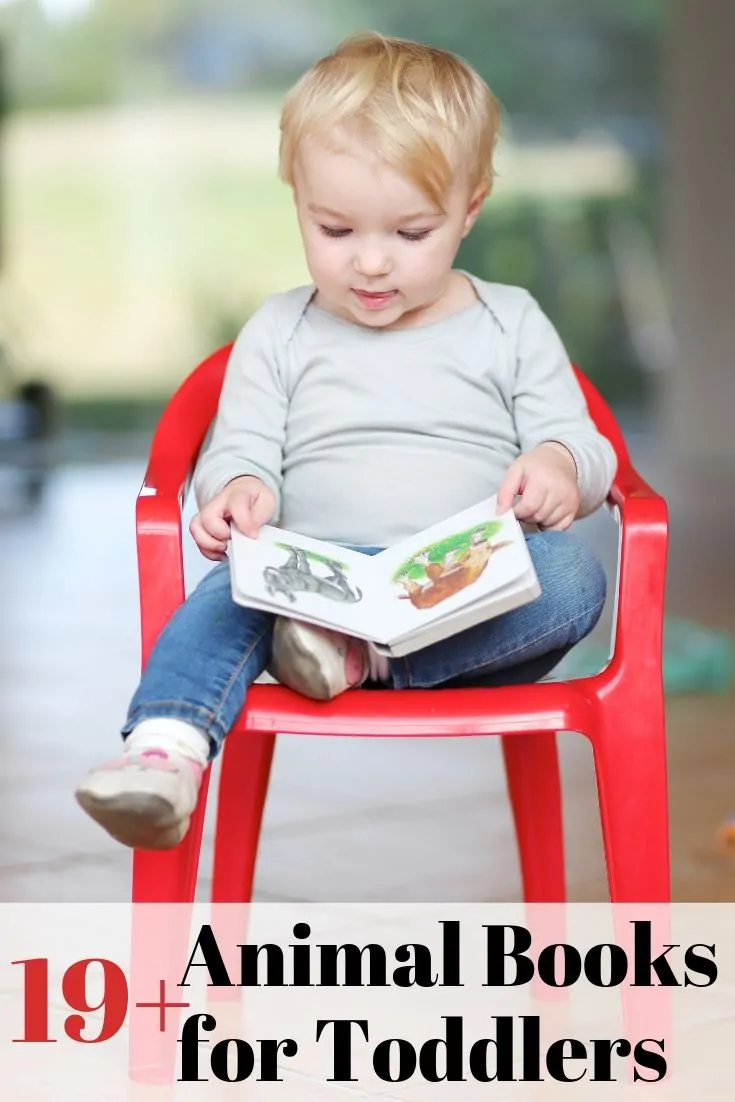 This post includes affiliate links, which means I may earn a commission on purchases with no additional cost to you.
Realistic, Montessori-friendly toddler books about animals
There are lots of illustrated, whimsical books about animals, but finding books with realistic photographs of animals for toddlers can be more difficult.
I've noticed that it can be hard for a young toddler to recognize a stylized drawing of an animal, so this section shares my top picks for animal board books with photographs.
First 100 Animals: Lift the Flap is just as fun as all Rodger Priddy's other books for young children. It has a combination of bright photographs with some illustrations. It's physically larger than the smaller "100 first…" books at about 10″ square, and it also has different content from the smaller First 100 Animals. The only downside is that, like virtually every book with flaps, the flaps will eventually bend with rough handling.
First 100 Animals is one of my daughter's favorite books. I like that the roughly 4.5×6" book is small enough for her to handle well and has sturdy pages, she loves the bright colors and animal photographs. Some people think the handful of adult/baby animal photos are redundant, but we like them. We have an adult cat and a kitten and she knows which is which, so I think it's a good idea to introduce these common pairings early.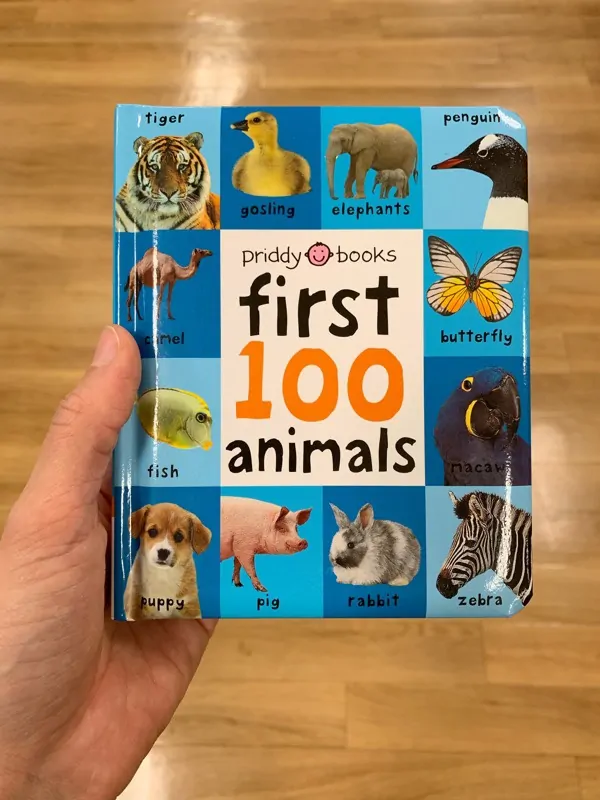 My Big Animal Book is another of Priddy's. It has 10 thick, large pages with bold photographs of animals and their names. I love that it has different types of animals listed by name (for example, there isn't just a generic "bird," there's a spread with all different types of bird including macaws, flamingos, toucans, kukoburos, and more!)
Babies, young toddlers, and toddlers who aren't quite as interested in animals may prefer the Bright Babies Animals. Each page has a bold background color and just one animal.
My First Animals is another great choice for your animal-loving toddler. The pages are organized by theme (like animals that live in the desert or animals from Australia) and tabs allow you to easily turn to a particular section.
The animal names tend to be fairly specific, like rainbow lorikeet, which is something a Montessori-inspired parent will appreciate. The lorikeets stood out to me as an example because we've fed the lorikeets at the zoo and it's great to see so many of our zoo's animals in one book.
The National Geographic Kids Baby Animals is another Montessori-friendly toddler book about animals. I love the whole series! They're affordable and have great photos. Unlike most of the other books here, Baby Animals has photographs of the babies and their mom in their natural habitat.
My First Animals is a child-friendly size and arranged by shared characteristics (such as being climbers or having spots). It features both and adult animals (the baby orangutan is incredibly cute!), and has some less common animals, too.
If you have kids, you need to grab this free printable woodland animal activity pack! There are 17+ pages of low-prep and no-prep activities for kids of all ages from toddlers through elementary school.
The Touch and Feel Animal Library includes three books: Baby Animals, Wild Animals, and Jungle Animals. The Touch and Feel books are always popular at our house and this set typically costs a bit less than buying each book individually.
ABC Animals is great, just like all the other American Museum of Natural History kid's books I've seen. Each page has a different animal, bold photos, and fun facts. It features some less common animal choices, which is great for broadening your child's horizons, as it were, and a refreshing change for parents, too!
PS – Learn from my mistake! If you're not signed up for Ebates yet (they're called Rakuten now, but same thing), you are leaving money on the table. It's free to sign up and you can earn cash back at many online retailers, including Amazon, WalMart, and Target. I do so much of my shopping online and missed out on so much cash back by waiting until recently to sign up. #facepalm
Illustrated toddler books about animals
There are so many illustrated toddler books about animals that it's really hard to narrow it down to just a few!
I'll be writing separate posts in the future for our favorite books about dogs, cats, and farm animals, so this list is mostly books that feature a variety of animals in an educational-type way with animal names and animal noises. I'll probably also add a post with animal storybooks later! (You really couldn't overstate the importance of reading and number of books in our house!)
Peek a Flap Who is a fun little book with a range of animals and delightfully sturdy flaps. I love the specific language in the book and the factoids. I've learned some things from it, too!
This series is one of the few I've seen with truly sturdy flaps that can stand up to a bit of vigorous toddler reading! Hopefully you can tell how thick the flaps are in the photo below.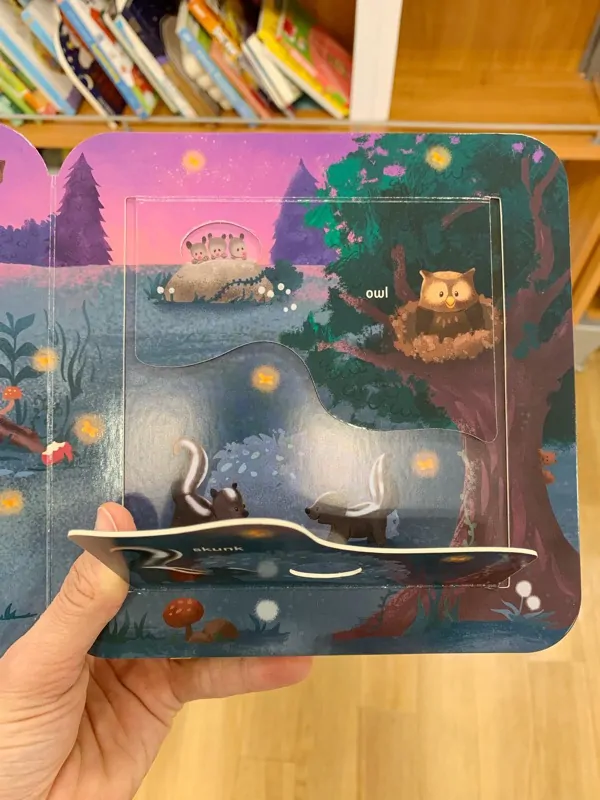 We've had our copy of this book for 7+ months and the flaps are still holding up!
Babies Love Animals is another lift a flap book with very sturdy flaps! It's a cute little book that pairs baby animals with their parents. I like the specificity of language (foals are baby horses, piglets are baby pigs, etc.) and the book's durability.
Babies in the Forest is also a chunky lift-a-flap book with baby animals, but a story instead of just names/descriptions. The illustrations are very nice and the foxes are super cute! My daughter loves foxes, even though she's not sure what to make of them. She calls them cats but barks when you ask her what sound they make!
The enthusiastic animal lover will enjoy this set of 24 baby animal board books with a carrying case! Each book is just a few pages long but features a different animal. The illustrations are bright and fun and the small books are perfect for small toddler hands.
Dream Animals is a bedtime book, but I couldn't resist including it because the illustrations are so gorgeous and magical. The story rhymes sweetly as it asks your child what her dream animal might be. (With the hope of convincing your little one to close her eyes and meet her dream animal!) Is it a fox? A narwhal? A bear?
Spring in the Forest is a lovely little book that keep more active toddlers engaged with pop-ups and flaps that lift! If you like it, be sure to check out its siblings Summer in the Forest and Autumn in the Forest.
I can't write a post about animal books and not include two of our favorites: Brown Bear, Brown Bear, What Do You See? and The Very Hungry Caterpillar. We have both in board book form, which is perfect for a toddler. We actually received Brown Bear as a shower present and it's been a favorite of LG's her entire life. Her first birthday was Brown Bear themed! Both of these classic books are a fantastic addition to any child's library.
I truly hope you've enjoyed this selection of what I consider the best animal books for toddlers!
If you have any favorites I've missed, please let me know in a comment below!
More posts you'll enjoy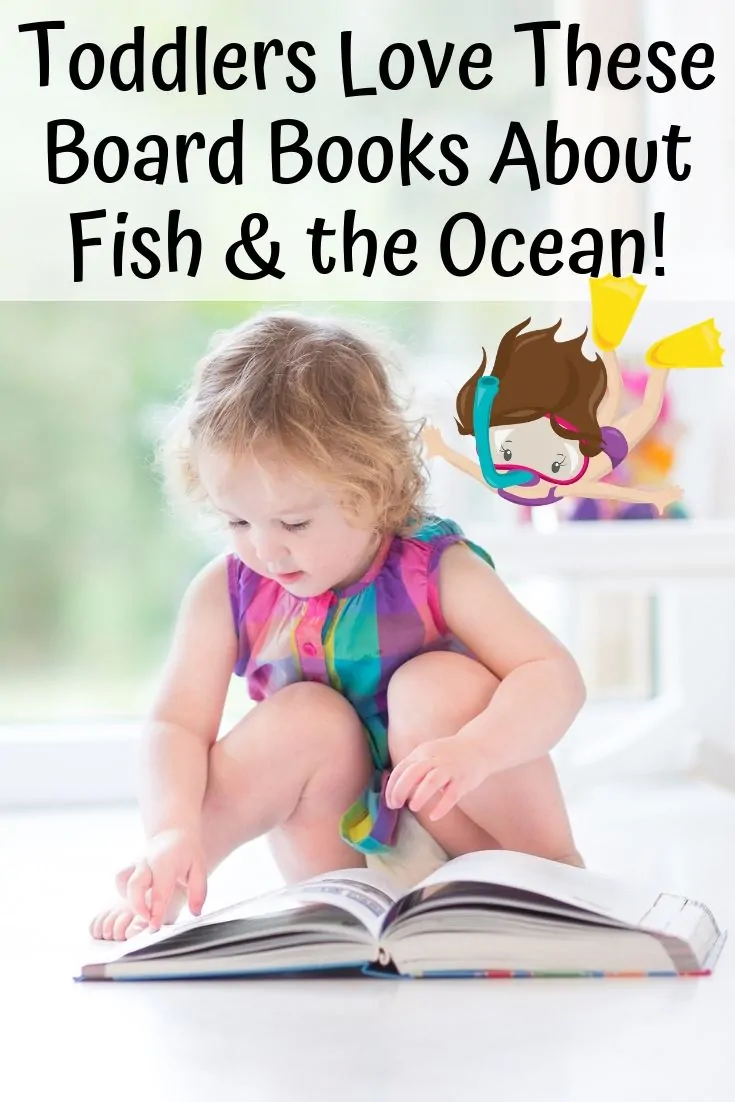 The best chewable books for babies