Discover how to make your own grippy socks the easy way!
Baby socks: cute, essential, and somewhat frustrating. It seems like they're forever falling down or slipping off Baby's feet, and it can be hard to find cute grippy socks to give your little one the traction he or she needs to practice crawling, cruising, and walking.
Our LG crawls a mile a minute, which means sometimes she ends up sort of skinning her toes. It doesn't seem to hold her back, but I hate looking at her sweet toes being all torn up!
I was disappointed in the local selection of grippy socks in her size, I set on a mission to make grippy socks that won't fall down. I hope you enjoy this tutorial on the best way to make grippy socks and my no-fall down sock hack!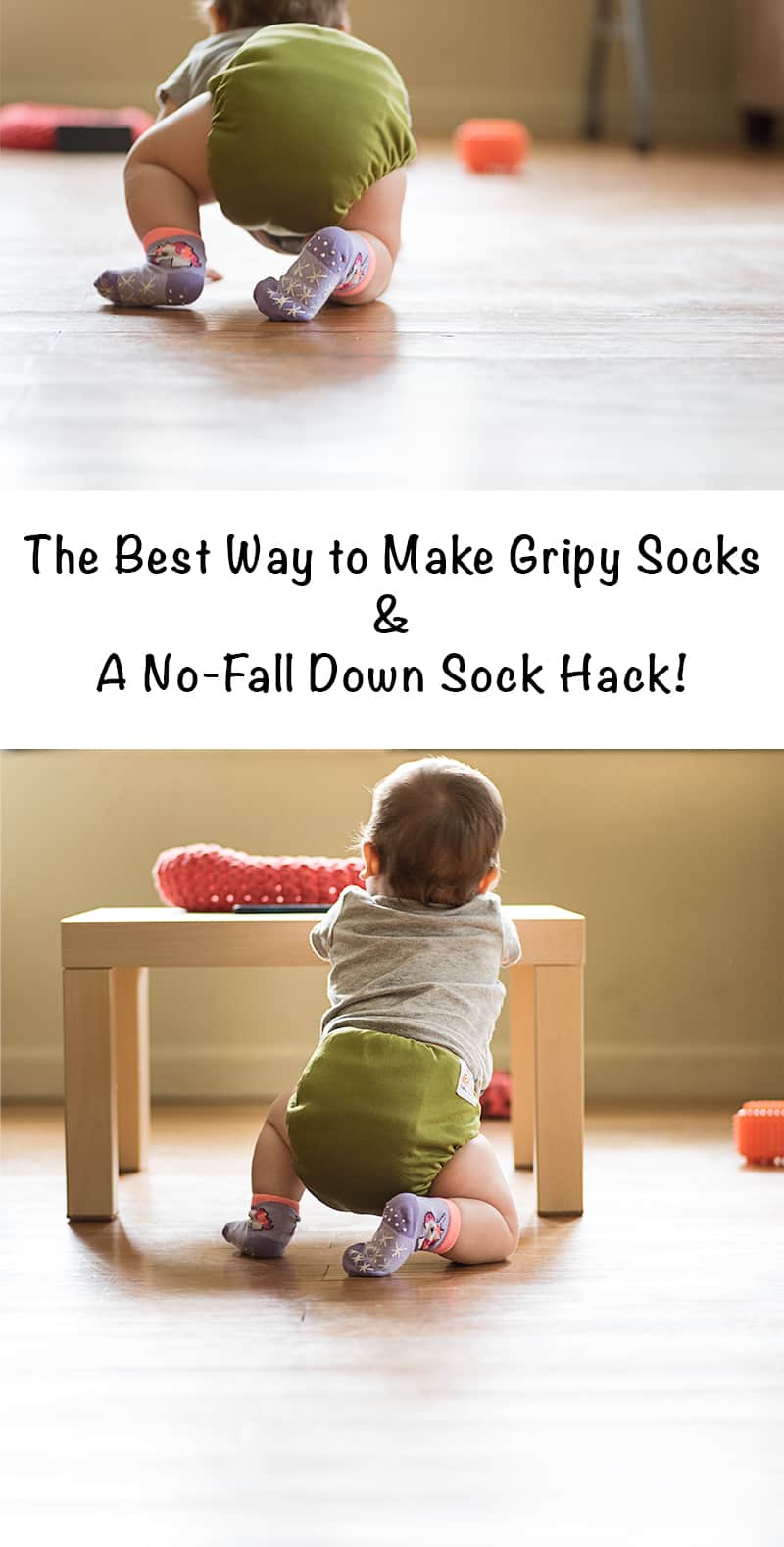 This post may include affiliate links, which means I may make a commission on purchases made through these links at no additional cost to you.
First, I have to say that I realize this grippy sock tutorial is not the most original post I've created. I realize there are other tutorials on making grippy socks and yoga socks, but I did a lot of experimentation to find what I consider the best way to make grippy socks! I hope you agree.
Materials needed to make your own grippy socks
Socks! I picked up a multi-pack of

cute baby/toddler socks

Fabric puff paint. Make sure it's puffy paint, not just regular fabric paint!
Spatulas, pieces of plastic packaging, or clean flip-flops that fit the person you're making the socks for.

You can also use wood spoons, but sometimes the paint leaks through a bit so silicone or plastic is better.
If you're making a pair of grippy socks (like slipper socks or yoga socks) for an adult, you'll want to cut a piece of plastic packaging that's roughly the size of the soles of your shoes.

A bin, box, or bucket to place over your socks while the paint dries. This is totally optional, but highly recommended if you have pets! If you don't have pets, you can skip it.
How to make your own grippy socks (the best way!)
Making grippy socks is one of those things that's far easier to demonstrate in a video than with some still photos. For the full tutorial, please check out the video linked below!
If you're just here to learn how to keep Baby's socks from falling down, here's the hack:
Turn the sock inside out and place it over a spatula, as shown below. Add a row of puff paint dots around the inside of the cuff. For an adult sock, stretch the cuff over a clean flip flop, piece of packaging, lotion bottle, or whatever else fits!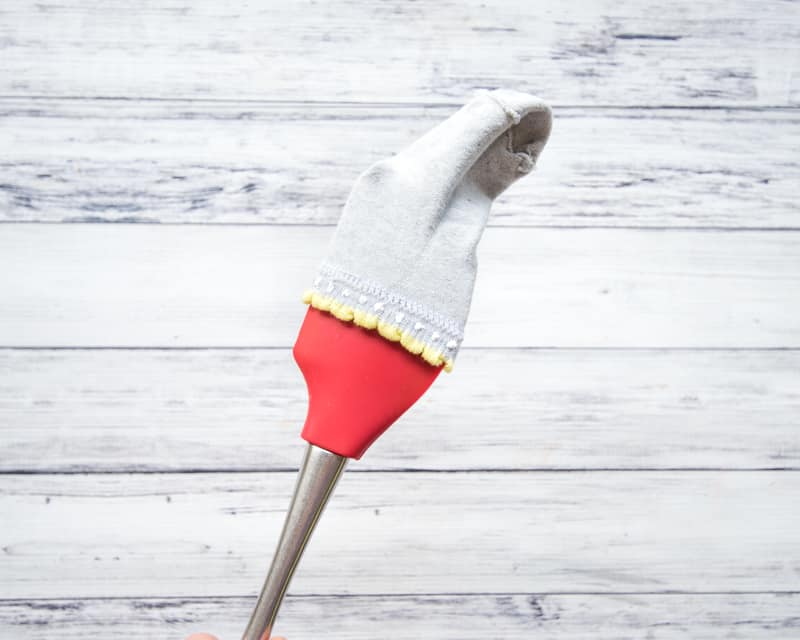 Puff paint is pretty viscous, so I stuck the spatula upright in a cup full of pens and paintbrushes to dry. This allowed me to paint all the way around at once! You can also paint half of the cuff, lay the spatula flat to dry, then flip and paint the other side of the cuff.
I really hope that you enjoy these no-fall down grippy socks and that my tips help you out!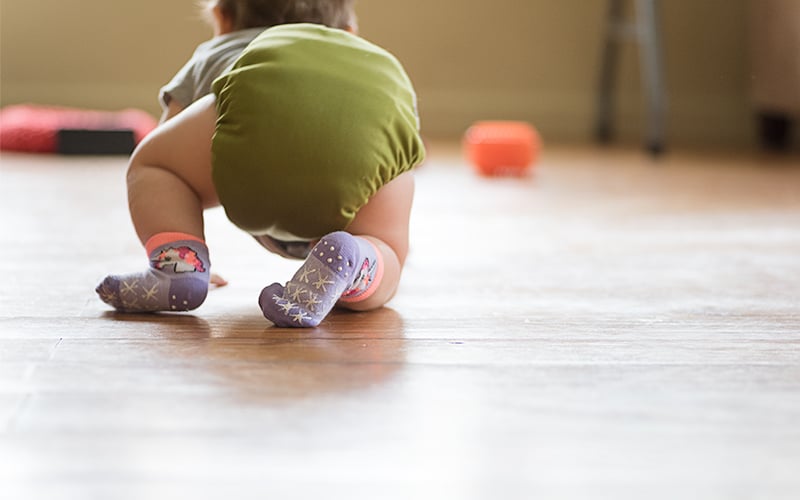 I anticipate using these for a while because it's much better for cruising babies and beginning walkers to wear something with soft, flexible sole (instead of rigid shoes) whenever possible. Why buy moccasins when I can make up a half dozen pair of grippy socks for less than $10?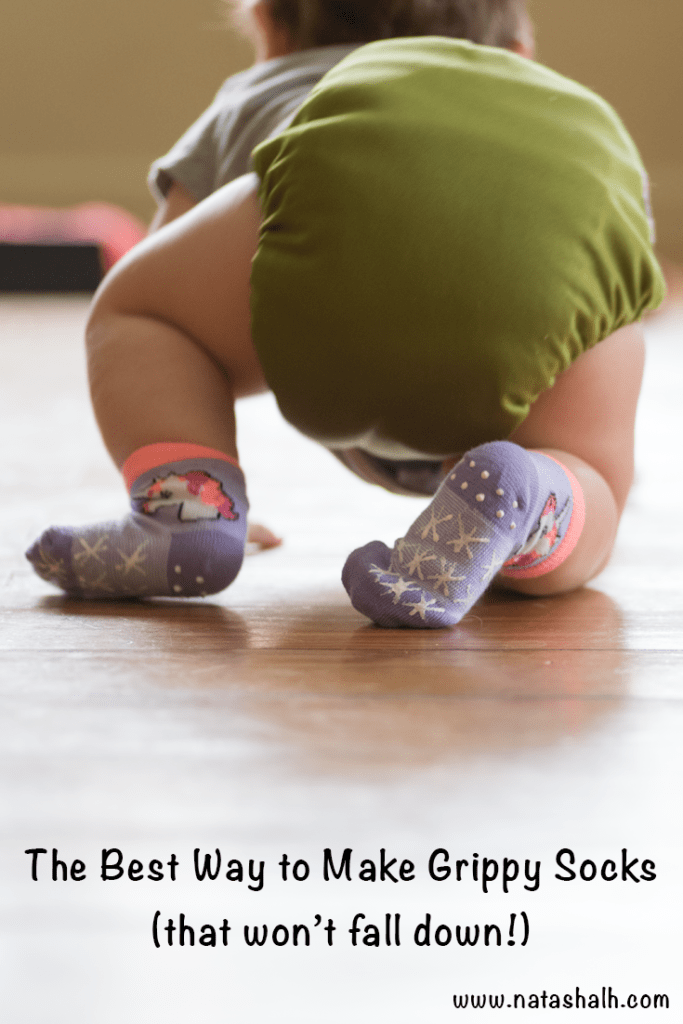 If you're into making things for the baby in your life, you may also enjoy this roundup of cloth diaper patterns or this quick and easy fine motor practice toy.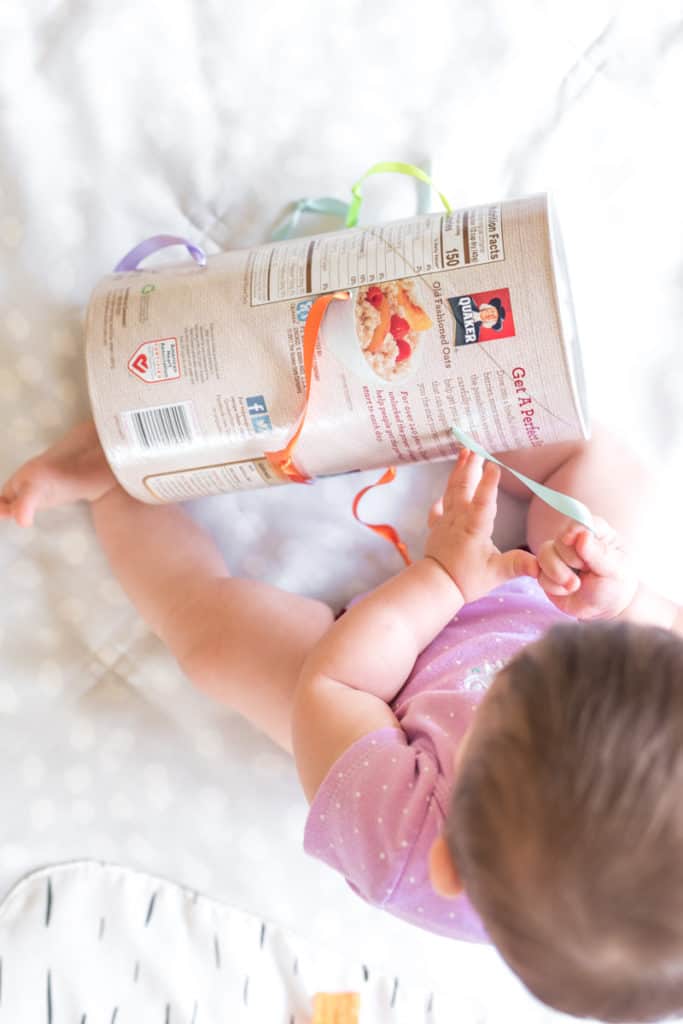 Do you ever make (or modify!) clothes for yourself or family members? What clothing items do you prefer to DIY?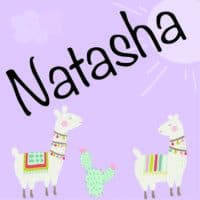 More Related Parenting Posts
[catlist search="parenting" numberposts=4 orderby=rand excludeposts=this]